In her classic song, "Big Yellow Taxi", Joni Mitchell sang you don't know what you've got 'til it's gone. Mitchell might not have been referring to jazz musicians, but the reference still works. Every year, we lose dozens of great jazz musicians, and inevitably, the tribute albums come out within the next year. Some of these memorials are beautifully played, but ultimately they arrive too late. Three recent albums have reversed this unfortunate trend, as they celebrate jazz musicians who are still alive, and in many cases, still performing. On two of the three albums reviewed below, the honorees perform alongside their admiring colleagues.
It is no criticism of Donald Vega's CD "With Respect to Monty" (Resonance 1023) that Monty Alexander does not perform with Vega's quartet. Both Vega and Alexander play full two-handed piano, and dual pianists can often get into each other's way. However, Alexander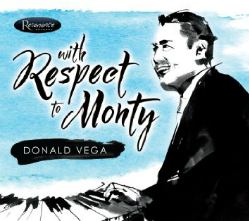 gave his blessing to this project, and a quote offering his support appears on the back of the CD cover. Vega captures the spirit of Alexander without compromising his own personal style. On John Clayton's "3000 Miles Ago", Alexander's unbridled energy can be sensed within Vega's blues-soaked solo, and on Milt Jackson's "Compassion", Vega's ideas seem to pile on top of one another in the same manner as Alexander. Of course, no one should expect that this album will sound like Alexander's recordings. Unlike Alexander—who is self-taught—Vega has studied through the academic route, and with his advanced knowledge of harmony, he has made subtle changes within Alexander's compositions, adding new harmonies, metric modulations and key changes. Anthony Wilson's guitar adds a color not usually associated with Alexander's recent recordings, but he fits well within Vega's group, both as a distinctive soloist (notably on "Renewal") and as a member of the tightly swinging rhythm section alongside bassist Hassan Shakur and drummer Lewis Nash. The group revels in the Jamaican groove on "Slippery" and they soar through the mixed meter of "Consider". In the promotional materials, Vega says that Billy Higgins taught him to play jazz "without a Latin accent"; however, some instincts can't be suppressed forever, and Vega sounds absolutely jubilant when soloing and accompanying in the energetic "Mango Rengue". Vega ends the album with his delightful original, "The Gathering", which in its breezy, relaxed pace offers a fine cool down from the high-energy music that dominates the disc.
German bassist Eberhard Weber has been unable to play since suffering a stroke in 2007. Yet he still plays an important role in the new concert recording "Hommage à Eberhard Weber" (ECM 2463/23790). Weber's recorded bass lines were looped and sampled for the opening two tracks, "R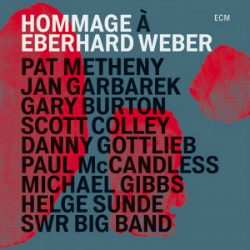 ésumé Variations" and ""Hommage". The former is quite touching since Weber was a longtime associate of soprano saxophonist Jan Garbarek; here, Garbarek creates fresh improvisations over the taped and processed sound of Weber's bass. The second work was composed by Pat Metheny, based upon video samples of Weber's improvisations. These samples were then shown on a screen above the SWR Big Band. Considering that only two pieces of video were suitable for this treatment, it's remarkable that Metheny was able to create a 31-minute piece of music. There's not much in the way of distinctive melody, but Gary Burton offers a fine solo in the first section, and Metheny plays a towering solo midway through the piece. A few minutes later, there is a fine dialogue between Scott Colley's live bass lines with Weber's taped improvisations. Metheny's orchestration is highly uneven: parts of the score uses standard big band voicings while other parts sound like warmed-over minimalism. The ending, with an oscillating two-chord vamp under the basses of Weber and Colley, is probably the most effective part of the entire work. The remainder of the CD consists of four Weber originals arranged for the SWR Big Band. SWR member Ernst Hutter plays a beautiful solo on euphonium in Ralf Schmid's richly-voiced setting of "Touch", and both Burton and Paul McCandless are featured on Michael Gibbs' pastoral arrangement of "Maurizius" and Rainer Tempel's Maria Schneider-inspired score of "Tübingen".  Libor Šíma's pulsating chart on "Notes After an Evening" brings the CD to a peaceful close, with SWR alto saxophonist Klaus Graf joining Burton and McCandless as soloists.
"The Royal Bopsters Project" (Motéma 182) bridges the generation gap by saluting five vocal jazz pioneers and introducing a new vocal group dedicated to preserving the art of jazz vocalese. Mark Murphy, Jon Hendricks, Sheila Jordan, Bob Dorough and Annie Ross are the veterans, and on eight of the CD's 12 tracks, they are supported by soprano Amy London, alto Holli Ross, tenor Darmon Meader and bass Dylan Pramuk (officially known as London, Meader, Pramuk & Ross—hereafter LMP&R). Murphy, whose performances have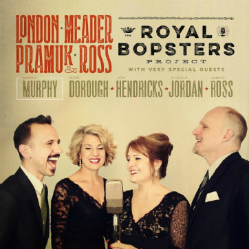 been limited in recent years due to his health, sounds as if he's ready to sing for hours on "Red Clay" and "Señor Blues" as he displays his astonishing range and vivid musical imagination. Murphy also reads a section of Jack Kerouac's "On the Road" within Pramuk's arrangement of "Chasin' the Bird", and he reprises "Boplicity" from his classic album "Bop for Kerouac". Pramuk, the youngest member of LMP&R, trades scat choruses with the oldest of the veterans, Hendricks, on "Wildwood". Jordan brings her deep wisdom to her sensitive reading of Horace Silver's "Peace" and Dorough's "Nothing Like You" is updated with a hip arrangement. Both Jordan and Dorough have a few pitch issues, but they are such skillful interpreters that they overcome the technical issues and create memorable statements. Unfortunately, Annie Ross' voice has not survived as well. Much of her feature "Music is Forever" is half-spoken, despite her obvious attempts to sing the original melody. While there is plenty of emotional impact in Ross' recitation, I think it might have been better to have the piece sung by LMP&R alone. LMP&R shine on their four featured tracks. Each singer gets a vocalese spot on "Basheer, the Snake and the Mirror", Meader pulls off a tour de force with his Latinized arrangement and astounding scat solo on "Invitation", Ross contributed lyrics and sings a well-developed improvisation on "Just Step Right Up", and London performs an original vocalese on "Let's Fly". The new group has considerable potential—all four members are superb arrangers and accomplished scat singers—and it will be interesting to see what directions they take on future recordings. However, for now they have performed a great service by offering a showcase for their musical heroes.