Anyone who believes that the CD is a dying format should visit my office. Currently, I have over a hundred discs that I've received for review within the past few months. It's a good problem to have (much better than not having enough quality discs to review) but I hate it when an excellent album is left un-reviewed just because I didn't have time to cover it. To help alleviate the problem, I'm writing capsule reviews of discs that have been sitting in my review pile. You'll find both vocal and instrumental albums here, and most of these discs are already available for purchase at press time.

BUSELLI-WALLARAB JAZZ ORCHESTRA: "BASICALLY BAKER" (Vol. 2) (Patois 22)
In 1953, at the very beginning of his career as a jazz trombonist, David Baker was involved in a serious automobile ac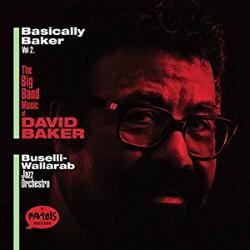 cident. Nearly a decade later, Baker's doctor told him to give up the horn due to the ongoing side effects of his injuries (Ironically, Baker had just won Down Beat's "New Star" award). Baker took up the cello, started teaching full-time, and explored composition. In 2005, a big band led by trombonist Brent Wallarab and trumpeter Mark Buselli (and featuring several of Baker's students from Indiana University) recorded a selection of Baker's big band works titled "Basically Baker". That album has been reissued on the Patois label, to coincide with the release of a new 2-disc set titled "Basically Baker, Vol. 2". The repertoire this time around features music that Baker composed in the 1970s, which Wallarab cites as some of Baker's most daring scores. Utilizing a nearly completely different personnel than on the previous album, Buselli and Wallarab elicit definitive versions of these challenging works. The ensemble eagerly absorbs the various styles, unusual meters and intricate ensemble passages (hear "Walt's Barbershop" for an outstanding example of the latter) and plays them like they were simple passages in 4/4 time. The band has an impressive group of soloists including trumpeters Pat Harbison and Graham Breedlove, trombonists Wayne Wallace, Tim Coffman and Freddie Mendoza, saxophonists Bill Sears, Tom Walsh, Rob Dixon and Ned Boyd, pianist Luke Gillespie, bassist Jeremy Allen and drummer Steve Houghton, but the most lasting impressions come from tenor saxophonist Rich Perry, who shines on several tracks on the first disc, and guest soloists Randy Brecker (trumpet) and Dave Stryker (guitar) who both play on the tender "Kirsten's First Song". David Baker passed away just three months before this tribute was recorded, but I'm sure he would have been very pleased with the results.
FRANK KIMBROUGH: "SOLSTICE" (Pirouet 3097)
"Solstice" is not a typical piano trio album, but it is one of the most fascinating recordings to appear in some time. One of pianist Frank Kimbrough's earliest mentors was Shirley Horn, and here Kimbrough has taken Horn's concept of slow tempos and made it into something uniquely his own. Virtually every track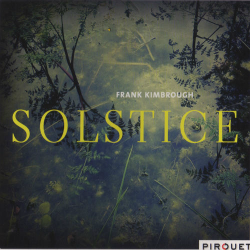 on "Solstice" features a very slow ground beat which is felt rather than stated. Over this pulse, Kimbrough, bassist Jay Anderson and drummer Jeff Hirshfield overlay a remarkable set of sub-tempos and intricate divisions of the beat. It is not music easily transcribed into standard notation, but "Solstice" is far from an album-long exercise in layered rhythm: due to the understated ambiance of the entire disc, the consonant—but not lush—harmonic palette, and the trio's deep concentration on creating finely-sculpted melodic lines, "Solstice" is an intensely moving musical experience. The rhythmic component simply allows this music to breathe as it floats above the beat instead of dutifully marking it. The listener might expect that a program unified by such concepts would necessarily be entirely composed of originals, but again, Kimbrough defies expectations by applying his unique approach to compositions by several of his favorite composers, including Carla Bley, Paul Motian, Annette Peacock, Andrew Hill, Maria Schneider and his companion, poet Maryanne de Prophetis. Without disguising the original melodies, Kimbrough makes these pieces sound like they belong exclusively to the piano trio idiom (That's quite an accomplishment on Schneider's "Walking by Flashlight", which has previously appeared as a string orchestra work with vocals by the classical soprano Dawn Upshaw, and as a big band piece sans vocals. Kimbrough played on both of those recordings). And while Kimbrough, Anderson and Hirshfield have known each other for two decades, this stunning recording represents their first recorded collaboration as a trio. I suppose that this quiet and understated music could soothe unconnected listeners to sleep, but for those who listen carefully, there's plenty to warrant their attention.

KENDRA SHANK & GEOFF KEEZER: "HALF MOON" (Ride Symbol 22)
At the end of "Alone Together", the opening track of the duet album, "Half Moon", vocalist Kendra Shank tells the audie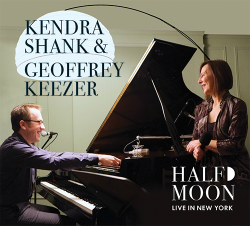 nce, "I love singing with Geoffrey [Keezer]. It's so much fun. I never know where we're going to go", to which Keezer replies, "Me neither!" While Shank and Keezer rehearsed the day before the concert recording, they sound as if they are finding new directions as they perform. Shank, who has a wide arsenal of vocal techniques at her disposal (and an imagination to go with it) invents a quasi-African language which she uses at several points in Abbey Lincoln's "The Music is the Magic". Meanwhile, Keezer mixes a rich, full piano sound with darting improvised phrases that shift accents to different places in succeeding measures. The title track is an atmospheric piece inspired by a lamp hanging over Keezer's piano (pictured on the album cover). It opens with a recitation and gradually moves into song, and was completely improvised at the concert. On a vocalese version of Cedar Walton's "Mosaic", Keezer plays an astoundingly intricate solo, and keeps the busy rhythmic patterns going as Shank moves from traditional scat through free improv with abstract sounds to percussive tabla-like impressions. The exploratory pieces are perfectly balanced with gorgeous ballads, my favorite being Thad Jones' "The Summary", here outfitted with Abbey Lincoln's lyrics and re-titled "When Love Was You and Me". Shank's tender reading of the melody is matched only by Keezer's sensitive accompaniment. They treat this piece very gently, remaining acutely aware of the silence and its relationship to the song. It is a timeless performance, made so by the musician's willingness to let the song develop at its own pace. This exquisite recital should be required listening for vocalists and pianists, but its appeal extends to anyone who enjoys spontaneous creativity.