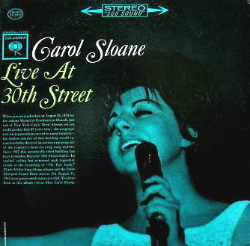 From 1875 through 1985, 207 East 30th Street in New York City was the location of a magnificent building. Originally part of the Madison Square Presbyterian Church and later known as the Adams-Parkhurst Memorial Presbyterian Church, it was bought by Columbia Records in the late 1940s and transformed into the 30th Street Studio, one of the finest recording studios of its day. The room was huge with 100 foot ceilings and 100 feet of floor space, and Columbia found that it worked equally well for soloists, orchestras, vocalists and jazz ensembles. It became the label's primary recording space, and recordings as diverse as Glenn Gould's "Goldberg Variations" (both the 1955 and 1981 versions), Miles Davis' "Kind of Blue" and the original cast album of "West Side Story" were made there. For a session held on August 31, 1962, Columbia turned it into a small nightclub, where vocalist Carol Sloane recorded "Live at 30th Street", her second album for the label. Recorded in front of an invited audience, it featured Sloane with the superb quartet of pianist Bill Rubenstein, guitarist Bucky Pizzarelli, bassist George Duvivier and drummer Sol Gubin. The label catered the affair, and the liner notes were written by then-freelance journalist Peter Bogdanovich.
Sloane had asked for the intimate setting because she had been uncomfortable with the star-studded studio orchestra used on her Columbia debut "Out of the Blue"—also recorded at 30th Street–and she missed the atmosphere of a live audience. While the arrangements of Bill Finegan and Bob Brookmeyer gave Sloane plenty of interpretive room on the earlier album, there are few hints of the playful, swinging style that permeates "Live at 30th Street". The live album opens with a Twist-inspired version of "Chicago". It's the only track on the album that sounds dated, but the arrangement brings out the song's best feature, the enticing rhythmic idea that both marks the title word and later turns up in variation. Sloane has a lot of good-natured fun with the song, giving it a loose rhythmic feel and creating adventurous melodic paraphrases. The audience digs in to Sloane's energy, clapping on two and four, and exploding into applause at the end. According to Bogdanovich, Sloane told the audience that Columbia was going to market the track as a single, but there's no evidence that a 45 was ever issued. She sounds extremely confident against the strong walking bass of Duvivier on "Love Walked In", and effectively develops a two-note motive during the coda. Her version of "Spring is Here" is simply definitive, opening with a rendition of the rarely-heard verse and moving into a heartfelt reading of the familiar melody. She makes tiny modifications to both the words and music throughout, but they are so well integrated into the song that the listener hardly recognizes the changes.
Most of the songs are fairly short, running between 2 and 4 minutes, but Sloane makes the best of these restrictions. Her swinging version of "Taking a Chance on Love" runs two choruses and just over 2 minutes, but she makes her statements sound so complete that one can't imagine that another chorus or two would have added to the overall effect. There are no full scat solos on the album, but her melodic variations display her fine improvisatory skills. On the final chorus of "On the Street Where You Live", Sloane jabs at the melody, sometimes emphasizing an important word, but more often capping an audacious musical thought. And her honeyed voice and occasional spoken asides creates an irresistible invitation on "Basin Street Blues". From early in her career, Sloane included Duke Ellington songs on her albums, and "Live at 30th Street" has two: a glorious "In A Sentimental Mood" with sensitive backing from Pizzarelli, and a sexy "Don't Get Around Much Anymore" that builds up to Sloane's astounding closing melisma. One of Sloane's greatest gifts is her attention to the context of songs: she never forgets the sentiments of the original lyrics and fashions her interpretations accordingly. Even on the hoary barroom standard, "Melancholy Baby" she retains the song's original focus, and the same can be said about the wildly different ballads "It Never Entered My Mind" and "Never-Never Land".
Unfortunately, not too many people heard these albums. It was around this time that Columbia signed Barbra Streisand, and most of the energy of the publicity department went in her direction. A few years later, Columbia split the 30th Street Studio into several smaller studios, and then sold the building after complaints from the neighboring apartment dwellers about late-night recording sessions. The building was razed and now another apartment building sits in its place. Sloane never recorded another album for Columbia, and it was several years before she went back to singing full-time. Her later albums for Contemporary, Concord and Arbors all draw on the strengths of "Live at 30th Street", and it seems a pity that both of her Columbia albums are out-of-print and quite hard to find. "Out of the Blue" was reissued on a Koch CD in 1996, but the only CD issue of "Live at 30th Street" was released by Sony Japan in the late 1980s. Actually, both albums would fit handily on a single CD with enough room left over for a few of Sloane's Columbia singles (are you listening, Collectables?). It would be a fitting tribute to an excellent studio and to a wonderful—and still active—vocalist.
UPDATE: If Collectables wasn't listening, Fresh Sound certainly was! They have issued "Out of the Blue", "Live at 30th Street" and four singles on a beautifully remastered single CD. Get it while it's still available!