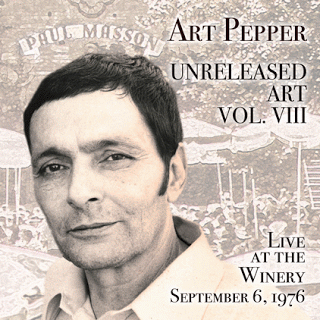 Thank you. It's really a pleasure. It gets better each day. With those words, Art Pepper made his first announcements to the audience at the Paul Masson Winery on September 6, 1976. In the four years since his release from the drug-rehabilitation program Synanon, Pepper had slowly resumed his playing career. He was reluctant to take up his alto again, afraid of the demons that music awoke in him. But with the acquisition of new horns, a renewed relationship with Lester Koenig of Contemporary Records, and increasing performing and recording opportunities, Pepper started to play again, with his sound carrying greater intensity than before. Of course, Pepper's greatest motivator was his wife, Laurie. In addition to the daily support she gave Art, she helped him write his harrowing autobiography, "Straight Life" and in the years since his death, she has kept his music alive with a series of previously unreleased recordings on her own Widow's Taste label. "Live at the Winery" is the eighth volume in her "Unreleased Art" series and it is the earliest example of Pepper's mid-70s comeback issued in the series to date.
The recording, captured in excellent fidelity through the soundboard, features Pepper in top form, along with a pick-up group of musicians from San Francisco. As was typical of the period, the musicians had played commercial music as well as jazz, and they unleash an enormous amount of energy into the small-group setting. The opening version of "Caravan" burns from the first downbeat with Pepper seemingly intent on exorcising his demons once and for all, pianist Smith Dobson offering hyper-energetic comping and a note-gobbling solo,  bassist Jim Nichols asserting his presence with bold lines and strong support, and drummer Brad Bilhorn maintaining an active commentary with splashing cymbals and busy snare hits. In her liner notes, Laurie calls the next tune "Ophelia" the beginning of my commitment to Art's music. It's not hard to hear why: Pepper's solo reveals a wide range of styles, all masterly incorporated into his own unique solo voice. Here, the categories all break down, and Pepper stands as a brilliant improviser with uncommon presence and urgency (and this, despite his own hesitancies about playing again). The brilliant version of "Here's That Rainy Day" which follows displays the close empathy of Pepper and Dobson. The pianist wisely refrains from competing with the saxophonist as Pepper winds out a emotionally overwhelming solo, full of tortured phrases and played with an acidic tone. When his own solo comes around, Dobson offers a contrasting episode which still clutches the heartstrings, but without the intensity of Pepper's statement. Pepper recognizes Dobson's fine contribution in a touching statement after the piece ends.
The funky rhythms of the next selection, "What Laurie Likes", are probably the most evocative of the era, but in the context of the recording, the piece seems to be a natural addition to the group's repertoire. Besides, Pepper's strident tone is quite appropriate in this style, and he seems quite comfortable improvising in this setting. Unfortunately, there were a few listeners who complained about the style of this piece, and Pepper stopped playing it soon after this recording. In retrospect, he should have paid more attention to his muse instead of the critics. It's too bad that Laurie Pepper has to defend a song that was written for and dedicated to her. For the official closing number of the set, Pepper shows that he still had the chops to play bebop with a breakneck version of "Straight Life". His solo has all the ferocity of Charlie Parker, but he adds to the intensity by inserting relatively long notes amidst the sixteenth-note runs. The rhythm section bubbles like an erupting volcano, and Pepper engages Bilhorn in a remarkable set of exchanges. As an encore, the quartet plays a slow blues, but while the tempo is relaxed, the intensity of Pepper's horn and the interaction of the rhythm section keeps the momentum going.
A few months later, Pepper recorded in Half Moon Bay with this same group. An album's worth of material was issued on the Japanese label Trio label and on Danish Storyville (one track also appeared in an earlier volume of the Widow's Taste series). To today's ears, the Dobson-Nichols-Bilhorn rhythm section might seem rather overbearing, but they may have been just the group to give Pepper the additional push he needed to create. In the remaining six years of his life, Pepper created an extraordinary body of work, most often in the company of pianist Milcho Leviev, bassist Bob Magnusson and drummer Carl Burnett. Dobson continued to work regularly in the Bay Area until his premature death in a car accident in 2001. Bilhorn and Nichols both played and recorded in California until 1993 and 2007 respectively, but little biographical information on either is available on the web. Unlike these men, whose names are presently fading into obscurity, Art Pepper is still an important influence on jazz saxophonists. Thanks to the work of Laurie Pepper, we can experience the searing power of Art's horn even through the prism of nearly 40 years. Let's hope she continues to find and issue many more unreleased concert recordings.