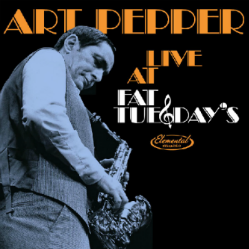 For years, Art Pepper proved that being white and a Californian were not detriments to being a great jazz musician. Pepper's vivid musical imagination and remarkable fluidity was the envy of musicians all over the world, and his unique incisive tone—especially on his preferred horn, alto sax—cut away all traces of sentimentality. Yet old jazz legends have a very long reach, and at a 1981 engagement at the New York nightclub, Fat Tuesday's, Pepper felt compelled to prove himself once again. From Los Angeles, he brought along his regular pianist, Bulgarian-born Milcho Leviev, and in New York, he hired bassist George Mraz and drummer Al Foster. Pepper had worked with Mraz on his famous 1977 gig at the Village Vanguard, and had performed with Foster on a radio program in Japan. Such a collection of top-notch musicians usually guarantees some level of artistic success, but on this gig, the rhythm section became a fireball of raw energy, and Pepper blew with great intensity and inventiveness. Elemental Records has just released an amateur recording of this amazing group, "Live at Fat Tuesday's", and while the sound resembles an amorphous blob, the sheer power and musicality of this band overcomes the technical problems.
The album opens with a blazing version of "Rhythm-A-Ning". Pepper develops several motives over the course of his six-minute solo as the rhythm bubbles with great intensity underneath. His searing tone cuts through the muddy recording, and we can hear the remarkable interaction between Pepper and Foster. Leviev maintains the energy level in his solo, which features striking melodic lines and active comping. Mraz' full rich tone stands out both as soloist and accompanist, and the exchanges with Foster are very exciting. "What is This Thing Called Love" opens with a misterioso vamp, and alternates between Latin and swing in the opening chorus. As on "Rhythm-A-Ning", Pepper's phrases are rather short, but they carry enormous musical weight. The raw emotion that comes from Pepper's alto sometimes breaks into squeaks and squawks, but he makes these sounds work within the context of his solo. When Pepper finishes, the rhythm section replies with a series of crashing chords, and it's not immediately clear who will take the next solo. I think they might have intended to Mraz to play next, but Leviev emerges with a solo which incorporates those powerful chords later on. This solo is quite different from the "Rhythm-A-Ning" solo, with wild free passages and block chord episodes. There's a little more confusion before the exchanges between Mraz and Foster. Even if the group was feeling its way through this arrangement, it's a very powerful version of the Cole Porter standard. Mraz and Pepper have a great dialogue during the theme statement of "Goodbye", and Pepper's tortured improvisation stands out well over the funereal tempo.
Pepper's lead sheet for "Make a List, Make a Wish" is reproduced in the CD package. It is marked as a mambo, but Foster plays a sinewy rock beat which reminds me of the drum part on the original Weather Report recording of "Birdland". The rhythm section gets to shine first, steadily raising the intensity throughout Leviev's ear-bending solo, and then pulling back for a partial reprise of the theme before Pepper takes over. There's another gradual crescendo through Pepper's solo, but the control exhibited by the band is remarkable: for the first two-and-a-half minutes of Pepper's improvisation, the band just simmers. It takes another four minutes until the band reaches the boiling point, and then they pull back again for the final theme. It is a stunning performance, especially for a pick-up band. The final track, "Red Car", is a funky boogaloo which was a regular part of Pepper's repertoire at the time. Pepper and the band obviously enjoy playing over the altered blues changes, and while the piece generates fewer fireworks than the other selections on the program, it remains a spirited closer for this album.
Unfortunately, the present recording represents the end of the group. At the end of the night, Foster told Pepper that he would not return for the rest of the engagement. When Laurie Pepper (who was Pepper's wife and road manager) asked Foster why he was leaving, he said "This isn't my kind of music, and Milcho isn't a real jazz player". To my ears, Foster's reply sounds like subterfuge—the recording proves him completely and utterly wrong on both counts—and as Laurie points out in an interview in the album's liner notes, it's possible that Miles Davis had Foster on a retainer so that the drummer was available any time the trumpeter wanted him. Art and Laurie hired Ben Riley to play the remainder of the engagement. When the Peppers returned to New York a year later, Riley was again behind the drum chair. That gig represented Pepper's final performances in New York. Just two months later, Pepper was dead from complications of a stroke. Pepper's life was so difficult that his passing at the age of 56 hardly seemed premature. It's strange to note that 2015 marks the ninetieth anniversary of his birth. What wonders would have emerged from his horn had he become one of jazz's elder statesmen? And would he have finally been accepted by audiences and colleagues as an important and relevant jazz musician? "Live at Fat Tuesday's" shows that Pepper was still a dynamic force just a year before his death.