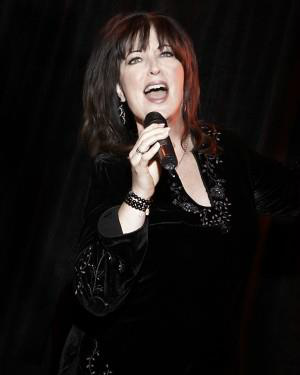 For all of the artistic triumphs in her 50-plus years in show business, Barbra Streisand has never truly embraced jazz. She came closest with her album "Love Is The Answer" and her one-night concert at the Village Vanguard, but her perfectionist attitude toward her art keeps her from taking the constant risks involved in creating jazz. Streisand is certainly jazz-influenced, but her friend Ann Hampton Callaway is a full-fledged jazz vocalist, and it is Callaway's jazz sensibilities that makes her "Streisand Songbook" program more than an exercise in Baby Boomer nostalgia. Over the past year, she's performed this concert with several symphony orchestras and on Saturday night, she made her Denver debut with the Colorado Symphony Orchestra, conducted by Scott O'Neil.
Callaway's energetic performance introduced the jazz elements with a scat interlude on the opening number, "Starting Here, Starting Now", and continued with a lightly swinging version of "A Sleepin' Bee". Callaway created several daring melodic inventions on a lush "Cry Me A River" and then surprised the audience by transforming the mid-70s pop anthem "Evergreen" into a straight-ahead jazz vehicle. Her jazziest moments came on a tune not generally associated with Streisand, "Lover Come Back To Me". She created a wonderful scat solo and took great chances with the melody. Throughout the concert, she was accompanied by her musical director, Ted Rosenthal, on piano. Unfortunately, Rosenthal got few opportunities to solo on this program, and it's a shame that the arrangements weren't opened up to allow him to shine.
To be sure, the program was not all (or even primarily) jazz. Pieces like "Don't Rain On My Parade" and "The Way We Were" are virtually inconceivable apart from their original arrangements, and Callaway wisely stayed true to those settings. However, in other places, she has made the program interesting by combining songs from various parts of Streisand's career. For example, "People" is an exquisite match for the Sondheim ballad "Being Alive", and the lush "On A Clear Day" melds seamlessly into the defiantly optimistic "Happy Days Are Here Again". (Callaway was listed as co-arranger on most of the songs, with some of the orchestrations provided by Don Sebesky, Rob Mounsey and Jonathan Tunick). Callaway is a gifted songwriter as well, and two of her songs have been recorded by Streisand. Callaway performed both songs during the concert: the peace anthem "At The Same Time", delivered in a majestic arrangement, and the tender "I've Dreamed of You", which Streisand sang at her own wedding. Callaway dedicated her heartfelt performance of "Dreamed" to her own partner, who was seated just a few seats away from me. One of the concert's highlights was an original improvisation by Callaway, who accompanied herself at the piano. Based on audience suggestions, Callaway created a clever and funny song about a cowgirl who meets a football player while attending a concert at Red Rocks amphitheater. I've heard Callaway perform improvisations at several concerts and most of them were based on the blues; this was the first time I'd ever heard her create a pop ballad on the spot, and it was most impressive. 
Callaway has several more performances of the Streisand concert scheduled over the next few months, including a version of the show with Rosenthal's trio on the Jazz Cruise, a date with Alan Bergman at Los Angeles' Disney Concert Hall, and a series of tour concerts with the Boston Pops. She opens a new show called "Bridges" at New York's Birdland next week, and she performs with her sister Liz Callaway in "Boom" for three days in February in Champaign, Illinois. As noted elsewhere in these pages, and proved again through her electrifying performance in Denver, Ann Hampton Callaway is a tremendous live performer, and her concerts are always very entertaining, no matter what material she performs. Make a point to see her when she's near your hometown.
Photo by Bill Westmoreland. Used with permission.