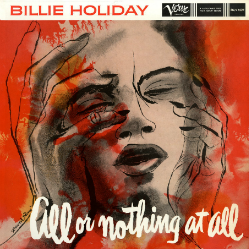 "I'd rather hear [Billie Holiday] now. She`s become more mature. Sometimes you can sing words every night for five years, and all of a sudden it dawns on you what the song means…. So with Billie, you know she's not thinking now what she was in 1937, and she's probably learned more about different things. And she still has control, probably more control now than she did back then. No, I don't think she's in decline."—MILES DAVIS, 1958. 
At the top of every page of this website, you'll find a photo with Jazz History Online emblazoned from side to side. The image is from Billie Holiday's segment on the classic TV show, "The Sound of Jazz". I'm sure that the relaxed setting of "Fine and Mellow" fron "The Sound of Jazz"  made her feel eminently comfortable and that certainly contributed to her magnificent performance. Even though she's placed opposite the rhythm section, she is surrounded by some of the greatest jazz musicians of the time (most of whom she had recorded with back in the thirties). She might have preferred to sing a pop standard, but the show focused on the blues, and "Fine and Mellow" fit the bill to perfection. I don't know what kind of setup was used when Holiday recorded for Norman Granz in August 1956 and January 1957, but I'd like to think that it was something similar to the "Sound of Jazz" staging, for the recordings issued on the LPs "All or Nothing At All", "Body and Soul" and "Songs for Distingué Lovers" (and collected on the Verve 2-CD set "The Billie Holiday on Verve Story, Volume 7": "All or Nothing At All") have the same relaxed feel and musical chemistry as on the "Fine and Mellow" kinescope. In the scraps of surviving studio chatter—only available on the 10-CD set "Complete Billie Holiday on Verve"—Granz is in the control booth encouraging the group and looking out for Holiday's best musical interests. Like Bobby Troup, Granz calls her "Baby" all the time, and while it sounds patronizing to modern ears, it seemed to soothe Holiday.
Miles Davis' quote was his answer to a question about Holiday's classic recordings of the 1930s, and while no jazz historian in their right mind (certainly not me!) will tell you to ignore Holiday's early recordings, true Holiday fans recognize that her later recordings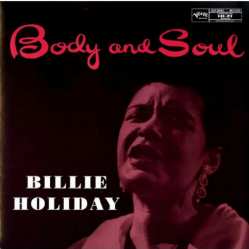 contain great moments of interpretive genius, even when Holiday's voice was in bad shape. And when her voice was working well, as on these Verve sessions, Holiday's artistry achieved levels that it rarely reached before and again. For these sessions, Granz assembled a wonderful group of musicians who shined as much when backing Holiday as they did on their solos. The front line was covered by Harry Edison and Ben Webster, both longtime friends of Holiday and each a specialist in accompanying vocalists. Holiday's pianist was the exceptionally sensitive Jimmy Rowles, who had rehearsed the songs with Holiday before the sessions. Barney Kessel provided both harmonic and melodic support on guitar, and the rhythm section was filled out with Red Mitchell and Joe Mondragon alternating on bass, and Al Stoller and Larry Bunker swapping duties on drums. All of these musicians were based in LA at the time and had all worked together, so the fine ensemble playing was a given, and the group easily put together all of the arrangements on the recording dates (When Holiday was late for one of the sessions, the band recorded an impromptu version of "Just Friends". Edison suggested that the band cut their own album and make "Just Friends" the title track).
The old canard that Holiday only sang inferior songs on her 1930s sessions isn't completely true; as her star grew through that decade, she recorded songs by Irving Berlin, George Gershwin, Jerome Kern, Jimmy McHugh and many other Tin Pan Alley giants. These Verve sessions offer a virtual goldmine of classic songs, including "Cheek to Cheek", "Ill Wind", "A Foggy Day", "April in Paris", "Moonlight in Vermont", "Darn That Dream" and "Embraceable You".  The first track from the August sessions is Duke Ellington's "Do Nothing Till You Hear from Me", and contrary to the legends that Holiday had to flatten out melody lines to fit her limited range, she sings the melody nearly straight with all of its leaps intact. Yet she still makes her interpretation unique with her expressive stretching of the song's internal rhythms and her subtle melodic inventions. On "Cheek to Cheek", there is undeniable joy in Holiday's voice, not only reflecting the lyrics but also in the group swing already evident in the first two songs. Holiday didn't record many Harold Arlen songs, but there are two gems on this set: an understated "Ill Wind" with Kessel supporting Holiday's vocal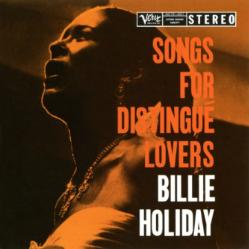 (and how she evokes vulnerability on the top notes with the words Ain't it a shame!) and a splendid "One for My Baby" later in the set. Not every track is an unqualified success: Holiday slips into old mannerisms when faced with the wide-ranging melodies of Kurt Weill's "Speak Low" and Vernon Duke's "April in Paris", and there are occasional vocal problems within her otherwise exceptional renditions of "Sophisticated Lady" and "Moonlight in Vermont". Yet these criticisms pale when compared to sterling performances like "All or Nothing at All", "Body and Soul" and "I Didn't Know What Time It Was", where everyone in the band is playing at their highest level and Holiday illuminates the inner meaning of the lyrics.
There are many incredible moments in these recordings, and I won't ruin the listener's opportunity to discover them independently. Rather, I think it's important to examine these sessions as an integrated whole. Granz knew that with the right combination of superb musicians, good songs and a well-regulated atmosphere, he could consistently produce recordings of extraordinarily high quality. And even with that high standard, recordings like the Ella Fitzgerald/Louis Armstrong studio collaborations, the Charlie Parker Quartet sessions, the Benny Carter/Oscar Peterson albums, and these final Verve studio dates by Billie Holiday rank as some of the very best albums ever produced by Norman Granz. Unfortunately, after her disappointing performance at the 1957 Newport Jazz Festival, Holiday left Granz' labels and returned to Columbia. The big label offered Holiday the opportunity to record with Ray Ellis' large "easy listening" orchestra and the resulting album "Lady in Satin" found her voice in bad shape, but offered stunning interpretations of songs like "Violets for Your Furs", "For All We Know", "You've Changed" and "End of a Love Affair". "Lady in Satin" and another album with Ellis, later re-titled "Last Recordings" may have been the final statements before Holiday's death in July 1959, but at that time, Granz still had unreleased material from these Verve sessions, and so the original LP of "All or Nothing At All", issued a few months after Holiday's passing, actually served as an appropriate epitaph for Billie Holiday, capturing one of the last times that her voice and spirit were united in perfect synchronization.