JAY ANDERSON: "DEEPSCAPE" (SteepleChase 31870)
While Jay Anderson is one of New York's first-call bassists, he has rarely found time to record under his own name. "Deepscape" is his first album as a leader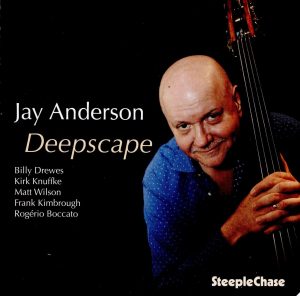 since 1994. After the opening title track, a meditation quadruple-tracked by Anderson, the album's core quartet of Kirk Knuffke (cornet), Billy Drewes (saxophones and bass clarinet), Anderson (bass) and Matt Wilson (drums) enter with a thrilling free-bop version of Keith Jarrett's "Shades of Jazz". Knuffke's solo is a gem, developing melodic material from the theme and his original ideas. Drewes' alto remains in the upper register with a light sound that floats over the turbulent rhythm background. Wilson's solo is primarily unaccompanied, but Anderson supports him with a recurring motive. The quartet plays on five of the album's eleven tracks, but their appearances are separated by tracks featuring variations on the basic personnel and usually stemming from different genres. The first of these interludes is the fifth movement of "Rothko Chapel" by Morton Feldman. Anderson overdubs an obbligato on Tibetan singing bowl, while his bass engages in a four way musical conversation with Drewes (on soprano), Frank Kimbrough (harmonium) and Wilson. Next, the quartet comes back with another Jarrett composition, "Southern Smiles". Ironically, this piece segued from "Shades of Jazz" on Jarrett's original recording, and while the Feldman piece is interesting, I don't understand the logic of breaking up the two Jarrett pieces. That caveat aside, "Southern Smiles" is a wonderful performance, with an outstanding simultaneous improvisation by the horns, propelled by Wilson's crisp and lively drumming. Two brief, rich-toned solos by the leader bookend the track. That sets the stage for Anderson's lovely unaccompanied solo on Billy Joel's "And So It Goes", which displays his extraordinary melodic sense and superbly played double-stops. Gil Evans' "Time of the Barracudas" is a fascinating piece based on a three-chord motive. Recordings of this track tend to go on for several minutes, but here, Anderson's quartet includes brief but fulfilling solos by all of the members, and does it all in less than five minutes. "Sweet and Lovely" follows with Anderson and Wilson setting up a loose New Orleans street beat, with Knuffke creating a dynamic solo that covers the gamut of jazz styles from traditional to free. Anderson follows with a solo which stays within the chord structure, but is notable for its powerful swing. Anderson's original "Momentum" is based on an extension of 12-tone music, and if that makes you think of cold, uninviting sounds, then marvel at the passion that emerges from this fine quartet, both in the thematic statements and within their individual solos. Following a moving performance of Jim Pepper's "Witchi-Tai-To"—a piece that should be played more often—the core quartet makes its final appearance with "The Mighty Sword", a tricky composition by Branford Marsalis, which alternates key centers and phrase lengths throughout its length. However, the quartet breezes through the piece as if it were as easy as a 12-bar blues. Finally, the drone-based mediation returns in an unexpected form on a harmonium/bass duet based on (of all tunes) "Tennessee Waltz". "Deepscape" certainly covers a wide range of musical genres, all sensitively played by Anderson and his fellow musicians.
MARK DRESSER: "AIN'T NOTHING BUT A CYBER COUP & YOU" (Clean Feed 510)
The second release by the Mark Dresser Seven "Ain't Nothing but a Cyber Coup & You" is a challenging album which covers a broad swath of subject matter and musical styles. The album opens with "Black Arthur's Bounce", a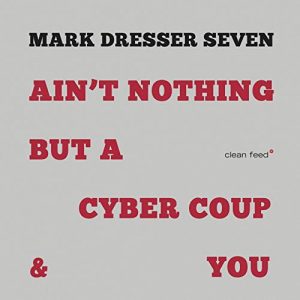 Dresser composition dedicated to the late alto saxophonist Arthur Blythe. For the first couple of minutes, the septet plays over a deep funk groove set by bassist Dresser and drummer Jim Black. But there is a sudden mood change as the band switches into a rubato free episode. Eventually, a version of the funk groove returns, providing the background for rousing solos by alto saxophonist Marty Ehrlich, flutist Nicole Mitchell, trombonist Michael Dessen and pianist Joshua White. Dresser's use of  a recurring melody fragment reminds me of James Newton's brilliant recording of Duke Ellington's "Virgin Jungle", which—not coincidentally—featured Blythe. "Gloaming" is a stunning ballad which composer Dresser calls "a kind of parametric waltz". It starts with bass alone, and adds the romantic violin of Keir Gogwilt before blossoming into a multiple-layered melody for the ensemble. White, who tore up the keyboard like Cecil Taylor in the opening track, shows his tender side here both in his fine solo and in his dramatic comping for Dessen and Mitchell. The piece continues to develop, becoming a dirge before its subdued coda. "Let Them Eat Paper Towels", named for Paul Krugman's New York Times article on Donald Trump's politically disastrous trip to hurricane-ravaged Puerto Rico. Characteristic of the best political jazz, Dresser's extended work is both a fierce answer to Trump's insensitivity, and a stunning piece of music. Dresser tells the story through a series of episodes in varied styles (free, funk, Latin) and the emotional content of each ensuing solo echoes and deepens its musical surroundings. All of the members of Dresser's ensemble play with great passion, but they are all in top form on this piece. "Embodied in Seoul" was originally written for three orchestras playing together (via the internet) in different parts of the world. Dresser's reduction for the septet is quite dense and—it not for the improvisation of the players—might be hard to classify as jazz. However, it is a very effective mood piece, and the range of timbre is quite impressive coming from only seven instruments. The title track opens with White again channeling Taylor, but takes an odd turn with a sunny unison melody played over a driving rock beat. Unlike the other political piece on this album, this piece sounds like a fight between the soloists and the rhythm section. After Mitchell's flute solo, Ehrlich (now on clarinet), Gogwilt and (eventually) Dessen get into a free-for-all, and from there, the tension builds to nearly unbearable heights. As Black's drums thunder, White returns for another explosive solo. The ending finally brings everyone together, but this is a nerve-racking ride. Thankfully, the final piece is much more restful. "Butch's Balm" is another dedication to a fallen musician, this time Dresser's long-time colleague, pianist Butch Lacy. This mournful work features an orchestration which masterfully weaves the instruments in and out of the texture to great effect. In addition to the above works, Dresser has added short interludes played on the "McLagan Tines", an interesting bass adaptation developed by engineer/bassist Kent McLagan. I'm intrigued by the glassy sound Dresser obtains from this instrument, but the clips are so short, there's not enough time to appreciate the interludes on their own. Perhaps Dresser can make fuller use of this instrument on his future recordings.
LINDA MAY HAN OH: "AVENTURINE" (Biophilia 14)
"Aventurine" is Linda May Han Oh's ambitious new recording utilizing the combined forces of a jazz quartet, string quartet and vocal group. Oh—who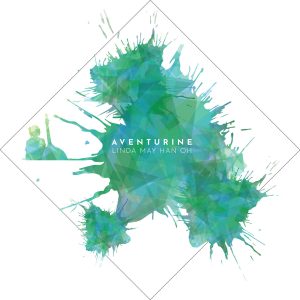 arranged all of the album's works, and composed all but two—effectively contrasts and combines these ensembles into a cohesive whole. She spends a good deal of time integrating the two instrumental groups, saving the voices for special moments. After introducing the ensembles in the opening title track, Oh leads the instrumentalists into "Lilac Chaser", a work inspired by Andrew Hill. It features a delicate melody in thirds introduced in the strings, which then weaves through the group via a series of unexpected musical directions. Pianist Matt Mitchell contributes an outstanding solo on this track, propelled by Ches Smith's drums. The strings [Fung Chern Hwei and Sara Caswell (violins), Benni von Gutzeit (viola) and Jeremy Harman (cello)] introduce the melody of "Kirigami" and are soon joined by Greg Ward on soprano saxophone. Ward's gentle approach to the straight horn blends well with the strings. Oh takes her first solo on the album, and her highly melodic improvisation, which starts with a simple figure  and gradually grows more complex, is accompanied by—in turn—pizzicato strings, string tremolos and piano. After a brief return to the melody, Ward builds an impressive solo which increases the intensity but never leads to overblowing the horn. Oh's transformation of Charlie Parker's "Au Privave" obscures the melody, but is notable for Oh's scoring, which has the ensemble playing in 4 keys simultaneously. "Cancrizan" is based on J.S. Bach's "crab canon", a palindromic composition where the melodies reverse upon themselves at the midway point. Careful listening will reveal how Oh accomplished this effect in her own composition, but the piece also stands up without any knowledge of the overall plan. The Chinese song "Song Yue Rao" ("Moon in the Pines") is surprisingly rhythmic, with the feel of a Western hoe-down. Oh sets the melody as a loose fugue, introduced in the strings and eventually incorporating the jazz quartet, with selective improvisation added to the mix for variety. As the jazz quartet explores the melody, it eventually sheds its rustic nature and becomes a sophisticated jazz work. Contrapuntal writing also plays a role in the two-part "Rest Your Weary Head", the first part written in canon (with free improvisation added as the piece develops) and the second part setting written motives against improvisation in a bass/alto duet, with the rhythm joining in after a time. The wordless choir appears near the end of both parts of this piece presenting additional color and repeating ostinatos. After some fine interaction between Ward and the strings, "Ebony" becomes a feature for the jazz quartet, with Ward's extended solo benefitting from Oh's lively commentary on her bass. I love the way Oh mixes the vocal and instrumental colors under Ward's soprano sax solo in the passionate anti-war piece, "The Sirens are Wailing". The string quartet is featured by themselves in "Broome, We Are Here" and most of the closing track, Bill Evans' "Time Remembered". They play a supportive role to the jazz quartet on "Deepsea Dancers" and "Satuit". These changes in timbre are most welcome on this lengthy album which features a considerable amount of dense writing.
It should be noted that Biophilia does not manufacture any physical audio products. If you purchase the album from them, you get a 20-page folded booklet with a unique code for downloading the music to your preferred device. The booklet folds to a 5" square package that you can shelve with your CDs.  You can also tuck a burned CD into the package, although that seems counter to Biophilia's environmental-friendly approach. The booklet is a welcome bonus, but it can get unwieldy when unfolded to its full width; those who prefer to buy MP3s without the booklet can do so through Amazon.