You can only sing "Funny Valentine" so many times… So said a vocalist friend to me many years ago. The challenge for singers to find unique repertoire is not new, but with new jazz vocalists debuting every week, the repertoire challenge is as important as ever. The discs reviewed below show how established vocalists are solving this age-old problem.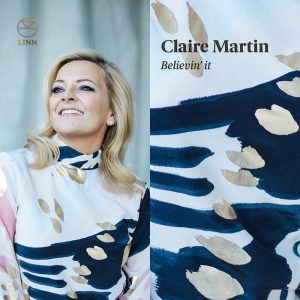 Claire Martin has been one of England's top vocalists for the past three decades, and her fan base extends around the world. For her 20th album release, "Believin' It" (Linn 563) she has enlisted a young Scandinavian rhythm section and created a new book of songs, drawn from well-known jazz and pop composers. Martin starts the recital with a sassy rendition of Roc Hillman's "Come Runnin'", squeezing out every emotion embedded in the lyrics. Martin Sjöstedt follows with a funky piano solo that shows his deep roots in Oscar Peterson, and bassist Niklas Fernqvist offers a swinging melodic improvisation. With Daniel Fredriksson providing fuel from the drum kit, the trio swings mightily while offering a fine backdrop for Martin. I was never a big fan of Michael Franks, but Martin brings a warm glow to his song, "Rainy Night in Tokyo". The album's title track incorporates an Andy Bey solo, and Martin's impeccable diction serves her well while singing Imogen Ryall's complex vocalese lyrics (and what energy the rhythm section produces! They must be thrilling to hear in person!). The covers of "I'm Not in Love" (10cc) and "Broken Wings" (Mr. Mister) are revitalized in Sjöstedt's sensitive arrangements and Martin's passionate vocals, but I prefer hearing her singing jazz pieces like Pat Metheny's "Timeline", especially when she has provided her own lyrics. Her engagement with the material seems stronger, and the trio responds with a powerful interpretation of the arrangement. I'm happy to see Joe Locke's lovely tribute to Bobby Hutcherson, "A Little More Each Day" included here—it's the type of quality jazz ballad that needs to be heard far and wide. Martin's soaring rendition of the final chorus (with Fredriksson's brilliant cymbal rolls in support) is one of the album's many highlights. Another one is the understated version of the John Surman/Karin Krog "Cherry Tree Song", featuring a perfectly interpreted vocal and outstanding arco and pizzicato work by Fernqvist. From this point, the playlist reflects standard repertoire, but Martin's versions of "The Great City", "P.S. I Love You" (by Johnny Mercer, not the Beatles) and "Love Dance" are all vibrant and expertly played. Martin closes this fine album with "I Told You So" composed by Scottish octogenarian saxophonist Duncan Lamont. Years ago, Martin was honored as an Officer of the Order of the British Empire. In the name of diplomacy, it's high time that she and her remarkable trio make a tour of the US. This album should generate plenty of interest in a series of American concert performances.
LA vocalist Judy Wexler pays tribute to several contemporary jazz vocalist/composers on her new album, "Crowded Heart" (Jewel City Jazz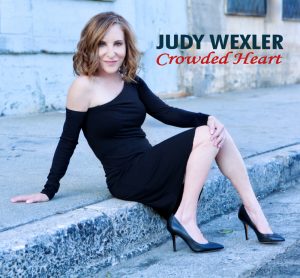 1213). The album's subtitle, "New Jazz Standards" appears on the back cover above the tracklist, with the composers prominently listed after the song titles. Clearly, Wexler is following the advice of jazz historian Ted Gioia, who told her that performing modern compositions keeps jazz alive.  Luciana Souza's "Circus Life" is the opener, with guitarist Larry Koonse reprising his role from Souza's original recording. Wexler's interpretation is a little edgier than Souza's, with pianist Alan Pasqua offering a whistled improvisation on the coda. "Parisian Heartbeat" features lyrics by Kurt Elling, and Wexler brings a restrained approach which transmits the song's emotion without disturbing her cool delivery (she has obviously learned a lot from Jeri Southern!) The title track was composed by Danish vocalist Sinne Eeg with lyrics by Mads Mathias, and Wexler handles the sensitive subject ("the other woman") with great tenderness. Alto saxophonist Josh Johnson introduces Gregory Porter's "Painted Canvas" and he enriches the performance with a well-crafted solo and in fine obbligati behind Wexler's earnest vocals. "Stars" is one of the superb collaborations between Fred Hersch and Norma Winstone. Wexler's expressive phrasing is a wonder, and Pasqua backs her up with outstanding accompaniment. In a subtle nod to Hersch, his ensuing solo builds the intensity and sets the stage for Wexler's return. Alan Broadbent's "The Last Goodbye" is set as a warm samba, with Bob Sheppard providing appropriate atmosphere on his alto flute. Bassist Darek Oles, drummer Steve Hass and percussionist Aaron Serfaty  are appropriately subdued but supportive here and on the next track, René Marie's "Take My Breath Away". Wexler's seductive delivery sells the song which—like the other songs in this collection—deserves to be performed more often. "I Took Your Hand" is a true surprise: an instrumental by Enrico Pieranunzi  with a intriguing lyric by Lorraine Feather. The emotional content changes unexpectedly in this piece, and Wexler's expert interpretation never gives away the secrets. This fine ballads collection concludes with an understated reading of Larry Goldings' "It's Only Smoke" and Pasqua's "And We Will Fly" (with atmospheric words by Elling, and a lovely guitar solo by Koonse). Judy Wexler has always supported and praised her fellow vocalists. Now she has turned that support into something that is both physical and tangible. May her colleagues take the same positive action.
Another new tribute album draws inspiration from an entirely different genre. "Charles Ruggiero and Hilary Gardner Play the Music of the bird and the bee" (Smalls Live 61) offers an all-acoustic collection of the controversial synth-pop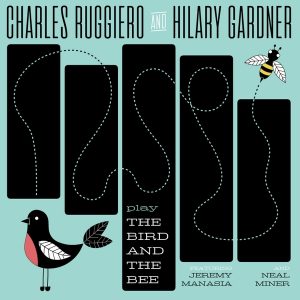 group. Anyone unfamiliar with the bird and the bee can find plenty of examples on streaming music platforms. The original recordings are quite commercial with plenty of overdubbing and electronic effects, but dig deeper into the songs, and they have an undeniable charm. Ruggiero's arrangements and Gardner's warm voice transform these songs into jazz vehicles. "Meteor" is, at its base, a romantic love song, and "F*cking Boyfriend" softens the blow of the obvious obscenity with its tragicomic storyline. The allusions to Peggy Lee's "Fever" are entirely appropriate, since the song turns Lee's narrative on its head, portraying a frustrated lover who can't get a reaction from her man. Gardner turns on the sweetness for "Lovey Dovey", making us wonder if Doris Day might have recorded it, had it been composed 60 years ago. The rhythm section plays these pieces with great sensitivity. "Lovey Dovey" features a sparkling piano solo by Jeremy Manasia, and outstanding support from Neal Miner (bass) and Ruggiero (drums). The verse to the next track sounds like a continuation of the previous tune, but "You're a Cad" exposes the man as "a dog and a cheat" and the woman who loves him. Ruggeiro's adaptation of the romantic-yet-mysterious "Poinciana" beat works well in this context. "Come as You Were" combines an old-fashioned melody with contemporary frankness. As a vocalist who regularly performs old songs with a modern approach (both on her own albums and in the vocal trio Duchess), Gardner knows exactly how to sing this witty song without compromising it in any way. In the hands of Gardner and Ruggiero, "Diamond Dave" becomes a moving torch song, and "The Races" finds an unusual mixture of general motivation and outright seduction. The closer, "4th of July" is a comparative rarity, issued only as a bonus track on the Japanese edition of the bird and the bee's Hall and Oates tribute (but also available on YouTube). With its light swing feel, it provides a breezy, carefree conclusion to the Ruggiero/Gardner album. This album is a total delight, and I suspect that it will produce many new fans for Gardner, Ruggiero and the bird and the bee.
As indicated in the albums reviewed above, one surefire way to create a unique repertoire is write your own music. Not all performers have the luxury to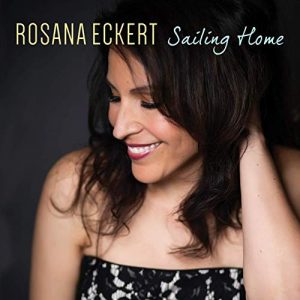 spend uninterrupted hours waiting for the muse to appear. Educator and vocalist Rosana Eckert reports that the title track of her new album, "Sailing Home" (OA2 22168) was written in ten-minute stretches in between appointments with her students at the University of North Texas. With additions made by Eckert and her collaborators, husband Gary Eckert and New York Voices' Peter Eldridge, the song makes a delightful opening to the album. Eckert's optimistic lyrics and spacious melody glide over the catchy rhythmic beat, and later in the track, she scats a complex melody with guitarist Corey Christiansen. The lightly swinging "Garby the Great" tells of her first meeting with her future husband, and after the first chorus, Eckert segues into a breezy scat improvisation. The next track brings another change in style, as "Someone Else's Life" is reminiscent of Pat Metheny's music. The lyrics tell of the sacrifices we make in life (some gladly), and the very concept of adaptation is key to this recording, as Eckert and her accompanist adopt a wide range of styles over the course of the album. True, the addition of guest artists like accordionist Ginny Mac help establish the moods as on "Waiting", but in most cases, the same rhythm section is called upon to flawlessly play in a  number of styles—not all within the jazz idiom. So, enthusiastic kudos to Eldridge (keyboards), Christiansen (guitars), Young Heo (bass) and Steve Barnes (drums) for their incredible flexibility! Clearly, Eckert is indebted to her friends, family and colleagues, and many of the songs are dedicated to those special people in her life. The warmth she brings to these songs transmits that love to the listener, and even though we don't know these people, we get a sense of their being through the music. It's impossible to miss the joy in the wordless southern funk tune, "Coriander Stomp" written for Christiansen, and featuring the guitarist, vocalist and pianist in uninhibited solos. Nor can a listener miss the deep feelings present in songs like "Miles of Blue" (dedicated to her family) and "Lovely Ever After" (composed for Eckert's then-4-year-old daughter). Eckert is best-known as an educator, but this album should prove to all that she is a world-class artist, fluent in many genres, and absolutely compelling as a vocalist and composer.