The Soiled Dove, a 300-seat nightclub located in East Denver, was transformed into an intimate cabaret on Thursday, June 6, as vocalist Cyrille Aimée presented her jazzy interpretations of Stephen Sondheim's Broadway songs. Unlike her recent Mack Avenue album, "Move On: A Sondheim Adventure" (reviewed here last issue), Cyrille did not surround herself with a multitude of instrumentalists. Rather, only two musicians shared the stage with her, pianist Ryan Hanseler and bassist Luca Alemanno. They provided a stunning backdrop to Cyrille's crystal-clear diction and swinging improvised lines. Most of the arrangements were adapted from the album, but the opener, "Losing My Mind" was a new setting created by Cyrille while on tour. Alemanno set the pace playing a catchy obbligato with one hand while slapping the side of his bass with the other. Hanseler had lots of freedom to color the sound with rich chords, but he never forgot his role as accompanist. Cyrille is a strong singer who doesn't need a lot of support from the keyboard, but Hanseler was always there whenever he was needed. After navigating through Sondheim's intense lyrics, Cyrille embarked on a brilliant scat solo which used slurred syllables instead of her usual staccato delivery.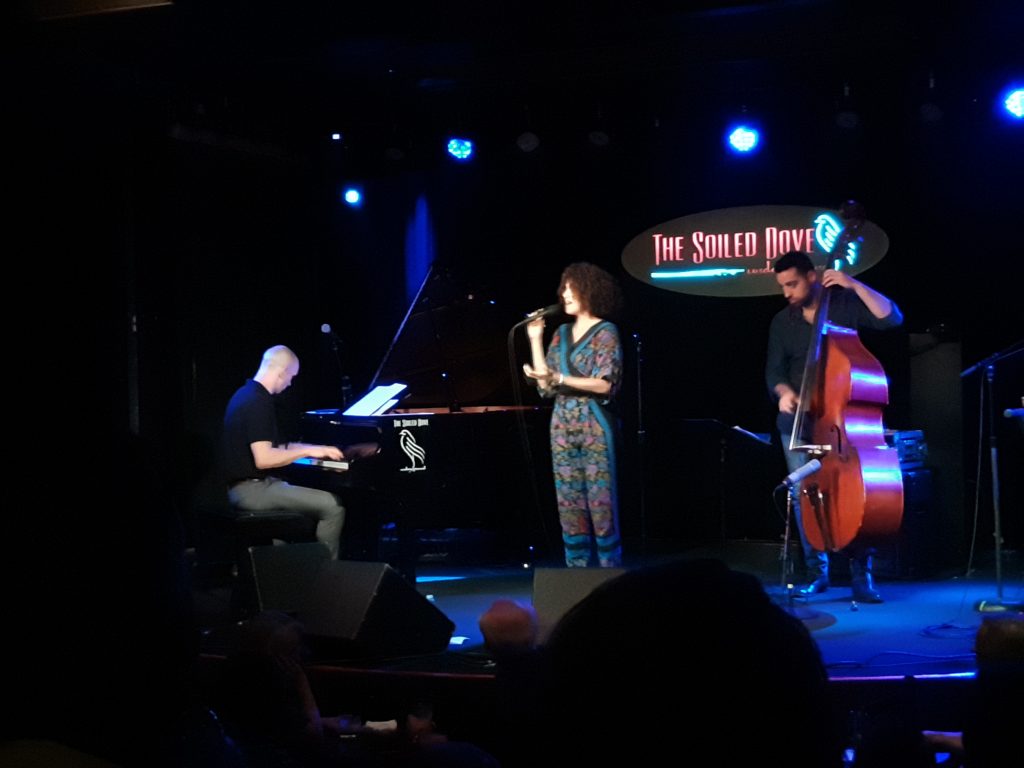 Readers of this website know that I have followed Cyrille's career in depth over the past few years. Her growth as a performer is certainly evident from her albums, but it is even more apparent when seeing her in person. She is a delight to watch, either as she contorts her body in the course of a solo, or as she digs into the subtleties of her accompanist's solos. The Soiled Dove performance displayed a new element to her overall presentation: using the Sondheim material as a springboard, she has added subtle hand gestures to enhance the stories within the songs. It doesn't look rehearsed (like something on a Broadway stage) but rather understated like Mabel Mercer's occasional gestures. Feeling the need to explain the context of the Sondheim pieces, Cyrille spoke to the audience at considerable length between numbers. Her undeniable charm held the audience's attention for the most part, but she might want to write out—and edit—her introductions to make them a little less convoluted.
Vocally, Cyrille was in exquisite form. All of the lyrics were memorized—quite an accomplishment for a Sondheiim program!—and her vocal interpretations brought the difficult melodies straight into the jazz genre. She has discovered her own pathway into these songs, so that the lyrics coming from her mouth sound like personal experiences. While she does this, she brings a rhythmic vitality to the music, so that it swings in ways that have reportedly delighted the composer. Further, she has worked with her fellow musicians (both live and on the album) to make these songs appropriate for improvisation. Her scat solos, which showed off her exceptional range and vivid melodic imagination, emerged with seemingly little effort, as if she were singing songs by Irving Berlin (Cyrille actually did sing Berlin's "Cheek to Cheek" later in the concert, in a delightful collaboration with Hanseler).
Hanseler and Alemanno filled their roles admirably. The two musicians had first met earlier in the day(!) yet they seemed to find their musical and spiritual blend right away. Hanseler dazzled the audience with healthy portions of stride piano and locked-hands style, and over the course of the evening, it was quite clear that he is a big fan of Erroll Garner. Rhythmically, Alemanno was a rock all night, with solid unwavering tempos, a deep rich sound, and virtuosic runs scattered through his accompaniments and solos. He was in particularly good form on his duet with Cyrille on "I Believe in You", as he contributed an extended solo which displayed his impressive technique and fine sense of structure.
Near the end of the 90-minute set, Cyrille broke away from the Sondheim material to perform an original piece called "Down" using her digital recording device, which she has named "Rupert the Looper". Cyrille has recorded several of these loop arrangements in the past (one helped cement her fame on a talent show on French TV), but Rupert is a new instrument with much more storage and flexibility than her old unit. She demonstrated the unit with a funny spoken introduction, but when she sang "Down"—which tells of her relationship with a man who was set to move from Brooklyn to New Orleans with her, but backed out at the last minute—she stunned the audience both with the deeply personal lyrics and the incredibly layered arrangement (the latter created live on the spot).
One element of Cyrille Aimée's music that hasn't changed is its easy accessibility. Like Ella Fitzgerald, she creates vocal improvisations that can be appreciated by audiences, regardless of their jazz knowledge. And she does this without forsaking musical integrity. She loves her audiences, and clearly enjoys chatting with fans and signing CDs. While the Sondheim material certainly marks a new musical direction for Cyrille, she embraces this music with the same love and admiration as the other songs in her repertoire. Go see her in concert—and take along your friend that claims not to like jazz.
Photographs by Thomas Cunniffe.