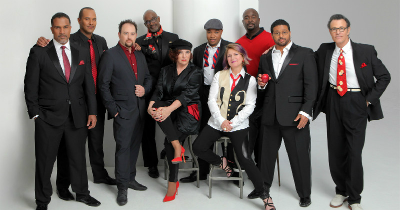 In 2011, the Manhattan Transfer and New York Voices surprised the vocal jazz world by performing their first joint concerts. These concerts—now known as "vocal summits"—have become widespread since then: the Transfer did further performances with the Voices in New Jersey and Las Vegas (with the added attraction of Jon Hendricks), the Voices collaborated with the Swingle Singers on a couple of occasions, and the Swingles just performed another concert with The Real Group. Currently, the Transfer and Take 6 have joined forces for a touring show, and that tour just made a sweep through northern Colorado. Their concerts at Lincoln Center in Fort Collins, Macky Auditorium in Boulder and the Parker Events Center were all sell-outs, and—taken with the superb music performed—the concerts were both creative and economic successes.
Most of the summit concerts follow a predictable formula: individual sets by each group, followed by a joint finale. However, this show took a different direction. It opened with a darkened stage, with Take 6's low bass Alvin Chea intoning a spoken introduction. Then both groups appeared on stage to perform combined group renditions of "Killer Joe" (from the Transfer's book) and "Straighten Up and Fly Right" (from Take 6's repertoire). The coda of "Joe" was opened up for brief scat solos by members of both groups (with a delightful set of exchanges between the two vocal basses, Chea and Trist Curless, and string bassist Wayne Batchelor) and "Fly" featured stunning performances by tenors Mark Kibble, Claude McKnight and Joey Kibble. Then each group took the stage for short sets. The Transfer dedicated "Candy" to the group's late founder Tim Hauser, and Alan Paul's answer phrases floated over the slow dance tempo. "Air Mail Special" featured Paul's original vocalese lyric and a hilarious quote-filled exchange between pianist Yaron Gershovsky and drummer Ross Pederson. Take 6 opened their section with a swinging version of "Just in Time", followed by a medley featuring their hit "Spread Love".
The best collaborations of the night happened in the next section. The Transfer sang the first chorus of Gene Puerling's Singers Unlimitedarrangement, "Like Someone in Love" in glorious 4-part harmony, and then Take 6 walked on stage to join the Transfer for the rich chords of the final chorus. The stage went dark again, and Take 6 launched into "Twilight Tone". It looked like another collaboration was about to begin, but the Transfer stopped Take 6, saying "Hey, that's our song!" with Take 6 replying, "Well, that song was one of our inspirations". This set off a cute set-piece where each group sang songs from the other group's repertoire. So, the Transfer's rendition of "Gold Mine" was countered by Take 6's "Route 66", then Janis Siegel's rocking lead vocal on "Mary" preceded Mark Kibble's soulful take on "Operator". On the latter tune, the groups combined in the final chorus with Siegel and Kibbel sharing the lead. Later, Mark Kibble and McKnight reiterated that they had grown up listening to the Transfer, and while they had learned their voice parts from the records, they could never find women to sing the upper parts. This lead Siegel and Cheryl Bentyne to "volunteer" their services, and the result was a tender reading of another Puerling arrangement, "A Nightingale Sang in Berkeley Square".
Most of the later highlights belonged to Take 6. Their sing-along tribute to Ben E. King on "Stand by Me" and their lushly harmonized arrangement of "Overjoyed" are both pieces not yet recorded by the group, and it was refreshing to hear them perform new music. Unfortunately, the Transfer stuck to their "greatest hits" book, which seemed strange considering their long standing as highly influential vocal jazz pioneers. Hauser's death nearly caused the Transfer to disband, but since they've decided to stay together, they need to revitalize their book. Curless (Hauser's permanent replacement) should be the catalyst for this change: as a former member of m-pact, he should encourage the Transfer to explore some of the new directions taken by other vocal groups. Sure, it's great to hear old favorites like "Tuxedo Junction" and "Trickle Trickle", but a set of fresh arrangements could lead to a long-awaited new album.
One possible starting point for the new repertoire might be the concert encore, a rollicking version of "What I Say". The Ray Charles classic resounded with everyone onstage and in the audience, and the energy inside Macky Auditorium acted as a cathartic release after the divisive Presidential election. Both groups have deep roots in R&B and soul, and a version of this powerful arrangement should be captured on disc. A tribute to Brother Ray by the Manhattan Transfer (hopefully with Take 6 as guests) could be the perfect salve for a wounded nation.