ALYSSA ALLGOOD: "EXACTLY LIKE YOU" (Cellar 50418)
If you want a prime example of why Alyssa Allgood is one of the brightest vocal talents in jazz today, go no further than the title track of her new CD, "Exactly Like You". In the first two choruses, she darts through the tune, dropping words in strategic locations, all designed to increase the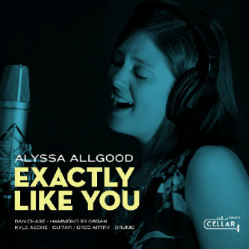 propulsive swing. Around the second bridge, she falls far enough behind the meter that you wonder if she'll get through the words by the end of the chorus. She does, with a deft rhythmic skill that is on a par with other great rhythm masters Luciana Souza, Chris Connor and Billie Holiday. Then there's her scatting. The second tune, "Hocus Pocus" features her original words to Lee Morgan's melody, but all thoughts of words disappear when Allgood starts to improvise. Like Anita Wardell, Allgood bases her scat on instrumental models, using melodic motives and rhythmic variety to enhance her imaginative approach and astounding range. Later in the disc, she tops another great scat solo on "The More I See You" with a perfectly executed shout chorus performed in unison with organist Dan Chase and guitarist Kyle Asche. And if you're surprised that a version of "The More I See You" would have a scat solo, don't miss the stunning arrangements of "Yardbird Suite", "Darn That Dream" and "Alone Together" (the latter featuring excellent rapport between Allgood and drummer Greg Artry).  "Exactly Like You" is Allgood's first full album not tied to a concept, and she has selected a wide-ranging collection of tunes. Monk rubs shoulders with Michael Jackson, and Stevie Wonder is sandwiched between Harry Warren and Howard Dietz; yet Allgood makes every lyric meaningful and she transforms the melodies to fit into her own personal musical language. The playlist also includes two originals—"By My Side" and "Waltzy"—both co-written by Allgood and Chase, and both dedicated to their dog Willsey (trust me; you would never suspect a canine inspiration without this information!). Allgood's career has taken giant leaps in the last couple of years, and with the overwhelming artistic strength of this CD, her name will be well-known far beyond her current home of Chicago. Already a poised and confident performer in her mid-twenties, there is no limit to Alyssa Allgood's potential.
CHERYL BENTYNE/MARK WINKLER: "EASTERN STANDARD TIME" (Café Pacific 4065)
Following up on their acclaimed collaboration "West Coast Cool", Cheryl Bentyne and Mark Winkler turn their attention to the opposite coast with "Eastern Standard Time". A brief liner note invites listeners to imagine themselves in New York around 1959, where nightclubs like the Bon Soir featured sophisticated performers such as Blossom Dearie and Cy Coleman, playing songs by Tommy Wolf and Fran La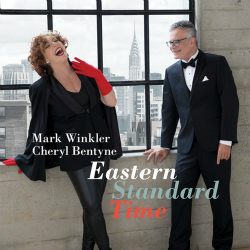 ndesman. That premise allows the over-the-top Latin lounge arrangement of "Devil May Care" and the deliciously un-PC "Rhode Island is Famous for You" to make sense. Both Winkler and Bentyne play up the hipster characters on the above tunes and on Winkler's original, "Like Jazz", but they also know when to shift to a serious mood when appropriate, as on the ballad medley "The Ballad of the Sad Young Men" and "The Lies of Handsome Men". Bentyne has always been a fine rhythm singer, and she is in top form on "The Gentleman is a Dope", singing the tune with a potent combination of perspective and swing. Winkler discovers a sexy groove in Wes Montgomery's classic "Bumpin'", and after performing his original words ("I Could Get Used to This"), guitarist Grant Geissman plays an uncanny imitation of the guitar master with Rich Eames doubling piano and organ. "The Best is Yet to Come" features a splendid Eames arrangement, starting with vocals accompanied only with finger snaps, building into an intricate setting with finely-wrought counterpoint in the bridge that effortlessly merges into a background figure. The backing musicians, including Gabe Davis (bass), Dave Tull (drums), Bob Sheppard (reeds), and Kevin Winard (percussion) are all in fine form; however, I question the wisdom of using Pat Kelley as guitarist on Bentyne's solo version of "Spring Can Really Hang You Up the Most". Kelley hits all the right chords, but the sound of his omnipresent strumming interferes with Bentyne's understated performance. Considering the setting, I was rather surprised to find Lou Reed's "Walk on the Wild Side" included in the playlist. It's a fun track, but some of the effects in the bridge are rather bizarre. "You Smell So Good" strips away all of the sugar-sweetness of the Jackie and Roy version, and replaces it with a seductive bossa feel. Before closing with the aforementioned ballad medley, Bentyne and Winkler score with a joyous version of Peggy Lee's "Things are Swingin'" (which lives up to its title!) "Eastern Standard Time" is an inspired homage to a time long passed—not a perfect time, but one with significant artistic accomplishments.
BOB DOROUGH: "BUT FOR NOW" (Enja 9627)
With the exception of a presently unreleased (but already legendary) performance of "The New Bluebird" for Roseanna Vitro's Skyline label, the new CD "But for Now" represents Bob Dorough's final recordings. Dorough had an odd sense of humor, and that seems accentuated in this intimate 2014 session, where t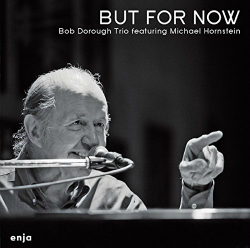 he 91-year old vocalist punches out his words, scats with highly unexpected pitches, and generally looks askew at a collection of songbook favorites and jazz standards. Yet, the idiosyncrasies do not apply to his piano work which can be clearly heard in these drummer-less trio sessions. German alto saxophonist Michael Hornstein—who Dorough mentored in the early 1980s—shares the front line with Dorough, and his loose (but artistic) conception of intonation may have inspired Dorough's quirky interpretations. Bassist Tony Marino plays straight man throughout, supporting the proceedings with dependable time and accurate pitches. The album yields several intriguing performances, including a Latin-style instrumental on "The Shadow of Your Smile", and a touching version of the title tune, with Dorough contributing some delightful stride near the end of Hornstein's solo. A few online reviewers have blamed Dorough's advancing age for the odd vocals, but his rendition of "Indian Summer" convinces me that he was in control of his voice and delivery. Sure, there are out-of-tune notes and a wider vibrato than normal, but Dorough offers a very compelling reading of these classic words. The first chorus of "Better than Anything" presents further evidence, as he sings an updated set of lyrics with exceptional diction. On the other hand, purists will wince at his approach to the ballads "Prelude to a Kiss", "Georgia on My Mind" and "Body & Soul" (but how many 91-year-old vocalists would dare to sing "B&S" as a voice/alto sax duet?). Clearly, this album is not a good introduction to Bob Dorough's music—the Bethlehem "Devil May Care" remains his strongest album—but for those of us hip to this late master's style, there are many points in "But for Now" to make us smile and remember.
JUDY NIEMACK: "NEW YORK STORIES" (Sunnyside 1515)
It might seem odd that an album titled "New York Stories" was recorded in Copenhagen rather than Brooklyn. However, both vocalist Judy Niemack and arranger/conductor Jim McNeely are both long-standing residents of the Apple. They insert their civic pride into the ten-minute title track: it is filled with the grit and attitude that has earned New York City its hard-boiled reputation. On "Suddenly" (a lyricized version of "In Walked Bud") Niemack demonstrates why she is one of the most respected vocalists in the world. She scats with confidence alongside the soloists from the Danish Radio Big Band,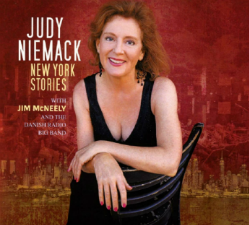 holds her own against any backdrop McNeely throws behind her (notably an odd bass figure in the final chorus) and handles unexpected modulations with ease. In addition to Niemack's original lyrics, the album's version of "Misterioso" (renamed "A Crazy Song to Sing") features a wonderful McNeely score which uses traditional voicings in unorthodox ways. Niemack echoes the unusual score with a solo filled with daring note choices and intriguing scat syllables. Later in the chart, McNeely converts Monk's melody into a stunning ensemble variation. I can speak from personal experience about the many difficulties in singing Clifford Brown's "Daahoud": the melody has a wide range, and the chord changes are challenging for improvisers. Not only does Niemack sing the song with immaculate pitch, but she also scats brilliantly, and sings ensemble figures with the band! "Straight Up to the Right" was inspired by Michael Brecker's solo on Don Grolnick's "Talking to Myself". It provides an entirely different set of challenges, as its melody never truly reveals the meter or tempo. McNeely found an inventive solution, offering samples of different tempos before moving into a driving funk style for the solos by guitarist Per Gade and tenor saxophonist Hans Ulrik before transitioning to a relaxed straight-eighth groove feel for the second half of the arrangement. Niemack sings Sting's "Fragile" with great feeling, and McNeely outdoes himself with an incredible display of contrapuntal writing between the two theme statements. Two Monk compositions close the album. "Round Midnight" is beautifully performed, but is rather conventional in its presentation. However, "Well, You Needn't" is a delight from beginning to end, from the imaginative scoring of the introduction, Niemack's sassy delivery of the lyrics, the spectacular shout chorus which uses many of Monk's favorite licks, the finely sculpted trumpet solo of Lars Vissing, Niemack's sexy scat, a uniquely scored variation, to the closing chorus. This is not your typical vocalist-and-big-band album, but it marks an artistic highpoint for both Judy Niemack and Jim McNeely.