For the Tierney Sutton Band, it's all about the arrangements. Over its 25 years of existence, the band (below, L-R: Christian Jacob, Kevin Axt, Tierney Sutton, Ray Brinker) has created and developed an enormous book of charts, from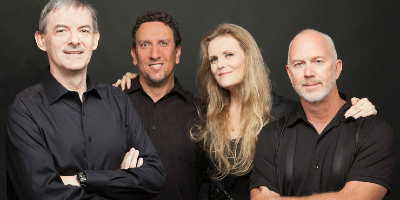 which they assemble their live and recorded performances. The arrangements tend to evolve through touring, but it's rare for a chart to change from its original conception. For example, when vocalist Sutton told the audience at Denver's Newman Center that she and pianist Christian Jacob were going to perform a duet, but hadn't decided on the tune, she asked the crowd to offer suggestions. She rejected a few standards out of hand because they were band arrangements, not duo arrangements. Realizing that she knew her band book better than the audience, she offered a multiple choice: "Smile" or "Two for the Road". Someone shouted "do them both" and the duo agreed. The impromptu pairing was quite inspired: the lyrics to each song promote optimism, even though the films from which they were extracted—1936's "Modern Times" and 1967's "Two for the Road" respectively—each have their share of dark moments. Sutton sang each tune with great passion, while Jacob tied the medley together with repeated quotes from "Smile". After the medley, Sutton told the audience that the band's next album would focus on movie music, and that they might include this new medley on the disc, perhaps with a light string accompaniment. (Remember folks, you heard it here first).
The majority of the concert focused on music from the band's current album, "The Sting Variations" (BFM Jazz 302 062 434). As on Sutton's album  of Joni Mitchell songs, the powerful story-driven lyrics are enriched through musical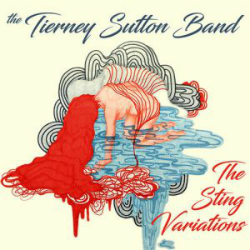 transformations. Perhaps the most telling metamorphosis occurred on "Every Breath You Take", a piece famously known as "a stalker song". At the concert, Sutton dedicated the song to her daughter, noting that it was both thrilling and terrifying to watch her grow into a young woman. She sang the Police song as a tender lullabye, and the (unchanged) lyrics became the story of a watchful and caring mother. On three songs, Sting's songs were connected to the music of the 1958-59 Miles Davis Sextet. "Driven to Tears" opened with an exact replication of the slow introduction to "So What" and concluded with Sutton scatting Davis' solo from the same "Kind of Blue" track. A "three-tet" setting of "Walking in Your Footsteps" with bassist Kevin Axt and drummer Ray Brinker included a piece of "All Blues", and the quartet chart of "Syncronicity" quoted "Milestones". Rather than being a comparison between Sting and Miles, I suspect that the connection was made for strictly musical purposes, as Jacob's brief but impressive solo on "Driven to Tears" sounded like it was all set over a single scale (just like "So What").
"Message in a Bottle" became a true jazz piece, featuring a commanding drum solo from Brinker, and Sutton's delightful scatted interplay with Jacob. Brinker's hand drum added to the layers of atmosphere on "If You Love Somebody, Set Them Free", while Sutton's easy transition from spoken word to song highlighted the touching "Language of Birds." At least two of the Sting arrangements were in mixed meter, and the band also alternated time signatures on Cole Porter's "It's All Right with Me", moving from a rolling 6/8 ostinato to a straight 4/4 swing in 8-bar segments. The band's extraordinary chemistry was evident from the concert opener, "Without a Song", which started with a rubato feeling before seamlessly moving into a dreamy slow tempo. Brinker's whispery brushes were a revelation throughout this piece; as noted, he displayed great strength in solos later in the concert, but it was a treat to hear such a musical drummer who could play delicately when needed. Axt did not get many solo opportunities in the concert, but his rich, full-toned sound—which he somehow derived from a "bass stick"—provided great support to the rest of the band. At its full personnel, the Sutton Band carries two bassists, but the other bassist, Trey Henry, was in Denver only in spirit, through his fine arrangements of the Sting material.
Sutton told the audience that the Sting album was an attempt to build their audience without alienating their jazz base. The concept worked quite well, but perhaps the concentrated intensity of the Sting songs prevented the audience from leaping to their feet after the last song. As a result, there was no encore, and most of the audience had left before the announcement that the band would reconvene on stage for a short session of questions and answers. The Q/A was informative and could have continued for several more minutes, but like the preceding concert, it seemed to lose its momentum, ending on a lower plateau than anticipated. Still, it was a treat to hear this band live, and the Newman Center deserves accolades for its long-standing commitment to jazz.