LORI SIMS/ANDREW RATHBUN/JEREMY SISKIND: "IMPRESSIONS OF DEBUSSY" (Centaur 3773)
"Impressions of Debussy" offers direct comparisons of Claude Debussy's "Preludes", played in their original versions by pianist Lori Sims, directly followed by jazz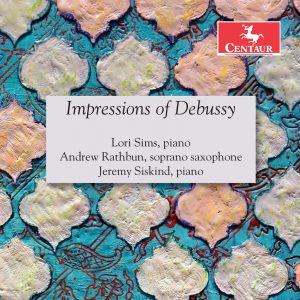 interpretations performed by soprano saxophonist Andrew Rathbun and pianist Jeremy Siskind. Both Rathbun and Siskind are travelling in familiar areas: Rathbun is an acclaimed composer in his own right, and Siskind's career debut was a Carnegie Hall concert offering a combination of Debussy's "Etudes" with jazz standards. Although the focus of this review will be on the jazz versions, I must say at the outset that Sims plays the original pieces with great elegance. Her interpretations are thoughtful and well-developed, and she gets a rich, deep tone from the Steinway. The first piece "Les sons et les parfums" features a sweeping melody beautifully intoned by Rathbun. Siskind adds a gently undulating rhythm below, and while the rhythm moves within the off-beats, the music is almost danceable. "The Girl with the Flaxen Hair" has been arranged and interpreted by jazz musicians for many years. Siskind's version retains all the tenderness of the original, in both melody and harmony. His solo improvisation develops the melody into a jazz ballad. Rathbun plays long tones under the piano solo, and the communication between the two reminds me of the classic duet recordings of Jane Ira Bloom and Fred Hersch. "Minstrels" reminded Rathbun of Thelonious Monk, and as a result, a full chorus of "I Mean You" appears early in the track! Siskind plays some Monkish stride before Rathbun offers a full-throated improvisation.
"Feuilles mortes" is transformed into a jazz waltz (although Siskind's broken time patterns camouflage the meter for a while!) Both Rathbun and Siskind find great inspiration and they each contribute joyful solos in the first half of the work. The last two minutes are generally more somber (the title translates to "dead leaves" after all) but it is highly effective. "Le vent dans la plaine" will be familiar to many listeners. Siskind's interpretation increases the drama, and Rathbun's solo overflows with emotion. Rathbun opens "Des pas sur le neige" as an unaccompanied solo, and the lonely atmosphere of the piece is retained with Siskind's understated entry and accompaniment. Debussy included a tango rhythm (disguised as a bass ostinato) within "La puerto del vino". Siskind amplifies the tango rhythm by restoring its typical arpeggiated melody, and then creates a brilliant linear improvisation on top. "Canope" starts calmly, but the intensity seems to build with each measure. "Danseuses de Delphes" loses all of its grandeur in its jazz transformation, beginning as a wistful and poignant song, but becoming harsh and strident as the album reaches its conclusion.
REVERSO: "THE MELODIC LINE" (OutNote 631)
Reverso, the extraordinary chamber ensemble co-led by trombonist Ryan Keberle and pianist Frank Woeste, tackled Maurice Ravel's "Le Tombeau de Couperin"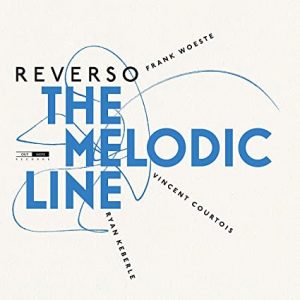 on their first album, "Suite Ravel". Their sophomore release, "The Melodic Line" digs deeper into the French repertoire, using music by the composers of Les Six as their primary inspiration. Woeste cites Milhaud's piano suite, "Saudades", written between 1917 and 1919, while serving with the French Foreign Legion in Brazil, while Keberle explored the music of Les Six's only female member Germaine Tailleferre. However, instead of reinterpreting the works of Milhaud and Tailleferre, Woeste and Keberle have created new compositions inspired by the original compositions. As with the Rathbun/Siskind reinterpretations, the pieces by Woeste and Keberle move in unexpected directions (for example, the opening Woeste composition "Blue Feather" features an engaging handclapping pattern which appears to have been added in post-production). Keberle's love of simultaneous improvisation is present throughout, but the intimate nature of this group brings a different feel to these episodes than in Keberle's other group, the politically-charged Catharsis. Certainly, the combination of Woeste's heavily-pedaled and quite rhapsodic piano with Vincent Courtois' sweeping cello lines yields a chamber music sound, but the nature of Reverso's repertoire is also a contributing factor.
I should mention that Reverso is only a trio on this CD, but that is not a permanent change. When I heard this group live in Lakewood, Colorado (just before the COVID-19 crisis hit) the group was a quartet, with Erik Friedlander subbing on cello, and Jimmy MacBride added on drums. Friedlander was fairly new to the mix, but he quickly discovered the balance of playing walking bass lines and bowed improvisations. Since the concert repertoire included music from both Reverso albums, MacBride had the daunting challenge of creating parts that didn't exist before! He added a significant number of cymbals and a small gong to his kit, and he utilized it all in a way that enhanced (and never distracted from) the music around him. As the tour continued across the US and Canada, there seemed to be a different lineup every night, with Keberle the only constant. With most ensembles, changing personnel could be a cause for concern, but not with Keberle's groups. He has an uncanny ability to communicate his vision of the ensemble without stifling the artistic needs of others. That's a skill that doubtlessly comes in handy when collaborating with busy but talented musicians.
The overall feel of "The Melodic Line" seems more melancholic than the first album, but the richness of the instruments and the superb compositions allow the improvisations to bloom into great dramatic statements. "Exemplar" has a marvelous example of this effect, but the following track "Up North" (also by Keberle) seems to build upon the previous track's emotional power. What emerges is a unique sound that is a true mixture of classical and jazz styles, which sits comfortably in the middle rather than shifting between one side and the other. While each musician can add elements from either style, as a whole the music remains (to quote Duke Ellington) "beyond category". In their individual compositions, Keberle and Woeste have each found ways to vary the repertoire: Woeste's "Absinthe" has a funky obbligato that will stay in the brain for days, and Keberle's "Sisters of Mine" has such a glorious melody that I hope Keberle will someday  arrange it for big band and/or string ensemble. The members of Les Six—Darius Milhaud, Francis Poulenc, Arthur Honegger, Georges Auric, Louis Durey and Germaine Tailleferre—are all gone now, but Reverso's unique take on their music should encourage listeners to examine their original music. Let the cross-influences continue!