The COVID-19 has shut down the world's economy in short order. While elements of the economy are beginning to open up again, live performances will be one of the last elements to restart. Most club and concert dates have been cancelled for the remainder of the year. For many jazz artists, recorded music is their only source of income. The albums reviewed here are all current releases; most of them were released during the period of nationwide lockdown. Of course, most of the music was recorded long before anyone had heard of the coronavirus. Many of these musicians are still producing music online, which is understandably different than these albums. However, these recordings show us what we as audience members took for granted before the virus. These reviews will be a continuing feature on Jazz History Online as long as the crisis continues. The current set was adapted from what was to be a standard collection of vocal and piano reviews; the reviews in future issues will encompass all types of instrumental and vocal jazz. JHO has always encouraged its readers to support the musicians by purchasing their CDs. The message could not be more urgent now. If you can afford to help, please do.
CYRILLE AIMÉE & RYAN HANSELER: "JUST YOU, JUST ME" (self-released; digital only)
The newest duet recording by vocalist Cyrille Aimée and pianist Ryan Hanseler, "Just You, Just Me" cannot be purchased at record stores or through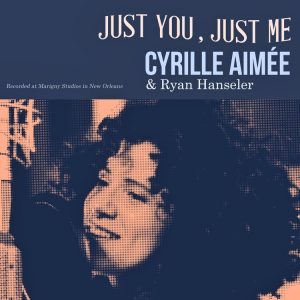 the usual online sources. It is being offered as a premium on Aimée's Patreon site, and can be acquired by the song or by the complete album, depending on the size of the donation. Picking out individual tunes seems fruitless to me, since the entire album is consistently excellent. Aimée displays her usual ease on standards, with a funky New Orleans version of "Cheek to Cheek" and tender renditions of "Moonglow" and "My Old Flame" among the highlights. Her scat singing continues to improve and impress, and her sunny approach enlivens the optimistic lyrics of "On a Clear Day". However, Aimée is not content to stick with the Great American Songbook. She has included two wonderful songs by Stephen Sondheim, "Loving You" and "Take Me to the World", plus songs associated with two recently deceased jazz musicians, Ellis Marsalis ("When First We Met") and Roy Hargrove ("Crazy Race"). Throughout all of this material, Hanseler proves to be a superb accompanist, following Aimée's cues one moment and taking the lead the next. As a soloist on uptempo numbers, he gets a very clean sound from the piano, using very little pedal and forceful manual technique; on ballads, he wraps Aimée's bright voice in a cushion of soft tones. Cyrille Aimée is at her best when working with minimal accompaniment, and this duet recital will please her multitude of fans. Get this album—all of it—while you can. It's a gem.
LYNNE ARRIALE: "CHIMES OF FREEDOM" (Challenge 73494)
"Chimes of Freedom" is the latest in a series of albums where pianist Lynne Arriale approaches contemporary issues through primarily instrumental means.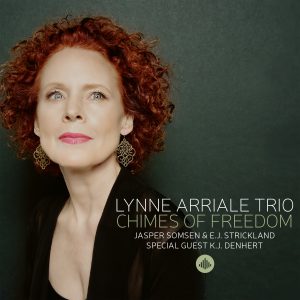 Here, she takes on the difficult topic of immigration. The opening rubato treatment of "Sometimes I Feel Like a Motherless Child" sounds like the heaving and sighing of an orphan, and the performance builds to an extraordinary crescendo with each push accentuated by E.J. Strickland's cymbals. "Journey" drives forward with great energy and lively three-way communication across the trio. Arriale's stark single lines, Jasper Somsen's intense high-register bass and Strickland's crackling snare all add to the urgency of this piece. In a way, "The Dreamers" is a continuation of "Journey" as it was inspired by DACA immigrants, perhaps the most unduly persecuted victims of the current immigration battle. Stylistically, the piece seems to be in two places simultaneously, with a legato approach riding over an active and restless background. "Three Million Steps" describes the trek of Guatemalan refugees to the United States. The composition has an attractive stop-time episode built into the structure, and Arriale creates a powerful solo over the swinging rhythm section. "Hope" carries an earnest belief in reaching higher goals for future generations, and in her solo, Arriale seems to take the idea literally as succeeding phrases move further up the keyboard. "The Whole Truth" salutes the press with a deeply-grooving tune. The trio responds to this piece with outstanding ensemble swing and joyful solos. "Lady Liberty" is a majestic tribute to the iconic Statue and the values she represents, while "Reunion" celebrates families brought back together after years of forced separation. As with her previous albums, Arriale has brought in a guest vocalist to close the disc. This time, K.J. Denhert fills the spot admirably performing Bob Dylan's "Chimes of Freedom" and Paul Simon's "American Tune" with understated elegance and deep understanding of the multi-layered lyrics. This album is an impassioned statement about an issue with roots planted in the American soil. May this beautiful music inspire us to greatness.
KENNY BARRON/DAVE HOLLAND/JOHNATHAN BLAKE: "WITHOUT DECEPTION" (Dare2 11)
A formidable combination on piano and bass respectively, Kenny Barron and Dave Holland have recorded in many formats over the last 35 years. On their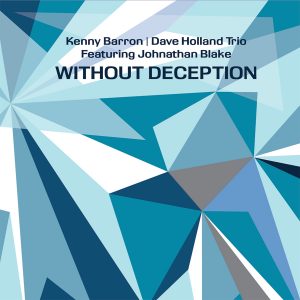 latest collaboration, "Without Deception", they join forces with the resourceful drummer Johnathan Blake, and while this is Blake's first recording with Barron and Holland, he fills his role with confidence. The opening track, "Porto Allegre", features a tightly-knit groove, and tidy introductory solos. The deep melodicism of Holland's and Barron's solos is effectively contrasted with Blake's bright snare and cymbals. Barron's airy voicings enliven both the theme and solos of the Mulgrew Miller composition, "Second Thoughts".  Barron builds his statement from a joyous single line that develops into sharply accented chordal passages. Blake's broken time patterns maintain a fresh, evolving atmosphere to the performance. The title track is a delicious altered blues which elicits inspired solos from the entire group, "Until Then" features a moving unaccompanied Barron intro before setting into a relaxed bossa tempo, and "Speed Trap" conjures up a thrilling high-speed car ride with the trio deftly maneuvering through every tight curve. "Secret Places" was written by Barron's protégé Sumi Tonooka, and the trio makes the most of the tune's shifting accents and restless groove. Blake gets the spotlight on Holland's funky original, "Pass it On" (which the liner states is a dedication to another great drummer, Ed Blackwell). To call Blake's irresistible rhythmic pattern a New Orleans beat is too limiting, as the drummer finds myriad ways to vary the patterns and inspire his fellow players. It's hard to imagine Duke Ellington's "Warm Valley" without the scooping alto sax of Johnny Hodges, but Barron subtly evokes Hodges' iconic sound by inserting tiny glissandos before the principal notes of the melody. As we expect of mature, seasoned performers like Barron, the effect appears just enough to make the point and never so much that it becomes predictable. The album closes with a tasty reading of a lovely new Holland original "I Remember When" and a fun straight-eighth arrangement of Thelonious Monk's "Worry Later" (aka "San Francisco Holiday"). While this album does not carry any overall concept, it is a delightful recital by three world-class musicians. The joy is contagious!
JOHN DI MARTINO: "PASSION FLOWER" (Sunnyside 4114)
Collections of Billy Strayhorn songs have become almost as ubiquitous as Duke Ellington collections in past generations. In his new CD, "Passion Flower", pianist John DiMartino and a stellar quartet find plenty of inspiration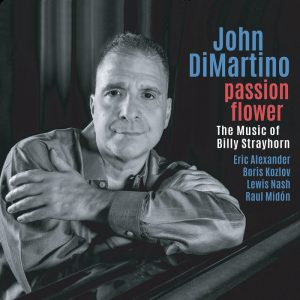 within the Strayhorn repertoire. "Johnny Come Lately" starts the proceedings with bassist Boris Koslov and drummer Lewis Nash setting an impeccable groove, DiMartino playing a spare but swinging solo, tenor saxophonist Eric Alexander examining the harmony from several angles, and Nash topping it off with an exciting solo. Vocalist Raul Midón joins the group for "Lush Life" and he sings this challenging song with a minimum of artifice, letting Strayhorn's words and music tell the often-told story. "Raincheck" gets a soft-shoe treatment, but Alexander's edgy tenor eventually causes the groove to shift to hard-driving swing. DiMartino's solo is marked by his dialogue with Nash, who later takes the spotlight with a splendid brush solo. Because Strayhorn's music has become better-known in recent years, I always appreciate hearing these familiar songs in new settings. Even when the changes are subtle—as on the present version of "Star-Crossed Lovers", which trades a quiet samba for the usual ballad style—the difference causes the listener to re-examine the music with a new perspective. The song which appeared as "Isfahan" in Ellington's "Far East Suite" was originally named "Elf", and perhaps that was the inspiration for the light, skipping arrangement played here. The chord sequence works well as a medium-tempo blowing vehicle (Koslov is in especially good form) even if the pristine clarity of the original is missing. "Chelsea Bridge" brings us back to ballad tempo, with Alexander creating a memorable paraphrase of the melody. DiMartino's solo is a thing of beauty, based on a motive developed throughout the improvisation. The performance is capped with a superbly executed tenor cadenza. "Daydream" becomes an intriguing waltz in the quartet's hands. Alexander portrays a variety of emotions in his solo, and DiMartino plays with more force here than anywhere else on the album, while Koslov provides active counterpoint—and later, melodic finesse in his solo. Nash's dancing cymbals and brilliant brush work are additional highlights. The title track offers brief but telling solos from tenor, bass and piano, and both "UMMG" and "Take the A Train" benefit from an inside-out approach that allows Alexander to start improvising on the tunes from the beginning. The ethereal theme statement on "UMMG" is a delight, with Alexander playing the melody lightly over Koslov's improvisation. Between "UMMG" and "A Train" is a stunning tenor/piano duet on Strayhorn's last piece, "Blood Count" which maintains the intense drama of the original setting. DiMartino also contributes lovely solo versions of "A Flower is a Lovesome Thing" and "Lotus Blossom" which surround a tender quartet version of "Absinthe". This tribute album comes highly recommended.
"DUCHESS LIVE AT JAZZ STANDARD" (Anzic 66)
The continued success of the vocal trio Duchess fills my heart. Only the best vocal groups survive past their debut albums, and it is a happy circumstance that this group, which focuses on historic female trios, has found a devoted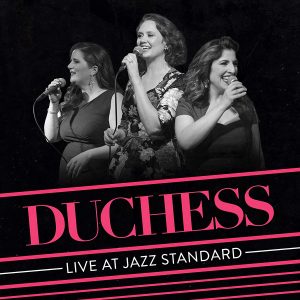 audience. Up until now, recordings have only presented part of the Duchess experience. Anyone who has caught their entertaining podcast "Harmony and Hijinks" or caught one of their live shows has witnessed the delightful comic banter between members Amy Cervini, Hilary Gardner and Melissa Stylianou. Duchess' sassy blend of comedy and music appears in all of its glory on their fourth CD, "Live at Jazz Standard". About two-thirds of the songs appeared on the trio's earlier albums, but these live versions spark with an extra intensity. The absence of guest soloists brings new creative opportunities, as on Wycliffe Gordon's beautiful setting of "Creole Love Call" which here includes a wondrous collective scat passage in place of the instrumental solo. The complex Boswell Sisters arrangements, "Heebie Jeebies" and "Everybody Loves My Baby" are anchored by Cervini's strong, soulful lead and the trio's precise ensemble work. Highlights of the new pieces include the thrilling shout chorus on "Bei Mir Bist Du Schön", Stylianou's passionate solo on "Joseph, Joseph", the vocal byplay on "Three Little Sisters", and Gardner's spectacular high notes on "Chattanooga Choo Choo". And while live recordings usually fail to capture the unique blend of vocal groups, engineers Ryan Caruso and Brian Montgomery have found the precise balance to recreate the Duchess sound on disc. To make the experience complete, Anzic has included all of the between-song conversations with observations on the "band size" Duchess cocktails, the use of "jazz hands" and the patronizing way Duchess is typically described in reviews (not here, I hope!) To that end, Gardner provides some hilarious "family-friendly male objectification" as she introduces instrumentalists Michael Cabe (piano), Jesse Lewis (guitar), Matt Aronoff (bass) and Jared Schonig (drums). While the focus is obviously on the vocals, the band's expert handling of Duchess' difficult arrangements supports the outstanding musicianship of the ladies up front. This album is a welcome release for those who miss hearing music in person.
CHAMPIAN FULTON/CORY WEEDS: "DREAM A LITTLE…" (Cellar Live 225219)
Pianist and vocalist Champian Fulton has graced my Facebook news feed lately with her cheery renditions of jazz standards. Throughout the COVID-19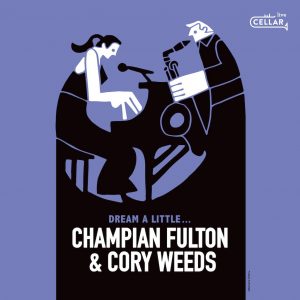 crisis, she has been a model to other jazz musicians by posting new videos on a regular basis. Her new collaboration with alto saxophonist Cory Weeds, "Dream a Little…" was recorded at a house concert in Vancouver. "Dream a Little Dream of Me" opens the album and the setup couldn't be simpler: an unaccompanied saxophone intro, followed by a piano/vocal chorus with tasty obbligatos between phrases. Yet, we hear a lot in this track: Weeds' full-throated tone, Fulton's finely pruned stride style, and her spicy Dinah Washington-inspired vocals. For the most part, she sings the tune straight, so that when she creates a variation, it is clear to every listener. "Fly Me to the Moon" displays her skill as an accompanist, supporting Weeds throughout, but also adding her own ideas to enhance the overall effect. In the final vocal chorus, she takes a few more chances, but she retains the delicate balance between written and improvised passages. Fulton's original instrumental, "Lullaby for Art" is an attractive minor-key piece with juicy changes. Weeds offers an impassioned solo while Fulton digs into the piano's bass register. Her own solo is a complete contrast with sparse left hand chords and fleet single lines in the right hand. The composition includes a shout chorus before the recapitulation. "Darn That Dream" shows what happens when Fulton indulges in a few too many liberties. At a crawling slow tempo, she swoops and slides so much that the melody is completely obliterated. Of course, she has every right to do that, but it makes for difficult listening, especially for a live audience. The final chorus regains the balance she had established in the early tracks. After another fine vocal chorus on "Pennies from Heaven", Weeds shows what he learned from Phil Woods, most notably the rich singing tone and extended lyric phrasing which marked the his early recordings. When Fulton takes over for a piano solo, she reaches back for a spot-on impression of Erroll Garner. Weeds and Fulton split the melody chorus of "Secret Love" and during Weeds' solo, Fulton jabs at the keyboard with short pungent phrases. Her own solo maintains the intensity with blistering right hand lines. The train described in "I Thought About You" must be an Amtrak, as it moves very slowly! The deliberate tempo transforms the Johnny Mercer/Jimmy Van Heusen standard into a bluesy moan. Weeds takes full advantage as his solo drips with soul and molasses. Fulton creates a rhythmically complex treble line over her steady bass pulse, and the effect is stunning. After a swinging instrumental version of "Tangerine", Fulton treats us to a nostalgic setting of the Andy Razaf/Eubie Blake chestnut, "I'd Give a Dollar for a Dime" (how many musicians of her generation know songs like this?). This splendid recital closes with "Save Your Love for Me" using the original instrumental phrasing of the melody. Intimate house concerts like this could be the first events to return. Imagine hearing this inventive duo in your own living room…
AUBREY JOHNSON: "UNRAVELED" (Outside In 2002)
If the name Aubrey Johnson is familiar at all, it is probably because of her many appearances as a backup vocalist. "Unraveled" marks her debut as a leader and it displays her special gifts for transforming material into jazz vehicles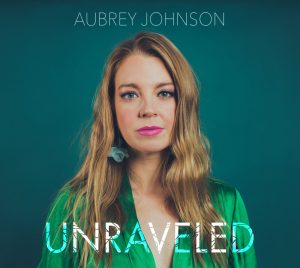 and for creating her own original music. She makes a great first impression with a stunning arrangement of the 1980s ballad, "No More 'I Love You's" which stretches the original form and adds a broken rhythm part for bass clarinet (Michael Sachs) and violin (Tomoko Omura). Johnson's passionate and genre-blending vocal allows us to experience the song from an unexpected viewpoint. Johnson's original "Love Again" segues in, continuing the story as the singer predicts how things will go differently next time. As Chris Ziemba begins his piano solo, Johnson lets her vocal trail off into a wordless improvisation. When she returns a minute later, we can hear that she is not really scatting, but letting her voice flow without adding any percussive consonants. The title track tells of a gradual mental breakdown and Johnson's composition and arrangement include stops and starts, slow dynamic shifts and a restless drum pattern (Jeremy Noller) to represent the action. Johnson adds several more wordless passages which are closer to scat than on the earlier tracks. Johnson commissioned Sachs and Omura to write songs for the group, and they reveal a simpatico relationship to this music's overall goals. For good measure, the album also includes three tracks that hew closer to the jazz idiom. Jimmy Rowles' "The Peacocks" has an incredibly difficult melody, loaded with wide unruly intervals. Johnson makes it sound effortless, while singing Norma Winstone's intricate lyrics. Johnson sings both the Portuguese and English lyric on "Dindi" and between the two choruses, she improvises a wonderful scat solo, with bassist Matt Aronoff and accordionist Vitor Gonçalves providing excellent support. The final track is a sprightly piano/accordion/voice trio on Egberto Gismonti's "Karate" which offers Johnson another chance to display her astounding vocal technique. As wonderful as the straight-ahead pieces are, I suspect that they will occupy a lesser part of Johnson's future repertoire. The music from the first half of this album sounds like more of a challenge. That music may reside in a middle area situated between singer/songwriter pop and contemporary jazz, but regardless of the material's source, the musicians—including Johnson—are working within the jazz idiom, reacting to each other and improvising on the chord changes. I wouldn't call Johnson an innovator just yet, but she is developing ideas which expand our definition of jazz and reflect the inclusive nature of the art form.