The importance of private, non-commercial recordings in jazz history is nowhere more prevalent than in the early years of bebop. While essential bop discs were made for the major labels, most of the music's crucial development occurred between mid-1942 and 1944, when union musicians were forbidden to make commercial recordings, due to a strike called by AFM president James C. Petrillo. Thankfully, a group of industrious amateur recordists documented the burgeoning new music on disc and wire recorders, capturing the music in person or on the radio. Many of these recordings have been issued in the interceding years, and they fill in most of the pieces left open in the artist's "official" discographies. Jerry Newman's portable disc recorder caught the young lions Dizzy Gillespie, Charlie Christian, and Thelonious Monk in lengthy jam sessions at Minton's Playhouse; Billy Eckstine's valet, named Red Cross, recorded a double-sided 12″ 78 of Gillespie, Charlie Parker (on tenor sax!) and Oscar Pettiford jamming in a Chicago hotel room; and Boris Rose (among others) wired recorders to their home radios and caught valuable broadcasts of the young bop stars in big bands and their own combos. These recordings, some with barely acceptable fidelity, remained unknown in the years following World War II. As a result, the new music's debut recordings sounded brash and discordant to 1945 jazz fans. Some embraced it, and others rejected it, but no one seemed to understand Gillespie's motto that "bebop was evolution, not revolution".
Two new historical recordings, "The Birth of Bop" (Savoy/Craft) and "Bird in LA" (Verve), illustrate the stark differences between commercial and private bop recordings. The Savoy collection reissues a 1952 compilation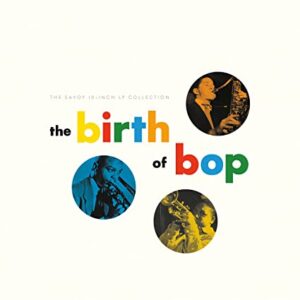 originally issued on 5 10″ LPs. Craft's new vinyl edition dutifully recreates the set as it was, maintaining the smaller LP size, and tracks (3 per side), but adds new remastering, attractive packaging, and freshly-commissioned liner notes by Neil Tesser. The collection is also available on a 2-CD set (for about a quarter of the LP price) with the same features as the vinyl. The 1952 compilers (uncredited, but probably including Teddy Reig) were limited to Savoy's holdings, but that wasn't necessarily a bad thing: Savoy had plenty of classic bop titles with Parker, Gillespie, Miles Davis, Bud Powell, J.J. Johnson, Milt Jackson, Fats Navarro, and Tadd Dameron. But something went wrong when they put together the album: Savoy had just issued a nearly-complete set of Parker's master sides on another multi-disc set of 10″ LPs, so the new set omitted all of the Parker tracks, except for the earlier set's sole holdout, "Romance Without Finance". That also jettisoned the Gillespie and Davis tracks, which were made with Parker. And with those decisions, this collection began to lose its luster.
What's here isn't bad. "Romance" leads off the set, and Parker plays fine obbligatos behind Tiny Grimes' vocal, followed by a well-constructed solo chorus. The swing vs. bop setting finds an amiable balance—especially with the fine pianist Clyde Hart leading the rhythm section. Dexter Gordon's classic "Dexter's Minor Mad" finds the 22-year-old displaying state-of-the-art bop tenor from late 1945. J.J. Johnson's 1946 track, "Jay Bird" features Cecil Payne playing alto sax on his first recording session, Johnson's fiery trombone solo accented by Max Roach's drums, and a brilliant piano solo by Powell. So far so good, but the chronology falls apart with a 1949 Milt Jackson sextet recording, "Hearing Bells". It's a fine showcase for Jackson, but 1949 is a little late for the birth of bebop. Bop was certainly mature by 1949 (as shown in the Victor takes of "Overtime" by the Metronome All-Stars featuring Parker, Roach, and the phenomenal trumpet lineup of Gillespie, Davis, and Navarro). Leo Parker's "Chase 'n' Lion" is not really bop; it's a mix of rhythm and blues and boogie-woogie—not the type of music supported by Gillespie, Parker, and the others. Stan Getz' "Stan's Mood" closes out the first LP volume, and it is lovely, and boppish, but also leans towards the cool style that eventually overtook bop in popularity.
I will not walk you through this entire 30-track collection, but I will offer a few comments about the remaining tracks. I do not understand why Savoy included three Fats Navarro tracks from his early session with Eddie Lockjaw Davis and not one with the elegant arrangements of Tadd Dameron. Davis' raw style—later refined—gets old very quickly, and while Navarro plays well on these sides, he is much better represented on any of the Savoy Dameron sides. It's hard to argue with fine tracks like Allen Eager's "Church Mouse", Kai Winding's "Always" or Don Byas' "Byas a Drink" (and it is Byas who brings us back to bop's formative years). Benny Harris is the featured trumpeter on the Byas track, and he gets another fine solo opportunity on the next volume with Budd Johnson's septet on his own composition "Little Benny". Gordon wails on "Long Tall Dexter" with exquisite backup from Powell, Curly Russell, and Roach. The second CD includes more tracks from the same Johnson, Jackson, Navarro/Davis, Gordon, and Getz sessions; again, not always a negative, but instead of moving forward, the chronology gets stuck in place. The ending of the set finally adds variety with tracks by Serge Chaloff, Morris Lane, and—in a true surprise—Roy Porter's big band with solos by Art Farmer and Eric Dolphy!
The biggest disappointment is that "Birth of Bop" could have been improved with just a few alterations. First of all, Savoy should have ditched the 10″ format—this is obviously a new set, rather than a copy of the original—and who wants to change records every 9 minutes? They could have moved it to a 12″ format, so each LP side included an entire original volume (6 tracks). The CDs are also skimpy, at 42 minutes each, so why not add a supplemental section, starting with half a dozen Charlie Parker tracks? If possible, Savoy could have licensed a few tracks from Musicraft to include Dizzy's big band and (at the very least) the combo masterpieces "Shaw Nuff" and "Salt Peanuts". And from the Savoy sides, they could have included Fats Navarro's beautiful collaboration with Tadd Dameron, "Nostalgia". The bottom line is that the true recordings of the birth of bop were all made between 1939 and 1945, and those recordings have never been satisfactorily collected into a single box set. "The Birth of Bop" presents several worthy tracks, but the title points to a needed—but as yet unrealized—collection.
In contrast to the Savoy set, Verve's "Bird in LA" consists entirely of private recordings. Chronicling three Parker visits to Los Angeles in 1945-46, 1948, and 1952, the set opens with a rare aircheck of Gillespie, Parker,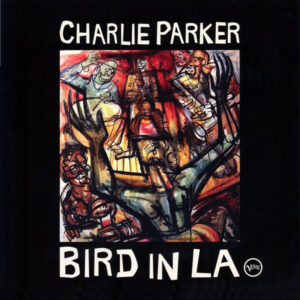 Jackson, Al Haig, Ray Brown, and Stan Levey at Billy Berg's club in Hollywood. There's not much bop on this 12-minute excerpt, and we have to endure endless jive from Slim Gaillard and Harry "The Hipster" Gibson. Slim announces "Shaw Nuff", but instead the band kicks into a slow blues, and just as Parker gets started, the recording comes to an abrupt end; as a consolation, we get a few seconds of "Dizzy Atmosphere" and "52nd Street Theme". After that disappointing opening, we move to a wonderful "Jubilee" broadcast from December 1945, with extended versions of "Groovin' High", "Shaw Nuff" (finally!), and "Dizzy Atmosphere". It's the same band as at Billy Berg's and they are in top form, captured in superb fidelity. Like several of the tracks on Disc 1, these recordings have been issued on several collector's labels, but the sound restoration here is better than I've heard before. Next comes an aircheck of "Salt Peanuts" from a January 1946 Rudy Vallee radio show. It's well-played, but Parker barely gets any solo time, and the neglected tenor man Lucky Thompson only plays in the ensemble.
Things improve with the Parker Quintet at the Finale Club. Miles Davis is poised and confident on trumpet, while Joe Albany plays intriguing notes on the piano (despite some shaky swing). Addison Farmer (Art's twin brother) and Chuck Thompson fill out the group on bass and drums, respectively. Parker plays an outstanding solo on "Ornithology", and Davis follows with the same basic ideas he used on the Dial studio recording made within weeks of this aircheck. In addition to longer solos, this recording also finds Parker incorporating little ensemble figures within the arrangements. The Finale version of "Blue 'n' Boogie" includes riffs that Parker and Gillespie revisited on a classic 1951 reunion at Birdland. Parker returns to "Jubilee" with fellow alto men Benny Carter and Willie Smith, along with the Nat King Cole trio and Buddy Rich. Unfortunately, Verve cut the Carter and Smith features from this broadcast—I would prefer those solos to the Gaillard/Gibson patter from earlier on the disc—but anyone who still owns the Spotlite LP "Bird in Lotus Land" can still access the solos there. I could also live without the lackluster 1948 JATP set which closes the first disc. Parker disappeared a few hours before the gig, and Teddy Edwards found him at an undisclosed location passed out. Edwards brought Parker to the Shrine, and Norman Granz insisted that Parker play. It might have been better if he slept. The press and audience were very disappointed (the Downbeat headline was "Bird Lays an Egg") and there is nothing in the 13 ½ minute set that adds to our appreciation of his art. So much for the theory that "everything Bird played deserves to be heard".
A few days before I wrote this review, The New York Times ran a feature article on comedy clubs where the comedians and audience appear in the nude. Well, just to show that jazz musicians are always years ahead of everyone else, Disc 2 of "Bird in LA" presents the first legitimate issue of a notorious 1952 jam session where all of the musicians played au naturel. Does nudity improve improvisation? Considering the various substances doubtlessly being imbibed at the party, it's hard to say. On a blues which starts with "Au Privave" and ends with "Dance of the Infidels", Parker sounds very good, and the other two saxophonists, Frank Morgan (alto) and Don Wilkerson (tenor) hold their own against the master, especially during an extended set of four-bar exchanges. "A Night in Tunisia" starts off fine, but Parker surprises everyone by skipping the interlude and solo break. The rhythm section—not well-recorded and very muddy in this remaster—gets lost and it takes them more than a few bars to get back on track. On "Ornithology", the young drummer Larance Marable shines as he interacts with the horns. The fidelity is still far from ideal, but we can at least we can hear his snare and ride cymbals over the booming sounds from the rest of his kit. There is a fade-out followed by a continuation of the performance with different EQ parameters selected to emphasize the high frequencies. It's rather jarring to hear the sound change like this; it would have been better to find a reasonable medium and stick with it. A section of party chatter follows, with the party's host, artist Jirayr Zorthian encouraging Parker to "Take your pants off". As Parker goes into "Embraceable You", it sounds like one or more of the young ladies are performing a strip tease over Marable's bump and grind beat. Compared to the earlier tracks of this session, "Hot House" and "Cool Blues" are looser and crazier, but the musicality remains constant. The main tape closes with some general tomfoolery, and the disc ends with a version of "Scrapple from the Apple"—probably from another party two weeks later and definitely including the young Chet Baker—and a partial take of "Au Privave". Overall, this jam session is better than average for Bird, and definitely worth hearing. And frankly, I don't think it matters whether or not the musicians were dressed.