ERIC DOLPHY: "MUSICAL PROPHET" (Resonance 2035)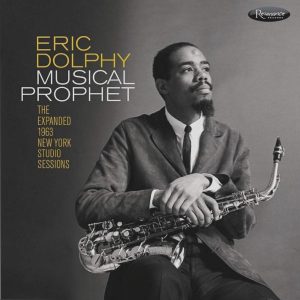 Although he worked with some of the avant-garde's leading musicians (including John Coltrane, Ornette Coleman, Charles Mingus, and George Russell) Eric Dolphy was never a full-fledged free musician. He could play without a stated chord sequence—as on Coleman's "Free Jazz" and Mingus' "What Love"—but he once stated that he thought all of his playing was tonal. His 1963 recordings for the Douglas label, newly collected on Resonance's 3-CD set, "Musical Prophet" presents music that balanced the traditional and contemporary jazz of its day. Recorded over two days in July 1963, this music features several outstanding young musicians, some of whom would become dominant players in the coming years.
"Conversations", the first LP of this music to be issued (and the only part issued during his lifetime) opens with a lean but buoyant version of Fats Waller's "Jitterbug Waltz". Dolphy's flute solo is flurry of sixteenth notes, Trumpeter Woody Shaw—on his debut recording—reveals the influences of Clifford Brown and Freddie Hubbard, but his improvised lines show that at 18 years old, he was already an original thinker. Bobby Hutcherson's vibes are fluid and brilliant, interacting especially well to Eddie Khan's loose bass lines and J.C. Moses' resilient percussion. Dolphy remains a part of this performance throughout, adding trills and octave jumps to introduce and reinforce soloists. "Music Matador" is a light-hearted composition by flutist Prince Lasha and alto saxophonist Sonny Simmons. Dolphy switches to bass clarinet and joins Lasha, Simmons, and soprano saxophonist Clifford Jordan on the front line. The innocuous melody, which sounds like something from a Mexican street band, is contrasted by the daring solos which lean toward free style. Dolphy's squawks act as humorous commentary as much as artistic expression. Charles Moffet's dancing cymbals and light time-keeping highlight this track, his only appearance on the set. "Love Me" is a rare Victor Young song which Dolphy plays as an unaccompanied alto sax solo. His technical ability is astonishing, with his note choices and his approaches to the harmony all quite stunning.
My favorite tracks from these sessions are the duets between Dolphy and bassist Richard Davis. In his interview within Resonance's 100-page booklet, Davis states that he and Dolphy never rehearsed or discussed the  treatments. "Alone Together" starts with an free bass solo. Dolphy joins in on bass clarinet, and the two banter ideas back and forth for a few minutes before Dolphy introduces the classic melody. Suddenly, the performance moves into a straight-ahead 4/4 feel, with Davis playing a walking bass line as Dolphy improvises with increasing agitation. Davis moves across all registers of his instrument during his complex and agile solo, as Dolphy adds rumbling obbligatos. Their simultaneous improvisation works against the implicit time feel, which is only partially restored when Dolphy returns to the melody. As an appendix to this disc, Resonance adds two unissued takes of a Dolphy/Davis duet on Roland Hanna's original "Muses for Richard Davis". On the first take, Davis' rich bowed bass enriches the tender melody, as Dolphy uses the long, sustained tones as a backdrop for his dramatic, angular inventions. Davis continues playing with the bow throughout the track, offering a solo notable for its dramatic juxtaposition of melody and space, as well as his gorgeous tone. On the second take, Dolphy is less adventurous, but his dramatic solo enhances the overall mood of the composition. Davis plays a shorter solo this time, but he captures our attention by bringing the dynamic down to a whisper.
By 1968, when the sequel LP, "Iron Man" was released, Dolphy had been dead for four years, and the original record company was out of business. "Iron Man" included much more adventurous music than its predecessor, and four of its five selections were Dolphy compositions. The title track bursts out of the gate with fierce intensity. With a bold cry to its tone, Dolphy's alto solo stretches the harmony to its limits, while the rhythm section of Hutcherson, Khan and J.C. Moses stir up the background with free but cohesive support. Shaw shows more daring throughout his solo with his brash tone and exciting note choices. Hutcherson's lines are more angular as he responds to the active dialogue between Khan and Moses. It's hard to believe that it is the same quintet which produced the version of "Jitterbug Waltz" on the previous disc! "Mandrake" (later recorded by Dolphy as "The Madrig Walks, The Panther Speaks") shares the same fiery quality as "Iron Man", and while it has an interesting recurring rhythmic shift in its solo sections, the similarity makes "Mandrake" suffer in comparison—especially when programmed back to back.
A reverent Dolphy/Davis duet on Duke Ellington's "Come Sunday" brings needed variety to the album. I love Davis' glorious arco reading of the melody and his elegant obbligato to Dolphy's bass clarinet improvisation.  "Burning Spear" unites the two larger ensembles with Davis and Khan both playing bass (usually one bowed and the other pizzicato). Dolphy is on bass clarinet, playing at his most adventurous over the tumultuous rhythm (which reminds me of the double rhythm section on Coleman's "Free Jazz"). Shaw has trouble getting his solo going over the collective improvising of the woodwinds, but he finds his groove eventually, and the second half of his improvisation features several brilliant darting lines. Hutcherson's vibes get lost in the competing instrumental sounds, and while he plays a lot of notes, he doesn't really create a statement. The basses share the next solo spot, with neither voice dominating. The final Dolphy/Davis duet finds the leader back on flute for "Ode to Charlie Parker". Dolphy's melody features several long tones which allow Davis to fill in the space, and while Dolphy's ensuing solo adds considerable density, Davis is able to continue his accompaniment in the same general style. The shift of soloists is handled with great subtlety. Dolphy never stops playing, but he reverts to the long tones, which allows Davis to intensify his delivery.
I'm not sure why "A Personal Statement" appears on this set. It was not recorded at the sessions which produced the other music on the album, and it has already been released on a Blue Note Dolphy compilation, "Other Aspects". The composition was not by Dolphy, but written by Bob James. It is a rather pompous work featuring a counter-tenor first intoning a text which is fairly difficult to understand and then degenerating into animalistic moans and howls. Dolphy (on alto) plays with considerable passion, but it seems that James couldn't decide if he was writing a classical piece or a jazz work (I wouldn't classify it as Third Stream either, as the classical and jazz elements do not really mix). When the recording was originally issued, there was no information about its origins or its players, and I wonder if the only reason for this reissue is to set the discographical record straight. Frankly, I don't think the piece was worth the extra effort.
The final disc of the Resonance set consists entirely of previously unissued alternate takes from the 1963 sessions. "Music Matador" lacks both the spark and abandon of the master. The two extra solo takes of "Love Me" are significantly different from the issued take. According to the liner notes, Dolphy was inspired by Art Tatum's solo recordings; "Love Me" was one of Tatum's specialties, and it is remarkable to hear how the two men found similar methods—albeit in vastly different approaches—to balance the original melody with improvised elaborations. Except for the previously discussed takes of "Muses", the only alternate of a Dolphy/Davis duet is on "Alone Together". The newly released performance moves in a completely direction than the master. It is a straight-forward rendition of the standard with Davis playing walking bass lines behind Dolphy's expressive bass clarinet. While I enjoy Dolphy's outrageous leaps and squawks here, I can't imagine that either he or Davis were particularly happy with this take, and somehow they both realized that they could do more with this material. I can't muster too much enthusiasm for the alternates of "Jitterbug" or "Mandrake", although the Dolphy and Shaw solos on "Burning Spear" made the alternate worthwhile.
I should mention that Resonance decided to issue all of this music in mono. Apparently, the stereo master tapes have disappeared. That's a shame: admittedly, the mono sound is superb, but I miss the instrumental separation of the stereo recordings, especially on dense pieces like "Burning Spear". These recordings have been issued many times and consumers can easily find this music on earlier issues with stereo sound. The advantages to purchasing this set are that Resonance is (likely) alone in paying royalties to the Dolphy family, and that their booklet includes some of the finest discussions of Dolphy that I have ever read. So, buy this set for the book, alternates and its legality, but don't toss out your earlier editions of the album.
RAN BLAKE & JEANNE LEE: "THE NEWEST SOUND YOU NEVER HEARD" (A-Side 5)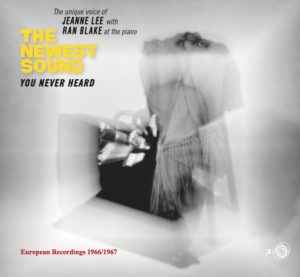 Just as Eric Dolphy reconsidered the language of jazz improvisation, Ran Blake and Jeanne Lee offered a new perspective on the voice/piano duet. Their 1961 RCA album, "The Newest Sound Around" was a watershed moment in its dramatic restructuring of long-standing traditions. "The Newest Sound You Never Heard", a new 2-CD set collects recordings made in Brussels during 1966 and 1967, and they reflect further developments in the partnership of its two participants.
The 1966 session starts with an audacious coupling of Gertrude Stein's poem "I Am Rose" with Thelonious Monk's "Misterioso"! Blake plays a brilliant solo on "Honeysuckle Rose" then segues into "Green Dolphin Street", which features some astonishing melodic variations by Lee. While Blake's style is much more straight-forward here than on his recent recordings, his playing behind Lee is far more advanced than any other accompanists of the time. He counts on Lee to find her pitches on her own, so that he can explore his own harmonic directions. Even on songs with basic harmonic patterns like "A Hard Day's Night" and "Hallelujah, I Love Him So", Blake discovers ways to make quick modulations out of the home key, and to introduce meaty chord substitutions.
This duo excelled at ballads, and their mystical interpretation of "Night and Day" is one of the highlights of the set. As on the 1961 LP's timeless version of "Laura", Lee stretches the time nearly to its breaking point while she savors every word of Cole Porter's text. Blake creates a dense fog-like sound under Lee, so that her voice stands out from the background. The mood changes very abruptly as the pair go into the incredibly silly pop song, "Ja-Da". Blake has a lot of fun with this piece, imitating all of the standard jazz tropes, while Lee provides a brief but memorable scat solo. From there, they move into the "West Side Story" anthem, "Something's Comin'". Blake's low-register background comes as a complete surprise, yet it conveys the anxious energy of the song just as well as the original Broadway score. From Bernstein, we go to Ellington for "Just Squeeze Me" (not only is the repertoire imaginative, but the transitions between tunes are notably seamless!)
Later, there is a wonderfully abstract version of "Parker's Mood" with Lee and Blake stretching both the blues form and the harmonies. On "Caravan", Blake creates a funky background which lends a new flavor to the familiar standard. As on earlier tracks from this set, Blake changes the pattern near the end of the song to properly illustrate the lyrics. "Beautiful City" is based on a classic spiritual, and Lee's a cappella coda is simply glorious. Blake breaks the mood with the violent piano solo, "Birmingham, USA", where he emulates the fierce emotions of Cecil Taylor. "Ja-Da" comes back for a longer reprise (with Lee making fascinating changes to the lyrics) and the 1966 program ends with a version of "Take the A Train" which hovers between straight-ahead swing and progressive exploration.
The same dichotomy between straight-ahead and progressive directions inform the beginning of the 1967 session, with the duo's versions of "Out of This World" and "Mr. Tambourine Man" seeming a little traditional—at least by their standards. Blake has a wonderfully bluesy solo near the end of the Dylan piece, but the first real surprise comes in Vernon Duke's "Round About" which suddenly becomes an unaccompanied Lee solo on "He's Got the Whole World in His Hands"—a song recorded for the 1961 LP but left in the vaults for over 20 years. "Moonlight in Vermont" sounds like it could be another great Lee/Blake ballad, but it ends after a chorus, without any real development. "A Night in Tunisia" features a rapid-fire vocalese over a menacing bass-register background, while "My Favorite Things" includes Lee's original lyrics mixed in with the original words by Oscar Hammerstein II. Pairing Ornette Coleman's haunting melody with words by Margo Guryan and Gunther Schuller, Blake and Lee create a masterful reading of "Lonely Woman" that will linger in the listener's memory long after the disc has ended. The combination of Lee's meticulous reading of the lyric with Blake's full realized keyboard background make this track a definitive reading of this modern jazz classic. The last three ballads on the disc, "The Man I Love", "Something to Live For" and "Spring Can Really Hang You Up the Most" are connected as a medley, and as a group, they offer an exquisite coda for this set.
Jeanne Lee passed away in 2000, and Blake has since brought his experience to collaborations with talented vocalists like Sara Serpa, Dominique Eade and Christine Correa. He continues to offer endless surprises to a new generation of musicians and listeners. The release of "The Newest Sound You Never Heard" proves that Ran Blake and Jeanne Lee—like Eric Dolphy—are still progressive voices 50 years later.