As you probably have read, or heard me say, this is what we call a West Coast jazz group. And that's because on tenor saxophone, from Philadelphia, Pennsylvania, we have Richie Kamuca, and on trumpet, from Boston, Massachusetts, we have Joe Gordon, and on bass, from Nyack, New York, we have Monty Budwig, and on piano, from London, England, we have Victor Feldman. Of course, what makes it truly a West Coast jazz group is that I'm the leader, and I'm from New York City.
With that nightclub announcement, drummer Shelly Manne debunked one of the great myths of West Coast jazz, namely that it was produced by a group of California natives. With the music of the above-mentioned band, Manne proved that West Coast jazz could be as soulful and swinging as East Coast bop.
In retrospect, the East Coast/West Coast jazz debate of the 1950s was as silly and troublesome as the moldy fig/boppers war of the previous decade. To be sure, there were plenty of West Coast jazz recordings that were every bit as pretentious and composition-heavy as the East Coast critics claimed (and it should be said that many of those records had Manne on drums, and some were issued under his name). Yet there was always an audience for hard-driving jazz in California. In 1945, Charlie Parker and Dizzy Gillespie played an extended stay at Billy Berg's club in Hollywood, and when Parker stayed behind, he recorded three superb dates (and one disastrous one) for Dial Records. Los Angeles' burgeoning Central Avenue scene featured several distinguished alumni, including  tenor saxophonists Dexter Gordon, Wardell Gray and  Teddy Edwards, trumpeters Howard McGhee and Clark Terry, and pianist Hampton Hawes. In 1954, drummer Max Roach and trumpeter Clifford Brown founded one of the great hard bop quintets while in Los Angeles. Edwards was the tenor saxophonist on its first recordings, followed by Harold Land. When Land left Brown/Roach in 1955, he returned to LA and played in the hard bop Curtis Counce Group, which also featured trumpeters Jack Sheldon, Rolf Ericson and Gerald Wilson, and pianists Carl Perkins and Elmo Hope. Land's replacement in Brown/Roach, Sonny Rollins, recorded a masterpiece while in California, "Way Out West", featuring Manne on drums and Ray Brown on bass. Meanwhile, Land's discography included the superb LPs "Harold in the Land of Jazz" and "The Fox", the latter featuring legendary trumpeter Dupree Bolton. In the early 60s, there was a reunion album with McGhee, Edwards and pianist Phineas Newborn, Jr. that sounded like the Blue Note recordings of the period, plus there were several soulful organ/tenor albums by Curtis Amy, and the burning Amy/Bolton collaboration, "Katanga".
Manne made his most lasting contribution to the California hard bop school in the beginning of 1959 when he formed a new edition of Shelly Manne and His Men. Pianist Russ Freeman had worked with Manne since 1953, and bassist Monty Budwig had been with Manne since 1957. Several sources, including an interview with the trumpeter, claim that Joe Gordon joined Manne on Thanksgiving 1958, and that he worked for a few months with alto saxophonist Herb Geller in the front line. However, Conte Candoli filled the trumpet chair on Manne's January 1959 album of music from the TV crime drama "Peter Gunn". Since Gordon came to California with a heroin addiction and had spent several months at the rehabilitation center Synanon, it's possible that Gordon had a relapse and called Candoli to fill in. It's just as likely that Gordon joined Manne after the "Peter Gunn" date. Also on the "Peter Gunn" album was Victor Feldman, here playing vibes and marimba, but who would become the group's temporary pianist while Freeman toured Europe with Benny Goodman. Richie Kamuca replaced Geller in the early months of 1959, filling out the front line. The group stayed together for about a year and a half before Gordon left to start a solo career. As a unit, the group recorded two studio albums and four concert recordings, including a remarkable collection of music from San Francisco's Black Hawk.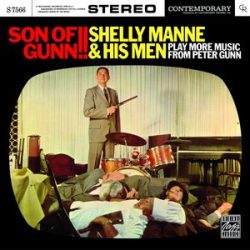 The first LP by the new group was a studio-recorded sequel to the "Peter Gunn" album. As on the earlier record, all of the themes were written by Henry Mancini. Mancini encouraged Manne to create his own settings of the cues and Manne did just that, changing moods, instrumentation and time signatures. While Mancini's themes are just functional, they provide good vehicles for the band's improvisations. Gordon and Kamuca make an interesting front line, with the trumpeter developing ideas from Clifford Brown, but with a sharp-edged tone and without vibrato, while the tenor freely swings in a style derived from Lester Young through Zoot Sims. Feldman plays vibes and marimba here, and plays in a flowing yet rhythmic style. Freeman's piano style uses short, punched chords and mercurial melodic lines, Budwig provides solid time and a melodic solo style and Manne is a delight as he creates all kinds of different sounds to accompany the group. Manne plays drum solos on "My Manne Shelly" and "Lightly" but they are not too interesting: Manne was never a flashy, solo-driven drummer—and by the time of the Black Hawk sessions four months later, he and Budwig had found a new way to feature themselves. Both Gordon and Kamuca have fine ballad features on the album; "Joanna" with Gordon in Harmon mute, and "Blues for Mother's" with Kamuca playing both in straight tempo and double-time. These provide great contrasts to the swinging, albeit brief solos found elsewhere on the album. On "A Quiet Gass", Manne's group uses an unusual solo format where each succeeding soloist plays a double improvisation with the preceding soloist before taking the spotlight for themselves. Lest it be said that no one on the East Coast was paying attention to these albums, Gunther Schuller used a variation on this relayed solo concept in his composition "Variants on a Theme of Thelonious Monk", recorded in New York 19 months later. By the way, the aforementioned "My Manne Shelly" was written specifically for the drummer and his group to play on one of the "Gunn" episodes. Their appearance (minus the horns), can be seen here, about 4 minutes into the clip.
In September 1959, Shelly Manne and his Men played a two-week engagement at San Francisco's legendary Black Hawk nightclub. In between Hollywood studio gigs, the band had developed an attractive repertoire of standards, blues and jazz originals. The early sets at the Black Hawk went so well that Manne called Contemporary Records president Les Koenig in Los Angeles and said "I've never asked this before, but we all feel you should come up and record the group in the club". The next night, Koenig, engineer Howard Holzer and the essential components of Contemporary's recording equipment arrived at the Black Hawk, and Koenig claimed that they recorded everything the group played.
The original plan was to release a single LP, but the quality of the music was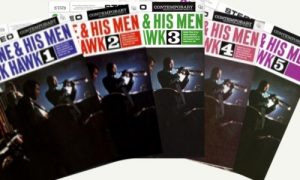 so high that Koenig decided to issue 4 LPs of material from the date. With alternate takes and previously unissued material, just under 5 hours of music have been issued from 3 nights of recording. The results of each night have been scattered across the 4 LPs/5 CDs, but it is instructive to examine each night's recordings separately.
The first night, September 22, yielded about 93 minutes of music, and fully justified Manne's enthusiasm. The recording order has not survived, but it would be hard not to discuss "Summertime" first. It was the opening cut on the first disc and it is a stunning performance. Taken at a slow, meditative tempo, the arrangement starts with a haunting double-stopped vamp by Budwig and light finger taps on the suspended cymbal by Manne. Gordon plays the theme and his solo in a Harmon mute, creating a lonely and soulful sound. Kamuca follows with a rich tone and thoughtful lines. Feldman, now on piano for the touring Freeman, comps with wide-voiced "shell" chords, and his solo style is heavily influenced by Red Garland and Ahmad Jamal. His solo is almost entirely derived from block chords, and the subtle shift to double-time helps him build the intensity in his solo. The performance never loses its focus throughout its 12-minute duration.
Tadd Dameron's "Our Delight" was also recorded on September 22, and it also appears on the first side of the first disc. This track swings from the start, with a fiery solo by Kamuca that is accompanied by the full rhythm section, then with a background figure with Gordon and the rhythm, and then—by Manne's verbal cue of "Go!"—by bass and drums alone. The rhythm section is astounding here with their cohesive ensemble and imaginative communication. When Gordon starts his solo with bass and drum accompaniment, his precise rhythmic sense dominates the melodic line. Pianist Dick Whittington, who recorded with Gordon on the trumpeter's 1961 album "Looking Good", said that Gordon could focus a band's rhythmic groove like few other horn players, and that factor, along with Feldman's experience as a drummer and the existing rhythmic synchronicity between Budwig and Manne give the Black Hawk recordings a great rhythmic vitality. Near the end of "Our Delight", we hear Manne and Budwig engaged in a duo improvisation, with Budwig powerfully walking his bass while Manne improvises responses. More often than not, this would be the way that bass and drum solos would appear in the band.

Benny Golson was represented in the Manne book with two pieces, "Step Lightly" and "Whisper Not", and each title was recorded twice for the Black Hawk set. A 14-minute alternate take of "Step Lightly" was recorded on the 22nd and it features another finely crafted Kamuca solo (he was having a very good night), incisive, sassy trumpet from Gordon, and a relaxed, but funky take by Feldman. As with most of these "alternates", they were probably second-choice only because of length. The master of "Step Lightly", recorded on the 24th, was about two minutes shorter, and with these live tracks ranging from 8 to 20 minutes, Koenig was doing all he could to squeeze the tunes onto very full LP sides, without editing the music.
"Poinciana" was getting a lot of air play at the time through Ahmad Jamal's medium-slow trio rendition, but Manne's version is taken at breakneck speed. Kamuca sails through the easy changes abetted by Gordon's riffing and the surging rhythm section. Gordon uses more space in the beginning of his solo, but later, the silences shorten as his ideas begin to overlap. Kamuca picks up on the rhythmic excitement on an alternate version of "Cabu", as he chops his ideas into interesting portions and lands on unexpected points in the measure. And how those ideas swing when played against the background of bass and drums! "Black Hawk Blues" was one of two extended blues from the Black Hawk set. A group improvisation, it ran just over 18 minutes, and it filled up the second side of Volume 3. It is a slow enticing blues in 6/8. The rhythm section sets the mood, but when Kamuca enters, Manne throws accents into unexpected places to loosen up the feel. Feldman picks up on Manne's idea and it is fascinating to hear the varying patterns created through their interplay. When Gordon takes over, it takes him a little time to find his rhythmic place, but he soon locks into the unusual groove. Feldman, who had been playing the groove for several minutes, starts his solo by developing his own ostinato, and then finds ways to play cute ideas between the beats. As the performance reaches its conclusion, the rhythmic interplay settles down, but there is a wonderful little moment where Manne plays an intricate cymbal pattern behind Budwig's bass solo.
Bill Holman's "A Gem from Tiffany" was the band's theme song, and there are several short versions on the Black Hawk set. The longest of two existing full versions comes from September 22. It is filled with the same exciting give-and-take as the other up-tempo performances from this night. Gordon's exciting solo seems to overflow with brilliant melodic ideas, and Manne is thrilling on brushes behind Feldman's solo. The performance closes with short solos by bass and drums, and without a return to the theme. Manne's closing announcement for the evening was retained for the LP.
September 23 provided only about an hour of music, and only one of the tracks recorded that night made it onto the original LPs. The rest turned up when Fantasy reissued the set on CD and added a fifth disc of previously unissued material. It's hard to say just went wrong. Horace Silver's "How Deep Are the Roots?" (a piece apparently never recorded by Silver) finds Kamuca still in good form, but Gordon has trouble with the changes and only gets his bearings when Feldman lays out. "Wonder Why" is a feature for the rhythm section alone. It is a medium-tempo ballad with a sassy solo by Feldman over a tight groove from Budwig and Manne. While the performance is not spectacular, I'm surprised that this tasty change-of-pace was not included on the original albums. On the other hand, the group's version of Feldman's "Eclipse of Spain" should never have been issued, even on the Volume 5 CD. Gordon has a terrible time with the convoluted melody, and the horn solos are uninspired and flat. Far from their usual confident interplay, the rhythm section just seems to plod along, and while Feldman tries to encourage the others through his keyboard, no one but him sounds too interested in this piece.
Things improve dramatically with the master take of "Whisper Not". Kamuca emits a dark sound from his tenor and plays a dramatic solo with fine melodic development and soulful demeanor. Gordon is right on track with a stark muted solo where every phrase adds an important element to the overall statement. Feldman pares down his style for a solo that has just the right amount of soul and funk (Oddly enough, the alternate of "Whisper Not", recorded the next night, plods even more than "Eclipse of Spain"). Frank Rosolino's skipping waltz "Blue Daniel" was recorded on the 23rd and 24th and while either take could have been the master, the take from the 23rd was not issued until the CD era. Kamuca seems a little unsure of the chord changes here, and that may have been the reason that the take was originally rejected. However, his solo is quite melodic and soulful and perfectly acceptable on its own terms. Gordon is in better form here than on the master, as he subtly introduces a little double-time section in the middle of his solo (the next night, Manne tried to goad him to double-time with little success!) Feldman's solo unfolds like a delicate flower in the sunlight, finding its voice without losing its beauty. Harry Warren's "This Is Always" is the only piece in the Black Hawk recordings in true ballad tempo. Aside from a few minor issues with intonation, Kamuca's opening theme and solo are masterful, being tough and tender at the same time. While his vibrato-less tone seemed to eschew sentimentality, Gordon's solo still touches the listener with its dramatic lines and full-bodied sound. Feldman plays another beautiful improvisation, this time creating lines out of a simple melodic idea. Gordon leads the final chorus of the arrangement with a powerful group climax followed by a short meditative duet between trumpet and piano. This is another track that deserved to be issued on the original albums.
The final night at the Black Hawk, September 24, was the most productive with over two hours of music, most of which was issued on the original LPs. The master takes of "Cabu", "Step Lightly" and "Blue Daniel" and an alternate of "Whisper Not" comes from this night. As would be expected, the solos and their backgrounds are quite different from night to night. For example, on the master take of "Cabu", Kamuca's solo takes less chances with the time and phrase lengths, and Gordon's solo starts with bass and drums; on the alternate, Kamuca had just finished playing with bass and drums, so Gordon worked with the full rhythm section.
Among the material recorded for the first time on the 24th is a lovely 3/4 version of "Just Squeeze Me" transposed to the Mixolydian mode. Miles Davis' "Kind of Blue" had been released about a month earlier, and in addition to the use of modes, we can hear another example of its influence in Budwig's bass ostinato, which echoes Paul Chambers' bass line from "All Blues". The modal transposition gives the Ellington standard a melancholy air, and the soloists play tender improvisations over the lovely adapted changes. One of the composers of "Nightingale" was the Latin bandleader Xavier Cugat, and while Manne hints at a Latin beat in the opening chorus, most of the performance is straight-ahead and swinging. Somehow, this performance never soars, despite good ideas from the soloists and solid support from the rhythm section. The whole piece sounds uninspired; yet this track made it to the original album while other worthy tracks stayed in the vault.
Cole Porter's "I Am in Love" is a much better song and one of the best performances in the entire Black Hawk series. Written in 1953 for the show "Can-Can" (and not to be confused with "I'm In Love", which Porter composed in 1929 for "Fifty Million Frenchmen") the song has a great chord structure for improvising and a 64-bar form that allows the players to stretch out. The happy, medium-fast groove swings magnificently and the solos overflow with inspired ideas. And how Manne kicks it along with his accents and fills! Charlie Mariano's "Vamp's Blues" is another extended blues which filled an entire LP side. In contrast to the improvised and themeless "Black Hawk Blues", Mariano's composition includes a striking melody and unaccompanied declamatory statements by the horn soloists. But far from being stuffy, "Vamp's Blues" offers plenty of room for extended improvisation, and all of the soloists play long, tasty solos over a supremely grooving pulse. The members of this group didn't play a lot of quotes, but there are two here: Feldman's interesting re-working of "Whistle While You Work" and Gordon's passionate interpolation of "Stormy Weather" (which precedes an exciting double-time episode by the trumpeter). "What's New?", normally played as a ballad, gets a spritely up-tempo treatment which elicits a muscular solo by Kamuca, incisive thoughts from Gordon, clearly articulated lines by Feldman, and intricate melodies from Budwig. Manne plays an energetic set of fours with the horns near the end, but his brushwork through the majority of the piece is truly stunning. Among the previously unissued tracks are a delightful bass feature composed by Feldman, "Pulling Strings" and a cooking five-minute version of "A Gem from Tiffany".
Taken as a set, the Black Hawk recordings are an amazing document of a working jazz combo. Its occasional flaws only add to the value of the set, and it is fascinating to hear how the performances evolve from night to night. And while the music had limited radio exposure due to its lengthy tracks, it has become one of the most beloved collections among jazz fans. It is simply impossible to recommend one volume over the others—it is a set to own and enjoy in its entirety.
On the strength of his work on the Black Hawk sessions, Feldman was offered the piano chair in the Cannonball Adderley Quintet. Feldman's last recordings with Manne occurred over three sessions in December 1959 and January 1960  for an album of music from the independent feature "The Proper Time". The film's star and director was Tom Laughlin, better known for his 1970s "Billy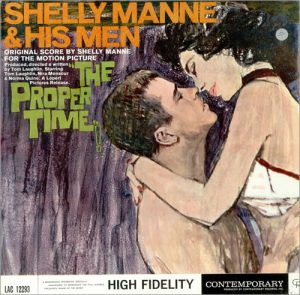 Jack" films. Laughlin plays Mickey, a college student who stutters around women. He gets involved with two different women, the "good" Sue and her "evil" roommate Doreen. After the romantic triangle breaks up, Mickey is cured of his stuttering at the college clinic. Manne's group improvised the score with Gordon's trumpet and Manne's drums symbolizing Mickey, Feldman's vibes and marimba portraying Doreen, and Kamuca's saxophone for Sue. The album is not a soundtrack recording, but a re-recording of the music for LP. Still, most of the cues are very short and represent source music and underscoring. There are a handful of short solos on the recording, and they are all well-played. However, the film is rarely seen (I was unable to find any evidence of a home video release) and without a connection to its images, it's hard to get interested in this music.
About two weeks after finishing the "Proper Time" album, Manne and his group joined Norman Granz' Jazz at the Philharmonic for a 5-week tour of Europe.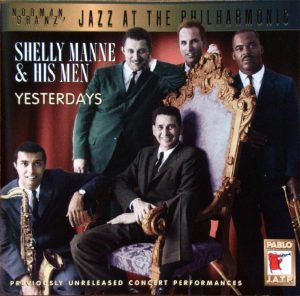 Manne resisted multiple offers from Granz because he disliked the squealing tenor sax solos that were a usual part of JATP concerts. According to Manne's widow Flip, Manne kept raising his fee until Granz finally made him an offer too good to refuse. There were a few personal issues between Manne and Granz during the tour: the musicians were required to play in tuxedos onstage, and while Manne had been fitted for a tux while still in LA, he didn't try it on until his first night in Europe. The pants were too small and Manne was the only musician who played in a suit that night. Granz made him get a new tux the next day, and Manne was quite uncomfortable in the new getup. Manne did not share Granz' love of gourmet food, and one night in France, Manne and his group ditched the Granz entourage in search of hamburgers.
Three concert recordings have been released from this tour. From the recorded evidence, it's hard to tell just how much stage time Manne's group received each night. 26 minutes survive from a Zurich concert on February 22, 1960; 16 minutes from Copenhagen on March 2; and nearly 47 minutes from Manchester on March 12. The first two concerts have been issued on a Pablo CD "Yesterdays" and the Manchester concert was first issued on a Jazz Groove LP and later on a Solar CD, both with the title "West Coast Jazz in England". The Solar CD also includes the Copenhagen concert as bonus tracks.
The Zurich recordings open with "Cabu", taken slightly slower than the Black Hawk version, but still inspiring spirited solos from the horns. However, unlike the Black Hawk recordings, the solo time is limited to two choruses each, making these versions quite compact. Also, the bass is nearly inaudible, so any rhythm section interplay is lessened as a result. "Bags' Groove" is basically an excuse to play the blues, but this group played them so well, it's good to hear another example. Here, the group stretches out for nearly 13 minutes, and they include horn riffs and unusual rhythm patterns to vary the backgrounds. Kamuca and Gordon play soulful improvisations, and while Freeman's style is quite different from Feldman's, the rhythm section maintains its tight cohesion. Budwig takes an extended solo, and while the engineers did what they could, the bass still sounds like it's in another room. Too bad Granz didn't bring Howard Holzer along to record the concerts! "Poinciana" closes the Zurich tape, at a slightly brighter tempo than the Black Hawk. Kamuca plays a fiery solo, accompanied first by Gordon and the rhythm, and then by bass and drums alone. Gordon matches Kamuca's passion, and Manne's animated comments spur the trumpeter on. Freeman's concentrated energy and Manne's intense brushwork makes the pianist's solo sound like a pressure cooker about to lose its lid. Manne and Budwig conclude the solo cycle with a reprise of their duo improvisation style from the Black Hawk.
The Copenhagen tape has two selections, neither of which had been recorded by this edition of the group. "Straight, No Chaser" opens with a brief drum solo, and after the unison theme, Kamuca plays another finely-crafted blues solo. The recording quality is much better, and we can hear Manne's powerful rimshots leading the rhythm section. Gordon wails in the high register through most of his solo, and includes a reference to "When the Saints Go Marchin' In". Freeman accents his treble improvisation with sharp bass note accents a la Horace Silver, and Budwig and Manne use a stop-time background near the end of the piano solo. The effect is repeated during Budwig's bass solo. After an exciting set of 8-bar exchanges with Manne and the horns, the performance closes with a gently fading recapitulation of the theme. "Yesterdays" is a ballad feature for Kamuca, and while he seems to move away from the melody early on, there are quite a few allusions to the tune in his first chorus. The tempo jumps to double-time on the second chorus, where Freeman contributes a linear improvisation, followed by Kamuca's solo turn. At first, Kamuca is accompanied by Budwig alone, but within a few bars, the entire rhythm section is there and in full swing. Budwig and Manne trade fours for a couple of choruses before the horns enter, still in the fast tempo, and with Gordon on the melody. After the horns complete the theme, there is a little improvised episode from the rhythm section before the track ends.
The Manchester concert contains six tunes, four of which had been played at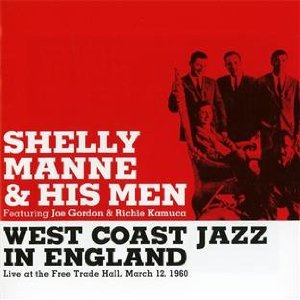 the Black Hawk and one from Zurich. "Our Delight" starts the proceedings, and as on the Black Hawk version, the group plays Dameron's closing variation in addition to the familiar theme. As on the earlier recordings from this tour, the solo time is limited, and both Kamuca and Gordon seem to just get started when they have to yield to the next soloist. Freeman does better in restricting his solo thoughts, but one wishes for the expanse of the Black Hawk sides. On "Bags' Groove", the opening theme is played sotto voce by the horns, making Kamuca's full-bodied solo entrance all the more powerful. Gordon opens his solo with a direct quote of Miles Davis' solo from Charlie Parker's "Now's The Time" and then shifts to his own lyric and unsentimental musical language. Freeman's solo starts below middle C before moving up the keyboard to end in the high register. As in Zurich, Manne punctuates Budwig's bass solo with tasty brushwork and unusual hollow sounds from his tenor drum. And also as in Zurich, Manne brings the horns in with an extended drum roll. In perhaps the only instance where these later concert recordings exceed the Black Hawk versions, the Manchester version of "Nightingale" has all the passion and excitement that the San Francisco version lacked. All of the soloists sound inspired, especially Freeman who digs into the harmony with unique intensity. "Vamp's Blues", here at half the length of the Black Hawk recording, retains its effectiveness with rough-hewed tenor, adventurous piano, preaching trumpet, and soulful bass. "I've Grown Accustomed to Her Face" opens with a quiet chorus by the rhythm section before the horns split the next chorus, both providing touching variations on the melody. Freeman improvises tenderly for eight bars before returning to the theme. The album ends with an energetic version of "Cabu", which contains a surprising nod to the avant-garde movement by Kamuca, high-flying fireworks from Gordon, sharply defined rhythmic ideas by Freeman, and another duo improvisation by Budwig and Manne. The drummer moves into a full solo, played entirely on brushes, and the performance ends without a reprise of the theme.
The final recording of this edition of Shelly Manne and His Men is also a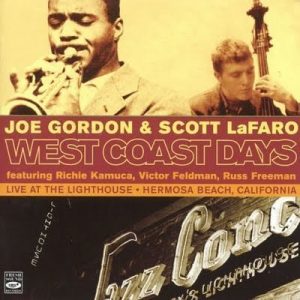 concert recording, made on July 31, 1960 at the Lighthouse in Hermosa Beach. It was issued on Fresh Sounds, and its booklet claims that the recording was made by the Lighthouse's owner, Howard Rumsey. A version of "Our Delight" fades up at the end of Gordon's solo. Freeman plays a swinging solo before the horns trade eights with Manne. Kamuca has some issues with a squeaky reed, but Gordon sounds like he's on fire. Dameron's closing variation closes this incomplete performance. The other two cuts, "Summertime" and "Poinciana", were both included on the Black Hawk sets. Like those versions, the Lighthouse recordings run about 12 minutes each and let the musicians stretch out. In the intervening nine months since the Black Hawk, Budwig had loosened up the opening double-stopped figure on "Summertime", and indeed, this rendition of the Gershwin classic is much looser and less intense than the earlier version. Freeman's active accompaniment to Kamuca makes it sound like a dual improvisation. The pianist's own solo is marked by perfectly wrought melodic lines spiced with a touch of funkiness. "Poinciana" is taken faster than any other version by this group, but the band is up for the challenge, and they all handle the speedy tempo with aplomb. Kamuca gobbles up the changes, despite his uncooperative reed, and while Gordon is off-mike, it's easy enough to hear his impassioned ideas. The influence of Horace Silver on Freeman is particularly noticeable here (or could it be the other way around—or at least a mutual influence?). Finally, there is one last bass/drums dual improvisation before the final recorded performance by this wonderful group.
In September 1960, Gordon left Manne and starting leading his own quintet. Conte Candoli filled the trumpet chair in Manne's group and the Men recorded another pair of live albums at Manne's new LA club, Shelly's Manne Hole. Gordon recorded an album on his own in July 1961, and was apparently gigging regularly around Los Angeles. However, his fortunes seemed to rise and fall as his heroin addiction continued. In the autumn of 1963, he was sleeping in a condemned building in Venice, California. There was no electricity and Gordon used candles for warmth and illumination. On Halloween night, one of the candles (or possibly a cigarette) fell on Gordon's mattress as he was sleeping. Gordon suffered third-degree burns on 85% of his body, and four days later, he died at the age of 35. While none of his bandmates experienced a tragic demise like Gordon's, several of them died young. Richie Kamuca died of cancer, in 1977, one day shy of his 47th birthday. Ten years later, Victor Feldman, 53, died after an asthma attack. The original rhythm section fared better, with Monty Budwig passing in 1992 at 66, and Russ Freeman the longest living survivor, dying in 2002 at 76. Manne, like several of his fellow musicians, worked continuously in LA for many years, and the drummer reportedly made his last recording on the day before he died, of a heart attack at 64 in 1984. While all of these men have passed on, they have achieved the immortality of all great jazz musicians. And if you don't believe that, just put on one of the Black Hawk albums and relive those wonderful nights from September 1959.