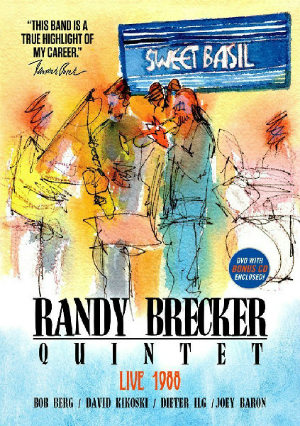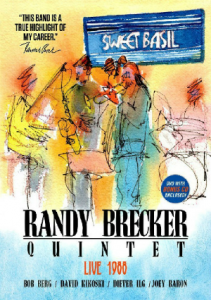 For the next hour, think of your television set as a time machine. These words, spoken by co-host Linda Ellerbee, opened every episode of a long-forgotten ABC history series called "Our World". (It was forgotten because it was scheduled opposite "The Cosby Show". I wonder how it would fare today.) That quote came to mind because a new DVD release of Randy Brecker's performances at the Manhattan nightclub Sweet Basil, recorded in 1988—one year after "Our World" left the air—does indeed look like something you'd witness through a time machine. Viewers will doubtlessly titter at the haircuts, clothing, eyeglasses and the bulky video cameras. When "Live 1988" was recorded, all of these elements represented the cutting-edge; now it all seems very dated. That is, except for the most important part—the music—which still sounds fresh and contemporary today.
In addition to the leader's trumpet and flugelhorn, the band featured the phenomenal Bob Berg on tenor saxophone, a young and enthusiastic David Kikoski doubling piano and synthesizer, the German bassist Dieter Ilg, and the always energetic drummer Joey Baron. All but one of the tunes were written and arranged by Brecker, and they represent outstanding examples of the post-bop style prevalent at the time. The opener "Mojoe"—dedicated to Joe Henderson—has a blistering unison head played without error by Brecker and Berg. Brecker's solo features many unusual melodic turns (he has never been a predictable player) while Berg blows an inventive solo that examines the changes from all directions at once. Kikoski's improvisation contains enough melodic material for three solos (he has matured considerably in the intervening years), Ilg finds many ways to vary the traditional bass roles, and Baron amazes with a brilliant solo that includes an extended section played with his hands rather than sticks. The set also includes the moody "Moontide", the burning "Ting Chang", a lovely ballad called "Incidentally" and an engaging shuffle called "Hurdy Gurdy".
If you're a Randy Brecker fan, the above tunes probably sound familiar to you. All of them were released on an LP called "Live at Sweet Basil", originally issued on Sonet and later reissued on GNP Crescendo. However, collectors will not want to ditch their old discs as two tracks from those albums do not appear on the video, and two of the tracks from the DVD are noticeably different from their audio counterparts. "Mojoe" is a completely different take, and both "Moontide" and "Ting Chang" were edited for the audio recordings (the shortening of Berg's solo is particularly unfortunate—the DVD shows that he really turned on the heat for his last chorus!). The other difference is that the new edition also includes an amazing version of "Love for Sale". The Brecker version is obviously based on the 1958 Miles Davis recording, and Brecker even borrows Davis' classic technique of playing in a Harmon mute close to the microphone. Brecker has a lot of fun with this tune, adding deliberately wrong notes to Cole Porter's melody, and throwing in quotes from Davis' original solo in between his own improvised lines. Berg sounds like John Coltrane—but not the 1958 Coltrane; more like 1964 'Trane—and he and Baron have a vibrant musical conversation much like Coltrane and Elvin Jones might have had 25 years earlier.
The video masters are in exceptional shape for their age (someone took great care to store this material properly) and the production is very good. There are no annoying digital effects and the camerawork is well-framed and unobtrusive. Sound is excellent two-channel stereo, and the DVD is region 0, so it will play on televisions all over the world. MVD has also included a CD of the performance, but note that it is a rip from the DVD soundtrack, not a reissue of the Sonet/GNP discs. The package is dedicated to the memory of Bob Berg, who was killed in an automobile accident in December 2002. Berg left a fine legacy of recordings, and it's good to have this superb performance available to appreciate his art.