ED CHERRY: "IT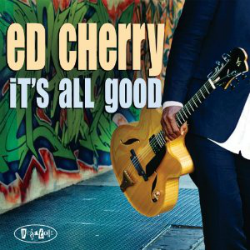 S ALL GOOD" (Positone 8102)
Best known for his tenure with Dizzy Gillespie, guitarist Ed Cherry has been active in recent years as a sideman and educator in the New York City area. He hasn't recorded many albums as a leader, so the appearance of his new Positone release, "It's All Good" is a welcome sight. It's a straight-ahead album featuring organist Pat Bianchi and drummer Byron Landham, and the style is straight out of the great organ trios of the sixties. The playlist reflects several of the styles of that era with versions of Herbie Hancock's "Maiden Voyage", Wayne Shorter's "Deluge", Duke Pearson's "Christo Redentor", and Kenny Burrell's "Chitlins Con Carne". The group has a superb ensemble feel with fine in-the-pocket grooves throughout the album. Cherry's clean lines are reminiscent of and  Burrell and Wes Montgomery, and he enriches his ballad version of "In A Sentimental Mood" with subtle answer phrases in the spaces of Duke Ellington's original melody. Bianchi's Larry Young-inspired style is right at home here, and he sounds eminently comfortable from the modal structures of Cherry's original "Mogadishu" to the swinging waltz of Shorter's "Edda". Landham knows this area well too, and his rhythmic patterns and solos are noteworthy for their economy and lean swing. While the entire album is superbly played, the best tracks come at the end, with Cherry's energetically swinging original "Something For Charlie", a  samba version (!) of "Blue in Green" and an incisive reading of Thelonious Monk's "Epistrophy."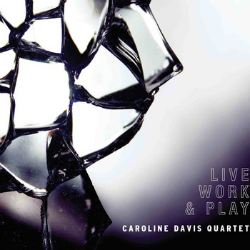 CAROLINE DAVIS: "LIVE, WORK AND PLAY" (Eyes and Ears 12-018)
For a glimpse of the creativity of Chicago alto saxophonist Caroline Davis, listen to her version of Billy Strayhorn's "Blood Count" from her new album "Live, Work and Play". Strayhorn wrote this piece on his deathbed, and Johnny Hodges' original recording with the Duke Ellington Orchestra was a masterpiece of growing intensity. Several other musicians have recorded the piece, but have been unable to escape the shadow of the original recording. Davis' version alternates restless free-time episodes with sedate passages to put Strayhorn's melody in a new light, and the passion comes from the searing intensity of her tone and the sharp changes between styles. There's a lot of Lee Konitz in her sound, but I hear strong traces of Ornette Coleman as well. Her long-lined improvisations offer fascinating development of ideas, and she has a marvelous way of floating above the time without losing her connection with the ground beat. The rest of the group includes guitarist Mike Allemana, bassist Matt Ferguson and drummer Jeremy Cunningham, and they have a flexible interplay that works well in this progressive milieu that encompasses free, funk, straight-ahead and mixed meters. Davis composed most of the pieces on the album, including a three-part suite dedicated to an autistic New Orleans native who specializes in identifying the makes and models of car rims. Davis' edgy and emotive music should win her plenty of new fans, and this impressive debut album should bring her to national attention.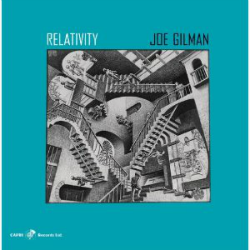 JOE GILMAN: "RELATIVITY" (Capri 74119)
In his previous albums, Joe Gilman has re-interpreted the music of Dave Brubeck and Stevie Wonder, and created musical impressions of 20th century visual art. For his latest recording, "Relativity", Gilman takes on the brilliant and bizarre artworks of M.C. Escher.  The cover of the album reproduces Escher's lithograph of the same name, and the mixture of detailed realism and gravity-defying structures aptly describes the music on the CD. The compositions work within the established framework of the bebop jazz quintet (trumpet, sax, piano, bass and drums) but add shrinking phrase lengths, tone rows, odd meters and unusual colors to evoke the bizarre happenings in Escher's imaginary world. Pieces inspired by Escher's nature-inspired works "Three Worlds" and "Snow" offer momentary respites from the exploratory nature of the album. Gilman wrote six of the album's eleven pieces, with the remainder composed by pianist Scott Collard, associate producer Noah Kellman and tenor saxophonist Chad Lefkowitz-Brown. Gilman plays piano throughout, and is the main soloist on the album. The rest of the quintet members are Gilman's students at the Brubeck Institute, and they (trumpeter Nick Frenay, Lefkowitz-Brown, bassist Zach Brown and drummer Corey Fonville) do a superb job of realizing these sometimes complex compositions. Gilman's liner notes give descriptions of the original art works and detailed information on the musical structures. "Relativity" is an album that will challenge and enlighten all who hear it.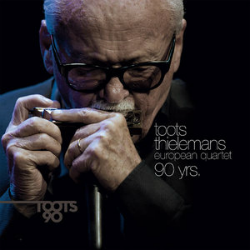 TOOTS THIELEMANS: "90 YRS." (Challenge 70167)
This past April, Toots Thielemans celebrated his 90th birthday and to celebrate the event, Challenge has issued the CD/DVD set "90 Yrs." featuring live recordings of the harmonica virtuoso and his European quartet (pianist Karel Boehlee, bassist Hein Van de Geyn and drummer Hans van Oosterhout). Because his instrument is less physically demanding, Thielemans still sounds very good, with his rich signature tone and soulful bent notes in evidence. The recordings were made between 2007 and 2011 (locations are not given for the audio recordings, but all of the DVD footage was shot in Tokyo in 2011), and while Thielemans does not play long solos, what he does play stands up very well to his earlier works. Thielemans played on several film soundtracks throughout his career and he reprises many of them on this set, including "Midnight Cowboy", "Dat Mistige Rooie Beest" and "Turk's Fruit" (on the DVD, Thielemans admits that the latter is from a Dutch porno movie!). Also included are versions of "Sno' Peas" (which Thielemans recorded with Bill Evans), Paul Simon's "I Do It For Your Love", the Brazilian standards "Wave", "One Note Samba" and "The Dolphin", two versions of "What A Wonderful World" and a brief rendition of his most famous piece, "Bluesette". The final piece on the CD, "Old Friend" was composed by Thielemans many years ago and was dedicated to his father. The recording here features a Japanese orchestra, with harmonica, piano, bass and drum tracks added to the master tape in recording sessions from Japan, Germany, South Africa and Holland, respectively. The set is beautifully packaged within a hardback book, and is a lovely tribute to jazz's latest nonagenarian.