Years ago, a famous jazz history textbook claimed that Thelonious Monk was neither influenced by other musicians, nor did he influence any later players. Some months after the book's publication, Martin Williams wrote a brilliant article refuting this piece of lazy scholarship. The truth is that no one—whether a jazz musician or anyone else—comes from nowhere and leaves without a trace. However, since jazz is learned through a combination of listening to recordings of past masters, and in-person mentoring from teachers and/or great players, the debt to our forebearers is quite significant. Thus, jazz has more tributes than just about any other art form. Tributes can come in many forms: performances of classic improvised solos (usually, but not always, with lyrics attached), new compositions dedicated to great performers, and new interpretations of a great master's music, transformed into the saluting musician's style (with elements of the master's style thrown in for historical context). Three recent releases by contemporary pianists offer tributes of the second and third variety.
Monk once said, Play your own way. Don't play what the public wants. You play what you want and let the public pick up on what you're doing, even if it does take them fifteen, twenty years. It took about that long for the jazz audience to accept Monk's music, and as our opening paragraph shows, even longer for them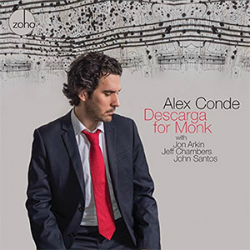 to understand it. For years, musicians seemed afraid to adapt Monk's compositions for fear of losing some unknown "x factor", but gradually they understood that Monk's music retained its individuality no matter how unusual the arrangement. A case in point is pianist Alex Conde's new Zoho disc, "Descarga for Monk" (Zoho 201501), where the world of Monk and Latin jazz converge with stunning results. The album's opening track immediately sets the mood with exuberant foot stomps and hand claps in an insistent triple meter. An impressionist piano introduction leads unexpectedly to the theme of "Played Twice", its rhythm condensed to fit with the background rhythm. Conde's solo makes an immediate dramatic shift, but it builds with great passion, as the piano rhythm crosses and interacts with the background. A repeated ensemble passage leads back to the reprise, which is actually only played once (unthinkable in years past!). Conde transforms the Monk themes throughout the album, some nearly beyond recognition (an astonishing recasting of "Evidence", especially in the final chorus), and others only modified into new rhythmic patterns ("Ugly Beauty"). And lest anyone suspect that Conde is completely breaking with tradition, just listen to his thematically-oriented improvisations on "Thelonious" and "Monk's Dream". Conde leads a vibrant rhythm section with bassist Jeff Chambers, drummer Jon Arkin, percussionist John Santos, and his mother Carmen Carrasco and sister Amparo Conde on claps and stomps. Even if you're not a fan of Latin jazz, you'll want to explore this recording for its exciting reinterpretations of Monk's immortal—and indestructible—compositions.
The Paris-born and New York-based pianist Jean-Michel Pilc uses the same general approach as Conde, except that Pilc deplo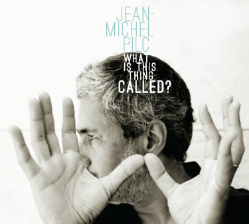 ys a wide variety of styles, and focuses on one particular song. The clever CD title, "What is This Thing Called?" (Sunnyside 1349) suggests a lighthearted approach to Cole Porter's "…Love" song, but Pilc's collection of 30 short variations also offer fascinating insights into this popular standard. According to the press release, Pilc came into New York's Yamaha Piano Studios to record a collection of free improvisations, but when he listened to the recordings of the first day, he discovered that several of the pieces had elements of the Porter standard. It's not clear whether Pilc started over again with the concept in mind, or if portions of the first day's recordings were added to the final album, but either way, the variations flow together as effortlessly as Bach's "Goldberg Variations" (to cite one obvious model for this set). As in the Bach, the connections between the variations and the melody are not always obvious. For example, "Run" uses a variant of the harmonic structure, "Giant" drops Porter's melody over a famous Coltrane harmonic sequence (guess which one?) and on "Vox", pieces of the tune emerge through a tempest of low-register arpeggios. Along the way, Pilc salutes some of his favorite pianists including Ellington ("Duke"), Solal ("Martial") and Kenny Werner ("Grace"). The album has plenty of surprises (which I will not reveal), moments of supreme comedy and remarkable depth, and it is a tribute to Pilc's overwhelming musicality and astounding technique that he successfully creates this panoramic homage to Cole Porter and his timeless song.
Near the end of the award-winning documentary, "Keep On Keepin' On", veteran trumpeter Clark Terry introduced his newest protégé, Justin Kauflin to his longtime friend (and first stu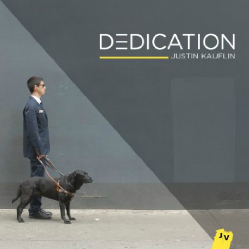 dent) Quincy Jones. Captivated by the young blind pianist, Jones featured Kauflin in concerts and agreed to produce his next CD. "Dedication" (Jazz Village 579003) is the first fruit of what will hopefully become a long-lasting partnership. An intelligent and tightly-focused collection of original compositions, the CD features Kauflin's personal tributes to his mentors, teachers, family and friends. The intense and deeply soulful "For Clark" is one of the highlights of the album. Anyone who has seen the documentary can sense the strong spiritual connection between Terry and Kauflin, and "For Clark" reflects the depth of that friendship. Kauflin creates a solo that builds to an impressive climax without playing any extraneous notes or fills. At the center of the album is a three-part suite, "Epiphany", "Tempest" and "No Matter", inspired by Kauflin's deep Catholic faith. Pieces like this can become heavy-handed and pompous, but that is not the case here. These are joyous works, containing some of Kauflin's most exuberant playing on the album, and are personal reflections rather than incantations to join the flock. The fine and tasty guitar of Matt Stevens appears on eight of the tracks, and the rhythm team of bassist Christopher Smith and drummer Billy Williams are supportive throughout (and highly interactive on tracks like the powerful "Lasting Impression", dedicated to another Kauflin mentor, drummer Jae Sinnett). Acoustic guitarist Etan Haziza (like Williams, one of the musicians on Kaufln's first CD) is added on the final track, the gospel-soaked "Thank You, Lord". Kauflin has created an album remarkable for its restraint, but still capable of drawing deep emotions.