When Bartolomeo Cristofori invented the pianoforte around the year 1700, the very name of the instrument signaled its benefits over other keyboard instruments. Pianoforte literally translates as "soft-loud" and in creating this instrument, Cristofori was responding to years of complaints about harpsichords and clavichords that were unable of producing dynamic contrasts. As the instrument was developed and perfected over the years, the dynamic element was joined with the greater capabilities of shading and nuance enabled by the pedals and a touch-sensitive keyboard. The piano had reached its modern state (complete with its shortened name) by the time jazz started to develop in the early twentieth century. However, jazz pianists discovered many different ways to use their instruments, in solo, accompaniment and ensemble settings. The wide variety of piano approaches and styles are quite evident in the latest recordings of Yelena Eckemoff, Benny Green and Fred Hersch.
From the opening notes on Eckemoff's CD, "Everblue" (L&H 806151) it is abundantly clear that the Russian pianist has a sensitive touch and a rich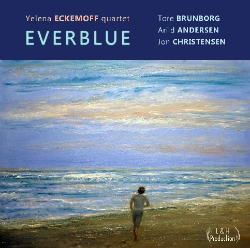 appreciation of color. She pulls deep dark colors out of the keyboard in the unaccompanied introduction to the title track, and she expertly controls the dynamics with the entrance of her quartet. The original compositions—mostly by Eckemoff, with two tracks written by bassist Arild Andersen—have a floating rhythm feel that aligns them with an ECM sound more than straight-ahead jazz. This allows the band (which also includes saxophonist Tore Brunborg and drummer Jon Christensen) to adopt a loose approach to the ground beat that ebbs and flows rather than simply forges ahead. There is a great deal of interactivity in this music, and Eckemoff leads the quartet with subtle grace from the keyboard. For example, on "Waves and Shells", she plays a triplet figure through most of the track, but she doesn't keep those triplets in strict time, and the way she varies the rhythm and phrasing has an effect on every other member of the band. Sculpting improvised performances from the keyboard is no easy feat, but Eckemoff has found a way that works well for her, and as a result, it is fascinating to listen to this meditative album from the perspective of the keyboard. Reflecting the rich tone of Eckemoff's piano, the other members obtain distinctive and full sounds from their instruments: Brunborg alternately searing and singing on soprano and tenor, Andersen's busy but deep bass sound and Christensen's delicate cymbals and thundering tom-toms. The individual compositions meld into each other especially well, and that makes "Everblue" an album that should be listened to as a complete entity rather than a collection of separate tracks. That may be the best way to appreciate the wide palette of colors and sounds that emerges from this highly sensitive quartet.
Benny Green's "Live in Santa Cruz" (Sunnyside 1401) is also entirely comprised of original compositions, but the prevailing mood is exuberant and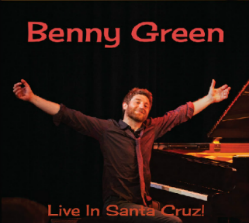 swinging. The venue certainly plays a role here: it is the Kuumbwa Jazz Center, where Green recorded with Ray Brown on his thirtieth birthday, and returned several times since. This album was recorded on two consecutive dates in 2013 (a few months after Green's fiftieth birthday) and on a single date in 2014. The recording captures the excitement of the live performance particularly well, and the audience is quite demonstrative in its approval of Green's energetic music. On the opening tracks, Green really digs into the keys with a forceful, percussive attack, but his sensitivity comes through on the Latin-esque "Cactus Flower" and the ballad "Forgiveness", where he softens his touch without losing the edge of his sound. His fingers fly with blinding speed on the boppish "Sonny Clark" and the blistering "Bish Bash", with bassist David Wong and drummer Kenny Washington brilliantly maintaining and energizing the blazing fast tempos. Of all of Green's originals on this album, I was most impressed with "Golden Flamingo", a soulful slow groover with a delicate melody laid on top. I could almost imagine this piece being played on a Hammond B3, and perhaps Green had the same concept, for his solo here contains a wonderful sequence of strong block chords. At 42 minutes, this CD is a little short, but even with that abbreviated running time, it gives listeners a very good overview of Green's range as a pianist and composer. I would have preferred to have a few standards added to the mix, but as it is, Green's sequencing and variety of compositional styles shows that he can keep his audience riveted with original material.
In his liner notes to his new album "Solo" (Palmetto 2180) Fred Hersch calls the recording a "found object" (i.e. not originally intended for commercial release). Recorded at a small church in the Catskills as part of the 2014 Windham Chamber Music Festival, Hersch plays a glorious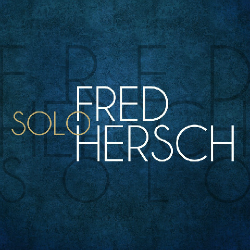 instrument that responds well to his subtle touch and his sensitive use of the sustaining pedal. His outstanding control of dynamics gives the opening rendition of Tom Jobim's "Olha Maria" a mesmerizing quality, which he deliberately breaks with a recurring pedal point as he segues into another Jobim opus, "O Grande Amor", where the music dances with playful off-beat accents and sinewy lines. "Caravan" veers far from the usual fast-swinging arrangements with Hersch's broken-time feel and isolated notes which bounce off every wall of the church. Two Hersch originals appear next, and while both have been recorded before, I'm quite enamored of these solo versions. "Pastorale," an hommage to Robert Schumann elegantly reflects its inspiration before gently moving into improvisation. As it reaches its emotional climax, Hersch plays in the deeply romantic manner that makes the listener's spirit soar (When Hersch's liner notes refer to his being "in the zone", I'm fairly sure this is what he means). As the name implies, "Whirl" is filled with intense, cascading lines. The 3/4 pulse remains insistent throughout the performance, even when it is not explicitly stated, and Hersch's solo lines contain a deep sense of urgency. The highlight of this recital is "The Song is You". Like his version of "The Nearness of You" (from another "found object", "Let Yourself Go: Live at Jordan Hall"), Hersch's slow and highly emotional exploration of this standard digs down to the core of the piece. It's like hearing the song for the first time. The program closes with a delightful romp through Thelonious Monk's "In Walked Bud" and a deeply reflective version of Joni Mitchell's "Both Sides Now". I'm very glad that Hersch "found" this concert—it's a gem!