ANAT COHEN: "LUMINOSA" (Anzic 50)
Brazilian music encompasses much more than the bossa nova. Although the music of  Antonio Carlos Jobim, Luis Bonfá and João Gilberto played an important role in popularizing the music of Brazil, they are but a small part of that nation's 500-plus years of m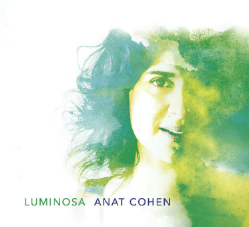 usical development. One style, choro (Portugese for "cry") has been around longer as jazz and its multi-strain compositions bear strong resemblances to ragtime and New Orleans jazz. Choro was the music that inspired Anat Cohen to take up the clarinet after years of focus on saxophone, and on her latest CD, "Luminosa", she plays choros by the legendary Brazilian clarinetists K-Ximbinho and Severino Araujo, and also explores music by later masters like Milton Nascimento and Edu Lobo. The choros feature Cohen's remarkable new band Choro Aventuroso (with Vitor Gonçalves on accordion, Cesar Garabini on 7-string guitar and Sergio Krakowski on pandiero). As Cohen as mixed the styles of klezmer and jazz into her own personal style, Choro Aventuroso's style encompasses choro and jazz, especially on "Espina de Bacalhau" where they are joined by Cohen's rhythm section of Jason Lindner (piano), Joe Martin (bass) and Daniel Freedman (drums).  "Luminosa" also has several pieces associated with Nascimento, including his compositions "Lilia" and "Cais", both of which build in long dramatic crescendos from soft and mysterious grooves ("Cais" actually does this twice). "Cais" and "Beatriz" also benefit from Cohen's deep-toned bass clarinet, which she used because of its tonal proximity to Nascimento's singing voice. The musical range of this album is quite extraordinary: in addition to the above pieces, there is a delightful cover of Flying Lotus' "Putty Boy Strut", a lyric ballad, "Ima", dedicated to Cohen's mother, tributes to Baden Powell and George Wein, and a Cohen original called "Happy Song" that includes twisting clarinet lines straight out of Eric Dolphy. What brings all this music together is the strong musicianship of Cohen, her rhythm section and guest artists Romero Lubambo, Gilmar Gomes and Gilad Hekselman. Co-producer Oded Lev-Ari says this album reflects the many sides of Anat Cohen's musical world. That's a world well worth exploring.
RYAN TRUESDELL & THE GIL EVANS PROJECT: "LINES OF COLOR" (ArtistShare/Blue Note 133)
There are dedicated musicians, and then there's Ryan Truesdell. In the liner booklet to his newest CD of Gil Evans discoveries, "Lines of Color", Truesdell notes that after recording the arrangement of Bix Beiderbecke's "Davenport Blues" for the album "Great Jazz Standards", Evans revised the score by erasing several of the notes in the original pencil score, and writing in new ones. Since that score also included a section that was omitted from the recording, Truesdell w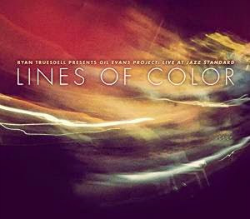 anted to include it on his album but with the original scoring. So he used a high-definition scanner to read the original pencil indentations from the score! Truesdell has made several other important discoveries here, including the original scoring of "Moon Dreams" (as part of a stunning "Easy Living Medley"), an orchestrated Charlie Parker solo in the vocal feature "Can't We Talk It Over", and a four-minute trip through the evolution from swing to bop in "Avalon City". And as great as the discoveries are, the performances are even better! "Lines of Color" was recorded live at the Jazz Standard during the band's 2014 residency, and while Truesdell and his all-star band show great respect for Evans' music, they also understand that these scores must be realized to make them more than just museum pieces. And how they make these pieces their own! Mat Jodrell's trumpet and Lewis Nash's drums both contribute to a virtual makeover of "Davenport Blues", and Marshall Gilkes makes Evans' arrangement of "Greensleeves" sound as natural as a trombone feature as when it spotlighted Kenny Burrell's guitar. The band, which also includes saxophonists Steve Wilson, Scott Robinson, Dave Pietro and Donny McCaslin, trombonist Ryan Keberle, trumpeters Augie Haas and Greg Gisbert, vocalist Wendy Gilles, and the superb rhythm section of Frank Kimbrough (piano), James Chirillo (guitar) Jay Anderson (bass) and Lewis Nash (drums), plays these charts with precision, fire and imagination, and the engineering by James Farber, Tyler McDiarmid and Geoff Countryman takes the listener right to the front row. As it should be, the biggest accolades belong to Evans, whose scores contain such amazing concepts and vibrant ideas. Wherever he is, Gil must be smiling at this extraordinary addition to his legacy.
STEVE TURRE: "SPIRITMAN" (Smoke Sessions 1502)
In a way, Steve Turre's new CD, "Spiritman" represents his long residency in New York City. It opens with "Bu", dedicated to Art Blakey, who brought Turre to the Big Apple in 1973, as a newly drafted member of the Jazz Messengers. Further, one of the pieces, "Funky Thing", was written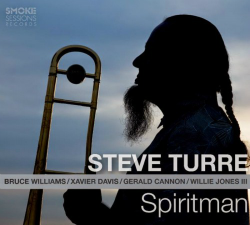 for the band on "Saturday Night Live", of which he has been a member since 1985. However, one of the best things about "Spiritman" is that it gives us the opportunity to hear Turre stretch out, playing long, intricately developed trombone solos. It also offers five of his original compositions, including a dramatic piece inspired by recent headlines: "Trayvon's Blues". Turre gets a rich sound from his horn which he skillfully adapts into the program's varied settings. He discovers the lyricism of the classic ballad "Too Late Now", revitalizes "Lover Man" by resetting it in a new buoyant tempo, and digs deep into the several blues on the program. Turre also brings out the conch shells on the title track, playing into the piano's undamped strings to capture the sympathetic vibrations. Alto and soprano saxophonist Bruce Williams doesn't get as much solo space as the leader, but his short statements are quite effective, and his horns blend well with Turre's trombone. I don't know how often the rhythm section of pianist Xavier Davis, bassist Gerald Cannon and drummer Willie Jones III gigs together, but from the way they coalesce on this recording, they should tour as a unit! Davis' single line solos sparkle throughout, Cannon has a pair of great duet spots with Turre, and Jones lights a fire (both in ensemble and as soloist) on "With a Song in my Heart". It's actually quite surprising that this album was recorded without an audience, as the band performs with the edge associated with a live recording. While I'm sure the "Saturday Night Live" gig keeps Turre anchored to New York, I hope he tours with this group; the promise it shows in "Spiritman" makes me believe that even greater music could lie ahead.
BEN WOLFE: "THE WHISPERER" (Posi-Tone 8134)
Back in the golden days of the LP record, albums—including some jazz albums—typically included twelve songs. With 45 minutes maximum playing time per disc, the musicians were forced to make their statements within a chorus or two. Bassist Ben Wolfe's latest release, "The Whisperer", also has a dozen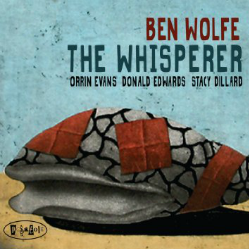 selections, and although the album time is just over an hour, the same feeling of compactness runs through the recording. Wolfe composed all but one of the pieces and they display a great deal of variety, yet play very well off each other. The opening track "Heroist" alternates between a catchy obbligato and straight-ahead swing, the sassy "S.T.F.U." has a loose free-bop feel with a melody line that twists and turns a basic motive into all kinds of unexpected directions, and "Love is Near" is a tough-and-tender ballad taken at a dangerously slow tempo rarely attempted by jazz musicians. The lone standard is "All the Things You Are", and it nearly qualifies as an original for its dramatically altered chord structure. The main soloists are saxophonist Stacy Dillard and pianist Orrin Evans, each of whom display their individuality without taking several choruses to prove their points. Dillard plays soprano sax through much of the album, obtaining a richer sound than most of his contemporaries, but retaining the nasality that gives the instrument its special color. His tenor is warm-toned on "Love is Near", but gets edgy and strident during his solo on the title track. Evans also changes his touch with the situation, but when he lets loose, he does wonders overlaying unusual rhythmic patterns over the ground beat. One of the highlights of the album comes late in the proceedings, when Dillard and Evans engage in a playful dual improvisation on "The Balcony". Trumpeter Josh Evans plays a fine solo on "S.T.F.U." and I was sorry not to hear him play on more tracks. Wolfe and drummer Donald Edwards have few solo spots, but their interplay is spectacular, simultaneously driving the band while adding a fascinating array of melodic lines and cross-rhythms. Overall, this recording is quite accessible, but also offers challenges to its listeners. It is a good introduction to Ben Wolfe as composer, bassist and bandleader.