JACKIE ALLEN & HANS STURM: "THE NEBRASKA PROJECT" (AvantBass 2021)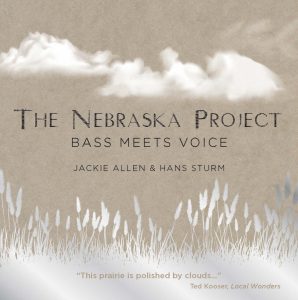 Vocalist Jackie Allen and bassist Hans Sturm have lived in Lincoln, Nebraska for several years. When Sturm decided to celebrate great musicians who were born and bred in the Cornhusker State, he opted to write new songs characterizing the musical icons, rather than offering a collection of standards. "The Nebraska Suite", which takes up the majority of the album "Nebraska Project", captures the spirit of its subjects with fresh images and memorable themes. The brisk "Pass the Caviar" evokes Fred Astaire's grace with little more than a list of his classic steps— "A slip, a slide, a silky glide"—and the skipping interplay of Allen's sultry voice and Sturm's agile bass. The lyric of "Southern Hospitality" focuses on Jeri Southern's emotional instability, but the strong bass solo expands on Southern's vocal intensity. The great basso-profundo (and voice of Tony the Tiger) Thurl Ravenscroft is portrayed in a gritty pirate song. However, the lyric reveals the neurosis that comes with the long dark nights at sea. "Hipster Be Cool" recalls Neal Hefti as the bop-influenced arranger for Woody Herman and Count Basie. The track culminates with swinging improvisations from bass and voice. The Ann Ronell tribute, "South Side Spiced Strut", features a funky, slap-bass vamp that would also work in a sexy remake of Ronell's biggest hit, "Willow Weep for Me", and the tender, uncomplicated message of "Sing Your Song" is a fine match for the Queen of the Cabaret, Julie Wilson. The suite closes with "Love Birds", a beautiful wordless tribute to Ruth Etting and her tragic relationship with gangster Moe "the Gimp" Snyder. The album's second suite, "Indian Tales", recasts the legends of the Omaha, Pawnee, and Ponca tribes. Allen and Sturm adopt a tough, stark approach to these tracks which emphasize the close relationship between the planet and Native Americans and separates the moods of the two suites. These original works take only 36 minutes to play in their entirety, but they are so mesmerizing that listeners may return often for repeated listening.
ANAT COHEN & MARCELLO GONÇALVES: "RECONVEXO" (Anzic 77)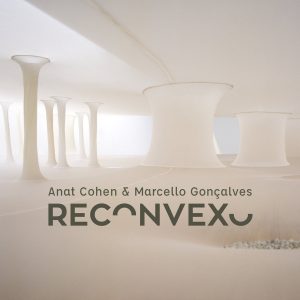 Upon the outbreak of the COVID-19 virus, clarinetist Anat Cohen and guitarist Marcello Gonçalves were quarantined in Rio de Janeiro. Just like other artists across the globe, Brazilian music legends including Caetano Veloso, Milton Nascimento, and Gilberto Gil created internet broadcasts from home to comfort their many fans. In their new duet album, "Reconvexo", Cohen and Gonçalves delved into that repertoire, offering their renditions of music from the MPB (Brazilian Popular Music) songbook, with a few surprises along the way. Gonçalves' rich guitar cuddles around Cohen's bubbly clarinet on the opening (and title) track. A little later, Cohen overdubs a second line on bass clarinet which creates a new timbre and adds melodic interest. Nascimento's "Ànima" starts with a quiet prelude before moving into the main section which alternates medium tempos with melancholy episodes. The written sections feature brilliantly executed angular lines which span the ranges of both instruments. Dorival Caymmi's "O Que É Que Baiana Tem?" predates MPB by at least three decades, but Cohen and Gonçalves bring fresh energy to the song with exciting interplay and intricate finger work. Gilberto Gil's "Andar com Fé" has the feeling of a folk song, with the written cross-rhythms intensifying the melodic line. At the coda, the instruments disappear only to be replaced by the voices of Cohen and Gonçalves! "Maria Maria" changes the timbre again with a contrapuntal 2 ½ minute solo guitar introduction. Cohen joins in for the main melody, which is followed by a dramatic rubato solo section with Gonçalves' accompaniment moving between percussive hits on the guitar's body and minimalistic single-string lines. Over this background, Cohen weaves a brilliant scalar improvisation that changes our evolving perspective on this tune. "Correnenteza" ("The Stream") is a late collaboration between Tom Jobim and Luiz Bonfá. Once again, Cohen's bass clarinet adds additional depth, and the duo uses rubato to unlock the dramatism embedded in the song. "Paula e Bebato" is a collaboration between Nascimento and Veloso, and Gonçalves uses a short prelude to introduce the piece. The improvised center section builds with great intensity, then releases with a thrilling up-tempo passage. Heraclio Fernández's "El Diablo Suelto" takes us to Venezuela for a lively folk dance in fast waltz tempo, while Stevie Wonder's "Never Thought You'd Leave in Summer" presents a reflective coda to this fine album.
NEW ORLEANS JAZZ ORCHESTRA, ADONIS ROSE & CYRILLE AIMÉE: "PETITE FLEUR" (Storyville 1018492)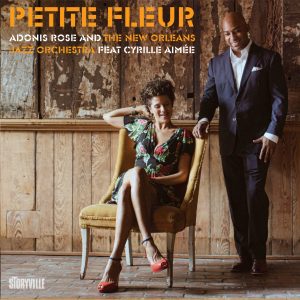 In her original song, "Down", vocalist Cyrille Aimée does her best to convince her boyfriend to move from New York City to New Orleans. In real life, the argument was unsuccessful, but Cyrille moved to the Crescent City by herself to begin a new series of musical partnerships. "Down"—which Cyrille composed for her digital looping machine—appears as the final track on "Petit Fleur", a new collaboration with Adonis Rose and the New Orleans Jazz Orchestra. Outfitted with a new big band arrangement, the song is transformed into a romping second-line march. As a whole, the album celebrates the cultural connections between New Orleans and France. Cyrille sings the first three titles in French (Sidney Bechet's "Petite Fleur", Michel Legrand's "What are You Doing the Rest of Your Life?" and Django Reinhardt's "Si Tu Salvais") with the orchestra displaying splendid ensemble playing and outstanding soloists, including soprano saxophonist Ricardo Pascal on the title track (Unfortunately, most of the soloists and none of the arrangers are credited in the CD package). The album concept breaks down with a series of four songs not particularly associated with France or New Orleans: "I Don't Hurt Anymore", a country hit for Hank Snow somehow adapted into 1950s rock and roll; "In the Land of Beginning Again", sung by Bing Crosby; "Crazy He Calls Me", forever associated with Dinah Washington; and "On a Clear Day" from a Barbra Streisand movie. However, all of the performances are beautifully realized, with Cyrille offering a heartfelt reading of "Crazy" and contributing a marvelous scat solo on "In the Land". And whoever arranged "On a Clear Day" deserves ample recognition for a chart loaded with a stunning array of instrumental colors, all played with precision and brio by the NOJO. The two remaining selections bring early jazz into the mix. Jelly Roll Morton's "Get the Bucket" has the feel of a head arrangement with some good-natured jive from the band members, while "Undecided" is treated to a quick-tempoed jam, featuring a soaring scat solo from Cyrille, with a complementing statement from one of the alto saxophonists, brilliant exchanges with Rose, and a loose ending featuring several of horns supporting Cyrille. This fun musical travelogue comes highly recommended.
DAVID SANFORD BIG BAND: "PRAYER FOR LESTER BOWIE" (Greenleaf 1086)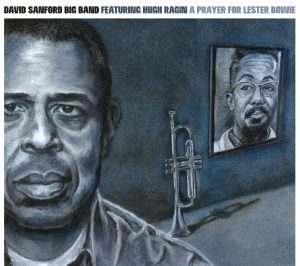 I first heard David Sanford's music nearly four decades ago, when we were both music students at the University of Northern Colorado. Back then, I was impressed with his inventive arrangements featuring unusual instrumental combinations and unorthodox formal structures, all served up with a healthy dose of off-the-wall humor (Sanford once created a big band arrangement of the score from "Rocky and Bullwinkle"). Sanford has finally made his major-label debut with "Prayer for Lester Bowie", and even though the title piece is not Sanford's work—it is that of Hugh Ragin, who also conducts that performance—Sanford's leadership and musical philosophy can be felt throughout the album. The opening track "Full Immersion" has a dizzying number of instrumental combinations, and if they were all listed down, the piece would appear to be a cluttered mess. However, Sanford is a masterful organizer, knowing just how much sound to offer at any given time, so as not to overwhelm the listener. He also has a magnificent band, which combines members of his Boston-based orchestra, plus a few New York players, and several friends from Colorado, including trumpeters Brad Goode and Hugh Ragin, trombonists Mike Christianson and Steven Gehring, alto saxophonist Kelley Hart-Jenkins and drummer Mark Raynes. Many of the Colorado players performed Sanford's music in his early days, and their returning to the band for this recording is symbolic of their long-term dedication. Newcomers to Sanford's music might associate it with film scores, as "Subtraf" has the feel of an extremely dark horror film, and "Woman in the Shadows" recalls the sounds of film noir. Yet, Sanford's pieces provide so much sonic detail that internal stories can be imagined without any visual cues. Like Sanford's scores, Ragin's tribute to Lester Bowie draws from avant-garde classical music as well as progressive jazz. However, the choices made by each composer show that shared influences do not lead to similar-sounding music. Indeed, I would venture that even those listeners unfamiliar with both Sanford and Ragin could single out each man's work after one playing of this disc. Yet, it is the complementary nature of these two composers which makes this combination work. Following the title track is the album's biggest surprise: a fairly straight-ahead setting of "Dizzy Atmosphere"! It has all of the hallmarks of standard big band charts, but it also includes unique background riffs and the inventive scoring of solos from the original Gillespie 78. "Soldier and the CEO" opens with a searing unaccompanied solo by Hart-Jenkins, and evolves into a soundscape where different events occur in different levels of the score. Frankly, I haven't fully deciphered the section featuring two trumpets and the fuzz guitar, but I will certainly return to this music and dig in further. I recommend the same activity to anyone who buys this CD. Without a doubt, it is challenging music, but it is the type of music that rewards the attentive listener.