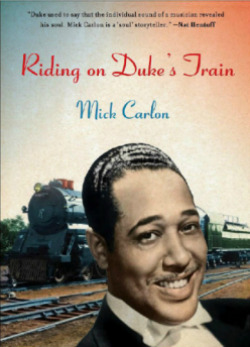 In the past few years, public schools have shifted the focus of their curriculum from liberal arts to math and science. When budget cuts come, the inevitable targets are the music, theatre and art departments. Yet even in their heyday, the emphasis of these departments was always on performance: next week's half-time show, the Christmas pageant, the school musical, a student art presentation. Some of the wealthier school districts included music history or art appreciation classes, but not only were these programs the exceptions, they were also designed for high school students, many of whom had already discovered their favorite types of music and art. It's important to expose children to art at an early age, and Mick Carlon has found a unique approach to the problem. For years, the life-long jazz fan and English teacher played jazz in his classroom, and a few years ago, he started writing a series of jazz-themed fiction books for young adults. Two books of that series, "Riding on Duke's Train" and "Travels with Louis" (LeapKids/Leapfrog), mix young fictional protagonists with exceptionally realistic portrayals of Duke Ellington, Louis Armstrong and the members of their bands.
"Riding on Duke's Train" takes place between 1937 and 1939. Danny, a nine-year-old black child, is orphaned after his only surviving relative passes away. Anxious to get out of the Deep South, Danny stows away on a Pullman train car, which happens to be the traveling home of Duke Ellington and his Orchestra. Rather than being thrown off the train, he is adopted by the band and given a job as assistant band boy. Rex Stewart becomes Danny's roommate and chief guardian on the road, and when the band settles in New York, Danny lives in Ellington's Harlem apartment. The boy travels across the US with Ellington, and eventually tours Europe with the band just months before the outbreak of World War II. The Nazis were notoriously hostile to blacks and jazz, so the orchestra did not schedule any concerts in Germany, but they were forced to travel through that country to get to their gigs in Sweden. The orchestra's train was held by the Gestapo for several hours in Hamburg before being allowed to pass through. While the Hamburg episode is the most dramatic point in Carlon's narrative, most of the book is a leisurely coming-of-age story for young Danny. He learns to play the trumpet, and while he gets encouragement from the other members of the band, Ellington wisely tells the boy that he's just not ready to play in the orchestra. Instead, Ellington offers to teach him how to read music, and grooms him to be his music copyist, a job Danny holds until Ellington's death.
"Travels with Louis" has a stronger dramatic core, and the protagonist, a 12-year-old trumpeter named Fred, is much more complex than Danny. In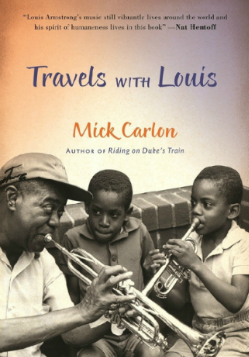 1959, Fred and his father (also named Fred—they're referred to as "Big" and "Little" Fred) live together in Corona, New York, just down the street from Louis Armstrong's house. Big Fred's late father was a trumpeter who worked with Louis when both were growing up in New Orleans. Little Fred is the proud owner of his grandfather's tarnished horn, but one day Armstrong gives the boy a shiny new horn. Little Fred decides that he wants to be a jazz musician, but he has paralyzing stage fright and he can barely produce a note when playing in front of an audience. In addition to this problem, Little Fred has a lot of other things on his mind: the death of his mother (a poetry professor at Columbia University), his father's new love interest (a jazz singer whom he meets through Armstrong's matchmaking), racism (his first experience with "the n-word") along with the usual struggles of a boy his age. Armstrong offers to help by letting the boy travel with the band during school vacations. The first trip takes Little Fred to Nashville, where he unwittingly becomes part of a sit-in with civil rights leader John Lewis. Later, he travels to London and Paris, where he has his first crush on a girl, and finally overcomes his stage fright, through the assistance of both Armstrong and Ellington. In this book, Carlon peppers the first-person narrative with Little Fred's over-active thought processes; an episode where the petrified boy tries to accompany his father's girlfriend during a gig at the Village Vanguard is both extremely funny and quite touching.
Carlon's writing style is light and breezy, and his stories catch the reader's imagination with ease. He is particularly gifted at characterization, and his portrayals of Armstrong, Ellington and the musicians in their bands closely correspond with what we know about their actual personalities. In the texts, Carlon refers to these musicians by their first names or nicknames alone: Rab, Rex, Barney, Jimmy, Trummy, Ivie, and so on, giving the young reader an instant familiarity with these engaging characters. At the back of each book, Carlon offers brief biographies of the musicians and historical figures referenced in the novel. Carlon takes a little poetic license with the musicians he includes: Jimmy Blanton joined the Ellington band after the European tour, and both Barney Bigard and Barrett Deems had left Armstrong's All-Stars by1959. He has also left out important figures like Billy Strayhorn and Joe Glaser. Yet, these are works of fiction and Carlon's mission is to introduce young readers to these musicians, not overload them with historical facts or an abundance of characters.
It looks as though Carlon's method is working. Many of his own students have become jazz fans and they frequently ask his advice about songs to download. His books have been incorporated into the reading curriculum at several schools, and "Riding on Duke's Train" is currently being made into a feature-length animated film. Carlon's next book in the series, "Girl Singer", will incorporate Count Basie and Kansas City jazz. All of these projects will help Carlon spread the word about the music he loves. The future of this music has always lived in the imaginations of the youngest fans and performers, and Mick Carlon's books may provide an entryway to jazz for a whole new generation of listeners.