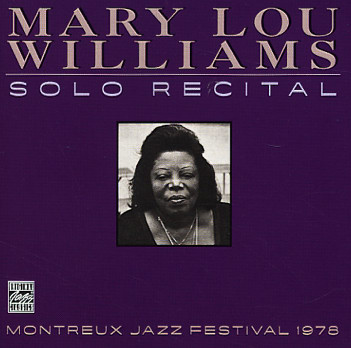 One of Mary Lou Williams' proudest claims was that she had played through all of the major jazz styles. As a child, she learned spirituals and blues by ear from her mother and stepfather, and by the time she made her first recordings at seventeen, she was playing traditional New Orleans jazz with a progressive style influenced by Earl Hines. During her 12-year tenure in Andy Kirk's Clouds of Joy, she became a major creative force in Kansas City swing as pianist, composer and arranger. In addition to mastering stride and swing piano styles, Williams was also a fine boogie player, and in the early days of bebop, she became a mentor to Dizzy Gillespie, Thelonious Monk, Bud Powell and Tadd Dameron. Within a few years, she had converted her style to bop, and in the 60s and 70s, she recorded music in modal, free and rock styles. Starting with the 1955 LP, "A Keyboard History", Williams presented a history of jazz piano in many of her recordings and live performances. On the early recordings, her stride and swing styles were quite different from her bop style, but by the late 1970s, she had codified the styles so thoroughly that one could hear elements of each style in nearly everything she played. Her stunning solo performance at the 1978 Montreux Jazz Festival was the last album released during her lifetime, and it remains one of the finest examples of her artistry. It is also a rare example of the same recording simultaneously available from two different companies in CD and DVD format.
The recording opens with an 11-minute "history of jazz" medley. Although Williams had performed longer versions of this medley—including one that spanned the entire first half of her 1977 concert with Cecil Taylor—the Montreux version may be the most elaborate version on record. Starting with a dramatic introduction, Williams launches into her original spiritual, "The Lord Is Heavy" with a strongly marked bass line, and then picks up the tempo a minute or so later with another powerful left hand figure. She jumps into "Fandangle", a fast rag/stride piece played with great precision. When the audience breaks into applause at the end of the piece, Williams keeps the momentum going with a long tremolo and then segues into a soulful slow blues which features jagged treble lines over smoothly striding tenths in the bass. There is another tremolo-filled transition before Williams plays a chorus of "For the Figs", her example of Kansas City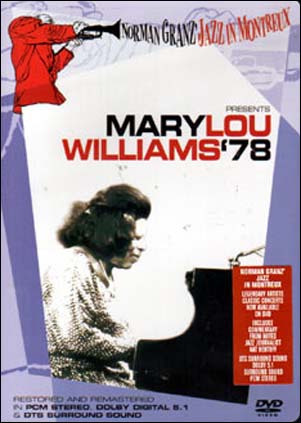 swing. "Baby Bear Boogie" is next, with Williams playing traditional boogie figures over a stop-and-start bass pattern. Then with a quote of its signature riff, Williams concludes the medley with a rollicking version of her big band boogie hit, "Roll 'Em".
With the medley acting as an overture, the rest of Williams' program mixes the styles in free and inventive ways. "Over The Rainbow" (surprisingly, her first recording of the Arlen standard) moves between swing and bop styles, and in the harmonic restructuring of the song, she seems to pay tribute to both Art Tatum and Bud Powell without copying either pianist's style. "Offertory Meditation" is a 6/4 modal blues with a catchy rhythmic motive in the left hand. Williams is not satisfied with repeating an ostinato—even on her own piece—and as the performance develops, she creates astonishing cross-rhythms as she deconstructs the left-hand pattern. After a quick version of "Tea for Two" comes the highlight of the concert, a free improvisation titled "Concerto Alone at Montreux". At times, this 6 ½ minute piece sounds like a paraphrase of the blues, but most of the time, Williams creates atmosphere instead of harmonic motion. What Williams plays is not truly atonal, but it seems to be a personal interpretation of the avant-garde style, and it is fascinating to hear an established pianist in her late 60s examining a new manner of expression.
"Little Joe From Chicago" is a return to Williams' melting pot style, where boogie bass lines intersect with stride patterns, bop chords and abstract left-hand inventions, under brilliantly-constructed improvised melodies in the right hand. "The Man I Love" is a tour de force of cross-rhythms and stylistic diversity. "What's Your Story, Morning Glory" starts as a relaxed version of Williams' classic chart, but after playing the melody, Williams jumps into a different key and improvises on an alternate set of chord changes. She only stays there for a few bars, but it is a surprising and refreshing change of pace. The closing piece, "Honeysuckle Rose", includes several style juxtapositions, and it was used to introduce Williams in Joanne Burke's superb documentary, "Music on My Mind".
The European tour that included the Montreux performance took place after Williams' first year as artist-in-residence at Duke University. Her time at Duke was a true valedictorian experience where she taught jazz history and led the jazz ensemble. Unfortunately, her health took a turn for the worse in early 1979, when she was diagnosed with bladder cancer. While her remaining performances were still energetic, eventually she was unable to travel, and she was bedridden for the last few months of her life. When she passed away in May 1981, she left behind a foundation with a mission to teach jazz to children, and an unfinished composition for Duke University's Wind Symphony that chronicled the history of jazz. However, Williams' legacy is far greater that she might have imagined. Most of her recordings are still in print, her compositions are played and recorded by young musicians (including a new Virginia Mayhew album reviewed here), and the long-running Women in Jazz festival at the Kennedy Center was named in her honor. What appropriate honors for a musician who gave a seminar in jazz history every time she played.