In the liner notes to the new Liberation Music Orchestra CD, "Time/Life", leader, pianist and arranger, Carla Bley writes, When Barack Obama was elected President of the United States in 2008, the musicians in the Liberation Music Orchestra thought they were out of a job. Charlie [Haden] had only felt moved to make albums with the LMO when he was infuriated with the political system. But even with Obama in office, he became more and more upset about ongoing crimes against the environment. For good or ill, the election of Donald Trump as Obama's successor just gave the LMO a new lease on life—even though Haden—the group's founder and bassist—died in 2014. Trump considers climate change a hoax, and he has promised to "cancel" all of the US commitments made during last year's UN environmental conference. Add to that Trump's stands on immigration, abortion and war, and the LMO will have plenty of issues to attack in the coming years.
"Time/Life" catches the LMO in transition. Two of the disc's five tracks were recorded in 2011 at a jazz festival in Antwerp, and they are among Haden's final recordings (his health deteriorated significantly in the next year). The remaining tracks are studio recordings made in New York in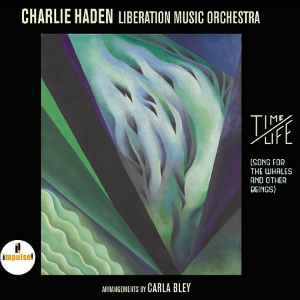 January 2015, with Steve Swallow taking the bass chair (Swallow was Haden's personal choice for his replacement). The CD was programmed with Haden's tracks at the beginning and the end, and it's interesting to compare the lines and sounds of these very different bassists. Haden's florid, baroque bass lines create a seamless segue from accompanist to soloist on the opening "Blue in Green". The commanding tone of his acoustic instrument was a focal point for this group, and because his bass is quite prominent in the sound mix, listeners will basically have the same experience. Of course, Haden was also leading the group, a responsibility that Swallow does not have. Swallow's bass lines are pared down compared to Haden's, but Swallow's contribution is equally effective, especially on the gradual crescendo that accompanies Tony Malaby's heartfelt tenor solo on the title track. Further, Bley exploits the similarity of instruments when she pairs Steve Cardenas' guitar and Swallow's electric bass for a tender duet on the introduction to her original, "Silent Spring".
The Miles Davis/Bill Evans composition "Blue in Green" is only tangentially related to the environment, but Bley's gorgeous arrangement transforms the work into a rich showcase for the LMO. The mournful sound from Haden's bass spreads throughout the entire ensemble, so that the soulful improvisations of trumpeter Michael Rodriguez and tenor saxophonist Chris Cheek are surrounded by a rich palette of dark foreboding chords. "Time/Life" is Bley's tribute to Haden, and it starts with an extended quote from the dirge which opened the LMO's debut LP. The Malaby solo noted above leads into a stunning drum interlude by Matt Wilson that is as noteworthy for its melodic content as its use of space. The second half of the piece builds the intensity again starting from the rhythm section and it gains strength with short solos by Cheek, Rodriguez, Curtis Fowlkes (trombone), Vincent Chancey (French horn), Seneca Black (trumpet), Loren Stillman (alto sax) and Joseph Daley (tuba) before a disquieting coda somehow lands on three tonic chords. "Silent Spring" was inspired by Rachel Carson's book, and like its inspiration, was written in the 1960s. The sorrowful repeating chords that back Cheek and Rodriguez remind me of Gil Evans' "Pan Piper" from "Sketches of Spain", but eventually Bley deconstructs the pattern by omitting the rhythm section and directing the horns to slide between the chords. The tempo picks up after that episode, and Rodriguez's second solo over turbulent rhythm and sustained chords in the horns creates (in turn) welcome relief and unbearable tension.
"Útviklingssang" was Bley's musical response to a 1970s Norwegian development scandal where a series of dams designed to create electricity for large cities had a devastating effect on the rural environment. Bley's haunting melody is first played unaccompanied by Fowlkes, then taken up by Stillman, and finally performed by the whole band. Stillman's ensuing improvisation is chilling, as he creates his statement with a perfect balance of short pointed phrases and silence. Fowlkes' more boisterous solo, and a richly scored closing chorus bring this fine track to a close. "Song of the Whales" brings Haden back to the forefront with an astonishing emulation of humpback calls performed with a combination of bowing, high harmonics and deep low notes (and as this performance came from a radio broadcast, Haden made all of this music live without any overdubs!). The slow moving melody in the horns plays against a frantic up-tempo cymbal pattern, and this unique dichotomy of tempos allows Malaby to embrace either tempo or—more often—float above it. And as Malaby moves into multiphonics over the energetic rhythm and intense horns, he recalls Dewey Redman's passionate solo on "Song for Ché" on the first LMO album.
The album closes with Haden's admonishment to the Belgian audience: The whales represent all living creatures. They're so precious and so wonderful, just like this universe is, and like this planet is, and like you are. You have to never forget that. You're a part of it. We're here for a reason, and that's to make sure this universe stays beautiful, and wonderful and brilliant. It's so important to remember how precious this life is. Thank you so much. Hearing these words—especially the penultimate sentence—from a great man now passed carries enormous emotional weight. It could be argued that the music makes the point without Haden's comments, but looking forward into a conceivably grim future for our planet, those words need to said and reiterated many times over.