ELI DEGIBRI: "TWELVE" (Plus Loin 4563)
At 35 years old, Eli Degibri is far from a grizzled veteran, but his new album "Twelve" proves that the terms "youth" and "age" are relative. After 18 years of playing in Boston and New York (including long-standing gigs with Herbie Hancock and Al Foster), Degibri has moved back to his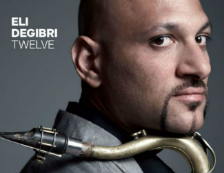 hometown of Tel Aviv, and his quartet includes two astonishing youngsters, 16-year-old pianist Gadi Lehavi and 18-year-old drummer Ofri Nehemya. These young players have learned well, both from mentors like Degibri and the quartet's bassist Barak Mori, and from classic recordings. Forget all of your preconceptions about teenage musicians, for Lehavi and Nehemya sound like players twice their age. And if you've never heard Degibri, you are in for a pleasant surprise. He has distilled the essence of Wayne Shorter, Joe Henderson and Michael Brecker, creating a distinctive sound that embraces silence  as much as velocity. Eight of the nine songs are Degilbri originals, and they include the gentle "New Waltz" (played as a sax/piano duet), a tango "Liora Mi Amor" (with guest vocalist/lyricist Shlomo Ydov), the evocative "The Spider" (featuring remarkable playing by Nehemya) and the intense title track (named for the day of its recording, 12/12/12). But the highlight of the album may be the lone standard, "Autumn in New York". Degibri says that Vernon Duke's song helped him imagine New York before he visited there. His soulful interpretation echoes the yearning of the lyric, and one might imagine that the young musicians Lehavi and Nehemya might feel the same way about the song as Degibri did years ago. There is a host of bright moments on this disc, not only for the aspiring young musicians, but for the ever-youthful leader.
TIM HEGARTY: "TRIBUTE" (Miles High 8623)
To call Tim Hegarty a student of bop tenor saxophone would be stating the obvious. When he was 13, he began lessons with Frank Foster, which later led to tutelage from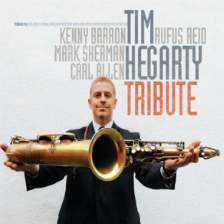 George Coleman and Jimmy Heath. Hegarty's CD, "Tribute" features compositions by all of these masters (with an emphasis on Heath, who is represented with four tunes). Backed by the impeccable rhythm section of Kenny Barron, Rufus Reid and Carl Allen (with producer Mark Sherman sitting in on vibes for half of the tunes), Hegarty shows that he learned well. His hoarse, intense tone is a commanding voice reminiscent of late Dexter Gordon and classic Michael Brecker, but his solo style is a true amalgamation of many influences. His improvisation on "New Picture" includes unmistakable traces of "sheets of sound" style John Coltrane and present-day Sonny Rollins!  On the opening track, "A New Blue", he creates a complex, but logical solo full of jagged and unusual melodic patterns, but on the ballad "Ineffable", he lets his sound and his slow loose vibrato tell the story. Hegarty brought two originals to the studio, and they are placed back to back on the CD. "Not To Worry" is a strong-willed ballad featuring an emotional and full-toned soprano sax solo by Hegarty, while "Low Profile" is a sprightly melody played over a delightful medium-tempo bounce. And while it goes without saying that the rhythm section is a model of driving swing, they truly outdo themselves on "Gingerbread Boy" where the groove literally lifts you out of your seat! Although a few of the arrangements hew a little too close to the originals, this CD is a great testament for the continued viability of the tribute album. I'm sure that Heath and Coleman are mighty proud of their student.
PETE MILLS: "SWEET SHADOW" (Cellar Live 70813)
Born in Toronto and now living in Columbus, Ohio, Pete Mills has a robust tenor sound that seems to work in a variety of settings. Eleven of the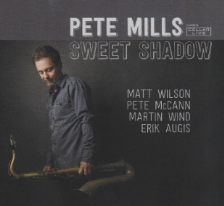 fourteen tracks on "Sweet Shadow" are his originals, and each one shows a different aspect of his versatility. "Shiner", based on "My Shining Hour", contains the most joyous swing I've heard in years, and while "New School" also swings with great vitality, its harmonic sequence gives it a greater intensity. I hear some of Charles Lloyd's languid approach in "Summer" but more immediacy within "Close To Never". One of the reasons why these disparate styles coexist so well is that Mills' tone and approach are straight-forward and without artifice. This allows him to add touches of his many influences without detracting from his own vision. Mills also has the benefit of a superb backing group anchored by bassist Martin Wind and drummer Matt Wilson. Wind and Wilson have played together for years, notably as two-thirds of the Dena DeRose trio. Not only do they know how to lock into grooves, they also share a devious sense of humor (evidenced here on the sly version of Roland Kirk's "Serenade to a Cuckoo"). Pianist Erik Augis and guitarist Pete McCann are longtime associates of Mills, and McCann works as both frontline partner and adventurous soloist on most of the tracks. Augis swings mightily on "Shiner" and sparkles on the bouncy "Diamonds are a Girl's Best Friend". The album's other standard, the Duke Ellington/Billy Strayhorn collaboration "Star-Crossed Lovers" is a highlight, setting the "Romeo and Juliet" inspired miniature with a delicate samba beat, with McCann especially fine on acoustic guitar. This well-programmed disc truly has something for everyone and is well worth seeking out.