EHUD ASHERIE: "WILD MAN BLUES" (Capri 74153)
Back in the old days, a musician said to have "an encyclopedic knowledge of jazz" was usually a veteran performer who had been playing professionally for many decades. Ehud Asherie is a relatively young man (born in 1979) but he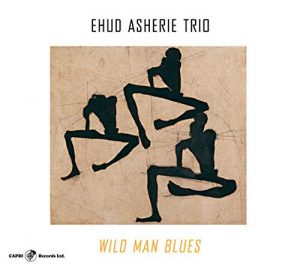 has learned this music well, both in modern and traditional formats. His new trio album, "Wild Man Blues" finds him exploring music written by composers as diverse as Jelly Roll Morton and Ary Barroso. Asherie's clean, swinging piano style fits into just about any genre, and his fellow musicians on this date, bassist Peter Washington and drummer Rodney Green adapt into the various styles with ease. Asherie creates stunning long single-note lines on a soulful rendition of "Parker's Mood", and Washington's fat bass tone and exquisite melodic sense provides an elegant answer to the pianist's solo. Green gets a tight, crisp sound from his drum kit, which emphasizes his precise and knowing swing. "Flying Down to Rio" does indeed fly, but one never feels that the fast tempo overwhelms these musicians: the groove is tight, and the tempo never wavers. Asherie's technique is truly astounding, but his musical sense lets him create a meaningful statement despite the quick pace. Green trades fours with the pianist, demonstrating his fine brush technique. Asherie's album with vocalist Hilary Gardner, "The Late Set" proved his love for classic songs, so it does not come as a surprise that his version of "Autumn Nocturne" here is sensitive and deeply felt. Barroso's "Na Baxia Do Sapatiero" opens with a beautiful chorus of solo piano, and then launches into a powerful groove fueled by Green's bass drum. The track builds and builds with Asherie's solo intensifying to ecstatic heights. Asherie also starts "Oh, Lady Be Good" alone, playing the verse (!). The rest of the trio slides in with a deliciously sultry slow groove which inspires particularly well-crafted solos from the leader and bassist. This superb album closes with a delightful take on Dizzy Gillespie's "And Then She Stopped". Keep your eyes and ears on Ehud Asherie—his talent is sure to take him far.
BENNY GREEN: "THEN AND NOW" (Sunnyside 1528)
I remember hearing Benny Green when he was considered one of the "Young Lions" back in the 1980s. Although I've followed his career since then, it's a little hard to fathom that he is now creating albums celebrating his past and his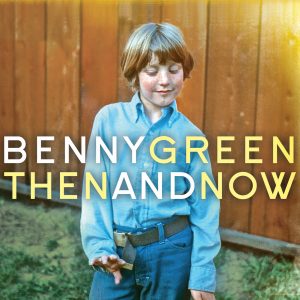 influences. Yet his album, "Then and Now" does just that. The opener, "Donny Hath a Way" is a smoothly played tribute to the classic vocalist which quotes a couple of the singer's hits and displays Green's considerable talents on acoustic and electric keyboards. Vocalist Veronica Swift joins the group for a spirited version of Dexter Gordon's "For Regulars Only" featuring a fine Ella Fitzgerald-inspired scat solo. Through overdubbing, Swift sings both the tenor and trumpet parts on the melody and the octave spread between parts sounds reminiscent of Jackie Cain and Roy Kral. "Latin America" is a fine composition by Cedar Walton which inspires tight ensembles with flutist Anne Drummond, Green, bassist David Wong, drummer Kenny Washington and percussionist Josh Jones. Green contributes an incredible solo, notable for its rhythmic drive and outstanding execution. Green and Swift collaborated on the tune "Naturally" and they perform the opening chorus as a duo. Green learned how to accompany a singer from Betty Carter, and Swift benefits from those long-ago lessons. Swift is no slouch herself: she is the daughter of Stephanie Nakasian and Hod O'Brien, and she is blessed with a lovely voice and exceptional diction. Green lets loose on a swift reading of Hank Jones' "Minor Contention" and he turns out a mind-boggling solo full of lightning-fast runs and dizzying technique. After a lovely cameo for flute, piano and bass ("Enchanted Forest"), Green, Swift and the trio head right back into bebop country with a swinging rendition of Horace Silver's "Split Kick". The trio offers a warm rendition of Duke Pearson's rare "Say That You're Mine" with a beautifully harmonized solo by Green, before paying homage to Walter Davis, Jr. with the boppish Green original "Humphrey" and Art Blakey with Hank Mobley's deeply funky "Hipsippy Blues". Green echoes Red Garland on "Something I Dreamed Last Night" with Swift contributing a sensitive interpretation of the lyrics. The closer is another Green original of 25 years vintage, "Wiggin'", here played in a powerfully swinging trio arrangement. Green's melodically rich, rhythmically propulsive style shows why he has become one of the best pianists working today.
STU MINDEMAN: "WOVEN THREADS" (Sunnyside 1520)
The son of a travelling symphonic musician, Stu Mindeman spent some of his formative years in Chile. Too young to appreciate the culture firsthand,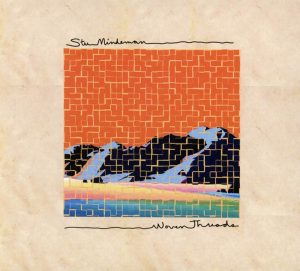 Mindeman's love for the region's indigenous music first came from recordings. A return visit in 2017 allowed him to meet and befriend a number of musicians with a shared love for jazz and native folk music. For his new CD, "Woven Threads", Mindeman and a diverse ensemble of vocalists and instrumentalists celebrate this emotionally rich musical heritage. The rich voice of Francesca Ancarola opens the album with a vibrant reading of the mixed meter folk song, "Casi, Casi". Mindeman resists the urge to solo over the surging rhythm and powerful horns, but he provides a fine interlude between the ensemble chorus and Ancarola's return. "El Aparecido" starts with another jolt of propulsive rhythm, but the mood abruptly changes before Ancarola sings a moving tribute to Ché Guevara. As the vocal proceeds, the style shifts between aggressive rhythms and sedate backgrounds (I wish that Sunnyside would have provided translations of the Spanish texts; I am only able to discern the alternating moods through the emotions projected by the vocalists). Next, Ana Tijoux offers a touch of Chilean hip-hop on "Sin Sentido", with trumpeter Marquis Hill presenting a contrasting feel with his muted trumpet. This track also presents Mindeman's first full-fledged piano solo, an invention which juxtaposes delicate piano arpeggios with a driving funk beat. "La Reuda" is a primarily instrumental number built on a complex metric backdrop and an intriguing harmonic sequence. Alto saxophonist Miguel Zenón and Mindeman both create exquisite solos over the ever-changing rhythms. Jumping to the other coast of South America, "La Casa de al Lado" was written by Uruguayan composer Fernando Cabrera. Ancarola returns to perform the song in a fresh, attractive setting by Mindeman. The words for the next two songs were inspired by works from the poet Violeta Parra. The texts are loose English translations written by Tim Styles, and sung by Mindeman's current employer, Kurt Elling. Elling's resonant baritone is set well against the overdubbed string tracks by Victoria Moreira, Zenón's plaintive alto, and rich harmonic background from the leader's piano. The final track brings back Ancarola for Victor Jara's anthem, "No Puedes Volver Atrás". While clocking in at only 38 minutes, this album packs enough emotional wallops for an album twice its length.
KENNY WERNER: "THE SPACE" (Pirouet 3106)
The title of Kenny Werner's new solo CD, "The Space" refers to what he calls "the place where every note I play is the most beautiful sound I've ever heard". That sentiment can be felt in every moment of this transcendental recital. The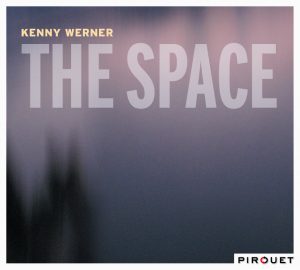 title track opens the album with a series of seemingly disconnected single notes which gradually combine into chords. An episode of jagged figures in the upper register then transforms into a Latin-esque obbligato, and here—several minutes into the album—is where we finally recognize that this is not a fully-scored classical piece, but a platform for jazz improvisation. However, we can still discern Werner's compositional mind at work as he develops the motives through his solo. A section of almost unbearable tenderness follows, where Werner weighs the emotional impact of every chord. After a brief scherzo-like passage, Werner plays a series of solemn chords which develop into an impressionistic coda. I don't how much of this piece was written beforehand, but I am very impressed with the breadth of the conception. The Keith Jarrett "Encore from Tokyo" has a lighter feel, and inspires a joyful improvisation from Werner, full of brightly-played runs and cross-rhythmic patterns. "Fifth Movement" (I'm not sure of what) is another Werner original in which the activity of the left and right hands are clearly delineated. Michel Legrand's tender ballad "You Must Believe in Spring" gets a definitive reading here, with Werner pulling unexpected sonorities from the piano in his improvisation. The pristine recording by Jason Seizer captures not only the sounds of the superb instrument, but also the ambience of the room and the silences between the notes. Seizer is also a composer, and Werner gives sensitive performances of two of Seizer's pieces, "Taro" and "Kiyoko". Werner's interpretation of the standard, "If I Should Lose You" is filled with darting lines and unusual harmonic turns. The anxious character of the rhythm eventually settles down in the final chorus, which establishes the ground beat before ending abruptly. "Fall from Grace" is built on a slow march rhythm. I suppose it could be described as a dirge, but if it is, then it is one that is hopeful of redemption. The deep passion which Werner brings to every note of this work stirs my soul, as I'm sure it will for others. I've collected many of Kenny Werner's albums over the years, but "The Space" is undoubtedly my favorite so far. I'm already saving space for it on my best of 2019 list.