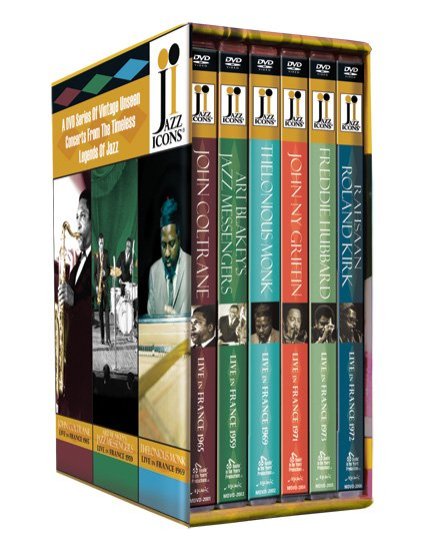 After a two-year gap, Reelin' in the Years has released their long-awaited fifth series of Jazz Icons DVDs. The new set features a new partner, Mosaic Records, and a few slight changes. Unlike the earlier Jazz Icons sets which contained 8 DVDs, there are only 6 discs in the current box. At present, the items are only available as a set, which means there is no dreaded "bonus disc". All of the performances took place in France, and while the box proclaims "vintage unseen concerts", two of the shows have been circulating among collectors for years, and part of another has been available in audio format for several years. Nonetheless, the Jazz Icons DVDs offer the best audio and video restoration these films have ever had.
Taken in alphabetical order:
ART BLAKEY'S JAZZ MESSENGERS (1959)
If you have attended jazz film screenings by David or Michael Chertok, or have seen jazz documentaries that draw on their collection, you have seen portions of this Art Blakey concert. It was filmed at the Théâtre des Champs-Élysées in Paris and it features Blakey with the trumpet/tenor combo of Lee Morgan and Wayne Shorter playing on a small stage in front of a large curtain. (The improved definition of the video reveals this backdrop to be a painting rather than an actual curtain.) This film is also the source of Morgan playing a muted trumpet solo that is so distorted through the sound system that it sounds like a psychedelic rock guitar. The film captures this classic edition of the Messengers as it develops its own sound and approach. The repertoire includes several Benny Golson numbers from the previous incarnation of the band, as well as two arrangements from a transitionary period earlier in 1959. Morgan and Shorter were seen as followers of Clifford Brown and John Coltrane during this time, and while those models appear in the horn solos, Morgan's sassy half-valve style and Shorter's compositional approach to improvisation show the individual directions each man would take. Pianist Walter Davis, Jr. was the other newcomer to the band. He shows a strong Bud Powell influence which comes through strongly on the Messengers' version of the Powell original "Bouncing with Bud". Bassist Jymie Merritt gets three bass solos in the course of the concert—did any other bassist in the Messengers get this much solo space? Blakey is in superb form, creating solos and accompaniments that never seem to lack in inspiration or energy. The disc also includes an interview with Blakey and the band, where Blakey intones his immortal line, "Music is meant to wipe away the dust of everyday life".
JOHN COLTRANE QUARTET (1965)
As the Blakey DVD finds the Messengers at the beginning of a new chapter in their history, the John Coltrane DVD captures his classic quartet near the end of its tenure. In 1960, before he formed his quartet with McCoy Tyner, Jimmy Garrison and Elvin Jones, Coltrane's intense tone seemed to be fighting against the restrictions of chordal and traditional modal structures. His quartet helped Coltrane to find some of the new horizons he sought, but by the summer of 1965, his style seemed to be on the brink of a new and greater freedom. The DVD captures the only surviving footage of two performances from successive nights at the 1965 Juan-Les-Pines jazz festival. Within four months of this appearance, Coltrane would have a new quartet with only Garrison remaining. The first three pieces, "Naima", "Ascension" and "Impressions" were recorded on the second night and they find Coltrane moving further and further away from melodic invention and the harmonic centers laid down by the rhythm section. Tyner is in excellent form with ear-bending solos that impress both on musical and technical levels, and Garrison is astounding on a 10-minute unaccompanied bass solo which introduces "Impressions". There are no drum solos by Jones on this video, but as usual, he is a constant fount of energy, especially in the climactic portions of "Impressions". The final 12 minutes of the DVD are from the night before, and they represent the only video footage of Coltrane playing his masterpiece "A Love Supreme". The film runs from the beginning of the work through midway through the second movement. The complete performance is available in audio form on Impulse's deluxe edition of "A Love Supreme". While the performance gained in intensity over the next 36 minutes, the portions on the DVD seem less intense that the music that precedes it in this presentation. Perhaps Coltrane was bolstered by the crowd's reaction to "A Love Supreme" the previous night and decided to test the waters with more exploratory improvisations on the second night. Paired with the footage from Belgium's Comblain La Tour (recorded less than a week later and issued on an earlier Jazz Icons DVD), this disc offers important insights on John Coltrane during this critical part of his career.
JOHNNY GRIFFIN QUARTET (1971)
It's said that jazz musicians have more integrity than anyone else on the planet. They certainly need it when the music they love is out of favor and subject to all kinds of strange treatments. With the release of this Jazz Icons DVD, I proclaim Johnny Griffin as my newest hero. The performances on this disc were made in 1971, one of those times when jazz musicians had a hard time playing without compromises. Yet, Griffin and his fellow musicians (including Dizzy Gillespie and Art Taylor) simply play the straight-ahead bebop that they know best and the music is filmed for TV without any gimmicks. One can rightly credit the French producers for appreciating this music, but the best surprise is the large (and quite youthful) audience at the Châteauvallon jazz festival who listen respectfully and recognize the artistry of the musicians. The Châteauvallon section (which includes Gillespie on two numbers) takes up the first 45 minutes of the set. While the image is in black and white, the sound is in clear unadulterated stereo. Four of Griffin's originals and two bebop standards comprise the repertoire. The last 30 minutes of the disc was recorded earlier in 1971 and is a studio date featuring two Charlie Parker tunes, one by Thelonious Monk, and an original duet for Griffin and Taylor. Other than a little dramatic lighting, the music is presented with the same respect as the festival in Châteauvallon. In fact, the only things that gives away the date are the haircuts and clothes styles. While those elements are of their time, the music is timeless.
FREDDIE HUBBARD QUINTET (1973)
In a way, the Freddie Hubbard DVD is a direct contradiction to the Johnny Griffin disc. Hubbard's live performance of three original tunes from his CTI recordings show how the trumpeter embraced the contemporary sounds of pop and soul music and made the conglomeration into an artistic triumph. To be sure, some of the original Creed Taylor-produced studio sides had plenty of sweetening (strings, multi-tracked woodwinds, extra percussion), but Hubbard's bravado style always came through. With all of the extra fluff stripped away, Hubbard could focus on the music and create riveting live interpretations. For example, go to "The Intrepid Fox", the centerpiece (and longest performance) of the DVD and dig into Hubbard's solo. I've never heard a single solo that so encompasses a performer's style as this one epitomizes Hubbard. It's all there: the daredevil stretches into the high register, seemingly inexhaustible energy and undeniable musical logic. Hubbard's quintet includes former Horace Silver tenor man Junior Cook (who doubles on flute on "First Light"), and an exquisite rhythm section with George Cables on electric piano, the late Kent Brinkley on bass and Michael Carvin on drums. Carvin's solo on "Intrepid Fox" is quite energetic and resourceful, and at one point, he points his head down towards his snare and sings into the drum! Hubbard's career had a lot of ups and downs due to various personal problems, but this DVD shows that when he was at the top of his game, no one could touch him.
RAHSAAN ROLAND KIRK QUINTET (1972)
For many jazz fans, the name Rahsaan Roland Kirk evokes images of a blind man with enormous cheeks who played three or more instruments at a time. That "one-man band" image turns up frequently in this concert from the Paris museum Grand Palais, but close listening reveals a greater part of Kirk's unique talent. He had a comprehensive knowledge of black music history, which encompassed everything from slave chants to bebop to free jazz to Stevie Wonder. His methods of presenting that knowledge were unorthodox, but by the time of this 1972 film, he could pull from various parts of the black music continuum at will. For example, his stritch solo on "Groovin' High" alternates freely between avant-garde shrieks to quotes of popular songs like "I Love Paris" and "Laura". He plays a fairly straightforward version of Wonder's hit "My Cherie Amour" on flute, but in the coda, he suddenly creates an aleatoric sound collage with various nose flutes and whistles. He could also focus his ideas on a single subject, as on the opener, John Coltrane's "Blue Train". Here, he creates a mini-history of Trane's various style periods from "sheets of sound" to the final free period. Also included is a superb clarinet feature dedicated to Duke Ellington and several of his clarinet players. Kirk's clarinet technique was extraordinary, and the mind reels at what Ellington could have composed to feature Kirk's unusual talents. Kirk's accompanists include pianist Ron Burton, bassist Henry Pearson, drummer Richie Goldberg (who uses an unusual wind-operated technique of spontaneously changing the pitch on his tom-toms) and percussionist Joe Texidor.
THELONIOUS MONK (1969)
The Thelonious Monk DVD is the jewel of this collection. Recorded in December 1969, the disc contains nearly an hour of solo Monk. While this material has been excerpted in several documentaries, it is usually shown in poor black and white copies. Here it is all presented in color, with superb picture and audio quality, and without the post-production added for the French broadcast. Monk plays a total of 12 pieces (half of which were left off the original show). Among the performances unseen until now are two contrasting versions of "Monk's Mood", Monk's only known solo version of "Ugly Beauty", and an utterly charming version of "Don't Blame Me". The film was shot with two cameras, and there are plenty of close-ups of Monk's hands. Monk's piano technique may have been unusual, but he could do things that would fluster the average concert pianist. Watch him on "Thelonious" and notice the disparity of his touch between his hands: his left hand lightly touches a stride pattern while his right forcefully delineates his improvisation. The bonus section includes a lengthy sequence of Monk's arrival and stay in Paris, and a sound check of "Thelonious", but the best part comes last with unedited interview footage with producer and host Henri Renaud. For those who think that Monk was always quiet and taciturn, listen to him when Renaud asks him about his 1954 debut in Paris. Monk remembered several bad experiences about that trip and he wasn't afraid to vent about them. It was enough to make Monk want to scrap the whole show. Thankfully that didn't happen, but the original program omitted that part of the interview. By including all of this footage, Jazz Icons may have done the best service of all by giving us a rare look at this side of Monk.
The Jazz Icons Series 5 box is available exclusively from Mosaic Records.