Trombones have been a mainstay of jazz bands since the early days in New Orleans, where they would march in front of the band or ride on the back of a wagon so they would have room to maneuver their slides. Trombonists of the twenties and thirties like Jack Teagarden, Jimmy Harrison and J.C. Higginbotham gave jazz trombone a melodic voice, and later players like J.J. Johnson, Curtis Fuller, Frank Rosolino and Roswell Rudd helped bring the slide trombone into bop and free jazz. Two recent releases by trombonists Conrad Herwig and Marshall Gilkes demonstrate how far the instrument has come since the days of tailgate trombone.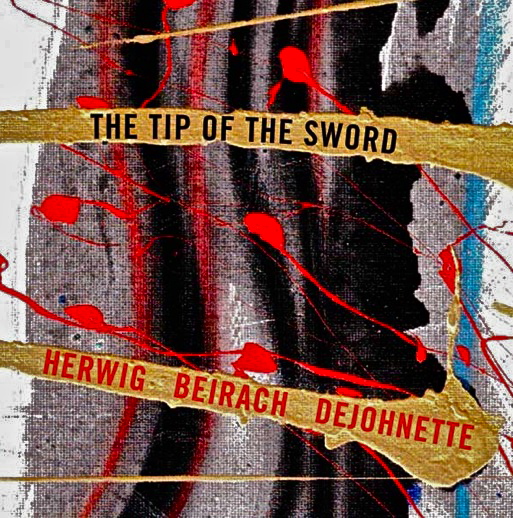 Herwig's "The Tip of the Sword" (RadJazz1501) recorded in 1994, but just recently released, is a daring trio recording. Herwig uses an unusual instrumentation of trombone, piano and drums, and his choice of fellow musicians is masterful:  Richie Beirach, best known for his duo recordings with Dave Liebman, and Jack DeJohnette, member of one of the most renowned trios in jazz history with Keith Jarrett and Gary Peacock. Herwig has been recognized in recent years for rearranging and recasting the music of jazz giants such as Wayne Shorter, John Coltrane, and Herbie Hancock in Afro-Cuban ("The Latin Side of") style, but the selections on the present recording are Herwig's original compositions. On the seven selections here are all inspired by the sacred Taoist texts of the Chinese philosopher Zhuangzi. Each piece is based on a quotation from the writings and has its own musical identity. "Where the Tip of the Sword Settles" is an up tempo piece where Herwig immediately shows his impressive command of the instrument. Beirach and DeJohnette play off of each other wonderfully and DeJohnette's melodic solo is especially well-crafted. "Mastery of the Mind" is a quiet, reflective ballad that features a beautiful Herwig tone, tasteful "just enough" Beirach piano, and discerning cymbal and brushwork by DeJohnette.  "Thought Precedes Action" is another bright piece, which has Herwig playing muted trombone. DeJohnette commands the time, propels the tune and cajoles, spurs, and prods Herwig in his soloing.  Beirach's role on this sparse tune is seemingly to provide some occasional colors and punch. DeJohnette's cymbal work is very crisp and clear here. Beirach and DeJohnette are consummate accompanists and bring great experience and taste to the proceedings. The musicianship is of the highest caliber.
Gilkes' "Sound Stories" (Alternate Side Records 005) brings to mind the work of Bob Brookmeyer, John Fedchock, and Slide Hampton,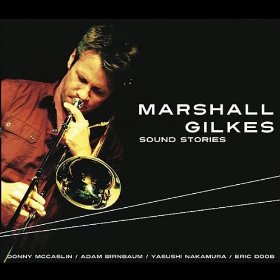 all brilliant trombone players who are even more acknowledged for their composition and arranging skills. The recording showcases several of Gilkes's original compositions. "Sound Stories", an apt title for this recording, presents original musical tales varied by grooves, tempi, meter, texture, and instrumentation. The first piece "Presence-Part 1" flies out of the gates, with Donny McCaslin simply burning on tenor sax. The tenor sax and trombone sonority is always a great combination and McCaslin and Gilkes blend beautifully. This is an intricate tune requiring precision and "chops". There are eleven compositions here, and  Gilkes expertly mixes and matches the quintet (Adam Birnbaum on piano, Yasushi Nakamura on bass, and Eric Doob on drums) so they're always not playing at the same time, or in the same order to create a good deal of variety. It's definitely not a "head-solos-head" affair, and throughout, there are shifting time feels and deceptive meter changes.
Both of these recordings require careful and repeated listening to catch and appreciate all the nuance and musical ideas.  It's demanding listening. The musicianship on both recordings is of the highest order, and anyone interested in the current state of the trombone and jazz composition/arranging would be well-served to check them out.