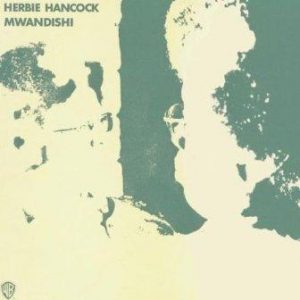 Mwandishi: author, reporter, correspondent.
 Jabali: rock, rocky outcrop.
Mganga: doctor, medical person, ganga verb cure.
 Pepo Mtoto:  winds, breezes, fairy, spirit, demon, child.
Mchezaji: player, dancer, athlete, actor.
Mwile: a mythical god of creation.
 Ndugu: brother or brotherhood.
The beginnings of a jazz fusion universe stirred in early 1969 when Miles Davis recorded "In A Silent Way," but later that year, Miles let the goddess of musical creation loose with "Bitches Brew." Miles' approach to composition, recording, and live performance left more space for raw musical expression than ever before. The composition was more like a map legend rather than explicit directions; only the melody was written out; a few chords, the tempo, or the vibe might be indicated, and the arrangements evolved during the recording. The original "Mwandishi" album contained three compositions in this style. Recorded in 1970, "Mwandishi" was Herbie Hancock's contemplative gaze at this newborn horizon and the unique journey that ensued; nothing has sounded quite like it since. This may be why Herbie called it his "favorite…of all the records I have ever made, and the loosest I've ever done."
For this recording, Mtume Babatunde, a friend of Hancock's, assigned African names to each of the musicians based on their personalities. The definitions are listed above and Leon Chancler liked his name so well that was professionally known as Ndugu from that point on. This was Ndugu's first major recording and he is passionate about the album's significance. To Ndugu, "Mwandishi" represents an important milestone in both free jazz and fusion.
The album opens with "Ostinato (Suite For Angela)". The traditional definition of an ostinato is a short repeated musical phrase, but for me, this composition altered the meaning to become an expanding groove, a trance and a message, repeated at any pitch or intensity.  The tune was dedicated to Angela Davis, and she is portrayed as deep,  strong, eloquent, fearless, infinite, and (like jazz) worthy of appreciation. The cosmic swirling of Rhodes with Echoplex intermingles with bass clarinet and bells to introduce Mwile/Bennie Maupin and Mchezaji/Buster Williams, who play the seventeen-note melody alternately, then in unison. Maupin's swoops and voice-like calls seem to be a nod to the still-adventurous style of Eric Dolphy. Next we hear Mganga/Eddie Henderson's trumpet solo. He flows on a few vibrant motifs, then Pepo Mtoto/Julian Priester doubles the melody with the bass.  Mwandishi/Herbie Hancock's solo is ocean-deep as he explores layers of rhythmic patterns then ascends to the surface in a reflection of modal  tones. Notes release like subdivided bubbles before Hancock rises on the wave of the melody. Maupin's solo seems to recreate the arousal of the first life on earth with rich low tones and melodic mid-range lines. The rocky outcrop of this track's landscape becomes the twofold groove of Jabali/Billy Hart and Ndugu/Leon Chancler. Hart and Ndugu played on separate drum sets, and they swapped the lead between them as the recording progressed. The phase shifter on the drums creates an ebb and tide, flanged cymbals evoke vivid schools of color, and percussion  by Jose "Cepito" Areas are like sonic islands that catch the ear.
Hancock's exquisite "You'll Know When You Get There" has the same sensual, flowing quality as his ballads "Butterfly," "Dolphin Dance,"  and "Jessica." Atmosphere is an ever-present character in all of the pieces on "Mwandishi," but this cut is a prime example of playing space. Awakened with a silky shifting eighth-note cadence on bass and shadowed chords on Rhodes, delicate rays of trumpet shine through as the romantic interplay of smooth trombone and breathy flute intertwine. The lush, significant silence sets up every charged utterance of Henderson's horn. The chord progression may have been more detailed on this piece, but the transition chords mold the mood. It is another example of how music of this level happens spontaneously, expanding from one millisecond of improvisation to the next. The bass and drums rise and fall from double-time—even lightly swinging and syncopating at one point—to the rumination of Hancock's solo. Fragrant chords open, the drops of bass land gracefully, cymbals vibrate like blowing leaves, and flute notes glide past, closing with wind chimes and a single fluttering note. Both dynamic and sensitive, Hancock is a master at the art of natural tension and release. Though Hancock's writing style is his own, one can hear shades of Duke Ellington, Gil Evans and Clare Fischer in his work.
"Wandering Spirit Song," is a full-circle musical meditation composed by Julian Priester. Like monks in a pagoda by the ocean, releasing notes like doves to the sky, the players let the space and energy breathe until dynamics become only wind and waves. It opens with a single trance-like tone as airy bass clarinet and trumpet are set free. Dawning with Hancock sprinkling Rhodes notes like constellations, a sunrise of cymbals and clouds of bowed bass sweep across the sky. Maupin's bass clarinet tones begin as gusts, then smooth to a breeze. The primary style is contemporary classical which transforms into jazz when Maupin and Henderson play the theme.  Williams' bass lines dance around Priester's expressive trombone. Williams and Hart propel this piece, seamlessly leading us through the seven stages of rhythm from minimal to pulsing, tribal, cool, waltz, avant-garde, progressive jazz, and back.
The panorama of "Mwandishi" is fulfilling not only because of these musicians individual luminosity, but also because of the congruence of the whole— the one—the essence of jazz and life itself; ever-unfolding and re-curving with sonic layers of earth, existence, and expression, the effort and actuality, and then a return to the endless spheres with the eternal theme. All the while there's black sky and white space—increments of infinity for meditation for both the player and the listener, and the One that we are.