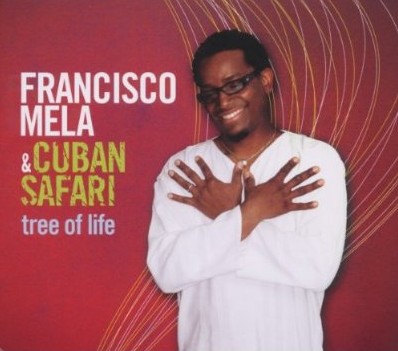 Francisco Mela is a man who lives to drum. He studied in his native Cuba and at Berklee College in Boston. He has been known to rehearse twelve hours a day. He caught the attention of Joe Lovano, and the saxophonist hired him for his band Us 5, and strongly encouraged Mela to compose and perform his own music. "Tree of Life" is Mela's third CD as a leader and it features his band Cuban Safari, which, in addition to Mela's drums, includes Elio Villafranca and Leo Genovese on piano, Uri Gurvich on sax, Ben Monder on guitar, Luques Curtis on bass, and Mauricio Herrera on percussion. The album also features special guests Esperanza Spalding on vocals, Peter Slavov on bass and Jowee Omicil on sax. Mela pays tribute to his jazz and fusion influences: Miles Davis, Weather Report and Irakere.  Although traces of these influential players can be heard, Mela's treatment of the genres are all his own.
The opening cut is named "Retrograde". It flows back and forth with the voices firmly supporting each solo. Villafranca plays a rhythmically provocative piano solo on this track. The changes of mood and expression in "Africa en mi Venas" are alternately subtle and explosive.  Monder's flowing guitar solo is a highlight of this well-structured composition. "Toma del Poder" is a rhythmically challenging piece and the group pulls it off beautifully. Pay careful attention to every beat, and every tone on this one! With a sense of urgency, this combination of funk, jazz and polyrhythm begins with verve, looks into every conceivable corner of the piece, and then fades out without resolution. "Yadan Mela" is a cultural romp through many world influences. It begins with the ancient call of the flute, deepened by the entrance of the bass and balanced by Esperanza Spalding's expressive vocals. It builds with Mela and company's background vocals joining Spalding's, giving a very satisfying picture of Mela and what has left an impression on him artistically. Modern Mela!
…Which leads us into "Classico Mela" where we can truly feel the leadership of Mela's drums and Curtis' bass. Curtis' playing enters with authority, grabbing the listener's attention immediately. My own two children who frequently leave me alone when I am reviewing both came in to my office to listen to this track with me. I'm not fond of the distorted guitar style played by Monder on this track, but there's no questioning his superb technique and delivery. Balanced by the sound of the Rhodes piano and forceful drumming, I played this track twice before moving on, much to the delight of the children. Although my two companions left for the next tune, I found it to be a very sweet and welcome addition, quite different from everything else heard on this recording. Hoagy Carmichael's "The Nearness of You" features Mela's English vocals accompanied only by piano. There are no pretentions here, and Mela's bright personality shines through in this simple rendition. If the lullaby quality of "The Nearness of You" left you calm and nostalgic, the funky and powerful "Yo Me" will wake you right back up again. Omicil's sax flies smoothly over the backbeat of Mela's drums. The next tune "Just Now" acts as a counterbalance, displaying Mela's excellent brushwork.
"Fiesta Conga" enters with Congolese rhythms, evoking a celebratory percussion party.  Both Mela's drumming and his composition speaks with the African percussion. No toes are stepped on in this rhythmic choreography! "Thanks to Life", a classic and beloved tune by Chilean Violeta Parra, is a fitting tune to end this musical journey. Mela's vocals are simple and heartfelt. Each section is punctuated with percussion grooves. There is a sharp-voiced piano solo supported by very strong, steady bass work.
Mela's Tree of Life has many branches and is made of many colors. His excursion into composing with his own ideas is time and talent well spent. Joe Lovano was right, Mela's ideas are good.