Around 1962, a representative of Columbia Records told Duke Ellington that he was being dropped from the label because "you aren't selling enough records". Ellington corrected him: "It's my job to make the records and your job to sell them." Ellington was a Columbia artist for many years, from 1927-1940, 1947-1952 and 1956-1962. While Columbia holds several of Ellington's finest recordings, they have not been the best custodians of the music, especially the band recordings of 1932-1940. A handful of titles appeared on LP compilations, the best being the two three-LP sets titled "The Ellington Era", which reissued 95 sides from 1927-1940. These sets were issued in the early 1960s, but were already hard to find by the next decade. It was left to an outside organization—the Smithsonian Institute—to license and reissue selected Columbia titles on their albums "Duke Ellington 1938" and "Duke Ellington 1939". When CDs came in, Columbia issued three double sets, "The Okeh Ellington" with band recordings from 1927-1930, and "The Duke's Men" (Volumes 1 & 2) which covered 1930s combo recordings by Ellington and his sidemen. But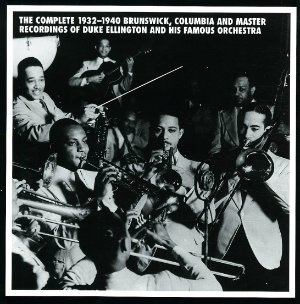 except for a 2-disc reissue of the 1938 Smithsonian LP (with inferior sound and sketchy liner notes) the 1932-1940 band recordings remained in the vault. This time around, Mosaic Records has come to the rescue with "The Complete 1932-1940 Brunswick, Columbia & Master Recordings of Duke Ellington & His Famous Orchestra", a massive set including all of the surviving master and alternate takes from this fruitful era.
Ellington recorded prodigiously during this eight-year period: the Mosaic set contains 11 CDs (for comparison, the complete Ellington on RCA, which covers a large portion of his 50-year career, takes 24 discs). Not surprisingly, this massive output encompasses several elements of Ellington's musical world. There are a number of soon-to-be-immortal pop songs like "Mood Indigo", "Sophisticated Lady", "Caravan" and "Solitude"; remakes of Ellington classics, including "Diga Diga Doo", "Doin' the Voom Voom" and "Black and Tan Fantasy"; remarkable instrumental miniatures such as "Subtle Lament", "Azure", and "Pyramid"; and progressive works like "Reminiscing in Tempo" and "Diminuendo and Crescendo in Blue". There are also guest appearances by Bing Crosby, Adelaide Hall, Ethel Waters and the Mills Brothers. For Ellington—who despised musical categories—all of the above was part of being a composer, arranger and bandleader. However, for those of us who need categories to organize and comprehend the scope of a large set like this Ellington box, there's a lot of music to sort through.
In my view, the development of the band itself is almost as important as the music they played. The band didn't grow too much in size (the first session from 1932 carried only two musicians less than the last session from 1940, with many of the same musicians appearing on both sessions) but its growth as an ensemble was stunning. By the mid-thirties, no other band could touch Ellington's in terms of instrumental precision, tonal depth and powerful swing. Lush Ellington originals like "A Gypsy without a Song" sat alongside Ducal transformations of pop songs like "Stormy Weather". The Ellington band could swing you into bad health with tracks like "I've Got to Be a Rug Cutter", and then astonish you with the trombone "hocket" sequence in "Braggin' in Brass". The period began with the establishment of Ellington's idiosyncratic trombone trio; near the end of the era, the addition of Ben Webster, Jimmie Blanton and Billy Strayhorn paved the way for the magnificent compositions and recordings made for Victor from 1940-1942.
Ellington was a master at matching music to personalities, and the Columbia recordings illustrate the development of that skill. Ivie Anderson's first recording with the band appears on the opening session, with a pair of wild and rough choruses on "It Don't Mean a Thing"; Ellington used other vocalists for most of 1932, but brought Anderson back in late December for a medium-tempo number called "Delta Bound". While "Delta Bound" was not a masterpiece, it was enough to show Ellington that Anderson could project dignity even when delivering less-than-poetic lyrics. In 1936, Ellington wrote concertos for Rex Stewart ("Trumpet in Spades"), Cootie Williams ("Echoes of Harlem"), Lawrence Brown ("Yearning for Love") and Barney Bigard ("Clarinet Lament"). Stewart was a relative newcomer to the band at this time, and while he was already one of the group's star soloists, Ellington was unable to capture the essence of Stewart's style within "Trumpet in Spades". The other three concertos were instant masterworks, and within a year, Ellington created a new concerto for Stewart—first recorded as "Twits and Twerps", but better known as "Boy Meets Horn"—which stood proudly alongside the other concertos.
The recorded sound of this Mosaic set is astonishing, featuring clarity and richness rarely heard in vintage recordings. Most of the sides were transferred into 24-bit digital from commercial 78s owned by Steven Lasker (Ironically, it is the later bootleg LPs which have inferior fidelity to the shellac discs!). Lasker added CEDAR restoration, and then handed over the tapes to Andreas Meyer for digital editing and CD mastering. However, as much as I appreciate Lasker's audio work, I cannot extend the same praise for his liner notes. While his historical research is exemplary—including miniature biographies of the entire Ellington personnel—all too often, Lasker lets the historical trivia overwhelm the recordings. He seems particularly intrigued by song titles, and at one point, he goes into Phil Schaap-ian minutiae regarding the true title of the song "Scrounch"… or "Skrontch" or Scraunch" or "Skron-tch" (frankly, I just don't care). He writes about the circumstances surrounding the composition of "Reminiscing in Tempo" and the (mostly negative) critical reaction to the work, but doesn't make his own stand on the merits and flaws of the music. Lest I be accused of the same offense, let me state that I consider "Reminiscing" to be a modest success, remarkable for its motivic development, but plodding in its constant tempo and straight-eighth-note passages. When I realized that Lasker was not offering musical analysis in his essay, I grabbed my trusty copy of Gunther Schuller's "The Swing Era" which provided transcriptions and discussions of many of the important recordings in this set. Schuller was far from infallible: Lasker notes that the arrangement of "Gypsy without a Song" was written by Lou Singer, not Ellington as Schuller asserts; however, there was no need for Lasker to publicly chastise Schuller in print for this mistake: even Lasker's original source material noted that the arrangement was improperly credited, Further, Singer was working as a staff arranger for Ellington and was likely instructed to write scores in the style of the maestro. As many scholars have noted, Ellington was still developing as a composer during this time; he might well have learned the structural lessons—which he later mastered—from Singer's score.
It's good to finally have all of this material in one place. While the considerable number of alternate takes is somewhat redundant (the band had rehearsed this material before cutting the first takes, and many of the solos were pre-planned and memorized) Mosaic has stuck to its mission by including both the alternate and master takes. One of the joys of this set is discovering gems that have been ignored since their original 78 issues (I'm partial to a 1936 flag-waver called "Exposition Swing"). I doubt that I'll get rid of my older issues of this material, either because of the liner notes or for sentimental value, but this Mosaic set will be my go-to collection whenever I want to emerge myself into classic Ellingtonia.
As this review was being prepared for publication, we received news that Mosaic is in the midst of a "severe financial crisis" and that they are unsure of how they will continue in a ever-changing music business.  Having endured similar situations, we encourage you to purchase this and any other Mosaic collections while they are still available.