Consider the dilemma of a modern jazz documentarian: Pick a subject that is young and developing, and you end up with an unfinished portrait which you hope will be continued by a future director. Decide on an older, deceased musician and you may face shortages of archive film appearances and/or colleagues willing to talk about the subject. Or tackle a venerated master who's been covered before and risk that your film will be designated an unnecessary addition. The filmmakers who created the documentaries newly released by Eagle Rock Video, "Ella Fitzgerald: Just One of Those Things" and "Count Basie: Through His Own Eyes", went with the third option, trusting that their films would stand up because of the new information they discovered on their respective subjects.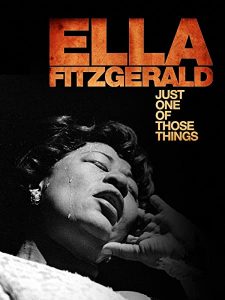 For the Ella film, director Leslie Woodhead offers a radio interview from 1963 which finds Fitzgerald discussing racial relations with DJ Fred Robbins. Her actual comments aren't particularly revolutionary, but it was brave for Fitzgerald to make such statements on a broadcast which could be heard worldwide. Her bravery turned out to be wasted energy; someone—possibly her manager Norman Granz?—decided not to air the interview. The rest of the film includes a wide swath of Fitzgerald performances from TV and film. Most will be familiar to Fitzgerald aficionados, but one rarity is unforgettable: a version of "A House is Not a Home" with a stunning unaccompanied mid-phrase change of key which adds drama to the performance, and leaves singers with their jaws on the floor. There are a few interviewees in the film who hint that Fitzgerald worked solely by ear, but the sophisticated modulation that Fitzgerald displays here would not be possible by a singer who could not read music; it only works with a musician who understands the key relationships and can easily maneuver between them.  The narration is read by British actress Sophie Okonedo, but no one is credited with writing the script. Perhaps it's better that way, as there are numerous mistakes and omissions. Fitzgerald's interest in scat singing and bop is placed in 1944 (without offering any evidence) instead of the more likely date of 1947 (which lines up with her tours with the Dizzy Gillespie big bands and her first extended scat recording, "Oh, Lady Be Good"). In addition to omitting Fitzgerald's first years as a solo singer, it also leaves out her many recordings with Louis Armstrong, nearly all of her Verve albums other than the songbooks, as well as the groundbreaking 1950 Decca album which inspired the entire songbook series, "Ella Sings Gershwin" (with the exquisite accompanist Ellis Larkins). In the last half-hour, the chronology is a total mess, with the aforementioned clip of "A House is Not a Home" (dating from 1969) followed by a jump backward to the 1960 "Mack the Knife" in Berlin, and then to the 1963 Robbins interview. Woodhead and his crew fail to give Fitzgerald's final years their proper attention, and written information about her illness and death are superimposed over grainy home movies of an ailing Fitzgerald hosting a children's birthday party. The film is not a total loss: Will Friedwald's breathless listing of the quotes in Fitzgerald's "How High the Moon" scat solo is astounding, and the interviews of her adopted son, Ray Brown, Jr. give a touching perspective on Ella as a parent. Brown even sings the opening strain of "How Long Has This Been Going On?" as a tribute to his mother. Overall though, those wishing to learn more about Ella Fitzgerald would be better off watching Charlotte Zwerin's outstanding Fitzgerald bio, "Something to Live For".
The Basie film is much better. Producer/director Jeremy Marre builds the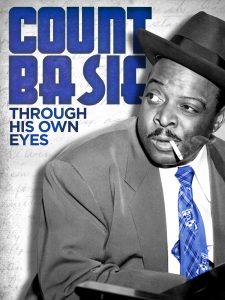 narrative around newly discovered letters from Basie to his wife Catherine and daughter Diane. Marre brings in several band members, jazz historians and (presumably) extended family members to fill in the gaps of Basie's story. The letters show us a side of Basie seldom seen: a family man who deeply misses his loved ones while on the road. The scenes of Basie composing letters on the train are not particularly convincing, but when Marre cuts to Basie's home movies, we see Basie not as a pianist and jazz icon, but as an ordinary man happily bouncing around in the swimming pool with his daughter. Diane Basie was severely disabled, unable to speak, and –according to her pediatricians—unlikely to live into adulthood. Catherine Basie taught Diane to walk and communicate, and letters from Diane's father were usually addressed to her, even though it is not clear whether she could read them. Count Basie's belief in human dignity greatly enhanced his abilities as a band leader. Many of his sidemen speak of that quality in reverent tones, while also noting that Basie was also a man with weaknesses and failings. However, his gambling or philandering seemed not to incur any permanent fallout. While this film does an admirable job of portraying Basie as a man and bandleader, it is less helpful about his legendary orchestras. The history of the band's precursors, Walter Page's Blue Devils and Bennie Moten's Orchestra is hopelessly muddled, with the recording of "Jones Law Blues" erroneously credited to the Blue Devils, and the Moten band's rise and fall completely missing. There is no comparison of Basie's Old and New Testament bands, even though those groups worked on vastly different concepts. We hear mentions of Basie's star sidemen Jimmy Rushing, Joe Williams, Lester Young and Frank Foster, but nothing about Buck Clayton, Harry Edison, Dickie Wells, Herschel Evans, Thad Jones or Freddie Green. Most surprising is the total omission of John Hammond, who discovered Basie's Kansas City Reno Club band, brought them to New York, helped find suitable personnel (including the band's first vocalist, Billie Holiday), tirelessly promoted them, and presented them at Carnegie Hall. While Hammond had an abrasive personality and frequently alienated his closest friends, his contribution is a vital part of Basie's story. The film jams a lot of information into its last quarter hour, but never gets around to saying what happened to Diane Basie (a Google search reveals that she is still living in a facility in Florida).
Although there are no co-production credits on either film, I suspect that both were made in the UK. The British narration and the captions give away the secret: "[Ray Brown Jr.] sings part of his favourite Ella song" and an appearance by "Sammy Davis, Jnr." with the Basie band. Perhaps international video rights are part of the reason why Eagle Rock is not issuing these films on physical media. The links above will take you to Amazon Video, which claims that the films both carry 5.1 surround sound; my review copy only carried traditional 2.0 stereo. Neither film includes any extra material. Amazon assures me that customers who purchase the films have the option to download them, but it was not clear to me if the files would appear on the users' hard drive or somewhere on a cloud server. Amazon would not comment on whether the downloaded film could be copied onto a DVD or Blu-Ray disc. Those who wish to pay for copies of these films should have a physical object in exchange. Can we be absolutely sure that these downloaded items will always be available? What if our hard drive crashes? What if the rights issues change and the film cannot be legally sold or shown in certain countries? What if some penny-pinching executive decides to delete the film because it failed to sell enough copies in the previous quarter? We have seen similar instances with record companies. These companies have been entrusted with safeguarding our musical heritage, and many have fallen far below expectations. Why should we trust them to be custodians of our personal music libraries?