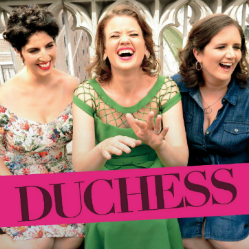 Duchess is an exciting new vocal trio based in New York City. All three members (L-R on the album art), Melissa Stylianou, Hilary Gardner and Amy Cervini have notable careers as solo artists—you can read my reviews of their individual albums here, here, here and here—but they are a unique entity as a vocal group. They truly enjoy making music together, and their arrangements—mostly by Cervini's husband Oded Lev-Ari—offer delightful approaches to classic songs. Their debut album (Anzic 51) was released in February 2015, and the delightful cover photo echoes the spirited music on the disc. While preparing for their CD release party (which took place at the Jazz Standard on March 3), they took time to speak with Jazz History Online's Thomas Cunniffe about their repertoire, inspirations and goals.
Thomas Cunniffe: How did Duchess get started?
Amy Cervini: Melissa and I have sung together for about 10 years, and about 12 years ago, I sang in a vocal group with Hilary. A few years ago, we sang together along with Carolyn Leonhart. We promised each other to sing together again, but it wasn't until my 2013 residency at the 55 Bar in Manhattan that my husband Oded suggested that we try singing as a trio. At first, we sang a lot of stock arrangements, including Andrews Sisters and Boswell Sisters pieces, along with a few vocal jazz charts. We found that it was fun, easy and enjoyable for both ourselves and the audience. We did another gig soon after that, sitting in for a few tunes with Matt Wilson's Christmas Tree-O.
TC: I was very impressed with the ensemble sound, especially the vocal blend and the diction. I'd imagine you've all sung in choirs and other vocal groups. How did those experiences help you when singing with Duchess?
Melissa Stylianou: I have less experience in this type of singing than either Hilary or Amy, but while we've all had experience singing in groups, it's our solo experiences that really help us in this group. We're not singing as if we're in a vocal jazz group or a choir. We have a really great blend, but it's not because we're concentrating on making our vowels match. I went to theatre school, so I've always been aware of diction, but I hope that I'm not over-enunciating! My goal is sound as natural as possible, so I'm happy that you can understand the words, but I'm also happy that it doesn't sound like we're overdoing it.
Hilary Gardner: I think that the various groups where we've performed previously have informed what we do together. There's also something mysterious and elusive about singing with other people. Different vocal timbres combine in ways that you can't always predict. There's a certain chemistry that allows people to work well together, and that fits whether you're a singing group or a basketball team. I hope that what you're hearing comes from experience and musicianship, but some of it is just the good luck of combining people who like to make music together, and who happen to have a nice natural blend and rapport. It's a confluence of different things which add up to a group that we really like.
TC: I noticed that the songs on the CD all date from the 1920s to the early 1960s. Where does your love for this music come from?
MS: I think we all love that era of songwriting and singing. When I decided to sing jazz professionally, I put together a swing band. We focused on songs from the twenties and thirties, and I learned a lot of kooky tunes by Slim Gaillard. It was a dance band, and we had a lot of fun. For me, dance and the Swing Era really played a big part in my desire to sing jazz.
AC: We have about 50 tunes in our repertoire list that we can pick through for our next record, and we try to concentrate on music that hasn't been done a lot. We like songs with a sense of humor—we find that being silly works really well for us!—but also for music has interesting context and depth. Some of the early stuff is really light, but others have great lyrics. I'd never heard some of these songs before, and it's really fun to explore that repertoire.
TC: I was happy to see that your supporting group is centered around Matt Wilson's Christmas Tree-O (with Jeff Lederer on reeds and Paul Sikivie on bass). There's a general feeling of irreverence that keeps this record from becoming a nostalgia trip.
HG: One thing that we've observed while hearing and performing with Matt's group is that there's a real sense of play in everything they do. On one Christmas gig at the Jazz Standard, they covered everything from eighteenth-century hymns to Albert Ayler! What makes it so much fun is that they bring their own sensibilities to all of this material, and of course, the material is strong enough to stand up to that. There's a timeless quality to this music, and everyone maintains a sense of curiosity about the possibilities of the music.
TC: You've researched your repertoire, too. I love your arrangement of Gordon Jenkins' "P.S. I Love You", which includes the verse and part of the second chorus.
MS: The credit for that really goes to our producer and arranger, Oded Lev-Ari. We call him the Charlie to our Angels. We were all familiar with "P.S.", but I'm not sure which of us put it on our list of suggestions. We get lots of requests for that song, and we love to sing it. Oded also included the verse on "I'll Be Seeing You" (which I'd never heard before)…
TC: …and you sing it a cappella! Please sing more a cappella! I know it's hard to get the audience to shut up when you're singing in a bar—and New York clubs are not known for their soundproofing…
MS: Actually, singing a cappella is a good way to make the audience be quiet and listen!
TC: All three of you have similar vocal ranges. Does the lead change around in your arrangements?
HG: When we were starting out, we actually passed the parts around. Amy would sing alto, Melissa would sing the middle part and I'd take the soprano at first, then we'd try it in different combinations. When we were singing stock arrangements, we did that for our own amusement at first, but then we started experimenting with different vocal colors. When Oded started writing arrangements for us, he became very familiar with each of our voices and started incorporating lead changes into the charts. In some of our arrangements, I might start with the melody, then four bars later, I move to an inner part and Melissa takes the lead. Then at the bridge, Amy might have the melody. It's become an organic part of our arrangements.
TC: Lead changes were one of the innovations of the Boswell Sisters. There's a great version of their theme song, "Heebie Jeebies" on your new album, and I know you sang a few of their arrangements at the Boswell Sisters convention last year in New Orleans. What are some of the challenges to singing their music?
MS: There are MULTIPLE challenges! The tempo changes, the complex harmonies, and their "double-dog Latin" are all very difficult to master.
AC: We've had a few train wrecks on stage, where we missed the tempo changes. Sometimes we can make that work, but at other times, I just stop the band and explain to the audience that the Boswells used a lot of tempo changes and we're not always sure how they did it. Now that we're all getting used to this material, we have fewer issues on that front. We've also noticed that some of the transcriptions we use have the wrong words, so we've gone back and listened to correct those mistakes. In passing this music down through the generations, there have been a few liberties taken.
TC: How often do you rehearse?
AC: It depends on what's going on. For awhile, we were getting together once or twice a week, especially in the period leading up to the recording. But when we did our residency at the 55 Bar, we didn't need to rehearse so much because we were learning a lot through performing. When we do rehearse, I'm usually at the piano, so I don't have that opportunity to memorize the music. But when we're in front of an audience, we really put ourselves on the line, and sometimes that was the first time singing an arrangement without the music in front of us. So in some ways, our best rehearsals are on the bandstand.
TC: What's the age range of your audience? Are young people coming to hear you sing?
MS: When we performed at the 55 Bar, there was quite a range of ages, from all different walks of life. We had people we knew from our individual fan bases, as well as complete strangers who walked in off the street. We had large audiences at each one of our gigs, and we saw a lot of young people there, as well as people who love to hear us sing standards.
TC: Are you thinking of adding original and/or contemporary songs to your repertoire?
AC: I highly doubt that you'll hear any versions of "Vogue" or "Careless Whisper" from us! And there are a lot of tunes from the twenties through the forties that have not been explored. However, we think that the French song I wrote for my album "Jazz Country" ("Je Danse Avec la Neige") would work really well for us. I wrote that piece recently, but it doesn't sound "contemporary". But we are certainly open to all possibilities.
HG: Anything is possible. If you look at the music that we've recorded on our individual albums, you'll see that we've been attracted to a wide range of songs that span several eras. Our intention is to come to the music from where we are right now. Because we have three women singing harmony, some of our music will inevitably sound like a nostalgia trip, but we've penned new lyrics to some of the tunes on the album, and we bring a contemporary sensibility because we are artists of the present time. Basically, there will probably be a bit of everything just because of how we've moved through our individual careers.
TC: What are your long-range goals for the group?   
ALL: TOTAL WORLD DOMINATION! (laughter)
MS: We're planning to tour this summer. The gigs have been coming in and it's really exciting. So far, we've done two plane trips as a group—and a lot of driving—and I'm really looking forward to more of that. One of the goals is to get this music in front of more people. I'd love to go to Europe—I've been there before, but I've never sung there.
AC: I'm currently acting as the group's booking agent. We currently have an open invitation to come back to New Orleans, and we plan to make another appearance there. We've also picked up some jazz festival gigs, which is pretty cool since they were booked before our record came out. We're already thinking of the next record. Oded has GRAND ideas for us, and we probably have another three records planned in our heads. Seeing how our first record just came out a few weeks ago, we may have to hold off on that for a little bit!
HG: The fact that we were able to book so many gigs prior to the record's release suggests that the timing is good for this music, and that there's a place for what we're doing. So we're just going to turn up the volume, and take the concept of girl-on-girl harmony as far as we can take it.