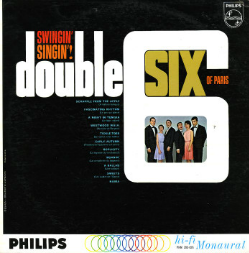 As teenagers, my sister and I were great fans of vocalese, especially Lambert, Hendricks and Ross. We were also the two best French students in high school and inveterate Francophiles throughout college, so imagine our delight and joy when we first heard about the Double Six of Paris—we couldn't imagine anything cooler than vocalese sung in French, and when we finally heard the group, we couldn't believe our ears! The first album we bought was "Swingin' Singin'," and we became lifetime fans of the group. One of the first things that caught my attention on the recording were tunes that had been recorded by the Gerry Mulligan Tentette, such as "Westwood Walk," "Boplicity," and "A Ballad." I practically knew the instrumental solos by heart, so it was great fun to hear them sung for the first time—and in French! The singers expertly captured the phrasing of the original instrumental soloists, and managed to pull off some really incredible vocal gymnastics without going off pitch.
The Double Six of Paris have an interesting history, since they overlap with two other French vocal groups, the Swingle Singers and the Blue Stars. When Blossom Dearie moved to Paris in 1954, she formed the Blue Stars as an octet, which had a hit with a French vocalese version of "Lullabye of Birdland." When Dearie left Paris, Mimi Perrin, a pianist and singer with a diploma in English from the Sorbonne, took over the group, reducing it to six voices. After the Blue Stars disbanded in the late 50s, Perrin formed a new sextet, where each member of the group would sing two parts through overdubbing—thus the name "Double Six." They recorded their first album, which consisted entirely of Quincy Jones' compositions, and Perrin wrote lyrics in French for all the tunes and solos. Ward Swingle, the only American member of the group, would go on to form the popular Swingle Singers, which included members from the Double Six. When the eight-member group formed, they decided to sing through Bach's "Well-Tempered Clavier" as a sight-reading exercise and were captured by the music's natural swing feel. They released it on their first recording, "Jazz Sébastien Bach," and it turned out to be a surprise hit in the USA.
Perrin's imaginative lyrics are one of her special talents. Here's a sample of a few in English, to give you an idea: "Moa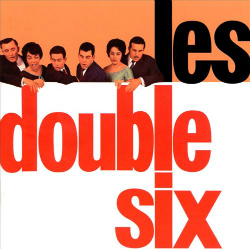 nin'," based  on the Quincy Jones recording, might be retitled "Convict's Complaint" in English, and tells of a big jail escape. Afraid to escape from here? Not me. Think you might just blow it? Not me. No pity for all the convicts dragging their ball and chain. No pity for all the outcasts that we've condemned. Bunch of bandits! Then Clark Terry's trumpet solo, sung by Monique Aldebert, continues: What are you sayin'? I'll show you how easily we'll escape. Don't be so, so, sooo slow…I'm leaving without any of you! The words are carefully chosen not only to fit perfectly with the notes of the melody and solos, but also to capture the nuances of the original way they were played. Gerry Mulligan's "Westwood Walk" is an argument about which instrument is better—the baritone sax or the trumpet. The melody urges: Here, take the baritone, take your baritone, take your fine baritone…Take your baritone and off we go! And Chet Baker's trumpet solo, sung by Claudine Barge, counters with: No baritone, boys, not as sweet as my little trumpet….Don't talk about baritones, that's not the right sound. Then Jean-Claude Briodin retorts, singing Mulligan's solo: Your number's up, sure you say that you don't like the baritone, whaddaya say we go head to head, no kidding, who asked for your opinion? "Boplicity," a lush, medium tempo ballad, tells the tale of a beautiful white palace, the love of a forlorn lady and the troubadour who visits her every day. Briodin pleads in Mulligan's solo: Lady Pamela, why don't we take off together and be happy for a spell, wouldn't that be nice? Let's leave quickly through the woods, come on…
The remaining tracks include "Tickle Toe," a fierce swinger by the Count Basie band that has Eddy Louiss interpreting Frank Foster's tenor sax solo and Barge singing Joe Newman's trumpet solo; Woody Herman's version of "Early Autumn," with its rich, close harmonies and solos sung by the mellifluous Aldebert and Perrin; "Sweets" a feisty vocal conversation that shows off Briodin's skillful singing and great falsetto, followed by Claude Germain and Perrin doing the trombone and alto sax solos.  "Naima," the only solo vocal on the album, and the weakest track, features Perrin's somewhat quavery voice on the melody and all the solos. Germain is outstanding on the trombone solos on the J.J. Johnson/Kai Winding Octet rendition of "Night in Tunisia." Gerry Mulligan's "A Ballad" includes Mulligan's sax solo perfectly interpreted by Ward Swingle. Moving on to bebop, Perrin and Barge shine in alto sax and trumpet solos (Charlie Parker and Miles Davis) on Parker's "Scrapple from the Apple."  Stan Kenton's recording of "Fascinating Rhythm", later reset with English lyrics for the Swingle Singers, provides a showcase for a number of the Double Six soloists, including Germain, Louiss, Perrin and Aldebert.
The Double Six had 6-part versions of Perrin's arrangements for touring, but their live performances were rare. It was increasingly difficult for Perrin to find new singers for the Double Six, after several members joined the Swingles. Before the group disbanded in 1966, they recorded with Dizzy Gillespie, Bud Powell and Jerome Richardson. A number of Double Six recordings can be found online in vinyl, CD and mp3 formats, and "Dizzy Gillespie & the Double Six" was reissued in Mosaic's Gillespie/Philips set. As Leonard Feather wrote in Down Beat magazine in 1964, The Swingles and the Double Six both qualify as rare illustrations of popular success grounded in musical validity. Their accomplishments, in addition to representing a new high point in the art of the jazz vocal group, hit a soothingly consonant chord in a music world plagued by million-seller mediocrities.
The above album, plus the Double Six's collaboration with Quincy Jones are available on an RCA Victor CD (pictured above and available here).