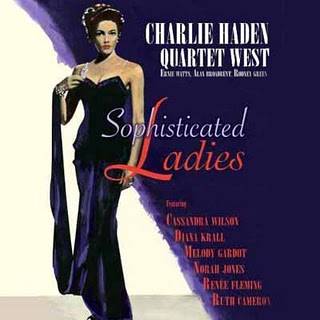 Charlie Haden is a man of many musical interests. He made his debut on the jazz scene over 50 years ago as the bassist for the Ornette Coleman Quartet, and he is still considered one of the best progressive musicians on the scene. He has recorded several duet albums with partners ranging from Pat Metheny to Hank Jones, and in 2008, he drew from his earliest musical experiences with an album of country music. Haden's Quartet West represented two of Haden's other loves: the jazz and pop music of the 1940s and 50s and classic film noir. Vocalists have been part of the Quartet West story for the last 20 years. Two of their albums, "Haunted Heart" and "Always Say Goodbye" were structured as film scores for movies that existed only in Haden's imagination (the discs carried the credit "Directed by Charlie Haden"). On those albums, the voices of Jeri Southern, Jo Stafford and Billie Holiday were interspersed between the instrumental numbers. With "The Art of the Song", the vocals were no longer from old recordings, but recorded contemporaneously, with Shirley Horn, Bill Henderson and Haden himself recording with the quartet and a string orchestra. Since that album was released 11 years ago, we've heard very little from the Quartet West, but with its new recording "Sophisticated Ladies", Haden has picked up where he left off, this time featuring half a dozen female vocalists, including his wife, Ruth Cameron.
Since Haden records for Universal Music, he didn't have to look far for vocalists. Of the six featured singers, Diana Krall, Melody Gardot, Renee Fleming and Ruth Cameron have each recorded for some division of the Universal empire. The other two vocalists, Norah Jones and Cassandra Wilson, were borrowed from Blue Note. It's a fairly good cross-section of current vocalists, but I can't help wondering what Haden could do with vocalists like Karrin Allyson, Gretchen Parlato and Luciana Souza. Taken in order of appearance, Melody Gardot's version of "If I'm Lucky" features her breathy delivery and throbbing vibrato. She seems to have an emotional connection with the song, but she fails to make the song her own. Norah Jones asked to sing Harold Arlen's "Ill Wind" and the result is a conversational rendition that displays her flexible rhythmic feel and laid-back approach to the melody and lyrics. "My Love and I" from the film "Apache" is a song that Haden and Quartet West have recorded before. However, this recording features newly-discovered lyrics by Johnny Mercer. Cassandra Wilson was Haden and Cameron's first choice to perform this song, and indeed, it's hard to imagine anyone else doing them as well. The dark color of Wilson's voice envelopes the words with the warmth they deserve, and Wilson maneuvers through the wide melodic range and unusually shaped melody with ease. Ruth Cameron tends to phrase in short passages of a few notes each. "Let's Call It A Day" turns out to be a good song for this approach, and it allows Cameron to emphasize the important lyrics without making dramatic dynamic shifts in her voice. Renee Fleming may be a lyric soprano on the opera stage, but she uses a husky alto voice when she sings jazz. She has succeeded in crossing over where others have failed, and other than the richness of her voice, the only clue to her "other" career is a tendency to overdo the emotion. She falls into that trap on her version of "A Love Like This", but she seems to control it better now than on her earlier recordings. Otherwise, her performance is quite admirable, with a fine sense of dynamic contrast and great feats of vocal flexibility. Diana Krall's version of "Goodbye" may be the best of the lot. There are still a few annoying habits in her vocal delivery (including her "chewing" of r's), but few other vocalists can read a lyric the way that Krall can. She captures the lonely despair of Gordon Jenkins' lyric in how she phrases the words in combination with her musical variations. The little sigh she adds at the end wouldn't work for most singers, but Krall makes it part of the music and that's why it succeeds.
As for Quartet West, Ernie Watts' inventive, soulful solos reiterate his status as one of jazz's most underrated tenor men. Watts' astounding technique on up-tempo numbers is well-known, but his ballad artistry has highlighted both the Quartet West recordings and Kurt Elling's superb tribute to John Coltrane and Johnny Hartman. Watts' wistful performance of Hank Jones' "Angel Face" enriches this memorial to the great jazz pianist. Alan Broadbent does triple duty as pianist, arranger and conductor. His orchestra charts evoke the lush sounds of the classic studio film orchestras and his superb harmonic sense serves him well as accompanist and soloist in the quartet. The group's new drummer, Rodney Green has a crackling sound that maintains the snap of the bebop standard "Wahoo", and yet he is equally impressive in his quiet support of the vocalists on the orchestral tracks. Haden makes his presence felt throughout with his rich tone and dramatic bass lines. He is featured on a nearly-themeless version of "My Old Flame" where the strength of his improvised ideas stands out in stark contrast to a static piano background. While Quartet West is far from Haden's most progressive ensemble, its music is always played with the utmost of taste, and their repertoire shines light on neglected standards and bop classics. It is a group well worth hearing, and hopefully, we won't have to wait another 11 years to hear more.