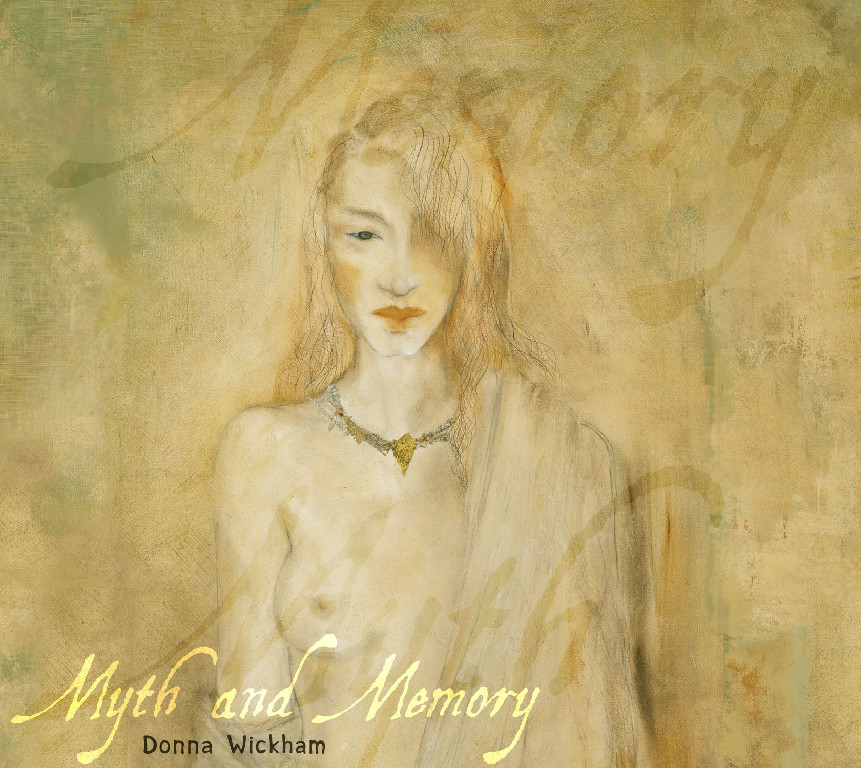 Donna Wickham's debut CD, "Myth and Memory" transcends the expectations of the vocal jazz experience. On this album of original compositions, Wickham weaves a sound palate of timbres and words into a tapestry from the depths of her soul. The journey begins with the "Freyja Suite" ("Invocation", "Brisingamen" and "The Search") that uses Norse mythology to tell of the feminine balance between beauty and wisdom, all contained in the search for love. "Brisingamen" borrows Wagner's technique of leitmotifs as Wickham provides a melody for each person and event, and cleverly uses the soloists' improvisations to recount the details of the story. On the third piece of the trio, "The Search," she draws from her own knowledge as a choral musician, overdubbing a haunting Greek chorus crying for the return of her missing husband.
The track that reminds us we are listening to a jazz recording is "You Are the Future". Based on a Rainer Maria Rilke poem, the song questions perception through a myriad of meter changes, vocal improvisation and lyrics. Its theme is clearly expressed in the last line of the poem …and how you look depends on where we are: from a boat you are a shore, from the shore a boat.
After that is a moody, dark set reminiscent of contemporary art song. Wickham's setting of "Three Poems by Anna Akhmatova" ("Willow," "Under her dark veil," and "I taught myself to live simply") adds sonorous tonalities which are married to the textual meanings. According to Wickham, she is attached to these Russian poems because they mirror her own life. These compositions demonstrate the close association between jazz and contemporary classical music with similar uses of subtle tonal paintings, angular melodic lines, mixed meters and vamps used for improvisation.
And just when you think you cannot go any deeper, Wickham leads you gently into a Latin lullaby of loss immersed in Guatemalan bird calls, "Pájaros," which recounts an intuitive moment foretelling the end of her marriage: They sang of our saga, the love, the triumphs, and the tragedy of the end. The final cut, "November 1," is a return back to jazz roots with a gospel-tinged tune celebrating the release of pain and the realization that I'm tired of striving for what I'll never be, there's enough beauty in this day for me.
The exceptional musicians on this recording collaborate like characters in a play: interacting, supporting, improvising, and expressing while knowing how to enter and exit. Grammy-nominated pianist Art Lande is the perfect artistic complement to Wickham's progressive vocal interpretations. Lande is featured on the majority of the tracks, performing with inventive sophistication and grace. Bassist Eduardo "Bijoux" Barbosa, guitarist David Peterson and drummer Matt Houston are a solid rhythm section, contributing sensitivity and imagination to each track. Soprano saxophonist Peter Sommer, cellist Richard von Foerster, and percussionists Paul Mullikin and Michael Spencer round out a superb combination of musicians whose contributions created the textures of this creative musical adventure.
Wickham's diverse professional activities as performer, composer and educator explain the ease at which she combines genres in this cohesive collection. With influences from classical, jazz, folk and popular music, one can hear hints of Flora Purim, Jay Clayton, Joni Mitchell, and the avant-garde side of Dawn Upshaw. Her voice is seductive, expressive, and often wispy. Wickham offers an abundance of ideas, but her delivery tends to lack power and focus, which might have helped her deliver her well-crafted messages. This recording is a pleasant departure from the traditional vocal fare and I encourage this talented singer and composer to take more chances with her vocal concepts to keep pace with her compositional creativity.  If you are looking for music to tap your feet or play in the background, this is not the recording for you. Instead, Wickham's mystical debut will take your senses for a spin while tossing your emotions in multiple directions.
It's well worth the excursion.