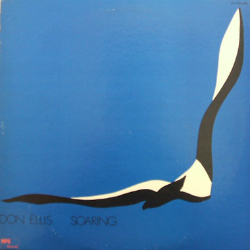 Though Don Ellis lived just 44 years, the LA-born trumpeter, composer and arranger packed a world of musical achievement into his brief life. The son of a Methodist minister and a church organist, Ellis' first exposure to jazz was seeing a Tommy Dorsey concert while living with his family in Minnesota. Influenced by that experience (as well as the recordings of Louis Armstrong and Dizzy Gillespie), Ellis moved first to Boston, where he earned a degree in composition in 1956, then to Germany (as part of a two year stint in the Army) and finally to New York. There he found work briefly with the Dorsey band (under Ray McKinley) and later with Charlie Barnet and Maynard Ferguson. Living in Greenwich Village, surrounded by the late 50s/early 60s jazz avant-garde, Ellis was called upon as a session player for Charles Mingus, Eric Dolphy and George Russell and he returned the favor to Gary Peacock, Paul Bley and Steve Swallow, all of whom appeared on his early 60s sides.  Ellis studied ethnomusicology at UCLA and his interest in quarter-tone composition emerged into his work. By 1973, when he recorded "Soaring", a 10-cut musical haiku, all of his interests were converging into a style that was bold, intensely rhythmic and perfectly calibrated sound for the big screen. (It should be no surprise he was scoring "The French Connection" at same time he was working on this project).
Kicking off the album is the appropriately named "Whiplash." This 4 minute 25 second movie-theme-without-a-movie opens with a Ferguson-like call and response between the trumpet section and a fuzz-laden guitar before kicking into 16 bars of standard-issue 70s jazz/funk. Rather than moving into a solo section, Ellis backs the arrangement down to a light string interlude. That doesn't mean the song gets soft: the trumpet section returns and Ellis "gets his Maynard on," blowing hard and high through the songs middle section and beyond. Triplets in the strings maintain the momentum, the horns come back for more and the song ends with the strings (but not Ellis!) riffing to the finish. Ellis follows his fiery introduction with "Sladka Pitka," a piece written by pianist Milcho Leviev. Thirty-two bars of strings seem to set a somber tone but, within a pulsing Mingus-like rhythm and "Guys And Dolls"-era horn riffs, Ellis clearly demonstrates a different intent. Drummer Ron Dunn solos before the composer pounds out an electronics-infused solo of his own, melting down into a pool of distortion. Ellis spends some time in the spotlight before the song comes to a close, the final minute being a bit of swirling, celestial noise, a sound that won him some fans among rock and rollers.
Ellis tips his hat to the the music of Spain with one of his signature tunes, "The Devil Made Me Write This Piece," before returning to the car-chase and sexy-girl vibe of "Go Back Home," another theme looking for a movie. Ellis and his 20-piece ensemble are ambitious and just a little bit cocky here, with saxophonist Vince Denham providing much of the fireworks. The strings get their moment in the spotlight on the gorgeous ballad, "An Image Of Maria," a delicate string and horn melody that pays worthy homage to Bernstein's "Maria". "Nicole," likewise, is a slow romantic piece, built around a more traditional small quartet arrangement where Ellis shines bright from the first note to the last. The final highlight is "Invincible".  Featuring Denham's gorgeous alto sound, it can be best described as the sound of Edward Hopper's famous painting "Nighthawks", a gorgeous mix of sax and strings and sadness. The final result is an album of Ellis music that's fully realized in its intent:  compact, lively, economical in its presentation and energetic in myriad ways, regardless of the time, tempo or texture of the individual pieces.