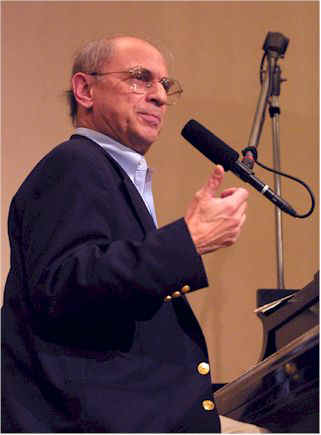 This issue of Jazz History Online was scheduled to include a review of Dave Frishberg's new memoir, "My Dear Departed Past" (Backbeat). I had written a moderately-positive review of the book, but on the day I was to publish the issue, a friend informed that Frishberg had suffered a stroke in 2014. While I do not know the full extent of Frishberg's disability, I felt that some of my criticisms about the book's content and structure might be construed as unsympathetic. Frishberg remains one of my favorite songwriters, and I believe that the focus should be on his art, rather than his new personal challenges. Therefore, I've decided not to publish the book review, but instead run a new version of this essay written in 2009 with the input of Mr. Frishberg.–TC.
Dave Frishberg once offered his original song, "The Underdog" to Frank Sinatra. The song told the story of a gambler who always picked the longshots. Frishberg thought it would be a perfect fit for Sinatra's image, complete with the trenchcoat slung over the shoulder. According to Frishberg, Sinatra's reaction was "It's a good song, but where's the chick?"
The chick—and actually, love songs in general—have never been the focus of the Frishberg catalog, but every jazz singer of note has at least two or three Frishberg songs in his/her repertoire. Frishberg's quirky songs usually have some element of humor, and they praise people in his life ("My Attorney Bernie"), idolize his heroes from music ("Dear Bix"), or satirize American society ("Blizzard Of Lies"). Baseball is a favorite subject, and in addition to the tributes "Van Lingo Mungo" and "Dodger Blue", Frishberg has written songs for a never-produced musical about the Black Sox Scandal. Frishberg's music is not just light-hearted, laugh-a-minute songs; some of his finest songs, such as "You Are There" and "Sweet Kentucky Ham", are quite touching and contain meanings that go far beyond the surface.
Frishberg is a fine swing pianist who played in the Al Cohn/Zoot Sims Quintet for several years. His singing voice is unique, but perfectly compliments the slightly off-center world of his songs. The dozen reviews that follow feature Frishberg's best songs as performed by the composer and some of his best interpreters.
DAVE FRISHBERG: "I WANT TO BE A SIDEMAN" (from "Do You Miss New York?", Arbors 19291)
Dave Frishberg, piano & vocal. Recorded New York, December 12-14, 2002.
If you want to introduce a musician to the songs of Dave Frishberg, there's no better example than "I Want To Be A Sideman". Anyone who has ever toured with a big band knows all about the rigors of the road, but Frishberg, portraying someone on the outside looking in, makes it all sound glamorous: I want to play while the people dance/I want to press my own coat and pants/I want to ask for an advance. Of course, it's all a dark joke, which is made clear in the introduction, where Frishberg plays the intro of the hoariest of big band songs, "In The Mood". Clearly, the audience is hip from the outset, laughing in recognition of the theme. But there is much more here: Under the lyric "I want to listen to Lester Young on my recorder", Frishberg's melody alludes to Lester's famous "Jive At Five" solo (Frishberg told me it wasn't intentional). And the lines quoted above are a typical example of Frishberg's trademark triple rhyme schemes (dance/pants/advance). Frishberg's work is loaded with these delightful triple rhymes, with the final one of the set always being the funniest. But perhaps most enlightening is the song's final lines: I wanna be young/I wanna have fun/I want to be a sideman. It's the responsibility-free life of a musician that Frishberg's narrator really wants. As the old joke goes, the difference between a musician and a mutual fund is that only one of them will eventually mature and make money.
DAVE FRISHBERG: "VAN LINGLE MUNGO" (from "Classics", Concord Jazz 4462)
Dave Frishberg, piano & vocal; Steve Gilmore, bass; Bill Goodwin, drums. Recorded Stroudsburg, PA, April 1981.
"Van Lingle Mungo" is one of Dave Frishberg's most famous songs, primarily because of its lyric, which consists entirely of the names of baseball players. Not the Joe DiMaggios, Lou Gehrigs or Babe Ruths, mind you, but rather Johnny Pesky, Roy Campanella, and Bob Estellella, players unknown to all but the most fervent baseball fans. What elevates this song beyond a mere catalog of unusual names is Frishberg's heartfelt delivery. He makes them sound like heroes, and one feels that if they were to ask Frishberg, he could tell you something about every player he mentions in the lyric. But before thinking of this song as a walk through the baseball Hall of Fame, note that Frishberg once said that when he sings this song softly over a bossa beat, the audience thinks he singing in Portuguese! So are there any great Portuguese baseball players?
JUDY ROBERTS: "MY ATTORNEY BERNIE" (from "Circle of Friends", Judy Roberts 1030)
Greg Fishman, flute; Judy Roberts, piano & vocal; Neal Seroka, guitar; Stewart Miller, bass; Greg Sergo, drums. Recorded Chicago, 1995.
As performed by its composer and nearly everyone else, Frishberg's "My Attorney Bernie" is sung to a samba beat. However, my favorite recording of the song is by Judy Roberts, a delightful pianist/vocalist who currently splits her performing year in Chicago and Phoenix. Taken at a slow, sexy tempo, the arrangement starts with eight quarter notes on cowbell and a piano vamp (the vamp is Frishberg's introduction) which implies the sort of slow dance groove that Tito Puente used to play. But then, guitar and flute enter in quasi-double-time, adding the feel of samba. While these two Latin grooves have rarely—if ever—converged, they work very well together and the band locks into the groove immediately. Judy's delivery of Frishberg's song is light-hearted, relaxed and comic (especially on the line you keep on hangin' tough), but she knows the importance of having a good lawyer in her corner, and we believe her when she tells us that she always does what Bernie recommends". The self-produced CD from which this track comes is a little hard to find, but is well worth acquiring, as it is one of Roberts' finest efforts.
DAVE FRISHBERG: "SLAPPIN' THE CAKES ON ME" (from "Classics", Concord Jazz 4462)
Dave Frishberg, piano & vocal; Steve Gilmore, bass; Bill Goodwin, drums. Recorded Stroudsburg, PA, April 1981.
Love songs might not be Frishberg's specialty, but that doesn't mean that he hasn't successfully explored elements of the dating ritual. I'm not exactly sure about the origins of the title, but it clearly refers to someone who is in a situation that's way over his head. Here, Frishberg's character is a guy who is not as skilled as he thinks at picking up women. At the beginning, as he walks in and checks out the club, Gilmore's descending bass glissando invokes an animal on the prowl. Then our not-so-smooth operator meets a woman who turns this attempted seduction on its head by inviting herself to sit down, and topping every corny line that the man offers. He even offers the old standby, "What's your sign" to which she replies, "Later for that—your place or mine?" Thankfully, our would-be Romeo is smart enough to know that when faced with such a situation, it's always best to hang on and enjoy the ride. Frishberg stops short of telling us what happened later—and different versions of the tale might come from each principal—but we can imagine that it was a night to remember, whatever the outcome.
DAVE FRISHBERG: "SWEET KENTUCKY HAM" (from "Classics", Concord Jazz 4462)
Dave Frishberg, solo piano & vocals. Recorded Stroudsburg, PA, April 1981.
I first heard this song performed by Rosemary Clooney and she described it as "the ultimate road song". True enough, as the lyric tells of a bored traveler moving through the Midwestern cities of South Bend, Milwaukee and Cincinnati. Frishberg's lyric focuses on two elements: the loneliness of travel (especially at night, when all of the scenes take place) and the food that one eats on the road. The second point is noteworthy because the traveler is dreaming of "Sweet Kentucky Ham", but the first point is what occupies the narrator's mind, because of the strong intimation that it's not just the ham that he wants, but the person who shares it with him. I doubt that Frishberg has ever included the words "I love you" in a lyric, but the emotions found deep in this lyric speak to a much deeper feeling than those three little words. Frishberg's performance is letter perfect: his solo piano is the right accompaniment, as the addition of bass and drums would spoil the theme of loneliness, and his yearning vocal makes us believe that he has lived through this experience. The ultimate road song? Sure, but also a very profound love song.
DIANA KRALL: "PEEL ME A GRAPE" (from "Love Songs", Impulse 233)
Diana Krall, piano & vocal; Russell Malone, guitar; Christian McBride, bass. Recorded in Los Angeles, February-March, 1997.
Several years ago at a Diana Krall performance in Denver, a man in the audience yelled out to the still-single vocalist, "I love you, Diana". She retorted, "No, you don't want me—I'm too high-maintenance!" Then she launched into "Peel Me A Grape", which must be the unofficial anthem for high-maintenance women. The song, one of Dave Frisberg's earliest works, takes its title from a famous Mae West line. Frishberg takes the title idea and runs with it, combining realistic requests with outlandish invented ones: "Pop me a cork/French me a fry". While the song was reasonably well-known before, it was Diana Krall's version that made the song a hit. Krall reportedly dropped the line, "start me a smoke" because of a long-standing opposition to cigarettes; however, in his memoir, Frishberg writes that when he met Krall, the two of them stepped outside for a smoke! Frishberg quickly adds that he has since given up the habit, and hopes that Krall has too. What makes Krall's version of "Grape" so enticing is the slinky tempo and her come-hither delivery. And lest we make the mistake of focusing on Krall's vocals at the expense of her piano playing, dig her marvelous solo on this track: it nearly says as much as her vocal.
DAVE FRISHBERG: "DEAR BIX" (from "Lookin' Good", Concord Jazz 4998)
Bob Findley, cornet; Dave Frishberg, piano & vocal. Recorded Los Angeles, January 1977.
I've been told that one of the walls in Frishberg's home bears a life-sized portrait of Bix Beiderbecke. That seems fitting, considering Frishberg's long-standing love of classic jazz. Frishberg wrote this poignant tribute to the late cornetist imagining the narrator to be Bix's old friend, Hoagy Carmichael. Ironically, when Frishberg finally played the song for Carmichael, the legendary songwriter was unmoved by the lyrics or the recurring quote from Bix's "In a Mist". Perhaps Carmichael had heard so many Bix-inspired songs that he dismissed any further attempts. Too bad for Hoagy, for this song is a touching salute, treating Bix as more than a jazz icon, but as a young man who didn't know how to handle his own fame. This was the song's debut recording, and cornetist Bob Findley wisely decided to avoid a direct imitation of Beiderbecke, instead emulating the sound and style of Bix's greatest follower, Bobby Hackett.
DAVE FRISHBERG: "BRENDA STARR" (from "Lookin' Good", Concord Jazz 4998)
Snooky Young, trumpet; Rob McConnell, valve trombone; Dave Frishberg, piano & vocal; Jim Hughart, bass; Jeff Hamilton, drums. Recorded in Los Angeles, August 1989.
As the newspaper business continues to decline, here's a tongue-in-cheek tribute to a fictional heroine of newspapers long past: super-reporter Brenda Starr! Frishberg wrote this song with Johnny Mandel for the movie "Brenda Starr", but it wasn't used in the film. The lyric brings back the days of "The Front Page" and its remake "His Girl Friday", when newspaper writers would do anything to get a story. Most of the lyric is comprised of screaming, outlandish headlines—my favorite is Ex-wife of Russian czar will wed Kareem Abdul Jabbar—and Frishberg delivers the lines with a cynical edge that brings to mind the vocals of one of his heroes, Jimmy Rowles. There's ample solo space on this recording and Snooky Young makes the most of a rare opportunity with a fine performance set entirely in the middle range. After boppish solos by Frishberg and Rob McConnell, Frishberg returns with the second verse, and the lyric reveals even more cynicism, with Read all about it/Don't stop to doubt it/It's in the papers/It's gotta be true (yeah, right) and Judge takes bribe/So what's new? Although Frishberg's lyric supposedly refers to corrupt practices long since abandoned, it's rather eerie to hear it in the context of today's newspaper crisis.
SUSANNAH McCORKLE: "BLIZZARD OF LIES" (from "How Do You Keep the Music Playing?", The Jazz Alliance 10036)
Susannah McCorkle, vocal; Ben Aronov, piano; Steve LaSpina, bass; Joey Cocuzzo, drums. Recorded New York, June 1985.
Susannah McCorkle loved Frishberg's songs, and nearly all of her albums included one of his tunes. Her recording of "Blizzard Of Lies" enhances the original with a simple but effective addition to the song's form. The song opens with a number of familiar platitudes: We must have lunch real soon/Your luggage is checked through. Then the mood completely changes as the lyric declares that we're marooned in a blizzard of lies. Frishberg's lyrics always demand (and reward) close listening, but McCorkle takes no risk in this case: adding a two-bar extension between the platitudes and the payoff, she sings the one pivotal word: "lies". While it could be argued that McCorkle ruins the joke on the first time through, she drives the point home throughout the recording. And on each of the three times that the extension appears, she finds a new way to twist that pivotal word. Also, listen to how she moves from sweet innocent to gritty cynic as the performance progresses, adding a rare "dirty" sound to her voice. Susannah's suicide in 2001 was devastating to anyone who loved good songs, old or new, and while her sometimes difficult nature and battles with mental illness have been thoroughly documented (most notably in Linda Dahl's book, "Haunted Heart"), the loss of this fine vocalist is still being felt over a decade and a half later.
STACEY KENT: "YOU ARE THERE" (from "Dreamsville", Candid 79775)
Stacey Kent, vocal; David Newton, piano. Recorded Ardingly, UK, June 2000.
"You are There" is one of Frishberg's most challenging songs. Johnny Mandel's melody is almost completely comprised of eighth notes, and there are very few spots where the singer can breathe. Also, vocalists have struggled to discover the character of the narrator. In his memoir, Frishberg tells his interpretation: I wrote down the opening words, In the evening. That set the stage for me: this is an older person—young people don't say "in the evening," and they don't refer to the teakettle. The teakettle suggests that this is an Englishwoman talking. In a calm, educated English way, she addresses an absent person who is, or was, dear to her. I left it at that, and I never explored the nature of her relationship to her absentee. Death wasn't foremost on my mind, although I considered it as a possibility. The lyric works for a male singer, of course, but it's practically all females who choose to perform it. Indeed, the lyric does work for male singers (especially Frishberg, who has recorded several fine versions of the song), but I admire Stacey Kent's understated recording. A storyteller at heart, she and pianist David Newton use a finely shaded sense of rubato to give the melody shape and to emphasize the lyric's most important words. The English connection is interesting—Kent spends a lot of her time in the UK—but it is her skill as a vocalist that makes this recording succeed where others have failed.
DAVE FRISHBERG: "THE UNDERDOG" (from Dave Frishberg/Bob Dorough, "Who's on First?", Blue Note 23403)
Dave Frishberg, piano & vocal. Recorded Los Angeles, November 1999.
"The Underdog" may be one of the most profound lyrics that Frishberg has ever created. The song is about a gambler who bets on long-shots or underdogs. Yet Frishberg's storyline also creates a fully-developed character, who himself could be called an underdog. As a result, we can feel empathy for this man without decrying his gambling addiction. To be sure, the gambler understands his problem, but against all odds, he has hope that he, like his favored underdog, will be a winner someday. How many pop songs—even the classics—cover that much emotional ground? On this recording, Frishberg sings the song in free time, so that the effect is both conversational and confessional. Frishberg's spare, lonely solo piano only adds to the melancholy mood. The ending is a wry twist on an old cliché: Sooner or later, you know every underdog will have his day, and while it's not a big ending, that same glimmer of hope shines through. Underdog or not, this song is a real winner.
DAVE FRISHBERG: "I'M HIP" (from "Classics", Concord Jazz 4462)
Dave Frishberg, piano & vocal; Steve Gilmore, bass; Bill Goodwin, drums. Recorded Stroudsburg, PA, April 1981.
The first unwritten rule of hipdom must be that hipness is a state of being. One is hip by demonstration, not by proclamation. All of which makes Dave Frishberg's and Bob Dorough's "I'm Hip" the classic statement of the wanna-be hipster. For the hip ones in the crowd, the lyric to this song is a goldmine of pseudo-hip references, like Sammy Davis knows my friend and Better show this to Quincy. Frishberg's performance is a good barometer of hipness: nearly everyone can get the reference to watching French films in a movie theatre while wearing sunglasses, but fewer will dig the line about listening to jazz while poppin' my thumbs/diggin' the drums and only the hippest will truly understand Frishberg's hilarious search for hip notes in the final chord. One thing puzzles me, though: in the original lyric, our hero reads Playboy magazine, but in this recording, he reads People. Was Playboy too hip for him?
The recordings embedded in this article are presented for educational and illustrative purposes. Jazz History Online neither owns nor controls the rights to these recordings. All rights belong to the original copyright holders.