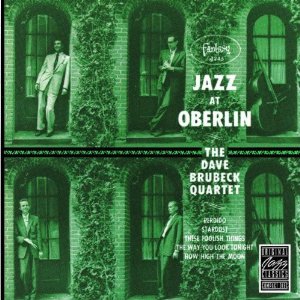 I have vivid memories of the first time I heard Dave Brubeck's "Jazz at Oberlin".  I was attending high school, playing alto sax in the concert and stage bands, and just starting to learn about jazz. A friend lent me a 2-record set on Atlantic called "The Art of Dave Brubeck—The Fantasy Years". Around 2 AM, while everyone in the house was fast asleep except for me, I gave up trying. I slapped on a pair of enormous Koss headphones, loaded a blank cassette into my tape deck and placed the first record on the turntable. Sitting there in the dark, I felt my jaw drop as the Brubeck Quartet launched into a blisteringly fast version of "The Way You Look Tonight" and Paul Desmond played a solo with more fire than I had ever heard from his alto.
To be sure, I had heard recordings of the Brubeck Quartet, but none like this. To say Desmond had "Petrushka" on the brain during his "Way You Look Tonight" solo would be an understatement, but I didn't recognize the recurring Stravinsky quote until later. What I did notice was how Desmond was taking that idea and turning it every which way as an integral part of his solo. The Columbia studio recordings I had heard prior to this left me rather unmoved by Desmond's cool, pure tone and ideas, but "Jazz at Oberlin" made me a believer! Brubeck was no less impressive, matching Desmond's fire with inspired solos throughout.  I was especially moved by his wonderful lyric solo on "These Foolish Things" where Brubeck echoed the styles of country blues, Gershwin and Bartok and finished off the solo with an emotionally overwhelming statement in block chords. The bass and drum team of Ron Crotty and Lloyd Davis played with more energy than I had heard with Brubeck's later pairing of Eugene Wright and Joe Morello (my appreciation of the Wright/Morello team came with further listening). Then came the final tune, a nearly themeless version of "Stardust". I was carried away by Desmond's beautifully sculpted solo variation as the album came to a close. It was the perfect nightcap. I slept late into the morning.
This was the first college concert that Brubeck had recorded and issued. Brubeck had been warned by the college administrators that the students might not warm to his music, but the students proved them wrong, hanging onto every note and cheering madly at every solo. According to the liner notes, the Quartet played a two-hour concert, but only the 38 minutes of the original LP survives. In contrast, the other half of that Atlantic set was the Quartet's concert at Brubeck's alma mater, College of Pacific, and another hour of music from that concert has been issued in the last decade, including a version of "Stardust" even better than the one from Oberlin.
In the 1980s, when Fantasy started the Original Jazz Classics series, I grabbed copies of "Oberlin" and "College of Pacific" as soon as they came out, and finally retired my well-loved and much-played cassette copy. It was then that I discovered that the Atlantic LP had reversed the sides of the original Oberlin album (no matter—I still play side 2 first, as "Way You Look Tonight" and "Stardust" made such great bookends. Ironically, "Way You Look Tonight" was the closing number on the concert!). Paul Desmond had already passed away by the time I heard "Jazz at Oberlin", but I've met Brubeck several times and he accompanied my college choir when we  sang a couple of his compositions in a concert. My current copy of "Oberlin" is the OJC CD which Brubeck autographed for me. For several reasons, including his age and the thin air in my home state of Colorado, I haven't seen him in person for several years, but as he reaches his 91st birthday, he is still a superb pianist and I love to see him when he appears on television. He still inspires me, just as he and Desmond did on that early morning several years ago.