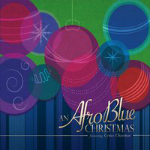 "AN AFRO BLUE CHRISTMAS" (self-produced)
Howard University's Afro Blue is probably the best-known student vocal jazz group in the United States. They were finalists on the NBC reality show, "The Sing-Off", and their CD, "An Afro Blue Christmas" coincides with their 2014 nationwide radio broadcast on NPR. The 10 member group is entirely comprised of jazz studies majors from Howard, and on half of the tracks, the group is accompanied by a new member of the school's jazz department, pianist Cyrus Chestnut. Afro Blue's leader and founder, Connaitre Miller, creates a diverse musical program by splitting the group up, using just the women and the rhythm section on "Angels We Have Heard on High" (based on Geri Allen's version from her holiday album, reviewed below), and by offering solo and duet numbers to the most promising vocalists in the group (Amelia Brown sings the dark, but funny, "Twelve Days After Christmas", and Shacara Rogers and Devon Robinson add some new twists to the ubiquitous "Baby, It's Cold Outside"). Rogers is a particularly fine singer, displaying expertise in a wide range of styles, and great finesse as an improviser. Alumnus Christie Dashiell also appears on two tracks, and the growth between her scat on the vintage 2010 track "Go Where I Send Thee" and 2014's "Will I Know Him" is truly remarkable. As a group, Afro Blue exhibits exceptional diction and outstanding pitch on a challenging program featuring arrangements by Miller, (alumna) Mariah Maxwell, (student) John Kenniebrew, Michele Weir and Kirby Shaw. Whether you're hearing Afro Blue for the first time, or you're an established fan, "An Afro Blue Christmas" is a worthy addition to your holiday music library.—THOMAS CUNNIFFE
GERI ALLEN: "A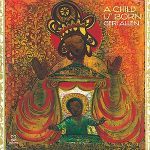 CHILD IS BORN" (Motéma 69)
The late Geri Allen's music always demanded close listening, and her holiday CD, "A Child is Born" was no exception. This is not an album to play in the background while trimming the tree, but rather music for listening while contemplating the spiritual meaning of Christmas. Allen challenges the listener with inventive re-imagined versions of familiar carols, and with intriguing musical cameos that portray the Gema melodies of Ethiopia. While essentially a solo piano album, Allen overdubs (or simultaneously plays) a virtual orchestra of keyboards including Fender Rhodes, farfisa, clavinet and celeste. There is also a brief spoken word chant by Farah Jasmine Griffith, and two short originals with female chorus. On one track, Allen and sound designer Jamieo Brown create an unique soundscape combining Allen's piano rendition of the ancient chant "O Come, O Come Emmanuel" with sampled tracks by the Women of the Gee's Bend Quilt Collective of Alabama. Yet this CD is at its best when it is just Allen and the piano as she creates breathtaking improvisations in tribute to God.—THOMAS CUNNIFFE
JACKIE ALLEN/JUDY ROBERTS: "SANTA BABY" (RA 1904)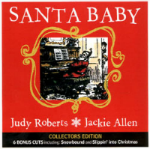 Back in the late 90s and early 2000s, vocalist Jackie Allen and pianist/vocalist Judy Roberts were the toasts of Chicago. Although they performed their own solo gigs, it was when they paired as a duet that they made their most memorable music. Allen's soulful delivery was a perfect foil for Roberts' witty musicality. "Santa Baby" was their first album together, and the chemistry is immediately evident on their duet performances. "Winter Wonderland" features both on vocals: Allen on the traditional lyrics and Roberts with her own "Desert Wonderland" words. They perform the sexiest version ever recorded of the title track. There's no little-girl feigned innocence here; Allen and Roberts portray two crafty seductresses who know how to get exactly what they want for Christmas. There are several solo numbers for both women, including Allen's luminous medley of "Some Children See Him" and "A Child Is Born" and Roberts' piano medley of "Hanukkah, O Hanukkah" and "God Rest Ye Merry Gentlemen". The current edition of the disc is a "collector's edition" with six additional tracks, including two different songs titled "Snowbound". This album is a delight from beginning to end.—THOMAS CUNNIFFE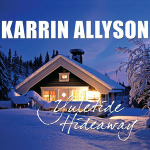 KARRIN ALLYSON: "YULETIDE HIDEAWAY" (KAS 1)
For her holiday offering "Yuletide Hideaway", Karrin Allyson has mixed several jazz-oriented Christmas classics with new songs by herself and collaborators Chris Caswell, Rod Fleeman, Dan Cerveny and Patty McGovern. The lyrics of the title track, by Allyson and Caswell, is a delightful collection of fresh holiday images including a singing moose head, dancing penguins, and a rapping Frosty. Allyson subtly adapts her usually detached vocal persona to communicate these fun lyrics. Elsewhere, Fleeman's "Christmas Bells Are Ringing" is highlighted by Allyson's beautifully-crafted scat responses to the composer's guitar. Caswell, who provided vocalese lyrics for Allyson's acclaimed "Footprints" CD, contributed two further songs, the atmospheric "Winter Oasis" (co-written with his daughter, Aubrey) and a touching love song, "You're All I Need For Christmas". The standards include a moody version of Vince Guaraldi's "Christmas Time Is Here", a grooving rendition of Bill Evans' obscure "It's Love, It's Christmas" and a sassy arrangement of Dave Frishberg's "Snowbound". Caswell and Allyson trade responsibilities on keyboards, Gerald Spaits and Lee Sklar alternate on bass (with Fleeman doubling guitar and bass on one track) and the percussion is played by the dependably swinging Todd Strait. Self-produced and issued by Allyson, this fine recording is sure to become a new holiday favorite. —THOMAS CUNNIFFE

COUNT BASIE ORCHESTRA: "A VERY SWINGIN' BASIE CHRISTMAS" (Concord Jazz 38450)
Except for a raucous version of "Jingle Bells" (incongruously recorded live in June, 1962), Count Basie never recorded Christmas music with his orchestra. A few years ago, the Basie ghost band backed up Tony Bennett on an album listed below, but "A Very Swingin' Basie Christmas" is the first holiday album featuring the Basie band on all of the tracks. Led by its new director, Scotty Barnhart, the Basie-ites perform with slick precision and exciting musicianship. Sammy Nestico's opening chart on "Jingle Bells" is much more sophisticated than the rough-and-ready version captured at Birdland 50-odd years ago, but its swing clearly reflects the Basie tradition. Ellis Marsalis and Llew Matthews take turns at the piano, each paring down their individual sounds to echo the deceptively simple Basie style. The album is loaded with guest artists, including saxophonist Plas Johnson and vocalists Johnny Mathis, Ledisi and Carmen Bradford. Mathis sounds great on "The Holiday Season" (why hasn't he recorded straight-ahead jazz earlier?), and Bradford sings "Have Yourself a Merry Little Christmas" with warmth and soul. Ledisi's sound works well enough, but her performance of "The Christmas Song" suffers from her odd phrasing. Johnson's appearance is saved for last, with a version of "I'll Be Home for Christmas", dedicated to "those away from home". By themselves, the band shines on a swinging version of "Little Drummer Boy" (with Clayton Cameron's brush work especially fine) and on Barnhard's lovely arrangement of "Silent Night" (featuring alto saxophonist Marshall McDonald). —THOMAS CUNNIFFE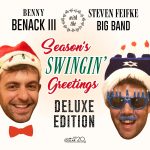 BENNY BENACK III & THE STEVEN FEIFKE BIG BAND: "SEASON'S SWINGIN' GREETINGS" (Cellar 11521)
Covering Christmas, Hanukkah, and New Year's Eve, Benny Benack's holiday collaboration with Steven Feifke offers "Season's Swingin' Greetings" to his evergrowing fan base. The album was recorded over a three-year period with some tracks recorded remotely thanks to COVID. But the recording method is secondary on this delightful album, as Benack endears himself with his relaxed, unforced vocals and well-constructed trumpet solos over Feifke's creative backdrops. His duet with Alita Moses on the romantic original "My Wishlist is You" may be easier to take than his Rat Pack transformation of "The Dreidel Song", but Benack's youthful delivery prevents any lingering bad impressions. I was quite taken with the samba remake of "What are You Doing New Year's Eve", the punchy instrumental arrangement of "Sleigh Ride", and the melancholy original "When Christmas Time Comes Around". The latter track is enhanced with a lovely flute solo by Alexa Tarantino; vibraphonist Warren Wolf fulfills a similar role on "New Year's Eve". If his career continues over a decade or two (and it should!) Benack may one day produce a deeper holiday album, but the current disc is an impressive start.—THOMAS CUNNIFFE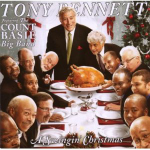 TONY BENNETT/COUNT BASIE ORCHESTRA: "A SWINGIN' CHRISTMAS" (Columbia/RPM 32250)
Tony Bennett has recorded several Christmas albums over his career, but "A Swingin' Christmas" is by far the jazziest. The veteran entertainer is joined by the horns of the Count Basie Orchestra, and guests Toots Thielemans and Monty Alexander, with rousing arrangements by Bill Holman, Torrie Zito, Frank Foster and Bennett's musical director Lee Musiker. The album opens with Holman's uptempo chart on "I'll Be Home For Christmas" and then slides into a delightful version of "Silver Bells" with Bennett and the rhythm section. Alexander reins in his ample technique throughout the album, playing in a restrained Basie style. Johnny Mandel's "Christmas Love Song" (here listed as "All I Want For Christmas Is You") uses the same shimmering background that the composer created for the Manhattan Transfer's version (see below) with Thielemans providing a brief but heartfelt solo. The Basie-ites sound best on the playful version of "Santa Claus Is Comin' To Town" and the relaxed swing of "Winter Wonderland". Bennett is in splendid voice, although his delivery on "Christmas Time Is Here" seems a little rough-hewn for this tender song. A duet version of "I've Got My Love To Keep Me Warm" features Bennett with his daughter Antonia, and while her voice is breathy and uncolored, she sings in tune and with good diction. This album is a fine addition to Bennett's extensive discography and to any holiday jazz listener's holiday collection.—THOMAS CUNNIFFE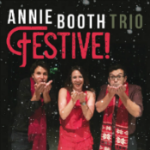 ANNIE BOOTH TRIO: "FESTIVE!" (self-released)
In the brief liner notes to her holiday disc, "Festive!", Denver-based pianist Annie Booth writes that some of her earliest explorations of music involved picking out simple versions of Christmas carols on the keyboard. From those humble beginnings, Booth has developed a sophisticated approach to familiar material. Her staccato version of "White Christmas" beckons the Charlie Parker arrangement, but Booth transforms the piece as she and her trio switch between 3/4 and 4/4 time. "Oh Tannenbaum" starts as an homage to Ahmad Jamal's "Poinciana", but drummer Alejandro Castaño breaks up the pattern with sudden cymbal splashes, and the groove throughout Booth's sparkling piano solo mixes the Poinciana beat with straight swing. "Silent Night" gets an updated harmonic language, while bassist Patrick McDevitt in the opening half-chorus and first solo of "Santa Claus is Comin' to Town". The trio plays with great sensitivity and swing on "The Christmas Song" (few "local" groups play with such deep ensemble feeling) and their combined efforts make well-worn songs like "Carol of the Bells" and "God Rest Ye, Merry Gentlemen" into thrilling musical experiences. The album closes with a special treat: a funky New Orleans take on "Auld Lang Syne". The only element missing from "Festive" is an original holiday song; for Booth's originals, check out her CDs "Wanderlust" and "Abundance", for intriguing takes on holiday favorites, grab a copy of "Festive". —THOMAS CUNNIFFE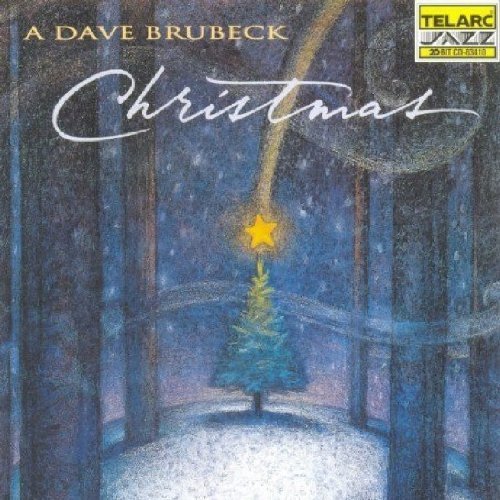 "A DAVE BRUBECK CHRISTMAS" (Telarc 83410)
Dave Brubeck's 1996 solo Yuletide album, "A Dave Brubeck Christmas" is a mix of busy-city-bustle and sitting-by-the-fireside. In his heartfelt liner notes, Brubeck recalls several humorous experiences from Christmas in his own household, and while the album was recorded in the middle of the summer, he clearly draws on December experiences to create a holiday mood. An album of quiet classics like "O Little Town of Bethlehem", "Joy to the World", "What Child Is This", two contrasting versions ("Homecoming" and "Farewell") of "Jingle Bells" and a few off the beaten path, such as Brubeck's original "Cantos Para Pedir las Posadas," this album has an old-fashioned style that is timeless. Now that Brubeck is no longer with us, this holiday season is a perfect time to rediscover this beautifully played recording.—MARTI MENDENHALL

ANN HAMPTON CALLAWAY: "THE HOPE OF CHRISTMAS" (MCG Jazz 1042)
In her latest Yuletide offering, Ann Hampton Callaway collaborates with lyricist William Schermerhorn in a collection of attractive holiday originals, "The Hope of Christmas". Callaway's rich voice is a superb match for Schermerhorn's poems which touch on both the sacred and secular meanings of Christmas. The title track (co-composed by Callaway and Schermerhorn) is a thoughtful examination of the wish that the Christmas spirit would last throughout the year, while "Santa Doesn't Like Me" is a sexy lament from a femme fatale. Arrangers Marty Ashby, Mike Tomaro, Jay Ashby and Callaway treat these songs to a wide range of styles including Dixieland ("I Want to Be Santa"), bossa nova ("What Good is Being Cranky"), and inspirational anthem ("Discovery"). The accompanying musicians include flugelhornist Jami Dauber, saxophonists Janelle Reichman, Steve Wilson and Gerald Albright, trombonist Michael Davis, pianists Tomoko Ohno, Alon Yavnai and Ted Rosenthal, bassists Martin Wind and Noriko Ueda, drummers Tim Horner and Sherrie Maricle, with background vocals by the New York Voices. Callaway's 1997 album "This Christmas" is also worth seeking out. The title song is a Callaway original, as are the delicious "Manhattan In December" and the stirring "God Bless My Family" (the last a duet with Callaway's sister, Liz). Calloway is accompanied by a jazz quartet through most of the album. The band personnel includes pianists Mike Lang and Alan Broadbent, bassists John Clayton and Dave Carpenter and drummers Jeff Hamilton and Ralph Penland. Judd Miller plays EVI (Electronic Valve Instrument) on several tracks and his instrument evokes trumpet, flute, harmonica and (at one point) a klaxon. Clayton's arrangement on "The Christmas Song" is a highlight, opening with Callaway's voice in duet with Clayton's bowed bass, and then moving into an attractive slow swing. This lovely album was originally issued on Angel, but Callaway owns the rights and it has been reissued on N-Coded and Telarc.—THOMAS CUNNIFFE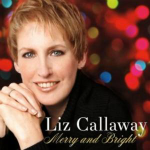 LIZ CALLAWAY: "MERRY AND BRIGHT" (self-produced)
As noted above, Liz Callaway is the sister of Ann Hampton Callaway. Liz is best-known as a Broadway star, but she adapts her fine voice to many different musical genres. "Merry and Bright" is a self-produced holiday EP which displays a broad range of styles. The opening track, "Joy To The World" was written for Ann and Liz's performance with the NYC Gay Men's Chorus, and Alex Rybeck's arrangement includes quotes from the Three Dog Night rock song of the same name and Bach's "Jesu, Joy of Man's Desiring". Callaway's solo version of "My Grown-Up Christmas List" is passionate without becoming over-ripe, and her duet with Ann on a medley of "Silent Night" and "Mary Did You Know" reveals deep musical sensitivity and superb blend (not surprising considering that the Callaway matriarch, Shirley, is an outstanding vocal coach). The a cappella romp through "Santa Claus Is Comin' To Town", a overdubbed duet with Callaway's son Nicholas, is the album's jazziest track, and the album closes all too soon with Callaway performing "Have Yourself A Merry Little Christmas" with a Broadway orchestration. Should Callaway decide to expand this EP into a CD, she should include the personnel within the package; she gets excellent support throughout the album, but the only credited performers are her duet partners and the arrangers. —THOMAS CUNNIFFE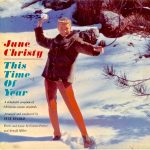 JUNE CHRISTY: "THIS TIME OF YEAR" (Capitol 1605—LP)
In its own quiet way, June Christy's "This Time of Year" may be the most heart-rending Christmas album ever recorded. The original song cycle by Connie Pearce and Arnold Miller, tell the story of a woman who is depressed and alienated during the holiday season, but who does not want to ruin the holiday spirit of others. Christy, who loved unusual material like this, brings life to this lonely woman through a remarkably focused performance which carries throughout the album. Pete Rugolo, one of Christy's finest collaborators, provides a wonderful group of supporting arrangements and leads an orchestra filled with some of LA's best studio and jazz musicians. Far from being sad or depressing, the album comforts those who are alone during the holidays. While it is surprising that the individual songs like "The Merriest", "Christmas Heart" and "Winter's Got Spring Up its Sleeve" have not become hits, the song cycle works best when heard in its totality. Because of its unusual nature, this album has dropped in and out of print over the years. It is presently available on streaming services, and copies of the original LP and the Collector's Choice CD can still be found at online outlets. This very special album is worth the search.—THOMAS CUNNIFFE

ALEXIS COLE: "THE GREATEST GIFT: SONGS OF THE SEASON" (Motéma 26)
A collaboration between vocalist Alexis Cole and her father, composer/pianist Mark Finkin, "The Greatest Gift" was created as a benefit for World Bicycle Relief. The album features over 50 musicians from genres as diverse as classical, jazz, pop and traditional Eastern Indian. A progressive jazz feel permeates most of the album with daring improvisations and creative arrangements marking the mostly traditional repertoire. Guitarist Jesse Lewis opens the program by expanding the harmonies of "Joy to the World", and Cole's first feature, "The Call" is intertwined with a canonic treatment of "Bring a Torch, Jeannette Isabella". Cole's deep jazz roots are contrasted with her father's soulful tones on a deeply swinging "God Rest Ye Merry Gentlemen" and Cole duets with Greg Frens on a fun calypso-styled version of "Hark the Herald Angels Sing". The album's most dramatic track is Cole's passionate reading of the Appalachian folk song "Rise up Shepherd and Follow" over a background of tablas and tambura. The juxtaposition of the two musical cultures is nothing short of stunning. "Have Yourself a Merry Little Christmas" brings us back to progressive jazz with Don Braden's tenor sax providing strong support to Cole's creamy vocals. Vince Guaraldi's "Christmastime is Here" is a fixture on virtually every holiday disc, but Cole's version is one of the best with a beautifully-crafted arrangement, understated string quartet, and a wondrously paced vocal. The album maintains a very high standard until almost the end (I am especially fond of the lovely piece, "The Happiest Christmas"), but "Jesus is the Best Part of Christmas" sounds like a praise band number that was tacked on to the end. I won't argue with the song's sentiment, but musically speaking, it's an abrupt and unnecessary style shift that disrupts the memory of the serene music which preceded it. —THOMAS CUNNIFFE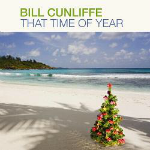 BILL CUNLIFFE: "THAT TIME OF YEAR" (Metro 1002)
For his new holiday offering, "That Time of Year", pianist Bill Cunliffe draws on his Episcopalian upbringing, including several classic Christmas hymns, starting with a glowing version of "Angels From The Realms of Glory" and later playing a gently swaying rendition of "I Saw Three Ships" (listed as "On Christmas Day") and a reverent "Coventry Carol". Denise Donatelli adds her rich, heartfelt voice to the closing duet version of "I'll Be Home For Christmas", but otherwise this album is a showcase for Cunliffe's solo piano. He plays incisive bass lines on a swinging "God Rest Ye Merry, Gentlemen" and a rhythmically re-imagined "Dance of the Sugar Plum Fairy", sparkling improvisations on an uptempo version of "Oh Little Town of Bethlehem", and displays a subtle touch on both a wondrous reharmonization of Praetorius' "Lo, How A Rose E'er Blooming" and a modal/mixed-meter arrangement of "We Three Kings". His version of "Jingle Bells" is a tour de force taking the old chestnut into all kinds of unexpected territories and his rubato performance of "Silent Night" evokes the mystical feelings of this special time of year.—THOMAS CUNNIFFE

MICHAEL CUNNINGHAM: "CHRISTMAS COLLECTION" (Present Tense 107)
Spanning genres from straight-ahead jazz to folk, pop and classical, the late pianist/composer Michael Cunningham's "Christmas Collection" has a little something for everyone. As on his ballads album, "There Was a Time", Cunningham recruited several fine musicians to perform his well-crafted compositions and arrangements. The Chicago Big Band backs up vocalist Andrea Miller in a swinging take on "Winter Wonderland", while pianist Ian Hobson performs Cunningham's variations on "I Saw Three Ships" which sound thorough-composed, but use jazz harmonies throughout. Violinist Sara Caswell displays her "legit" chops in a whimsical duet with Cunningham titled "Christmas with Dmitri" (referring to a meeting with Shostakovich and quoting two of the Russian composer's symphonies in the process), and flutist Alyce Johnson (who is also featured in several short cameo performances) plays the lead in another Cunningham pastiche, "The Seven Days of Christmas in Killarney" (with Jackie Moran performing a crucial part on a Celtic drum called a bodhran). The French horn of Matthew Bronstein and the baritone horn and trombones of Tom Koiciela provide rich backgrounds for trumpeter Art Davis on "I'll Be Home for Christmas" and Miller on Cunningham's original "Lift Your Hearts". The album opens and closes with versions of "The Christmas Song" but I prefer Frank Glover's wispy clarinet to Brienn Perry's wobbly vocals. Cunningham performs solo variations on a French carol and "White Christmas", and leads a jazz trio on "Swingin' Sleigh Ride" (based on the Leroy Anderson classic).—THOMAS CUNNIFFE

DUCHESS: "HARMONY FOR THE HOLIDAYS" (Anzic digital EP—no #)
The always delightful trio, Duchess, bring an abundance of holiday spirit throughout their EP, "Harmony for the Holidays". Vocalists Hilary Gardner, Amy Cervini and Melissa Stylianou are all transplanted but dedicated New Yorkers, and like most denizens of the Big Apple, Christmas snow is fine, but they'd much rather be somewhere warm for the holidays! This album starts and ends in the South Seas, with the Andrews Sisters' "Christmas Island" as an opener, and a wild romp through Bing Crosby's Hawaii-inspired "Mele Kalikimaka" to close. In between is a bluesy "Santa Baby" (with very funny alternative lyrics), a luscious reading of "Silver Bells" with each singer featured solo for a few bars before launching into a lovely reharmonized setting of the chorus (props to arranger Oded Lev-Ari), an utterly irresistible cover of the bird and the bee's "A Christmas Compromise" and a highly effective reading of Frank Loesser's "What Are You Doing New Year's Eve?" (complete with the verse). Pianist Michael Cabe and guitarist Jesse Lewis are the principal instrument soloists, with bassist Matt Aronoff and drummer Charles Ruggiero supporting the ensemble. Trumpeter Nadje Noordhuis, trombonist Nick Finzer and clarinetist Anat Cohen add to the madness on "Mele Kalikimaka". This album is great fun from beginning to end, and it's all over much too soon. We need a full holiday album, Duchess!—THOMAS CUNNIFFE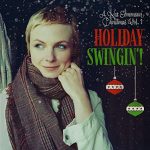 "A KAT EDMONSON CHRISTMAS, VOL. 1: HOLIDAY SWINGIN'" (Spinnerette 2102)
Kat Edmonson built up her audience during the COVID pandemic through an acclaimed series of Facebook webcasts. For those new to her music, "A Kat Edmonson Christmas, Volume 1: Holiday Swingin'" is a good, if brief introduction. Her opening reading of "Let it Snow" is quite removed from the original melody, but the confidence in her voice is enough to convince listeners that Edmonson knows exactly what she's doing. Her voice is a mix of Billie Holiday and Stacey Kent, and she clearly enjoys singing in medium, finger-snapping tempos, as found on two of the album's three Irving Berlin tunes, "White Christmas" and "Christmas Blues" (The third, "Happy Holiday" is set to an enticing Caribbean beat). Her conversational improvisations in "Jingle Bell Rock" are actually more effective than her scat solo on "O Christmas Tree". When she settles into a ballad, such as "The Christmas Song", Edmonson finds an attractive balance between hipness and romanticism. The album closes with a funky organ trio treatment of "The Chipmunk Song" (!) and a reflective setting of "O Little Town of Bethlehem". In the liner notes, Edmonson admits that the concept of a holiday album has been brewing for many years. Let's hope that the next volumes arrive soon.—THOMAS CUNNIFFE

JAKE EHRENREICH: "A TREASURY OF JEWISH CHRISTMAS SONGS" (self-released)
Many of the great American songwriters were Jewish, and while their faith might have rejected most of the aspects of the Christmas season (Jesus' birth, Santa Claus, etc.) they were flexible and talented enough to create songs that captured the spirit of the holiday. Broadway star Jake Ehrenreich was the son of two Holocaust survivors, but he grew up loving Christmas music, and on the self-released "A Treasury of Jewish Christmas Songs", Ehrenreich along with Roger Kellaway and his trio, presents amiable renditions of those holiday favorites. His swinging delivery is reminiscent of modern-day Tony Bennett—a little rough around the edges, but full of sincerity and informed through study of the material. Kellaway (piano), Bruce Forman (guitars), Dan Lutz (bass) and Kevin Winard (percussion) play well as an ensemble, offering an understated bossa rhythm for "Rudolph, the Red-Nosed Reindeer", propulsive swing on "It's the Most Wonderful Time of the Year" (so good to hear a different arrangement for this song!), and a fine rippling background for "Christmastime is Here". The samba setting returns for the album's centerpiece, Irving Berlin's "White Christmas". Ehrenreich sings the verse on this track—entirely appropriate since the lyrics refer to the location of this recording, "Beverly Hills, LA"! The album's highlight comes next with a heartfelt vocal/piano duet on Johnny Mandel's "A Christmas Love Song" which brings out all of the intimacy of Alan and Marilyn Bergman's lyrics. This well-conceived album acts as both warm holiday fare and as a tribute to the fine songwriters (As an appropriate touch, the birth names of all the composers and lyricists are listed inside the booklet).—THOMAS CUNNIFFE

KURT ELLING: "THE BEAUTIFUL DAY" (Okeh/Masterworks 34677)
For years, Kurt Elling has been an ubiquitous guest on Christmas albums by Renée Fleming, the Swingle Singers, and Laurence Hobgood. He has finally made his own holiday recording, and it is an amazing achievement. "The Beautiful Day" is an album that deals with the emotions and spiritual essence of the holiday, rather than religious dogma. For Elling, who was the son of a church musician and later went to divinity school himself, the album offered an opportunity to expand my consciousness and embrace the goodness of the season. The playlist includes three songs from Leslie Bricusse's film score for "Scrooge", a melody by Edvard Grieg (with lyrics by Elling), and three tableaux based on "Good King Wenceslas". Even when including familiar material, Elling brings a unique perspective to the music, including an uber-hip version of "The Little Drummer Boy", which substitutes hip patter for the original lyrics and adds a New Orleans street beat played by Kendrick Scott. Elling's other collaborators include Stuart Mindeman (keyboards), John McLean (guitar), Clark Sommers (bass), Tito Carrillo (trumpet), Jim Gailloreto (soprano sax) and Luiza Elling, who sings a duet with her father on the title track. This instant classic belongs on every jazz lover's holiday list. Listeners who pick up this album on vinyl will be treated to a bonus collaboration with the Swingles, "Jesu, Joy of Man's Desiring". —THOMAS CUNNIFFE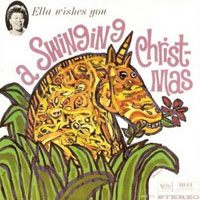 ELLA FITZGERALD: "ELLA WISHES YOU A SWINGING CHRISTMAS" (Verve 827 150)
As breezy and unpretentious as the lady herself, "Ella Wishes You A Swinging Christmas" is a delightful album that appeals to music lovers of all ages. When this album was recorded in 1960, Ella Fitzgerald was in peak vocal form, and nearly everything she touched turned into gold. Several pieces seem geared to the younger set, including "Jingle Bells", "Santa Claus is Comin' To Town" and appearances by both Rudolph and Frosty, but Fitzgerald has some treats for the grown-ups too, notably a sultry version of "What Are You Doing New Year's Eve", a grooving "Good Morning Blues" and a glorious medium-tempo arrangement of "White Christmas". Frank DeVol's big band arrangements are hip and engaging, and there several fine soloists featured on the album (not listed in my copy, but probably including trumpeter Don Fagerquist, pianist Lou Levy and vibraphonist Frank Flynn). The choral backups have not dated as well, but they're fun in a kitschy way.—THOMAS CUNNIFFE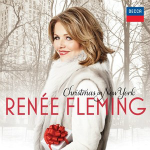 RENEE FLEMING: "CHRISTMAS IN NEW YORK" (Decca 21104)
Soprano Renee Fleming is primarily known as one of the world's greatest opera singers. However, she worked her way through college by singing with a jazz trio, and she has never lost her affinity for American vernacular music. On "Christmas in New York", a star-studded holiday album (with a corresponding PBS special), Fleming sings in the rich lower registers of her voice, and while some of her melodic variations are a little quirky, she maintains the style of a mature jazz vocalist. She seems quite comfortable singing with Wynton Marsalis' combo on "Winter Wonderland" and "Sleigh Ride", but she sounds even better on romantic ballads like "Have Yourself a Merry Little Christmas" (with Gregory Porter) or "Snowbound" (with Kurt Elling). Only when paired with the anemic-sounding Rufus Wainwright on "In the Bleak Mid-Winter", does Fleming bring out a little of her opera voice; otherwise, she adroitly expresses the sentiments of "Merry Christmas Darling" (with Chris Botti), Paul Simon's "Love and Hard Times" (with Brad Mehldau) and the digital bonus track "New York Tendaberry" (with Yo-Yo Ma) without vocal histrionics. In addition to the guest stars, Fleming has a wonderful group of musicians accompanying her, including Renee Rosnes, Peter Bernstein, Christian McBride, Carl Allen, Shelly Berg, Lee Musiker, Lou Marini and Grant Stewart.—THOMAS CUNNIFFE

NNENNA FREELON & THE JOHN BROWN BIG BAND: "CHRISTMAS" (self-produced)
"Christmas" is the first release by Nnenna Freelon in three years, and it shows that her effervescent swing and daring approach to the standard repertoire remains undimmed. The album was recorded in Freelon's home state of North Carolina, and features an excellent big band led by bassist John Brown (who is also the director of Duke University's jazz program). Freelon and the band start things out with Frank Foster's exuberant "Swingle Jingle Bells", followed by a delightful spiritual medley. Freelon's intriguing re-structure of Duke Ellington's "I Like The Sunrise" evokes the anticipation of Christmas morning, and she brings new life to "The Little Drummer Boy" with a sparkling multi-styled performance. At times, the arrangements seem too big for the material. The innocence of "Christmas Time Is Here" is lost in the excess, and the overblown treatment of "Silent Night" (with Hammond B3 and the "All Blues" riff) approaches sacrilege. On the other hand, the romping New Orleans parade groove seems oddly suited to "I'll Be Home For Christmas", and Freelon's spirited scatting and the band's grooving performance make it a particularly good finale. A welcome return for a fine singer.—THOMAS CUNNIFFE

JANINE GASTINEAU: "PEACE" (self-released)
For the wintertime release, "Peace", vocalist Janine Gastineau eschews traditional holiday repertoire, and offers several jazz-related songs appropriate for the season. Gastineau exudes great warmth on the opening "Christmas Time is Here", but is also willing to take changes, including a surprising variation on the opening phrase. Pianist Jeff Jenkins is a sensitive accompanist, and it is fascinating to hear the ongoing give-and-take between piano and voice as these performances develop before our ears. Thad Jones' "A Child is Born" features a gradual crescendo throughout the track, and I love Jenkins' imaginative reharmonization of Horace Silver's "Peace". Following an earnest rendition of Joni Mitchell's "River", Gastineau closes the EP with two live tracks featuring two different pianists: "What a Wonderful World" (with Paul Cotugno) and "What are You Doing New Year's Eve?" (with Eric French). While these performances are acceptable, it might have been better had Gastineau re-recorded them with Jenkins. Their collaboration is one to celebrate, and hopefully they will find further occasions to record together again.—THOMAS CUNNIFFE



GORDON GOODWIN'S BIG PHAT BAND: "WRAP THIS!" (MOC 2001)
It takes a certain amount of moxie to arrange "Carol of the Bells" as a funk tune in 3/4 time, but that is exactly what Gordon Goodwin does on the opening track of the Big Phat Band's holiday release "Wrap This". While the funk treatment is the arrangement's main feature, Goodwin's team of LA studio giants play the Ukrainian carol with great sensitivity and delicacy when the situation demands it. Take 6, one of the BFB's frequent collaborators, lend their voices to a brightly swinging version of "Do You Hear What I Hear", fueled by the band's outstanding rhythm section (here, Goodwin on piano, Andrew Synowiec on guitar, Kevin Axt on bass, and Ray Brinker on drums (Trey Henry and Bernie Dresel take the bass and drum chairs on several tracks). Goodwin's swinging charts are brilliantly realized by the BFB, and the soloists are spectacular, particularly Eric Marienthal's soprano sax on "Carol of the Bells", Wayne Bergeron's thrilling high register trumpet on "A Christmas Carol" and "Have Yourself a Merry Little Christmas", Jay Mason's muscular baritone sax on "Little Drummer Boy" and Jeff Driskill's lithe tenor sax on "Let It Snow". A perfect stocking stuffer for the big band fan on your Christmas list. —THOMAS CUNNIFFE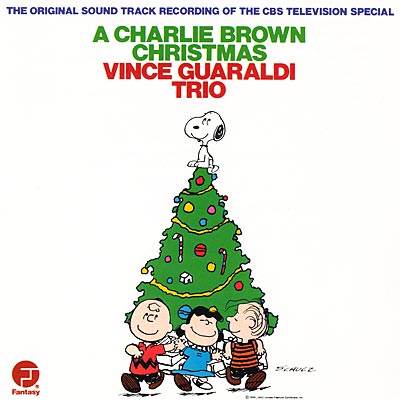 VINCE GUARALDI: "A CHARLIE BROWN CHRISTMAS" (Fantasy 34027)
This recording is a timeless classic! Vince Guaraldi grew up in the West-Coast San Francisco jazz scene. He was hired to score the first "Peanuts" television special for Charles Schultz in 1964. The initial program was never picked up, but Guaraldi recycled much of the score for the holiday classic, "A Charlie Brown Christmas". Tracks off of this recording are played regularly during the Holiday season, and the reasons for its popularity are evident. A sense of movement threads each piece together, flowing and propelling you forward to each track. You will find yourself humming along and infused with the child-like wonder of Christmas. This is definitely a CD to include in your special Christmas collection! [The 2012 reissue of this album features greatly improved fidelity, and 2 extra tracks, "Great Pumpkin Waltz" and "Thanksgiving Theme"—TC] —MARTI MENDENHALL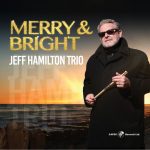 JEFF HAMILTON TRIO: "MERRY & BRIGHT" (Capri 74167)
Jeff Hamilton's memories of family holiday singalongs inspired his new instrumental album, "Merry and Bright". While there is nary a word sung on the entire CD, Hamilton counts on our shared memories to provide the lyrics to classics like "It's the Most Wonderful Time of the Year", "Santa Baby" and "Have Yourself a Merry Little Christmas". Yet, as always, Hamilton's trio arrangements offer many delights beyond familiar songs in swinging settings. On the opener, "The Holiday Season", pianist Tamir Hendelman contributes a block-chorded solo supported by Hamilton's powerful shuffle beat. Alfred Burt's "Caroling, Caroling" floats over a complex three-beat pattern created by Jon Hamar's agile bass lines and Hamilton's brilliant cymbals. "The Little Drummer Boy" is a natural choice for this group, but Hamilton pa-rum-a-pum-pums with his brushes so as not to wake the baby. Still, his subtly varied rhythmic patterns will hold the attention of careful listeners. Another Burt carol, "Bright, Bright, the Holly Berries" benefits from a marvelous setting, with a lush piano introduction and delicate counterpoint between Hamar and Hamilton. Later, "Here Comes Santa Claus" is transformed into a broken-time Latin setting (with spectacular drumming over the recurring vamps), while "O Tannenbaum" modulates through several keys in his relatively brief duration. This fine recital is perfect for late-night listening by the fireside.—THOMAS CUNNIFFE

HARMONIE ENSEMBLE, NEW YORK, STEVEN RICHMAN: "NUTCRACKER SUITES" (Harmonia Mundi 907493)
Most people have copies of Tchaikovsky's "Nutcracker Suite" in their music libraries, and many jazz fans have the Duke Ellington/Billy Strayhorn remake, but for those who don't (or who want a new version), the Harmonia Mundi CD "Nutcracker Suites" offers new recordings of both versions on the same disc. While there are no musicians that play on both versions, the entire album appears under the umbrella of Harmonie Ensemble, New York, and both are conducted by Steven Richman. The orchestral version is expertly played and fairly straight forward, but the jazz version, which features Lew Soloff, Art Baron, Bill Easley, Lew Tabackin, Scott Robinson, George Cables and Victor Lewis, offers several surprises for those familiar with the Ellington recording. Robinson's bamboo flute on "Arabesque Cookie" is the main diversion from the original Ellington instrumentation, but elsewhere the ensemble gets a distinctively Ducal sound, proving that what Strayhorn called "the Ellington Effect" was contained more within the scores rather than the individual sounds of the musicians. —THOMAS CUNNIFFE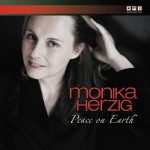 MONIKA HERZIG: "PEACE ON EARTH"
(Owl Studios 134)
In the liner notes to "Peace on Earth", Monika Herzig tells of her family Christmas celebrations in Germany, and of the culture shock she experienced as she celebrated her first American Christmas (the early appearance of Christmas trees; Santa's arrival on December 24, not the religious holiday of December 6; and the opening of presents on the 25th, not the night before). The music on "Peace on Earth" creates a panorama of holiday scenes, using a large collection of musicians from Indiana University (where Herzig teaches). After a boogie version of "Go Tell It on the Mountain", the central theme of the album is set with a trio version of "Let There Be Peace on Earth". Herzig's passionate piano brings life to this old favorite, whose message is more relevant than ever. "Coventry Carol" starts with unaccompanied brass but is soon reset as an up-tempo swing vehicle. Herzig contributes a fiery solo, followed with equal energy by Tom Clark's alto sax. Vocalist Wendy Reed and violinist Carolyn Dutton add a warm glow to Herzig's original "Children Sleep Softly". "This Little Light of Mine" is presented in a relaxed gospel groove. while John Lennon's "Happy Xmas" gets a flowing arrangement in 6/8 with solos by Herzig and her husband, guitarist Peter Kienle, and the addition of a small children's chorus (including at least 3 of Herzig's children). Two contrasting Herzig originals (the reflective "Give Peace Every Chance" and swinging "Ballad for a Snowman") precede a set of holiday favorites: "O Tannenbaum" in 5/4 time, a solo piano version of "Christmas Time is Here", and a gorgeous arrangement of "Silent Night" with Dutton in fine form. Herzig's sinewy original "Ode to a New Year" precedes the closer which combines "Santa Claus is Comin' to Town" with "The Schneebrunzer", a poem written and recited by Indiana's then-poet laureate, Norbert Krapf. —THOMAS CUNNIFFE
LAURENC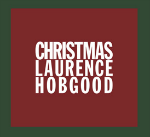 E HOBGOOD: "CHRISTMAS" (Circumstantial—no catalog #)
It's not easy to make a memorable Christmas album. It's a challenge to find fresh approaches to very familiar songs, and if you're a solo pianist, you also have to discover ways to maintain sonic variety. On his new CD, "Christmas", Laurence Hobgood has overcome these obstacles with great panache. For example, consider the fifth track here, "O Holy Night". Most jazz musicians won't even consider setting this piece, owing to its inherent pomposity and its unwieldy structure. However by emphasizing the arching melody and letting the phrases breathe, Hobgood turns this old warhorse into a tender paean to the newborn Jesus. Another Christmas song rarely performed as an instrumental, "The Twelve Days of Christmas," gets a wry reading in Hobgood's hands, with the pianist maneuvering into all 12 keys in the course of the performance. He overdubs electric piano on a few of the tracks, and on "Dance of the Sugar-Plum Fairy" the extra keyboard moves between a walking bass for Hobgood's acoustic improvisation, and a contradicting voice in the musical argument. Finally, on two tracks, Hobgood is joined by his former musical colleague, Kurt Elling, on beautifully realized versions of Joni Mitchell's "River" and Hobgood's own "Song of the Christmas Bells". A wonderful album, well worth seeking out.—THOMAS CUNNIFFE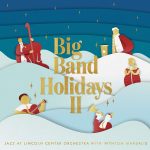 JAZZ AT LINCOLN CENTER ORCHESTRA: "BIG BAND HOLIDAYS" (Volume 1: Blue Engine 3; Volume 2: Blue Engine 20)
One of the highlights of the holiday season in New York City is the annual Yuletide program by the Jazz at Lincoln Center Orchestra, led by Wynton Marsalis. The two volumes of "Big Band Holidays" include highlights from Christmas concerts spanning from 2012-2018, and in addition to the superb instrumentalists, they include stunning performances from guest vocalists Cécile McLorin Salvant, René Marie, Gregory Porter (all Volume 1), Catherine Russell, Denzal Sinclaire, Veronica Swift, Audrey Shakir and Aretha Franklin (Volume 2). The band is in spectacular form, playing arrangements by current and former members Ted Nash, Victor Goines, Sherman Irby, Carlos Henriquez, Walter Blanding and Ali Jackson with great precision and vigor. Highlights include Nash's stunning charts on "We Three Kings" and "Rise Up Shepherd and Foller", Franklin's powerful solo on "O Tannenbaum", Henriquez' stunning reworking of "Brazilian Sleigh Bells", Marie's hilarious version of "Zat You, Santa Claus", and Porter's emotionally overwhelming "Merry Christmas Baby". If you love big bands and vocalists, you'll want to own both of these fine albums.—THOMAS CUNNIFFE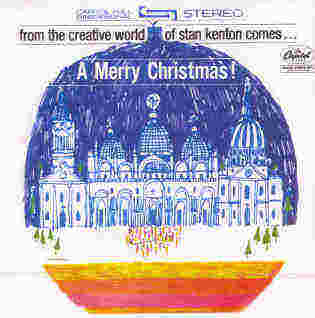 STAN KENTON: "A MERRY CHRISTMAS!" (Capitol 94451)
If you like your Christmas music big and brassy, you'll love Stan Kenton's "A Merry Christmas". With four trumpets, two each of tenor and bass trombones, four mellophoniums, tuba and rhythm section, the overtones are rich and the chords thick and juicy. Kenton only arranged the Christmas medley and a funereal "O Come All Ye Faithful", leaving the rest to Ralph Carmichael, an ordained minister and leader of several sacred albums (Carmichael also provided the lush orchestrations for Nat King Cole's "Christmas Song" LP). The only deterrent is the omnipresent sleigh bells, which turn up throughout, even on hymns like "Once in Royal David's City" and "Angels We Have Heard on High"! The album is currently out-of-print, but don't settle for the MP3 download; you need the CD to hear this music in its full glory. There were two CD editions: Capitol 84646 adds Maynard Ferguson's rare and swinging "Christmas for Moderns" medley, but Capitol 94451 has a stunning remix of the Kenton recordings (but no Maynard). Get the CD of the latter and crank up the volume for maximum enjoyment. —THOMAS CUNNIFFE

KRISTIN KORB: "THAT TIME OF YEAR" (Storyville 1014323)
The Danish word hygge describes a contented lifestyle based on simple pleasures. Bassist/vocalist Kristin Korb has been a Danish resident for several years, and from the opening notes of her holiday disc, "That Time of Year", it's clear that she has mastered the concept. A former student of Ray Brown, she sets irresistible grooves that swing without effort. She knows exactly what notes to play and she adds nothing that would detract from the feel. Her vocals are also sharply focused with a total lack of artifice. For example, Korb sings "That's What I Want for Christmas," a long-neglected song associated with Nancy Wilson. While Wilson's version was effective in its own way, her endless melismas clouded the lyric's message. Korb's straight-forward rendition reminds us that it is a love song with a simple emotion: that true love means more than extravagant gifts. Another unusual repertoire pick is the medley of "Up on the Housetop" and "Here Comes Santa Claus", which Korb invests with the giddy anticipation of a child on Christmas Eve. Korb slithers through "Santa Baby" with her rock-solid bass and Mathias Heise's sassy harmonica as sole accompanists. The rest of Korb's trio shines on Dave Frishberg's "Snowbound" as Snorre Kirk lays down a cushion with his brushes on snare while Magnus Hjorth plays a beautifully-constructed piano solo. Later, Korb scats an outstanding solo with fine melodic and harmonic development. The quartet also contributes two superb instrumental numbers which display their fine ensemble work, outstanding solo capability, and group swing (and if Korb's vocals weren't amazing enough, her rich-toned solo on "We Three Kings" reveals further wonders!) I must confess that this album was my first exposure to Ms. Korb, but I can assure you that her work will be featured in future issues of this website. —THOMAS CUNNIFFE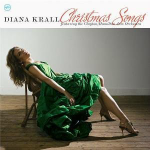 DIANA KRALL: "CHRISTMAS SONGS" (Verve 4717)
Collecting music from at least four different sessions, "Christmas Songs" is nonetheless a highly unified collection of holiday fare from Diana Krall. The majority of the tracks feature the Clayton/Hamilton Jazz Orchestra, and these find Krall at her most comfortable, playing and singing with more abandon than usual. She occasionally borrows from other singers (the "crazy about horses" line from Ella's "Jingle Bells", and a melodic paraphrase from Carmen's "Christmas Song"), but for the most part, she trusts her own imagination and creates original and swinging variations. John Clayton wrote all of the arrangements for the big band, and he got a beautiful rich sound from the group. Several of the band's soloists are featured, including Jeff Clayton, Tamir Hendelman, Gilbert Castellanos and Rickey Woodard. The remainder of the album features Krall with small groups (including Stefon Harris, John Clayton, Anthony Wilson, Jeff Hamilton and others) and with a large orchestra conducted and arranged by Johnny Mandel. All of the music is of extraordinarily high quality and the CD programming adroitly gives the album direction and variety. In short, a fine example of Diana Krall at her best.—THOMAS CUNNIFFE

ELISABETH LOHNINGER BAND: "CHRISTMAS IN JULY" (JazzSick 5050)
Any Christmas jazz album that starts with a quote from "Giant Steps" is bound to get your attention. Austrian vocalist Elisabeth Lohninger's CD "Christmas In July" does just that and then adapts Mel Tormé's "Christmas Song" to the changes of the Coltrane classic! Needless to say, it takes an adept imagination and razor-sharp ears to create such a unique juxtaposition, but Lohninger and her band pull it off admirably. Pianist Walter Fischbacher created this arrangement as well as most of the other tracks on the album. The carols come from all over the world and Lohninger's performances encompass nine different languages! (Translations may be found here). There are at least as many musical styles present, and the band, which also includes guitarist Axel Fischbacher (no relation to Walter), bassist Johannes Weidenmüller and drummer Ulf Stricker, plays everything from jazz to reggae to funk with great conviction. Axel's solo work ranges from hard-edged rock to straight-ahead jazz to acoustic folk, and Walter's linear piano solos sparkle with inventiveness. Weidenmüller is a fine duet partner for Lohninger on the intro to the French "Petit Papa Noël" and Stricker generates plenty of thunder, even when playing with brushes. Lohninger has an expressive voice with superb diction and excellent pitch (she teaches voice and ear training at the New School in New York, and it's obvious that she practices what she teaches!). Her scatting, while underutilized on this recording, is quite creative and tasteful. This album is not too "warm and fuzzy", but it is an excellent introduction to these fine musicians.—THOMAS CUNNIFFE

MANHATTAN TRANSFER: "THE CHRISTMAS ALBUM" (Columbia 52968)
For Tim Hauser, Janis Siegel, Alan Paul and Cheryl Bentyne, every nuance is perfection. Manhattan Transfer has the vocal intimacy that can only come from years of singing and performing together. The current group has been together since 1978, and has more than proved their quality with longevity. For "The Christmas Album," every song is a lush pleasure on the ears, and fills the heart to brimming with a cup of rich, hot chocolate cheer for the Holiday season. Johnny Mandel's arrangements add just the right amount of holiday warmth, and the tracklist includes a beautiful original "Christmas Love Song", a swinging "Santa Claus Is Comin' To Town" (with a vocalese to a Paul Desmond solo from the "Jingle Bell Jazz" album discussed below), and a collaboration with Tony Bennett on "Snowfall". This CD is perfect for spending a romantic day trimming the tree, or in the car on the way to Grandma's house. You'll find your fingers tapping the steering wheel in no time, or reaching across the seat to hold hands. Any way you slice it, this recording is swingin' fun and Christmas romance all in one.—MARTI MENDENHALL

JANE MONHEIT: "THE SEASON" (Epic 77711)
Released at nearly the same time as Diana Krall's "Christmas Songs", Jane Monheit's "The Season" aims at a wider audience with several holiday pop classics in the playlist, including Donny Hathaway's "This Christmas" and the Carpenters' "Merry Christmas Darling". There's also a fun new Santa song, "The Man with the Bag", which was used in a Target commercial around the time of the album's release. Monheit sings these songs and several wintertime staples with plenty of emotion (only going over-the-top with "My Grown-Up Christmas List", but nearly there on "Have Yourself A Merry Little Christmas"). On several of the tracks, she's backed by a fine orchestra with most of the arrangements written by Rob Mounsey, but on the tracks with her working combo of Michael Kanan (piano), Miles Okazaki (guitar), Orlando Le Fleming (bass) and Rick Montalbano (drums), she seems freer with the material, sounding extremely playful on "Sleigh Ride" and creating wonderful melodic variations on "Moonlight in Vermont". This album has been released in several formats, including a DualDisc version with a remix of the album, live performances and an interview on the DVD side.—THOMAS CUNNIFFE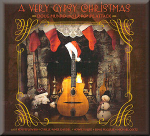 DOUG MUNRO & LA POMPE ATTACK: "A VERY GYPSY CHRISTMAS" (Got Music 2)
The legacy of the Quintet of the Hot Club of France has manifested into several "gypsy jazz" ensembles. Some, like the Hot Club of Detroit, have expanded the genre to include later compositions, while others seem content to re-create the duets of Stéphane Grappelli and Django Reinhardt night after night. Doug Munro's group, La Pompe Attack, seems to be somewhere in the middle. The repertoire includes music written after Reinhardt's death, and the arrangements are within the Hot Club style. His CD, "A Very Gypsy Christmas" was recorded live in the studio, and it features violinist Howie Bujese, clarinetist Ken Peplowski and vocalist Cyrille Aimée rotating in the spotlight backed up by guitarists Munro and Ernie Pugliese and bassist Michael Goetz. Bujese and Munro are both experienced players who play in many different styles, so it follows that both play within the style but have their own approaches to the models of Grappelli and Reinhardt. Peplowski's smooth clarinet is an effective contrast to the rough-hewn guitar of Munro and the two weave beautiful intersecting lines on "Have Yourself A Merry Little Christmas". Cyrille's cheery vocals and playful scat highlight "Santa Claus Is Comin' To Town". There is a clever arrangement of "We Three Kings" that alternates between triple and duple time, and even "O Come, O Come Emmanuel" is treated in a loping gypsy jazz arrangement. This is a fun, charming album worth picking up. —THOMAS CUNNIFFE

JOE NEGRI: "GUITARS FOR CHRISTMAS" (MCG Jazz 1014)
If you are of a certain age, the name Joe Negri should be familiar to you. He was best known as "Handyman" Negri on "Mister Rogers' Neighborhood", and that beloved television series also featured Negri as the owner of the neighborhood music store, the setting of many inspired jam sessions. Even before the series premiered in 1968, Negri was well-known as a superb jazz guitarist in his native Pittsburgh, and his association with Rogers' musical director, pianist Johnny Costa dated back to the mid-1950s. Negri is still an outstanding musician, and on "Guitars for Christmas", he pairs with another Pittsburgh guitarist, Marty Ashby for an invigorating recital of holiday favorites. Negri refashions "Santa Claus is Comin' to Town" as a cousin of both "Blue Monk" and "Jeru", and adds intricate counterpoint to "We Wish You a Merry Christmas" before easing into a Brazilian-tinged reading of Irving Berlin's "Happy Holidays". "Jingle Bells" modulates through several keys and notes Santa's arrival midway through the track. His arrangement of "Away in a Manger" uses both of the familiar melodies, and he brings out the mystic imagery in "I Wonder as I Wander". In addition to the traditional holiday fare, Negri includes Gerry Niewood's "Joy", the Italian Yuletide song "You Descend from the Stars", and an original, "In the Happy Long Ago". Whether you were first introduced to Joe Negri as a child or as an adult, this holiday album will warm your heart and inspire your soul. —THOMAS CUNNIFFE

NEW YORK VOICES: "LET IT SNOW" (Five Cent 1)
While "Let It Snow" was self-produced and distributed by the New York Voices, it sounds like a major-label album. There are big, lush arrangements for studio orchestra and big band, and a fine polish to the production. Yet, big productions have been a part of NYV albums since their beginning, and the group sounds very comfortable in these surroundings. Their lush (but oh-so-hip) four-part harmony is especially effective against the strings on the medley of "The Christmas Song" and "Christmas Time Is Here". The group pays tribute to the Modernaires with a sparkling version of David Rose's "Holiday For Strings" and offer a stylized interpretation of Bach on "Sleepers Wake". Each member of the group gets solo space through the album (notably, Peter Eldridge on "O Come All Ye Faithful", and Lauren Kinhan, Darmon Meader and Kim Nazarian in turn on "The Merry Medley"). But all of the best traits of the New York Voices come through when they sing together a cappella. The three unaccompanied tracks on "Let It Snow" ("O Come, O Come Emmanuel", "Have Yourself A Merry Little Christmas" and "Silent Night") are worth the price of the album by themselves. —THOMAS CUNNIFFE

CHRIS PASIN & FRIENDS: "BABY, IT'S COLD OUTSIDE" (Planet Arts 301714)
A veteran of the Buddy Rich and Toshiko Akiyoshi orchestras, trumpeter Chris Pasin approaches music with an accessible straight-forward style. Whether backing guest vocalist Patricia Dalton Fennell or playing an improvised solo, he presents his ideas with little artifice but great skill. The playlist on his holiday disc, "Baby, It's Cold Outside" includes many stalwarts from the standard repertoire, but the arrangements include their share of surprises. Perhaps the most notable is the title track, a vocal duet between Pasin and Fennell where the traditional roles are reversed. They turn the lyrics into an overlapping conversation, and Fennell plays the seductress with elan. The role reversal makes this version a little easier to take. Pasin sticks to trumpet and flugelhorn for the rest of the album, offering a stunning duet on "O Come, O Come Emmanuel" with pianist Armen Donelian, an intriguing arrangement of "It Came Upon the Midnight Clear" (with fine solos by Pasin and guitarist Peter Einhorn), and a mixed meter treatment of "I'll Be Home for Christmas". This album is an excellent addition to a holiday jazz music mix. —THOMAS CUNNIFFE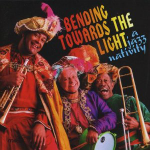 ANNE PHILLIPS (composer): "BENDING TOWARDS THE LIGHT" (Milan 35770)
At the outset of Anne Phillips' "Bending Towards the Light", narrator Charles Kuralt notes the appropriateness of interpreting the Nativity in the medium of jazz: It is a very spiritual story and jazz is a very spiritual music…What you will hear comes straight from the heart. As Bob Kindred intones the familiar tune of "Silent Night" on tenor sax with a trio of female voices and a jazz rhythm section, the tone is set for a remarkable coupling of the sacred and secular worlds. Phillps and Kindred created most of the arrangements on the album, and include their fine originals "One Star", "Softly Falls the Gentle Night" and the title composition alongside familiar carols. As the work progresses, soprano Maeretha Stewart adroitly handles the narrative of the story, with the New York Voices offering antiphonal responses, and an ad-hoc group called The Jazz Choir providing the glorias and hosannas. Gail Wynters offers a compelling performance as the Virgin Mary, Jackie Cain and Roy Kral are perfectly cast as guardian angels, and Jon Faddis, Tito Puente and Jimmy Slyde are spectacular as the Three Kings. However, once the story is told, the composition quickly loses its focus as the musicians engage into a 23-minute jam on "Deck the Halls". While this extended track offers solo opportunities for many more great jazz musicians, including Lew Soloff, Bill Mays, Jerry Dodgion, Virginia Mayhew, Tim Horner, Al Grey, Benny Powell, Toots Thielemans, Clark Terry, Adam Makowicz, Urszula Dudziak, Paquito d'Rivera and Lionel Hampton, the free-for-all eventually dims the overall effect of the work. Still, this unique recording (compiled from three different live performances) offers a superb memorial to those jazz greats who are no longer with us. —THOMAS CUNNIFFE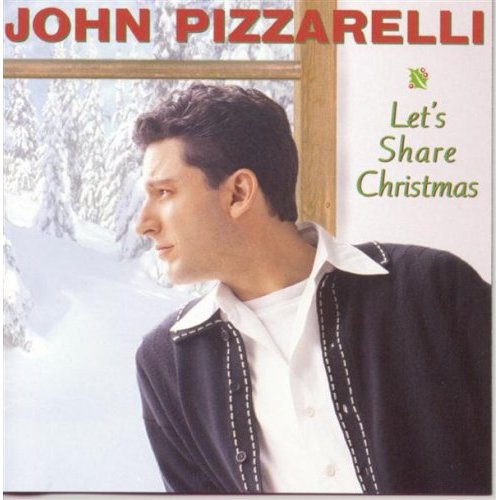 JOHN PIZZARELLI: "LET'S SHARE CHRISTMAS" (RCA 66986)
John Pizzarelli's love of classic jazz came through the musical passions of his father, Bucky Pizzarelli. "Let's Share Christmas" features arrangements by Clare Fischer, Michel Legrand, Ralph Burns and Johnny Mandel and the swinging sounds of the Clayton/Hamilton Jazz Orchestra. The album is highlighted by John's vocal and instrumental styling of tunes such as "White Christmas", "Sleigh Ride", and "Snowfall", but also includes a delightful original "Santa Claus Is Near". His smooth tenor vocals take you down memory lane with a swingin' Christmas style that is perfect for trimming the tree or taking a romantic ride for two in the nearest sleigh. This recording is a keeper, and a great way to keep the romance of Christmas alive and well this time of year.—MARTI MENDENHALL


SUE RANEY: "CHRISTMAS LADY" (Fresh Sound 5504)
While vocalist Sue Raney has been a part of the LA jazz scene for many years, "Christmas Lady" is her first holiday disc. Except for the idyllic title track, most of the songs are familiar pop Christmas standards. However, the arrangements (mostly by pianist/clarinetist Tom Ranier) offer new approaches to songs like "It's the Most Wonderful Time of the Year," "Silver Bells" and "We Need a Little Christmas". Raney's voice is agile and flexible on the up-tempo numbers, and warm and inviting on the ballads (she sounds wonderful when surrounded with strings on Johnny Mandel's "Christmas Love Song" and Jule Styne's "Christmas Waltz"). Two of the album's highlights come near the end: a delightful samba treatment of "I'll Be Home for Christmas" and a luminous vocal/piano duet on "Silent Night". On this highly satisfying CD, Raney is ably supported by Carmen Fanzone (flugelhorn), Gayle Levant (harp), Larry Koonse (guitar), Trey Henry (bass) and Dick Weller (drums). —THOMAS CUNNIFFE

THE REAL GROUP: "EN RIKTIG JUL" (Gazelle 1018)
The Real Group is a Swedish a cappella quintet that has "been in development" for 27 years. Initially inspired by Bobby McFerrin, they have become international favorites with their challenging settings of "Chile con Carne" and "A Cappella in Acapulco." Their Christmas album, "En Riktig Jul," was released in 1997. Listeners may shy away from this recording in Swedish, but the crystal clear vocal harmony, fused with Christmas songs popular in any language, makes this a highly intriguing holiday offering. You will readily recognize versions of "Silent Night", "Lo How a Rose E'er Blooming" and "Santa Lucia". The perfect blend and thick harmonies of these arrangements are a pleasure to hear! This foray through a culture rich in musical history, including many traditional Swedish carols, may well become your new shelf favorites.—MARTI MENDENHALL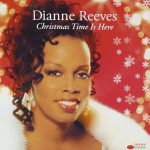 DIANNE REEVES: "CHRISTMAS TIME IS HERE" (Blue Note 73344)
Dianne Reeves' beautifully realized holiday album "Christmas Time is Here" is a modern Yuletide classic. Using a fine instrumental team built around her rhythm section of Peter Martin (piano), Reuben Rogers (bass) and Gregory Hutchinson (drums), and featuring Steve Wilson (saxophones), Joe Locke (vibes), Romero Lubambo (guitar), Munyungo Jackson (percussion) and the Sirius String Quartet, Reeves presents a unique program which mixes lesser-known gems like "Christ Child's Lullaby", popular standards like "Let it Snow" and re-imagined warhorses like "Little Drummer Boy" and "Carol of the Bells". Reeves' supreme confidence and outstanding musicianship serve her well throughout the album, but especially on the brilliantly unfolding arrangement of "A Child is Born" which includes a surprising modulation and a seemingly boundless flow of energy. As a whole, the album benefits from outstanding programming, with the songs sequentially examining various aspects of the holiday season (Epiphany, the season, the Nativity, etc.) Highly recommended!—THOMAS CUNNIFFE

TED ROSENTHAL: "WONDERLAND" (Playscape 62713)
In addition to being one of the best accompanists in jazz today, Ted Rosenthal is also an accomplished leader of his own groups. He has recorded several fine albums on the Playscape label, and his holiday offering "Wonderland" is no exception. As on his previous recordings, Rosenthal makes the most familiar material fresh and unique through his adventurous arrangements. In his hands, "Angels We Have Heard On High" becomes a fast and tightly-swinging bop piece, Tchaikovsky's "Dance of the Reed Flutes" are relocated to Havana, Santa Claus comes to town with the blues, and "Winter Wonderland" finds a deep swinging groove. In addition to Rosenthal's sparkling piano, the album includes his longtime bassist Noriko Ueda, who displays extraordinarily good pitch and superb note choices, and drummer Tim Horner, whose brush work is exemplary throughout, but especially noteworthy on "Angels". I suppose this album could be played as background music for holiday activities, but it deserves close listening for its fine solos and imaginative settings.—THOMAS CUNNIFFE



MARIA SCHAFER/SHANE SAVALA: "CHRISTMAS IN THE CITY" (Marsch Music 2)
The new holiday EP, "Christmas in the City" from LA-based vocalist Maria Schafer and guitarist Shane Savala is an understated recital which focuses on lyrics rather than extravagant solo flights. Meredith Willson's "It's Beginning to Look a Lot like Christmas" is performed in an easy swing, and Schafer deftly paints the picture of a city preparing for the holidays. The original song, "Shape Your Light" tells of the developing spirit of a child. While it's not precisely related to the holiday season, it fits well within the optimistic spirit of the album. While the music associated with sunny Brazil seems anachronistic for "Let it Snow", the samba feel from Savala's guitar is a good rhythmic match to Schafer's carefree rendition. I've always liked hearing "White Christmas" in a swing tempo and Schafer finds the same easy groove as Ella Fitzgerald did nearly 60 years ago. In the final chorus, she creates a fine variation on Irving Berlin's melody. The final three songs are all related to the New Year: "Brings Me Back" is an original which speaks of the changes that can occur over a year and how unpredictable our lives can be; "Happy Xmas" is the familiar John Lennon/Yoko Ono anthem (and a song which seems to resist any sort of alternative interpretations); and Frank Loesser's "What Are You Doing New Year's Eve?" closes the album on a poignant note, featuring a rubato arrangement which lets the song's message come through with distinct clarity. Both of these young musicians have maturity that belies their youthful appearances. Expect great music from them in the coming years. —THOMAS CUNNIFFE

WILL SCRUGGS JAZZ FELLOWSHIP: "SONG OF SIMEON: A CHRISTMAS JOURNEY" (self-produced)
The mixture of sacred music and jazz is not a new idea, but rarely has the mix worked as well as on Will Scruggs' new Christmas suite, "Song of Simeon". Based on a collection of contemporary and traditional carols, Scruggs offers a perfect balance between religion and improvisation, keeping the focus on the traditional Nativity story but still allowing extended solos. Scruggs (tenor and soprano sax) features his post-bop sextet Jazz Fellowship throughout: Brian Hogans (piano), Dan Baraszu (guitar), Tommy Sauter (bass), Marlon Patton (drums) and Kinah Boto Ayah (percussion). He augments the group with a 8-piece horn ensemble on several tracks and adds guest trumpeter Joe Gransden on the first part's closer, "Go Down Moses". Although this is a completely instrumental composition, Scruggs wisely included the lyrics to each piece within the liner notes, which helps the listener follow the various treatments of the familiar story. Based in Atlanta, Scruggs deserves nationwide attention for this superb fusion of theology and music.—THOMAS CUNNIFFE

SINGERS UNLIMITED: "CHRISTMAS" (MPS 211 600)
One of the true classics of the Christmas jazz discography, "Christmas" was also the very first album by Gene Puerling's Singers Unlimited, and the only one of their albums not recorded in the Black Forest of Germany. Recorded in Chicago in 1967, it was designed as an audio Christmas card for the advertisers for which Puerling and his fellow vocalists Bonnie Herman, Don Shelton and Len Dresslar had recorded commercial jingles. Only a few of the tracks include the rich harmonies and multi-track recordings by which the group would become famous; the rest of the program consists of exquisite versions of classic carols like "While By My Sheep", "Joy To The World" and the "Wassail Song" as well as a half-dozen of the Alfred Burt carols, mostly sung in their original settings. The album also includes a charming arrangement of "Good King Wenceslas" (with Dresslar perfect in the title role and Shelton as the page), and a stunning versions of "Coventry Carol" and "Carol of the Russian Children" both featuring Herman's glorious lead soprano. In addition to being beloved by vocal jazz fans, this album also appeals to those who appreciate fine holiday music in any form. The newest edition is exquisitely remastered. —THOMAS CUNNIFFE


JO STAFFORD: "HAPPY HOLIDAYS/I LOVE THE WINTER WEATHER" (Corinthian 114)
In the mid-1950s, Jo Stafford was riding a tide of artistic and popular success. In addition to her best-selling recordings for Columbia, she was also a welcome and regular fixture on television. The two albums reissued on the CD "Happy Holidays/I Love the Winter Weather", 1955's Christmas LP "Happy Holiday", and the following year's winter-themed "Ski Trails", are like an audio version of a TV variety show. While Stafford is featured on most of the tracks, she has the good taste to let her guest artists perform pieces on their own. For example, the men of the Norman Luboff Choir sing the glee club favorite "Hanover Winter Song" by themselves before collaborating with Stafford on "The Whiffenpoof Song". The studio orchestra led by Stafford's husband, Paul Weston, plays a fine adaptation of "March of the Toys" and a very good (but uncredited) children's choir performs "O Little Town of Bethlehem", before Stafford's and Weston's young son Tim encourages his mom to join in on "Silent Night". Elsewhere, Stafford shows her brilliance as a lead vocalist as she performs "It Happened in Sun Valley", "Winter Wonderland" and "Baby, It's Cold Outside" with the vocal group, the Starlighters. Backed by just the orchestra, Stafford shines on honey-warmed versions of "Moonlight in Vermont" and "The Nearness of You". These albums are forgotten classics, and they sound better than ever on this newly remixed disc. Get yourself a copy.—THOMAS CUNNIFFE

CHRIS STANDRING/KATHRIN SHORR: "SEND ME SOME SNOW" (Ultimate Vibe 4)
Here's a great idea that bears repeating: a collection of 10 brand-new Christmas songs written in the classic style with intelligent lyrics, catchy melodies and understated arrangements. Guitarist Chris Standring and vocalist Kathrin Shorr have created a winning folio of delightful songs and on their album "Send Me Some Snow" they perform alongside talented sidemen including pianist Mitchell Forman, bassists Larry Steen and Dan Lutz, harmonica/woodwind specialist Dino Soldo, and drummer David Karasony. The arrangements and production are first-rate, but they are mere backgrounds to the songs themselves, which Shorr delivers with an elastic, rough-on-the-edges, soulful sound. All of the lyrics are secular, and while some of the lyrics echo familiar holiday themes, Standring and Shorr's best efforts come when they take on an alternative perspective. Such is the case with "Dear Santa", which may be the first Christmas song to take the viewpoint of Mrs. Claus, who has the same wish every year: to be with her man on Christmas Eve. This album should be required listening for any musician planning a holiday CD. I hope that several of these new Christmas gems turn up on other holiday albums in the coming years.—THOMAS CUNNIFFE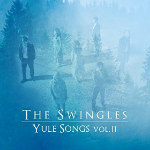 THE SWINGLES: "YULE SONGS, VOLUME II" (Swingle Singers 26)
Over the course of their 50-plus years, The Swingle Singers have recorded several fine Christmas albums, starting with the 1968 Philips LP "Noëls Sans Passeport" ("Christmas without a Passport"). As the title implies, the album includes holiday music from all over the world. Most of the songs are familiar and each is performed in compact arrangements of one or two choruses. With the exception of "White Christmas" and "Silent Night", all of the tunes are connected in two- or three-song medleys. Ward Swingle wrote all of the arrangements, adding Bach-like counterpoint to "Jingle Bells", lush harmonies to "White Christmas", and big-band styled shout choruses to "God Rest Ye Merry Gentlemen". The Swingles' newest holiday offering, "Yule Songs, Volume II" shows how far the group has progressed. While they acknowledge their long tradition by including one of Ward Swingle's arrangements from the the 1968 LP, plus charts by the late John Dankworth and by Swingle's successor as musical director, Jonathan Rathbone, the best moments on "Yule Songs II" come when the group expands its style through live digital looping and progressive arrangements of their own. Kevin Fox's setting, "TIdings" was inspired by an unusual reharmonization of "God Rest Ye Merry Gentlemen" heard on a carousel near Hampton Court Place (the original sound of the carousel is sampled within the track). Clare Wheeler's "With Us" captures three separate, but interconnected, holiday tableaux connected with repeated music box motives and enhanced with looped vocals. Kurt Elling brings his warm, expressive voice to Ed Randall's evocative original "The Thaw", and the Swingle men are featured on Oliver Griffith's drinking song "Forgotten". My favorites among the new arrangements appear near the end of the disc: Joanna Goldsmith-Eteson's imaginative pairing of "We Three Kings" with Tchaikovsky's "Arabian Dance", and Randall's peaceful original "Wrapped in White". Neither soprano Sara Brimer nor outgoing tenor Christopher Jay provided original pieces for this album, but each are featured in solo spots, Brimer on Rathbone's "Silent Night" and Jay on "Forgotten".—THOMAS CUNNIFFE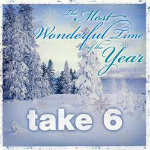 TAKE 6: "IT'S THE MOST WONDERFUL TIME OF THE YEAR" (Heads Up 3158)
When Take 6 made their first album in 1988, they were noteworthy for their staunchly religious music and their commitment to a cappella group singing. Take 6's brilliant arrangements expanded the horizons of a cappella music beyond the significant innovations of Gene Puerling. While some of their earlier concerts seemed preachy, it was impossible to deny the group's dedication to its faith. Over the years, Take 6 has relaxed both of these aspects. Although they continued to produce remarkable music with instrumental accompaniment, there is still nothing quite like hearing Take 6 unaccompanied. "It's the Most Wonderful Time of the Year" is the group's third Christmas CD, and while most of the tracks are secular, it's great to hear them sing a cappella again. There are fine versions of the title tune, "Sleigh Ride" and "White Christmas", along with richly-textured settings of the Christmas hymns "It Came Upon a Midnight Clear" and "I Saw Three Ships". The best moments, however, appear on "You're a Mean One, Mr. Grinch", where Claude McKnight and Alvin Chea take turns on the low bass lead, and a delightful re-casting of Tchaikovsky's "Dance of the Sugar-Plum Fairy" (here re-named "Sugarplum Dance"). Take 6's earlier holiday albums, "He is Christmas" and "We Wish You a Merry Christmas" can be purchased as made-on-demand CD-Rs from Amazon. Their newest album, "One" returns to both their a cappella and sacred roots. —THOMAS CUNNIFFE

DOUG WEBB: "HOME FOR CHRISTMAS" (Rhombus 6007)
As comfortable as a favorite sweater, saxophonist Doug Webb's CD "Home for Christmas" covers several familiar songs of the season. Webb's way of spinning out long improvised lines and the lyric, singing quality of his tone (especially on tenor) makes this album a fine match of musician and material. For most of the album, Webb uses his tightly swinging quartet with pianist Corey Allen, bassist Kevin Axt and drummer Roy McCurdy, but on four tracks, he adds a 24-piece orchestra. Allen's orchestral charts leave plenty of room for improvisation while displaying his finely-tuned sense of instrumental color. Webb finds great opportunities within these pieces, whether soaring over the strings on the final chorus of "Have Yourself a Merry Little Christmas", discovering new depths to the Carpenters' "Merry Christmas Darling" or riding over the irresistible groove on "The Christmas Waltz". While the music on this disc is not particularly challenging for the listener, it works well on its own or as part of a holiday instrumental mix for tree-trimming, gift-giving, or general Yuletide gatherings.—THOMAS CUNNIFFE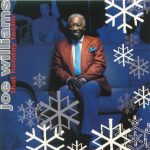 JOE WILLIAMS: "THAT HOLIDAY FEELING" (Verve 843 956)
A warm and fuzzy holiday release from 1990, Joe Williams' "That Holiday Feeling" is a relaxed, swinging collection of Yuletide favorites. Williams' laid-back phrasing makes "Winter Wonderland" the coolest of sleigh rides, and the calypso groove on "Kissing by the Mistletoe" will likely inspire a group conga line! He brings sweet tenderness to "A Child is Born", and deep earnestness to "What are You Doing New Year's Eve?". The latter track is one of three duets featuring Ellis Larkins, and the fine chemistry between Williams and the pianist makes it all the more tragic that both men have died in the intervening years. In addition to these two giants, the album also includes fine performances by the late Clark Terry, Joe Wilder, Al Grey, Seldon Powell and Ted Dunbar. The supporting band also includes Norman Simmons, Kenny Burrell, Paul West, Dennis Mackrel and Bobby Watson, who continue to uphold the fine jazz traditions found on this lovely holiday album. —THOMAS CUNNIFFE

"MATT WILSON'S CHRISTMAS TREE-O" (Palmetto 2144)
Matt Wilson's deep, dark sense of humor is evident throughout "Christmas Tree-O", especially in its unorthodox playlist. This CD may contain the only instrumental jazz versions of "You're A Mean One, Mr. Grinch" and "Mele Kalikimaki", and certainly the strangest rendition of Handel's "Hallelujah" chorus ever committed to disc. Yet, for all the inspired zaniness on the jacket and on the disc, there is solid musicianship throughout the recording. Playing tenor and soprano sax, as well as clarinet, bass clarinet, piccolo and toy piano (!), Jeff Lederer takes the lion's share of the solos, balancing his improvisations between straight-ahead blowing and wild free rants. Wilson augments his drum kit with sleigh bells and timpani, and juxtaposes the crisp sound of his snare with the highly melodic pitches of his tom-toms. Bassist Paul Sikivie provides solid support throughout, with effective arco playing in the stunning medley of Albert Ayler's "Angels" and the carol "Angels We Have Heard On High", and a bouncy two-beat in the klezmer-gone-wild "Mele Kalilimaki". The arrangements by Lederer and Wilson rethink classic songs like "Christmas Time Is Here" and "O Come, O Come Emmanuel" to surprising and delightful effect. Wilson's liner notes recommend playing the disc while cooking, decorating or motoring to Grandma's house, but in truth, this disc is best saved for the hippest of your holiday friends.—THOMAS CUNNIFFE
SINGLES, COMPILATIONS AND ISOLATED TRACKS—THOMAS CUNNIFFE
"Come Spend Christmas With Me" was written by Larry Goldings and Cliff Goldmacher, especially for vocalists Jane Monheit and Sara Gazarek, and it contrasts the holiday season in Los Angeles (Gazarek) and New York (Monheit). Gazarek and Monheit achieve a great vocal blend (their voices are more similar than you might think) and the song is well-written and quite romantic. Another holiday single comes from JHO contributor Marti Mendenhall. "Here I Am Home," tells how the symbols of Yuletide can make you feel at home, even if you're miles away from your loved ones. So download several copies of these tracks–and please be legal about this–to share with family and friends. They are excellent digital stocking stuffers.
Virtually every label has issued a holiday jazz sampler or two, but few have been as artistically successful as Columbia's 1962 "Jingle Bell Jazz". The original LP fetches high prices on ebay, but the 1980 LP reissue is fairly easy to find and usually affordable (Avoid the CD, which does not include some of the best cuts from the original album). The LP includes a mightily swinging "Jingle Bells" by Duke Ellington, a sassy "Santa Claus Is Comin' To Town" by Dave Brubeck (with a classic solo by Paul Desmond), a mystical "We Three Kings" by Paul Horn (the link is for a TV broadcast version of the same arrangement), a deeply cynical "Blue Xmas" by Miles Davis and Bob Dorough, and the bopping "Deck Us All With Boston Charlie" by Lambert, Hendricks and Ross. Nearly as good is the first "Concord Jazz Christmas" CD with Karrin Allyson's atmospheric mixed meter rendition of "Coventry Carol", Marian McPartland's sparkling "God Rest Ye Merry Gentlemen", Ken Peplowski and Howard Alden's delightful version of "Winter Wonderland" and Susannah McCorkle's touching "The Spirit of Christmas". "Yule Struttin': A Blue Note Christmas" is a mixed bag, highlighted by Dianne Reeves' version of the prev

iously unheard Thelonious Monk song, "A Merrier Christmas" and Count Basie's rollicking "Jingle Bells". The 1996 Verve collection, "Jazz for Joy" was recorded when the label had a strong jazz roster, including Shirley Horn, Betty Carter, Abbey Lincoln, Roy Hargrove, Stephen Scott and Christian McBride. The album includes superb arrangements by Don Sickler, and very good performances by all of the principals. Verve's latest holiday compilation is the two-volume "Joyful Jazz". The vocal album is stronger than the instrumental one, with several rare tracks including Peggy Lee's "Peace on Earth" (from her score to "Lady and the Tramp"), the Judy Holliday/Gerry Mulligan track "It Must Be Christmas" and Norah Jones' solo version of "Peace". The instrumental album includes commercial fare from the Cadet and GRP labels, and a horrid musak-style version of "I've Got My Love to Keep Me Warm" featuring Oscar Peterson! The latter track was unreleased before this issue; it should have stayed that way.
The Hot Club of Detroit's hilarious version of "The Chipmunk Song" can be heard on Mack Avenue's "Jazz Yule Love II" and Nat King Cole's very first version of "The Christmas Song" (without strings) is included on Rhino's "Billboard Greatest Christmas Hits, 1935-1954". Louis Armstrong's delightful reading of "The Night Before Christmas" (which turned out to be his final recording) is part of LaserLight's Armstrong holiday compilation, "Christmas Through The Years".
Several memorable holiday recordings have been included on non-holiday albums. Charlie Parker's unique arrangement of "White Christmas" was preserved from a Christmas 1948 broadcast and is part of "The Complete Live Performances on Savoy". Dexter Gordon recorded "The Christmas Song" on his 1970 album, "The Panther" and 17 years later, he played on Tony Bennett's version of "White Christmas" from the album "Bennett/Berlin". Mel Tormé recorded several versions of his classic "The Christmas Song", but he never did it better than in a Japanese concert with the Marty Paich Dek-tette. The Modern Jazz Quartet recorded several versions of John Lewis' "England's Carol" (based on "God Rest Ye Merry Gentlemen"), but my favorite is the 1974 "Last Concert" recording. Roseanna Vitro recorded Steve Allen's "Cool Yule" twice, once on Marian McPartland's "Piano Jazz" and on her Allen tribute, "The Time of My Life". The latter version can be heard on the attached player, courtesy of Ms. Vitro.