Please scroll down for earlier entries.
Sometimes, life gets in the way of the things we love most. A few months ago, I received announcements about the two concerts below, and I knew that I wanted to attend both events. Unfortunately, a number of obstacles made it impractical for me to travel at the end of July, so I decided to use the live stream options provided by each venue. When I wrote about streaming about 10 years ago, I was quite disappointed in the technical quality of the videos, and the seemingly random placement of cameras. The pandemic forced the clubs to improve the artistic and technical qualities of their video feeds. For the concerts reviewed below, I was pleased to see the performances captured with multiple cameras (with someone directing and assembling the shots in real-time) and stereo sound. It was not the same as being there (nor was it "better than live" as the marketing departments would have us believe) but it was a viable alternative to enjoy the performances without the hassles of travel.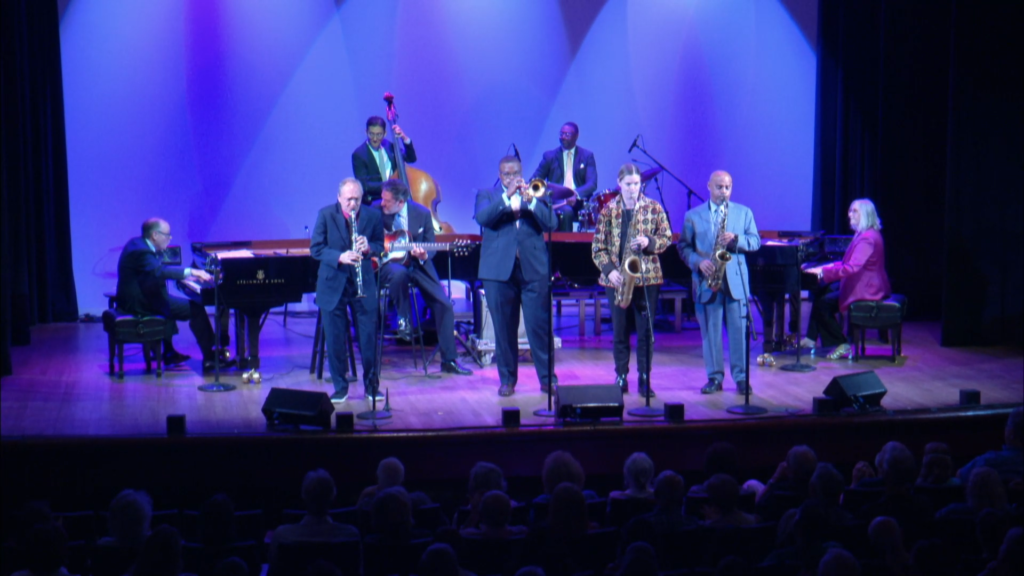 ARTIST: Jazz in July All-Star Jazz Party|
VENUE: 92nd Street Y; New York City
DATE: July 27, 2023
PERSONNEL: Jeremy Pelt (tp); Ken Peplowski (cl); Steve Wilson (as); Nicole Glover (ts); Bill Charlap, Renee Rosnes (p); John Pizzarelli (g,v); David Wong (b); Dennis Mackrel (d).
For one of his final concerts as artistic director of Jazz in July at New York's 92nd Street Y, Bill Charlap threw an all-star jazz party and invited us all to listen. It wasn't a history of jazz, but at times, it felt like one. Charlap adapted with his surroundings, playing stride piano behind John Pizzarelli's vocals, pulsating Brazilian rhythms in a two-piano duet with his wife, Renee Rosnes, straight-ahead bebop to the inspired frontline of Jeremy Pelt and Nicole Glover, outrageous avant-garde gestures in the coda of a slow blues, and sensitive Bill Evans voicings in a trio version of "Some Other Time". Glover scaled back her adventurous style for most of the evening, settling into a lean bop tenor groove for most of her solos, but she moved into Coltrane-styled incantations in the midst of Rosnes' Brazilian original "Life Does Not Wait". That same piece featured Ken Peplowski, who looked thinner after a tough season of medical issues. Rosnes' long and intricate melody and open harmonic structure would challenge any instrumentalist, and Peplowski showed that he was up for the test. Admittedly, the clarinetist was more comfortable with the straight-ahead swingers, and an early highlight of the concert was the energetic pairing of Pizzarelli and Peplowski on "Three Little Words". The two friends clowned around before starting the tune, and Charlap compared them to Statler and Waldorf, the old hecklers from "The Muppet Show"! The bearded Pizzarelli has let his maturity inform his vocal interpretations. His reading of "It Had to Be You" (with the verse) was nuanced and sensitive. Jeremy Pelt was in brilliant form all night, whether complimenting Pizzarelli's vocals with soulful wails or playing solid leads for both the bop quintet and the blues jam. After a few reed problems, Steve Wilson delivered a glorious version of Johnny Mandel's "A Time for Love" (with tender support from Rosnes) and later, he served up the grits 'n' gravy on an extended version of "Things Ain't What They Used to Be". Bassist David Wong and drummer Dennis Mackrel were acknowledged by Charlap after every appearance, and they were appreciated by the audience and musicians for their strong and flexible support. Wong had two fine solo spots in the concert, and Mackrel displayed his melodic gifts during his drum improvisations.
Most jazz parties stretch out over a long summer weekend, allowing each ensemble to play full sets. Because this party was contained within a tidy 95 minutes, we only heard one tune apiece by the various groups. It would be wonderful to hear an hour of the Charlap/Rosnes piano duets, a collection of Kenny Dorham compositions played by Pelt, Glover, Charlap, Wong, and Mackrel, or more inspired hijinks between Peplowski and Pizzarelli. An extended event might not have fit within the 92nd Street Y's concert schedule, but why not mount a full-fledged jazz party on the East Coast next summer? Jazz parties are great getaways for jazz fans, and the interactions between the artists can be very rewarding. At a Vail Jazz Party many years ago, Renee Rosnes and Russell Malone performed a wonderful set featuring lesser-known standards. There were bigger events that weekend, but I still remember that wonderful hour of music. How about an encore?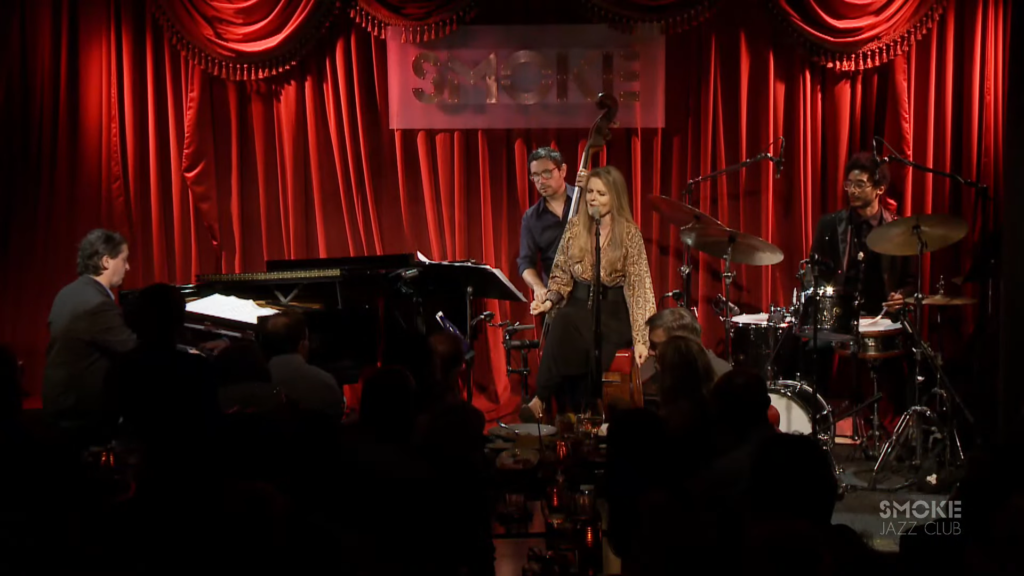 ARTIST: Tierney Sutton
VENUE: Smoke Jazz Club; New York City
DATE: July 29, 2023
PERSONNEL: Tierney Sutton (v); Tamir Hendelman (p); Ricky Rodriguez (b); Orion Turre (d).
Tierney Sutton's four-night engagement at Smoke Jazz Club marked her first appearance at the upper Manhattan nightspot. In keeping with her current practice, she did not travel with her tight LA band, opting instead for hand-picked free-lance musicians. She did bring along several of her complex arrangements, and throughout her sets, she complimented pianist Tamir Hendelman, bassist Ricky Rodriguez and drummer Orion Turre for their precise and exciting realizations of those scores. Hendelman is one of the finest accompanists on the West Coast, and while he usually dazzles audiences with his phenomenal technique, his backing of Sutton's vocals was spare and thoughtful. Rodriguez is a brilliant player who draws a deep rich tone from his bass on ballads, and is remarkably nimble-figured on up-tempo jaunts—including the odd-metered Sting original, "Walking in Your Footsteps". Turre is a second-generation jazz musician, the son of Steve Turre and Akua Dixon (both of whom came to the club to support their talented offspring). I couldn't see any sheet music on his music stand, but Turre hit every set-up and all of the various punctuations in Sutton's charts, and added a great variety of colors with brushes and sticks. This talented young man has a bright future in this music.
On to our leading lady, who continues to amaze and inspire musicians and audiences in a career which—as she reminded us—has been going on for over two decades. In her spoken introduction to "Something Cool", she mentioned that she made her recording of the song just over two decades ago. Sutton hinted that she was a little too young to perform the song back then (although June Christy was just about the same age when she recorded it in 1953) but she felt that in 2023, she had a deeper understanding of the song's first-person narrator. With Hendelman offering just the right amount of support, Sutton performed a definitive version of the song, detailing the character with subtle shading of her voice, and rendering the lyric with a melancholy air and more than a little taste of regret. Yet, this was not a night of tear-jerking ballads. A brilliant three-song suite from "My Fair Lady" included a sassy take on "Wouldn't It Be Loverly?" (with altered lyrics reflecting the stifling late-July heat), a drawn-out exploration of "I've Grown Accustomed to His Face", and a sharply-articulated rendition of "Show Me". The latter opened with a wordless chorus of one of Bob Dorough's favorites, "Better Than Anything" and later she came back to Dorough's world for a burning version of his original, "Devil May Care" with exciting solos by Sutton and the trio. Another high point came right after the "My Fair Lady" suite with the Johnny Mandel/Dave Frishberg collaboration, "You Are There". In her spoken introduction, Sutton mentioned that the song was about our loved ones who have passed away. Her intense reading of the lyric reminded us that Mandel and Frishberg were among those dear, departed friends. The set was bookended with two songs related to childhood: the Michel Legrand/Alan Bergman/Marilyn Bergman collaboration, "Make the World Your Own" (part of an upcoming collection of lullabies) opened the set, and a transcendent "I've Got No Strings" (from "Pinocchio") left the audience on a cloud of musical perfection.
Sutton has posted a few clips from this engagement on YouTube. That should be a good sign that she will return to the club in coming seasons. Try to catch her live performances whenever you can. She is a treasure.
The Manhattan Transfer at Sony Hall, June 9, 2023. L-R: Cheryl Bentyne, Janis Siegel, Alan Paul, Trist Curless. Photo by Thomas Cunniffe.
ARTIST: The Manhattan Transfer
VENUE: Sony Hall, New York City
DATE: June 9, 2023
PERSONNEL: Cheryl Bentyne, Janis Siegel, Alan Paul, Trist Curless (v); Yaron Gershovsky (p,kyb); Pete McCann (g); Boris Kozlov (b); Ross Pederson (d) with guests Laurel Massé (v); Bruce Vilanch, Jim Caruso (mc) and the DIVA Jazz Orchestra: Barbara Laronga, Jami Dauber, Kellin Hanas, Emma Stanley (tp); Jennifer Krupa, Alevtina Wilcox, Leslie Havens (tb); Scheila Gonzalez, Pureum Jin, Laura Dreyer, Jade Elliott, Leigh Pilzer (r); Norika Ueda (b); Sherrie Maricle (d,perc).
After performing "Blue Champagne" at Sony Hall last Friday, Janis Siegel said, "When we sang that arrangement for the first time in 1972, we told each other, That sounds pretty good. Why don't we keep doing that for the next 50 years?" Actually, I doubt that anyone back then—except maybe the group's founder, the late Tim Hauser—expected that The Manhattan Transfer would still be around a half-century later. But here they were, singing their final concert in New York City for an audience full of fans, family, and friends, with the same tight harmonies and deep blend that marked their many successes. Over the years, The Manhattan Transfer infused four-part vocal harmony into virtually every genre of American Popular Music, and the music performed at this final concert represented many of those stylistic combinations: Swing ("Sing You Sinners"), Gospel ("Operator"), Bebop ("Jeanine"), Cool ("Route 66"), Rhythm and Blues ("Chu Chu Ch'Boogie"), Doo-Wop ("Trickle, Trickle"), Classic Rock ("Tequila"), Brazilian ("Hear the Voices"), Pop ("On the Boulevard"), Fusion ("Birdland") and Hip-Hop ("Cantaloupe Island"). The Transfer has had so many hit records that it has been a challenge to fit most of the songs into a single concert program. On this occasion, the group rotated in several rarities in place of the familiar tunes, so instead of "Twilight Tone", "A Nightingale Sang in Berkeley Square", "Soul Food to Go", and "Tutu", we heard "Topsy", "Airmail Special", "I Know Why and So Do You", and "Boy from New York City". Before the show and between the two live sets, a video sampler on the house monitors featured some of the "missing" repertoire as performed on vintage TV and concert appearances. The video also paid tribute to Tim Hauser, and when his memorial slide appeared on the screen, the audience burst into applause.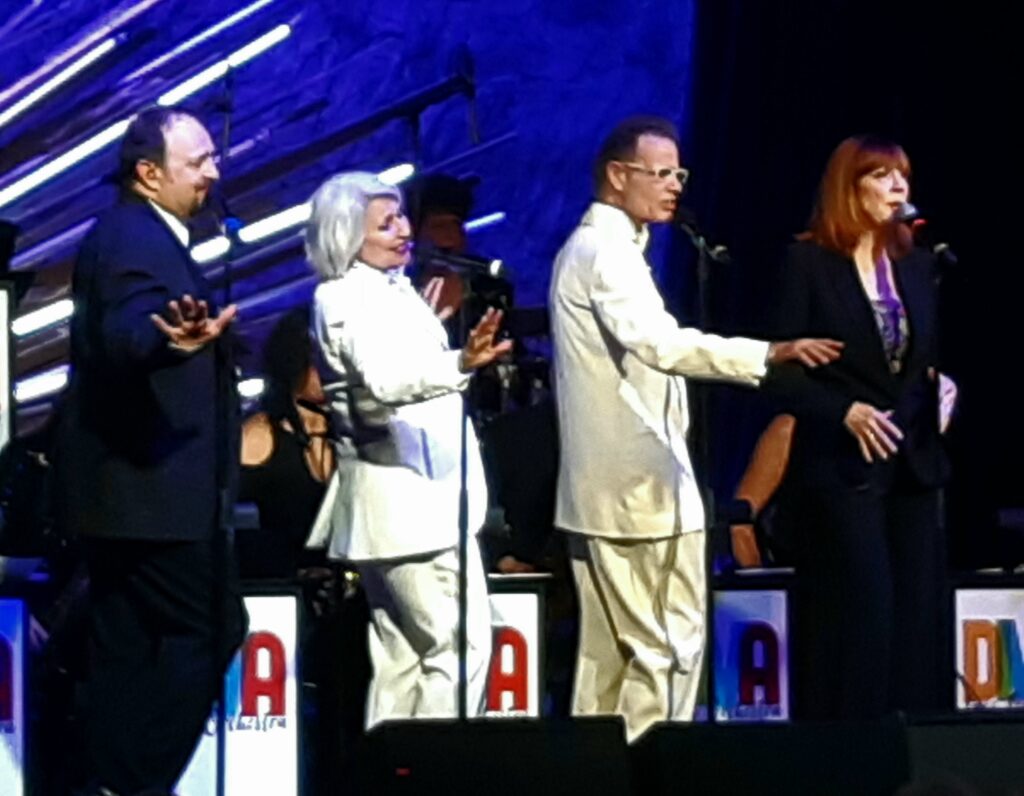 With the exception of a few missed notes and occasionally faulty intonation—these arrangements were not written for "senior" voices—the group was in spectacular form all night. Alan Paul and Cheryl Bentyne reprised their exciting lead parts from "On the Boulevard", Trist Curless enlivened several of the jazz pieces with superbly-crafted scat solos, and Janis Siegel was on fire all night, sparking the group with her opening solo on "Four Brothers", sizzling through "Operator", and culminating with her scorching lead on "Boy from New York City". Laurel Massé rejoined the group for two numbers in the first set ("Java Jive" and the aforementioned "Blue Champagne") and her voice fit into the blend effortlessly, as if the intervening years had suddenly fallen away. Sherrie Maricle's all-female big band DIVA played with great precision and swing, despite being spread across and beyond the stage (the shallow performance space allowed only enough room for the saxes, rhythm section, and the Transfer, so the trumpets were set up on a platform off the right side of the stage, while the trombones were tucked into a corner at upstage left! Maricle's drum set was strategically placed near the center so that she could keep the band together.) The saxophone section played key parts in updated arrangements of "Operator" and "Jeanine", and during an insert in "Birdland", several Charlie Parker tunes were quoted across the horn sections. Tenor saxophonist Laura Dreyer added a rocking tenor solo on "Trickle, Trickle", and a fine jazz chorus on "Jeanine". The band's other tenor saxophonist Jade Elliott offered lyric solos on "Tuxedo Junction" and "I Know Why". At the end of the program, DIVA played their marvelous arrangement of Mary Lou Williams' "Roll 'Em" featuring a great trumpet duel by Jami Dauber and Kellin Hanas.
Before the audience departed, there was a brief awards ceremony onstage with Bruce Vilanch and Jim Caruso presenting official proclamations from the mayor of New York City, and the governor of New York state. For a concert that no one wanted to see end, this finale was a most-depressing letdown. While it was nice to know that June 9—which was now nearly over—was officially "Manhattan Transfer Day", it only brought home the inevitable fact that we would never hear this unique group in concert again. The group is on its way to Italy for another leg of the farewell tour (and the official date and location of the Transfer's final concert has not been announced). Gradually, we are discovering that the story of this wonderful group has come to an end. So long friends, we're gonna miss you.
ARTIST: Stacey Kent
VENUE: Birdland, New York City
DATE: June 9, 2023
PERSONNEL: Stacey Kent (v); Jim Tomlinson (ts,fl,v); Art Hirahara (p); Tom Hubbard (b); Anthony Pinciotti (d).
After the high energy and emotions of the Manhattan Transfer concert, I needed music that calmed and soothed me. Thankfully, that remedy was on stage at Birdland, just a few blocks away from Sony Hall. I had a reservation for the 10:30 show, but it was after 11:00 when I arrived at the club. I met the club's owner, Gianni Valenti at the door, and he told me that Stacey Kent started her set 30 minutes late, and she was now on her second song. When I sat down, I recognized the lyrics of Kazuo Ishiguro in the song "The Summer We Crossed Europe in the Rain", and with Kent's quiet and precise vocals, Art Hirahara's sensitive accompaniment, and Jim Tomlinson's flute obbligato, the spell was cast. The catalog of songs co-written by the Nobel-prize-winning author Ishiguro and Kent's husband/producer Tomlinson represent an important part of Kent's repertoire. With intelligent messages that speak of isolation, lost love, and meaningful journeys, coupled with melodies that support the lyric, these songs were written especially for Kent's small but expressive voice. Like earlier storyteller/vocalists Mabel Mercer, Jeri Southern, and Shirley Horn, Kent has a unique way of drawing in her listeners with subtle melodic inflections and an intense focus on every word. The four Ishiguro songs I heard at Birdland carried a variety of moods and tempos, but the performances maintained a constant intensity and a Zen-like aura. That consistency continued when she moved away from the Ishuguro texts and into songs by the Beatles (a glorious piano/vocal duet on "Blackbird"), Burt Bacharach ("Trains and Boats and Planes" with backing vocals by Tomlinson), and the poet/composer Léo Ferré ("Avec Le Temps" sung in French without the need of translation). The most surprising selection was "Under Paris Skies", re-structured into a light 4/4 swing. Before the Ishiguro collaborations, this buoyant swing style was Kent's stock-in-trade. She enlivened arrangements of many standards in this manner, and the performance at Birdland showed that she could slip back into that style at will. It was a great change of pace, allowing everyone to loosen up, notably Kent, who took chances with melodic variations, and bassist Tom Hubbard and drummer Anthony Pinciotti, who had held back admirably through most of the set, but were obviously grateful to swing (and solo) on this tune. Kent brought things back full circle with her final two Ishiguro songs, the lighthearted "Waiter, Oh Waiter" and the understated "Ice Hotel". It was a memorable and well-planned set just perfect for late-night listening.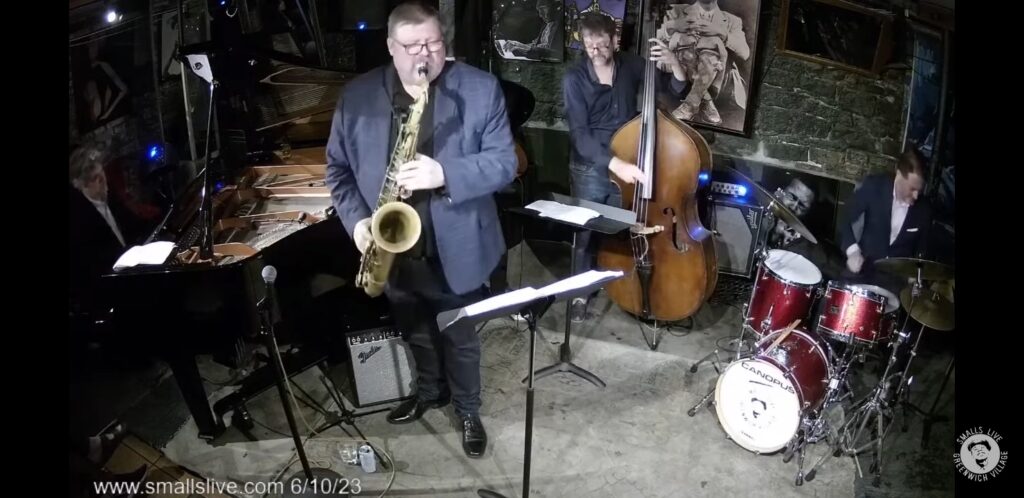 ARTIST: Joel Frahm
VENUE: Smalls, New York City
DATE: June 10, 2023
PERSONNEL: Joel Frahm (ts); Spike Wilner (p); Joe Martin (b); Joe Strasser (d).
While Manhattan Transfer and Stacey Kent were performing in Midtown Manhattan, tenor saxophonist Joel Frahm visited Greenwich Village to play weekend sets at Smalls. I had requested a press ticket to Frahm's Friday night set earlier in the week because I had booked transportation to and from the city, but was still without a ticket for Manhattan Transfer. When my MT ticket was secured on the day before the concert, I contacted Frahm to apologize for missing his show, but through the courtesy of Smalls' owner Spike Wilner, I was given early access to the video streams for all four of Frahm's weekend sets. So, while I was back home in Delaware when this concert occurred, I offer this virtual review of Frahm's first set on Saturday night.
Visiting from his new hometown of Nashville, tenor saxophonist Joel Frahm showed that he has lost none of his fire and creative spirit while he has been off the New York jazz scene. He opened his second night at Smalls with a brilliant rendition of Thelonious Monk's "Evidence", with a solo that slithered and darted through the changes without relying on bebop patterns. Spike Wilner responded with a piano solo which developed several original ideas before going back to Monk's original. Joe Martin followed with a highly melodic bass solo with his sotto voce humming clearly audible over Joe Strasser's brushes on snare. Strasser's four-bar exchanges with Frahm and Wilner sampled a broad range of percussion sounds from across the drum kit. "Na Estrada", an original bossa by Frahm, was marked by a legato melody which also highlighted the rhythm's interior accents. Wilner soloed first, with lovely voicings which brought out the song's sophisticated harmonies. Frahm was effusive in his solo turn, with his ideas nearly spilling over each other. Martin was less melodic than before, but his rhythmic sense unified his improvisation. As the tune came to a close, Frahm told the rhythm section "Stay there" before creating a new solo over a single chord vamp. Once the applause subsided, Frahm lit into an extended unaccompanied introduction for "If I Should Lose You". When Frahm played the first line of the melody, he set the perfect medium groove. His ensuing solo skipped and hopped for a chorus, and then as Strasser adopted a stronger feel, Frahm dug in with greater tonal intensity and deep dramatic lines. Wilner dazzled with his exceptional technique and encyclopedic grasp of modern keyboard technique, and Martin created a complex solo that contained a surprising number of quotes from the original tune. Strasser delivered another impressive set of fours before the recapitulation. Frahm's original ballad, "Moon-Faced Lament", was composed on a late night in Europe while the hotel TV was tuned to CNN and Donald Trump's latest legal deposition. Somehow, the song came out well, despite its unusual origins. Built on a distinctive melodic idea, the Smalls' performance featured intertwining lines from tenor and piano on the tune, leading to a lyric bass solo. Frahm's emotive solo built up the intensity, and Wilner maintained it through a series of increasingly dense motives. Frahm's final cadenza seemed to continue the ideas of his improvisation. While the title of the final tune "Bittersweet" might suggest another ballad, in Frahm's hands, Sam Jones' blues-with-a-bridge became a joyous bop exposition. The tenor solo included an ironic quote of "We're in the Money" and the piano solo overflowed with ideas. A brief, relaxed version of "Stompin' at the Savoy" acted as a closing theme for the set. While I would have loved to have heard this music in person, I am very grateful for the video feed that allowed me to hear the music at all. If you have not become a member of the SmallsLIVE Foundation (with a small added donation for unlimited video streams), it is a worthy investment.