Concert reviews from October to December 2023. Please scroll down for later items.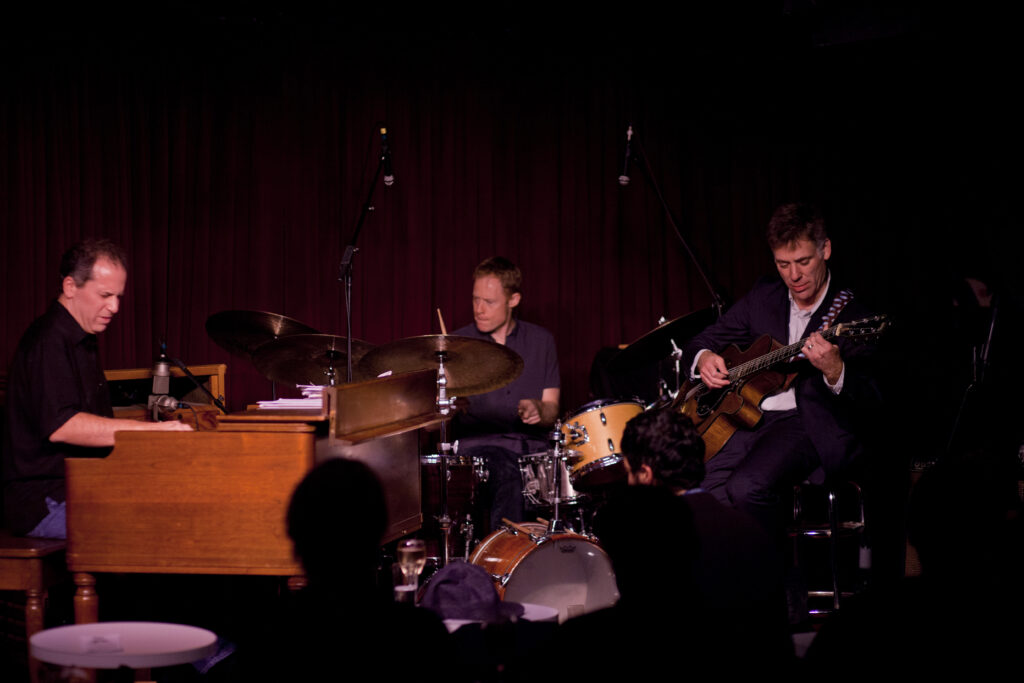 ARTIST: Larry Goldings/Peter Bernstein/Bill Stewart Trio
VENUE: Keystone Korner; Baltimore
DATE: October 11, 2023
PERSONNEL: Larry Goldings (organ); Peter Bernstein (guitar); Bill Stewart (drums).
The modern jazz organ trio has been around for just over 75 years, and the exploratory trio collectively led by Larry Goldings, Peter Bernstein, and Bill Stewart has been part of that scene for about half of that time. In a recent performance at Baltimore's Keystone Korner, the Goldings/Bernstein/Stewart triumvirate intimated that they were well aware of the tropes and clichés of earlier organ groups, and were determined not to repeat them. Even a cursory examination of their discography—especially their fine 2022 Smoke Sessions release, "Perpetual Pendulum"—shows that the group can play groove-centered music with enough soul and grit to please the cognoscenti, but with a repertoire mainly culled from the above-cited CD and the 2014 release, "Ramshackle Serenade", the group is now interested in stretching and expanding upon their earlier arrangements. For example, a Goldings original from the earlier album, "Mister Meagles", now opened with a free improvisation on an analog synthesizer. Goldings stood alongside the keyboard, convulsing his body as he pressed buttons and twisted dials like a mad scientist, producing sounds straight out of a classic horror movie. When the band joined in, it sounded like they were about to settle into a light Blue Note groove. Although Stewart had played this piece in that style on the recording, at the Keystone, he resisted all opportunities to engage in the dancing cymbal style of Billy Higgins. Instead, he created a beat pattern that effectively worked against the groove and inspired edgier solos from his bandmates. A similar rhythmic tug-of-war occurred on the set's opener, "Sweet and Lovely" as the groove veered between 3/4 and 4/4 time. Stewart maintained the pulse's dichotomy with a beat pattern that stretched over conventional niceties like bar lines and phrase points. While Stewart was manipulating the time, Goldings and Bernstein were stacking substitute chords to push the limits of the song's tonality. Throughout the set, Goldings' solos would build into cascading chords, which allowed Bernstein great harmonic freedom. An up-tempo version of Wayne Shorter's "United" was notable for the group's extraordinary rhythmic density, while the arrangement of George Gershwin's "Blues Prelude" modulated keys when Bernstein took the solo spotlight from Goldings. One touching comment from Goldings regarded the specific instrument he played: it was last played by Joey DeFrancesco just days before his passing. The organ was donated to the Keystone Korner by Joey's family, and Goldings was the first to play the instrument since then. I heard Joey play live in Denver several years ago, and while I can't be sure that it was the same organ that was now in Baltimore, it was certainly similar. Goldings' progressive solos proved that the rich organ legacy DeFrancesco loved is still alive and well.

ARTIST: Sara Serpa/André Matos
VENUE: An Die Musik, Baltimore
DATE: October 12, 2023
PERSONNEL: Sara Serpa (vocal); Dov Manski (piano, synthesizer); André Matos (guitar, programming).
Sara Serpa is not your prototypical avant-garde jazz vocalist. Petite and soft-spoken, she does not attract the eyes with colorful concert attire, nor does she dazzle the ears with long flurries of notes. She works best within small intimate groups where she can interact openly and freely with her fellow musicians. Blessed with perfect pitch, her pure, nearly vibrato-less voice is precise and accurate, both in written and improvised passages. On the fairly rare occasions when she sings with lyrics—as on her stunning and concise original "Degrowth"—there is no doubt that the message of those words is crucial both to the work and her world. I have heard and reviewed many of Serpa's albums on this site, but I had never attended one of her concerts until her recent appearance at Baltimore's art salon, An Die Musik. Serpa was there to support her latest CD, "Night Birds" (Robalo 31), and she appeared with her husband and musical partner, André Matos, and Dov Manski. When the group took the stage, I was immediately aware of an element I had missed: Serpa's subtle, but nonetheless pervasive, stage presence. There was absolutely no question that she was the leader and that she was completely in charge of the musical direction. The feeling did not come from verbal instructions to the other musicians, but in the confident way she carried herself. Even when she was not singing, her composed stature showed that she was still active in the musical conversation. Matos and Manski acted as equal partners with Serpa, and both instrumentalists displayed considerable versatility, with minimal assistance required from an analog synthesizer (Manski) and a long row of effect boxes (Matos). The clear tones of the piano and guitar were a perfect match to Serpa's delicate sound. The Baltimore (and online) audience heard somewhat different versions of the songs that appear on the CD. For example, the CD arrangement of  "Degrowth" features Serpa and guest vocalist Sofia Jernberg doubling the melody against a secondary vocal line. When the vocal counterpoint ends, the melody continues behind an agitated cello solo by Okkyung Lee. In the concert version, we heard a sensitive dual improvisation by guitar and piano. While the pared-down arrangement was a little more traditional, it was quite effective in its own right. One of the album's highlights is the vocal appearance of Serpa and Matos' 9-year-old son, Lourenço. His unchanged voice adds dramatic tonal qualities to the Serpa original, "Family", as he sings two separate vocal lines, both doubled by his mother. The Baltimore version placed Serpa and Matos on the opening melody, with Serpa pulling away to sing the second melodic line. The solo section had all three musicians participating in solo or accompanying roles. "A La Montaigne" (from the 2015 Sunnyside CD, "All the Dreams") featured a luminescent dual improvisation by Matos and Manski which led directly into a stunning scat solo with Serpa placing her ideas in direct opposition to the implied ground beat. This piece clarified another Serpa dichotomy: she may be quite revolutionary in her approach, but the soothing, amiable quality of her voice invites all listeners into her musical world.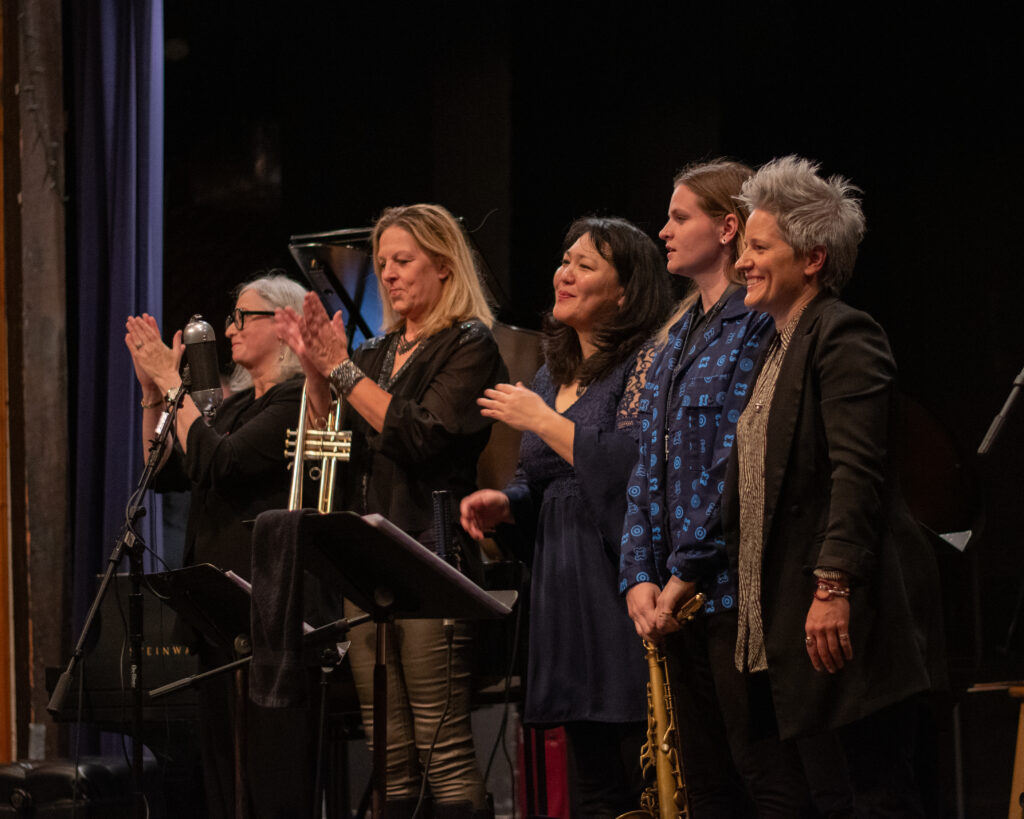 ARTIST: Artemis
VENUE: Arden Concert Gild, Wilmington, Delaware
DATE: October 13, 2023
PERSONNEL: Ingrid Jensen (trumpet); Nicole Glover (tenor sax); Renee Rosnes (piano); Noriko Ueda (bass); Allison Miller (drums).
Every time I catch Artemis live, I am comforted by the group's integral growth, and surprised by their newest elements and innovations. I should also note that every time I've heard this band in concert, there has been a personnel change, specifically in the alto sax/clarinet/flute chair. Anat Cohen played this part in Artemis' first concerts and debut CD, and Alexa Tarantino took over the spot in 2022. At their appearance at the Arden Concert Gild in Wilmington, Delaware, Alexa was absent due to a tour by her other employer, the Jazz at Lincoln Center Orchestra. At an open sound check, musical director Renee Rosnes adapted her arrangements to re-assign essential parts usually covered by Tarantino (Oddly enough, only a couple of the charts were played that night; the rest must have been saved for later parts of their tour). While Tarantino's presence adds specific elements to the band's overall sound, the Artemis quintet was an equally viable ensemble. They came out breathing fire on Rosnes' original "Gallapagos" and the intensity never dropped. The rhythm section—intact since the group's inception five years ago—worked as a seamless unit, able to react instantly and accurately to anything on the stage, and the horns effortlessly interacted and blended. Ingrid Jensen brought along her electronic effects setup, which enhanced her tone and the group's sound through a variety of delays, octave doubles, and echo effects. However, she didn't need any effects to prove her dominance as a thrilling post-bop soloist.  Nicole Glover has continued to grow and develop during her Artemis residence, to the point that she has become a major world-class soloist in her own right. Her ballad mastery was clear to all in her sensitive rendition of Billy Strayhorn's "A Flower is a Lovesome Thing", and later she left no prisoners on a burning version of Thelonious Monk's "Hackensack". Rosnes and Allison Miller bounced ideas across the stage all night, with Rosnes digging into the keys with great intensity. Finally, Noriko Ueda is a joy to watch and hear. She is actively involved in dialogues with the soloists while remaining the anchor of the rhythm section. As a soloist, her lines command our attention, and as a composer, she has contributed the wonderful "Lights Away from Home" to the Artemis repertoire (Ueda's song is up for a Grammy as best original composition—and it deserves the honor!). Also regarding compositions, Jensen created a new (and quite complex) work, "Timber", which utilizes the various elements of the band in unique ways. Rosnes has contributed three new pieces to the band book, including "Footprints", "Dolphin Dance" and the aforementioned "Hackensack". It's not fair to call these piece arrangements, for Rosnes has added countermelodies and melodic inserts that change our perspectives on these classic jazz standards. For example, "Hackensack" was originally recorded by Monk's former boss, Coleman Hawkins under the title "Rifftide", with a fully-written bridge. Monk may have been an uncredited co-composer, but when he recorded it, he substituted 8 bars of improvisation for Hawkins' bridge. Rosnes brought it back for the Artemis arrangement in a guise that doesn't quite sound like Hawkins, Monk, or anyone else for that matter. These re-compositions will eventually appear on an Artemis CD and they will help to establish this group as a literal standard-bearer. So, forget all of the gimmickry about Artemis being an "all-woman supergroup", and know that Artemis is among the finest jazz groups working today. Hear them for yourself, and you will become a fan, guaranteed.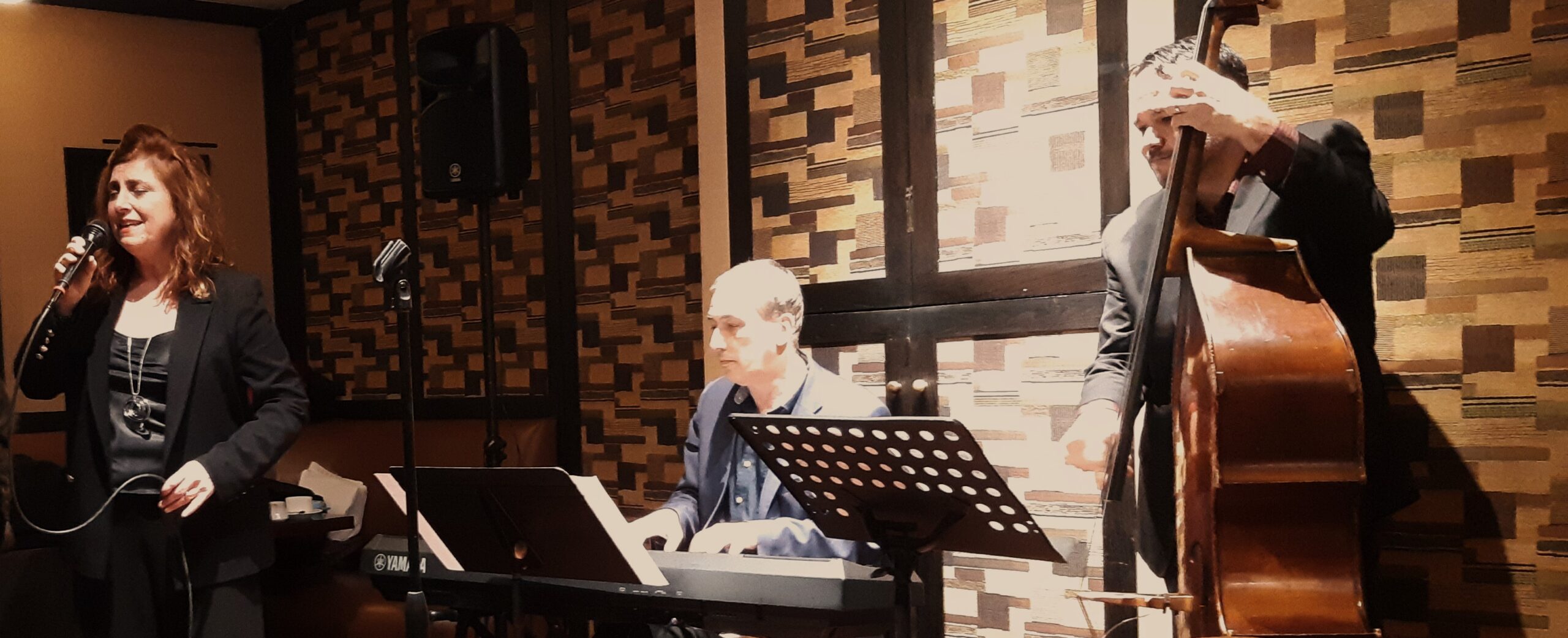 ARTIST: Anita Wardell
VENUE: North Square, New York City
DATE: November 12, 2023
PERSONNEL: Anita Wardell (vocal); Misha Tsidanov (keyboard); Sam Bevan (bass).
Anita Wardell did not sing her exciting up-tempo arrangement of "My Shining Hour" during her performance at New York's North Square,  but her talent shone brilliantly throughout the two-hour concert. This was my fifth time hearing her sing live, and while she always sings very well, I can honestly say that I have never heard her perform at such a sustained high level as in these two afternoon sets. She sang lengthy scat solos on more than a dozen songs without repeating herself or relying on recognized formulas. She developed an instant rapport with pianist Misha Tsiganov and bassist Sam Bevan, and both instrumentalists recognized Wardell's advanced harmonic knowledge. On several occasions, Tsiganov threw complex voicings and unexpected modulations at Wardell, and she improvised through the harmonic maze without batting an eyelash.  In the second set, she sent out her own challenge, scatting over Joe Henderson's reharmonized version of "Night and Day".  Everyone met and exceeded the test. Her ballad artistry has deepened in the past few years, with her readings of "My One and Only Love", "Why Did I Choose You" and "Lullaby of the Leaves" revealing sensitive phrasing which enhances the original lyrics. She has also added two Brazilian classics, "Fleur de Lis" and "Você e Eu", both sung in meticulous Portuguese. To add a unique twist to Eddie Jefferson's "Moody's Mood for Love", she engineered a gender swap to the lyric by simply swapping the registers of the male and female parts. Thanks to some savvy marketing, the room was packed for both sets, with several of New York's finest jazz singers in attendance. The room buzzed with positive comments from singers who recognized and appreciated Wardell's daring solos and flawless delivery. Thankfully, Anita Wardell now possesses a US Artist Visa, and she plans to perform on our shores many times in the coming years. And since she is singing better than ever, perhaps she will record her best music during her visits to New York. A  first-class recording that could be widely distributed worldwide would be just the thing to bring her the success that she deserves.

ARTIST: Susan Tobocman
VENUE: Mezzrow, New York City
DATE: November 12, 2023
PERSONNEL: Susan Tobocman (vocal); Mike Lee (tenor sax); Tyler Henderson (piano); Caleb Tobocman (bass); Phil Stewart (drums).
In a two-set performance at Mezzrow, New York vocalist Susan Tobocman presented a cross-section of her best original compositions, intermixed with several pop classics. Such a program is a daring proposition, as it invites unfair comparisons between new and familiar material, but the strength of Tobocman's songs showed that had learned well from the masters and built up from their accomplishments. Pianist Tyler Henderson opened the second set with a rubato introduction to  Tom Jobim's "Corcovado", but when Tobocman entered, she shifted the tempo to medium-up, making the song more of a blowing vehicle. After Susan and Henderson swung through their choruses, her talented son, Caleb, played a finely articulated solo which showed why is one of the best young bassists in town. "The Way to You" (with Tobocman's music and lyrics) is the kind of original that Shirley Horn loved, with a story describing a patient but persistent path from loneliness to a relationship. Phil Stewart's fine cymbal work enlivened the samba groove. "I Could Get Used to This" was also from Tobocman's pen, but was a complete contrast to "The Way to You": a flippant sassy romp about a woman reluctant to fall in love, but taking the leap in the end. The wordplay continued with Ira Gershwin's witty alternate verse to brother George's tender "Isn't It a Pity". Ira's hilarious lyrics diss a number of German boyfriends: Sleepy was Hermann, Fritz was like a sermon, Hans was such a bore! As with her own lyrics, Tobocman made every word count, articulating with immaculate diction and phrasing with great sensitivity. "Make-Believe"—a surprisingly jaunty original about an imaginary lover—was paired with Jimmy Webb's similarly-themed "Wichita Lineman" (the latter was particularly impressive because it did not require any adaptation to fit into a jazz setting). Tobocman's first composition, "Watercolor Dream" and one of her instrumental originals, "Touch and Go"  followed; the former was supposed to have background vocals (I couldn't hear them, even my seat from the front row), and the latter allowed Tobocman to sit one out as tenor saxophonist Mike Lee impressed with a burning multi-chorus solo.  "A Thousand Dreams Ago" featured Tobocman's lyric to a David Hazeltine instrumental, "Catherine's Fantasy". Tobocman told the audience that she added the song to the set on a whim. It was a good idea, and she should make the song a permanent addition to her repertoire. The set ended with a warm-toned rendition of the Dinah Washington classic (and sung here with Dinah's significant lyric change), "What a Difference a Day Made."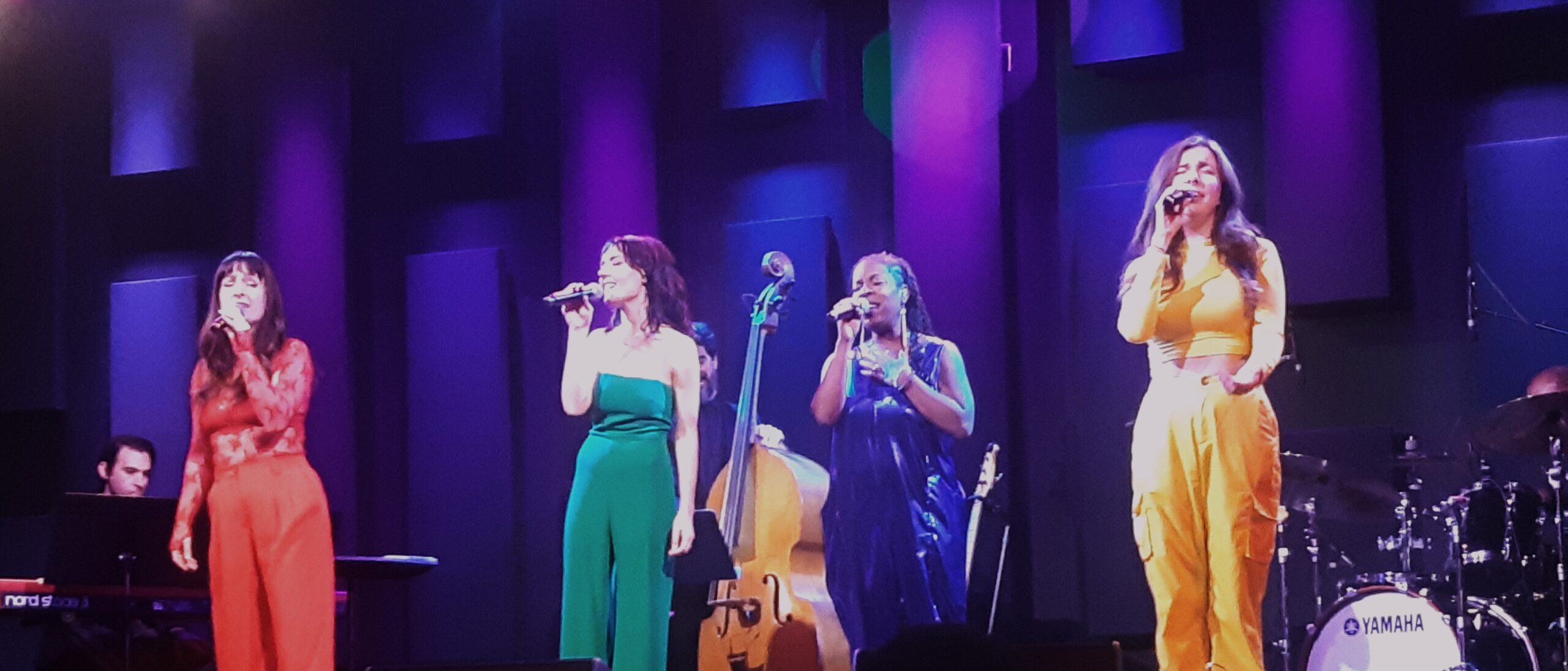 The outstanding vocal group säje has finally released their eponymous and self-released debut CD, and they were met by a warm and enthusiastic audience on their first visit to Philadelphia. They made a striking visual splash when they walked onstage in vividly-colored matching outfits, but as soon as the group started to sing, all attention was on their voices. säje's arrangements alternate between pure unison voices and stacked close harmonies which generally move in parallel motion. Their arrangements tend to feature one or two of the singers in lead roles with the remaining singers providing spirited (arranged) responses to the soloists. In both the live concert, and their CD, säje's repertoire includes new jazz originals, re-conceptualized pop songs, and socially-conscious compositions co-written by the vocalists. While the disc and concert offered nearly identical repertoire, the concert order was much more effective in building the emotional level of the program. Yebba's pop song "Evergreen" opened the concert with a note of familiarity. Erin Bentlage and Amanda Taylor shared the lead as the arrangement whittled down the song to its basic elements of two strong hooks, one sung by the soloists, and the other by the group. On the CD, säje was joined by several guest artists, but none of those players were on the live tour. In some cases, the group adapted the charts to eliminate or otherwise cover the extra part. For "You are the Oracle", the vocal improvisations by Michael Mayo on the CD were removed without affecting the performance; on the other hand, the group's Grammy-nominated arrangement of "In the Wee Small Hours of the Morning" required the unique presence of Jacob Collier, and was therefore, omitted from the concert repertoire. That was a shame, as Collier's imaginative setting completely transformed the Sinatra classic into a new and intriguing composition. Taylor's feature on "I Can't Help It" resembles Gretchen Parlato's jazz adaption of the Stevie Wonder classic. Taylor's lead vocal evokes Parlato's feathery vocal style, and even the brief vocal improvisation is based on Parlato's recording. säje's arrangement found its own direction in the coda with a thrilling shout chorus. Sara Gazarek's feature on "Britches" was satisfying on its own, but her bonus feature (already recorded for the group's second album) made everyone forget the earlier tune. The new piece, Dolly Parton's "Jolene", is actually familiar territory for Gazarek, who recorded a dramatic solo arrangement of the song on her album, "Thirsty Ghost". The säje arrangement was even better: it retained Gazarek's emotional lead from the earlier recording and enhanced it with ensemble passages starting in a vulnerable pianissimo whisper and eventually developing into an intense primal scream. The evening's highlight was "Never You Mind", a powerful statement on the injustices which led to the Black Lives Matter movement. The CD has an emotional trumpet solo by Ambrose Akinmusire, and while he was an effective partner to Johnaye Kendrick's vocal lead, the newly adapted live version was just as emotional, with Kendrick following her stoic vocal with a spoken recitation of the names of recent victims of police brutality. After a prolonged moment of silence, säje sang the soulful medley of "Solid Ground" and "Blackbird". This, along with a tender encore of "Desert Song", gave the concert a natural and well-modulated conclusion. In addition to alternative sequencing, the CD includes several impressive episodes of stacked, overdubbed voices, and (apparently) a few instrumental passages that the group wanted carried over into the live shows. At one point, I'm sure that I heard keyboard sounds through the sound system but pianist Julian Shore sat at his instrument with his hands in his lap. Also, while I know that I heard the drone part on "Desert Song", Bentlage was not playing the part on ukulele (as she had on the CD). I cannot recall whether it was a recording of the ukulele part or Matt Aronoff playing it live on bass. Either way is fine, of course, as säje has the absolute right to include the sounds they want in a concert setting. With its noted deviations, the CD and vinyl editions are superb representations of säje's music. It looks like their second album will be equal to the first.