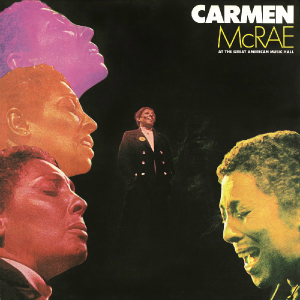 The Great American Music Hall was one of the first buildings erected from the rubble of the Great San Francisco Earthquake of 1906. Situated in the Tenderloin district, the building has had a storied past entirely fitting with its neighborhood. It started as a combination restaurant and bordello, and was taken over by fan dancer Sally Rand in 1936. It became a jazz club in the years after World War II, but the ownership transferred to the local chapter of the Moose Lodge in the 1950s. The city condemned the property in the late sixties, but the building was saved at the last minute and after a brief turn as a French restaurant, the building acquired its famous moniker and became a premier venue for jazz, rock and pop acts. Starting in the mid-1970s, the GAMH was the site of several live recordings, including classic albums by Jerry Garcia, McCoy Tyner, Carla Bley, Betty Carter and Carmen McRae. The last two artists are particularly noteworthy in the context of this review: Carter recorded her stunning double LP "The Audience with Betty Carter" at GAMH in 1979 and was so taken by the responsive crowd that she included a photo of the audience on the inner gatefold of the package, and sent free copies of the finished album to every member of the audience. A few years later, McRae and Carter recorded a fine album of duets at GAMH. McRae was well aware of the superb crowds there, for on her 1976 live album "Carmen McRae at the Great American Music Hall", she tells the audience, It's nice to be home again.
McRae's GAMH recital not only stands as the highlight of her Blue Note recordings, but also as her best live album. Fueled by an enthusiastic young audience, McRae hits on all cylinders, creating one remarkable performance after another. Her rhythm section, pianist Marshall Otwell, bassist Ed Bennett and drummer Joey Baron—the latter in one of his earliest recordings—provides deeply-swinging backgrounds and fine solos, and the group is augmented on four tracks by one of McRae's oldest friends, Dizzy Gillespie. When these recordings were made in June 1976, jazz was just starting to regain its foothold as an important and indigenous American art form, and the San Franciscans who gathered on these nights seemed poised to appreciate every nuance that McRae and company were ready to offer. McRae was willing to meet the audience halfway: like many of her contemporaries, McRae was committed to finding appropriate material from contemporary pop and rock composers. While she was not always successful in transforming these songs, the GAMH set includes several triumphs, including brilliant versions of songs by Bill Withers, Leon Russell, and most surprisingly, Alice Cooper. Yet, McRae's program also included songs by Cole Porter, Willard Robison, Antonio Carlos Jobim, and Tommy Wolf. And to the credit of the audience, they cheer just as loudly for these standards as they did for the contemporary songs.
This album may offer the best examples of McRae's well-defined style. While many jazz singers classify themselves as scat singers or storytellers, McRae was one of the few singers who could do both. An asthmatic, McRae could not sustain long phrases.  However, she used that potential deficiency as a defining point of her style. She would use silence as an effective canvas to drop isolated words and phrases, which added to the inherent drama of a lyric. She had an exquisite method of manipulating rhythm, and on Leon Russell's "A Song for You", McRae's speech-like delivery makes the song sound like an intimate confession. McRae also loved word-painting, and the album includes several examples, including "cute" In "Them There Eyes", "cry" in "Paint Your Pretty Picture" and most notably, "drunk" in "I'm Always Drunk in San Francisco". McRae's scat singing wasn't far removed from her approach to lyrics, and her improvised hummed solo in the middle of "T'aint Nobody's Bizness" sounds like it could have been set to a blues stanza (McRae humorously prefaces this chorus by telling the audience, Now this is the honest truth, so help me).
While McRae owed a lot of her basic style to Billie Holiday, she truly came into her own during the bebop era (One of the earliest recordings we have of her comes from a 1948 Dean Benedetti recording of Charlie Parker's Quintet at the Onyx Club, where McRae performs Parker's original lyrics to "Yardbird Suite".) Therefore, it makes sense that her duets with Dizzy Gillespie are among the highlights of the GAMH set. He walks on in the middle of "On a Clear Day" and the audience's cheers nearly drown out McRae's vocal. Gillespie plays great solos on this tune and "A Beautiful Friendship", but the pleasures of this duo comes in the small details: there's a delightful moment where McRae pulls off a dramatic glissando and Gillespie puts the final note on top with perfect timing and precision. Although not noted in the album's personnel listing, the Gillespie tracks (except for "On a Clear Day") and "I'm Always Drunk in San Francisco" feature McRae at the piano.
We don't know the actual order of performance at these concerts, but whether it was McRae's original intention or the work of the album's producer and editor, the fourth side of this double-LP set offers a stunning example of inter-connective programming. The side opens with the aforementioned "T'ain't Nobody's Bizness", a classic blues which defiantly proclaims that If I'd rather that my man hit me/that to up and quit me/Tain't nobodys business if I do, and then follows it with a stark mirror image in Alice Cooper's "Only Women Bleed". In the latter song, the defiant attitude is replaced with the pitiful situation of an abused woman trapped in a hellish relationship. I don't know how McRae found this song, but few jazz singers could portray this victimized woman with such sensitivity. Then to close the album, McRae sings two songs about idealized domestic situations: "No More Blues", where she sings,  I'll find a man and never roam/find a man and build a home/when we settle down, there'll be no more blues, and "The Folks Who Live on the Hill", the Edgar Guest-inspired tale of an older couple, Darby and Joan, who used to be Jack and Jill. Could the placement of these four songs contain the subliminal message that women need not remain in abusive relationships?
For all of its virtues, "Carmen McRae at the Great American Music Hall" is nearly forgotten today. Although its 80-minute running time makes it a prime candidate for a CD reissue, no one (except predictably, the Japanese branch of Blue Note) has made the album available in digital format. This album stands with "Birds of a Feather", "Carmen McRae Sings 'Lover Man' and Other Billie Holiday Classics" and "Carmen Sings Monk" as one of McRae's finest recordings, and it's high time that it returns to the catalogue. But don't wait for the record companies to act on this one: just go online and buy the import CD or a used copy of the original LP. If you're a Carmen McRae fan (or want to become one), you won't regret this purchase.
Thanks to my golden-eared friends, Carol Sloane and Paul Mikos, for confirming Carmen's presence on piano.