Sometimes great successes can come from minor setbacks. One day in the middle of 2015, French jazz vocalist Camille Bertault failed a conservatory exam, and to boost her spirits, she wrote a set of French lyrics to one of John Coltrane's best-known compositions. The words spoke of the "Giant Steps" it took to realize that one's own expectations are more important than the expectations of others. Then she cued up Coltrane's original recording, set up a video camera, and recorded her performance, which she later uploaded to Facebook for her friends. The video turned up on Jam of the Week and went viral within days. Non-French speakers missed the message of Bertault's lyrics, but viewers around the world were amazed with the uncanny accuracy with which she scatted Coltrane's blinding-fast solo.
Over the past year, Bertault has become an internet sensation. She has created dozens of videos for her YouTube and Facebook pages, and nearly all of them have received thousands of views. Bertault makes the videos visually interesting by recording in different locales and in varied costumes. On one clip, Bertaud puts the camera at a low angle and sings through Brad Meldhau's blistering solo on "Anthropology" while wearing a green turtleneck sweater, red suspenders, a tight-fitting hat and dark shades. On another Mehldau solo, she sits on the floor in a sleeveless black blouse while holding a black cat tightly in her arms. The cat also appears in another video where Bertault lays on her bed singing a solo by trumpeter Eric LeLann, but the feline leaves the frame shortly thereafter—apparently this cat is not a trumpet fan! She brings a fresh subtext to Hermeto Pascoal's "Frevo Novo", where she creates a one-way argument with her listener, adding in hilarious eye rolls that are accentuated by her cats-eye glasses.
Not all of Bertault's videos are solo transcriptions. She created a stunning solo version of Eddie Harris' "Freedom Jazz Dance" using a pedal looper, performed a series of duets with Swedish jazz singer Sofie Sörman (including a remarkable setting of Ravel's "Le Tombeau de Couperin") and followed up her transcribed solo video of Cory Henry's solo on Snarky Puppy's "Lingus" with a live version of Beyoncé's "Crazy in Love" featuring Henry on keyboards. The latter video was made at Duc des Lombards, a Paris nightclub located close to Bertault's apartment. Henry recognized Bertault in the audience and invited her to join him on stage. Bertault says that she wrote the French lyrics in about five minutes.
Many of the diverse talents Bertault displays in her videos stem from her years of intensive training. She was born in Paris 29 years ago. Her father Paul is a sound engineer and amateur pianist and he sparked Camille's first interests in jazz and piano (the father and daughter recently collaborated on a lovely video version of Billie Holiday's "You've Changed"). She began formal studies at the Paris Conservatory when she was 8 years old. The family moved to the south of France when she was 13, and she transferred to the Conservatory in Nice. While in school, she studied piano, composition, and opera, but she decided that classical music was too restrictive for her style. She studied theater and wrote a couple of plays before trying jazz singing at the age of 25. While she studied with vocalists Sara Lazarus and Pierre Bertrand, much of her influence comes from instrumentalists, a fact that becomes very clear when listening to Bertault's recordings. A demo recording from 2013 (with her father on piano) includes five tracks, and all but one is based on classic instrumental recordings. Camille's French lyrics are impressive on t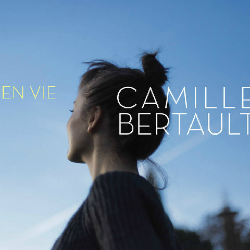 his short program, and her scat solos show that she had already developed her own style. By the time she recorded her most recent CD, "En Vie", her talents had progressed to an astonishing level.
Ironically, "En Vie"—which is newly released on Naïve in Europe and Sunnyside in the US—was recorded just before Bertault started creating her internet videos. She had already built up a following in France as she used crowd sourcing to fund the album's production. When Bertault's videos turned her into a worldwide success, veteran producer Matt Pierson offered to release the disc, which also features the superb rhythm section of pianist Olivier Hutman, bassist Gildas Boclé and drummer Antoine Paganotti. Bertault's strong affinity for classic Blue Note jazz appears in the CD's first three tracks. The opener, "Quand de Plus Anodin" is her adaptation of Herbie Hancock's "Empty Pockets", which was the first tune recorded for Hancock's Blue Note debut album "Takin' Off". The third track—which opens with a haunting free-form duet between Bertault and Boclé—is Wayne Shorter's "Infant Eyes", one of the standout tracks from "Speak No Evil". But Bertaud's deep immersion of the classic Blue Note style fully appears between these two tracks where, on her original composition "Course" (video below) she triple-tracks her voice with scoring that mimics the sound of Art Blakey's Jazz Messengers (specifically the trumpet/tenor/trombone lineup of Freddie Hubbard, Wayne Shorter and Curtis Fuller). The multi-tracked vocals reappear on the title track and "A La Mer Tume" but significantly, she uses different voicings for these arrangements. Jimmy Rowles' "The Peacocks" is completely transformed with a two-tempo treatment featuring Bertault's new French lyrics sung in the original ballad tempo and her soaring improvisation floating over a lively 5/4 beat. Her solo on the original, "Tatie Cardy" is a wild ride: while loosely buzzing her lips at an indeterminate tempo, she improvises lightning-fast lines filled with astounding and unexpected intervals. Duke Ellington's "Prelude to a Kiss" displays a different side of Bertault's improvisational prowess, as her solo recalls Bobby McFerrin's trumpet-like vocals on the soundtrack of Bertrand Tavernier's film "Round Midnight".
Unfortunately, Sunnyside's booklet includes only Bertault's French lyrics without any translations. However, she described some of the lyrics to Sunnyside's Bret Sjervin, and excerpts of his summary are offered here:
"Quoi De Plus Anodin"…is the story of a pickpocket, mirroring this hard life with a light but empathetic blues. The accelerated "Course" brings to mind the fast paced life of the city…. Bertault's lyrics to …"Infant Eyes" bring to mind the purity and magic seen in the glimmer of a child's eyes. Inspired by a witty line of Jacques Brel, the title of "En Vie" is wordplay on "alive" and "envy," as the song itself is just as lively. Jimmy Rowles' "The Peacocks" is reborn as "Cette Nuit" or "Tonight," where Bertault imagines a dream about peacocks in a strange ambiance, including colorful plumage. Another clever turn of phrase is in the title of "A La Mer Tume," which means "to the sea" but could be misinterpreted as "amertume" or "bitterness," with allusions to the sea, waves and drowning in bitterness. Bertault's "Double Face" is about everyone's two sides, her wordless vocals and her effervescence carrying this lively performance. The narrative of "Tatie Cardy" is about an old woman having tea who suddenly feels the ground shake from an explosion, making her heart race. This theme is echoed wonderfully by the speedy ensemble and their dynamic lyricism. "Prélude" is Bertault's lovely interpretation of Ellington's "Prelude to a Kiss" and her original lyric is about the sensation experienced just before a kiss. "Satiesque" is written with the impressionist composer Erik Satie and his influence in mind.

Since "En Vie" preceded Bertault's videos, it will be very interesting to hear her follow-up CD. I suspect that she will include more references to progressive jazz alongside her strong Blue Note roots. It seems that every major jazz album these days is loaded with guest artists, but in Bertault's case, that might be an advantage: while "En Vie" proves that she can hold an album on her own, it might be very instructive to hear her improvising with some of today's most progressive jazz players. She's already found musical chemistry with Cory Henry, and I'm sure that other musicians of his generation would be anxious to collaborate with her. In sharing her development with a global audience, Camille Bertault has made it clear that she has a phenomenal talent. She may have failed that exam, but she is ready for graduate studies on the world stage.