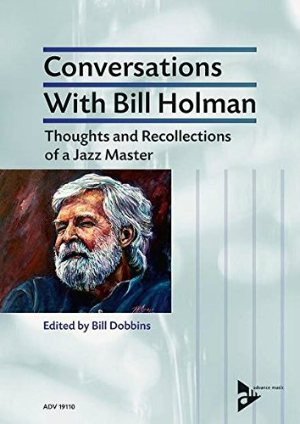 Many years ago, a prominent critic wrote that the fans of Stan Kenton listened to his orchestra to the exclusion of every other jazz group. If a straight-ahead jazz fan wanted to explore Kenton's world, the general recommendation was to start with the band's recordings of Bill Holman's music. Holman had a foot in both camps, the reasoning went, and his music appealed to both the intellectual Kenton fans and the hard-core jazz enthusiasts. Holman has long been esteemed among big band aficionados, especially college jazz educators. In 2011, Bill Dobbins, the director of Eastman's Jazz Ensemble spent a week interviewing Holman, and the results have been published as "Conversations with Bill Holman" (Advance Music).
Holman was born in 1927 in Olive, California, a little town just south of Los Angeles. As Holman relates to Dobbins, his family was not musical, and apart from a year studying with Russ Garcia, he was essentially self-taught as an arranger. Kenton's band was where Holman got his biggest recognition, and while Holman had the same complaints as other Kenton detractors (the band was too big and it didn't swing) Kenton realized that Holman's scores were an essential part of his repertoire, and he continued to commission new scores from the young arranger. Holman became one of the most in-demand writers in LA during the 1950s and 60s, producing arrangements for Woody Herman, Peggy Lee, Anita O'Day, Gerry Mulligan, Terry Gibbs, and Buddy Rich, as well as his own big band. He had bouts with alcoholism and cancer, and at times, he supported himself by writing background arrangements for television shows and pop groups. In recent years, he has formed a new big band and fulfilled commissions for university and European studio jazz orchestras.
As interviewer, Dobbins plays his role well, asking pointed questions and letting Holman answer and elaborate. At times, Holman answers questions with a simple short answer, but then Dobbins probes for more elaborate responses. Holman admits that he does not study scores, and that he lets his own intuition rule as he develops an arrangement. He likes to experiment with forms and motives, such as his setting of "Stompin' at the Savoy" for Kenton (where he took a section of the tune's counter-melody as a developmental germ) or "After You've Gone" for Herman (on which Holman stretched out the original tune over a very fast ground beat). He also details the many issues he has faced as the leader of a modern jazz orchestra. From time to time, Dobbins tells related stories about his own experiences with the WDR Big Band in Cologne, Germany, and about his artistic collaborations with Holman. The give-and-take between the two men is quite entertaining, and it appears that they enjoyed doing this string of interviews. They talk about several famous people—including some from outside the jazz world—and discuss each one with a unique insider's perspective.
Although a good percentage of the interviews are easily comprehensible to the average educated jazz fan, the book comes with the expectation that the reader already knows Holman's arrangements and recordings. The musical analysis starts with the book's forward (!) and the book contains numerous references to albums by Holman, Kenton, Herman, Rich and others. Unfortunately, many of those albums are out of print, and only available through online sources like iTunes, YouTube and Spotify, where the artist royalties are notoriously paltry. It's too bad that the book didn't include a companion CD, with licensed tracks from the cited albums. When the author and subject of a book both complain in print about internet piracy, the publisher should really do something to alleviate the problem!
The publication of Dobbins' book is especially well-timed. Holman just celebrated his 90th birthday, and he still writes and rehearses new music with his band. Holman's step-daughter, Kathryn King, is producing a documentary about his life and work, using crowd funding to support the project (we will publish details on the JHO Facebook page when available). Bill Holman is that rara avis, a living legend. The tributes he receives are well-deserved and he should have the opportunity to enjoy them while he is still with us.