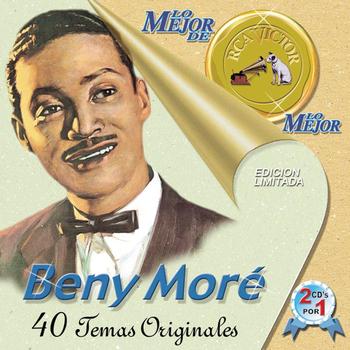 "El Barbaro del Ritmo" was Beny Moré's nickname, bestowed on him by a radio personality in Cuba. Intended in the most dynamic and positive way, it roughly translates as "The Wildman of Rhythm". His given name is Bartolomé Maximillian Moré Guitierrez.  Born in Santa Isabel de las Lajas, Cuba, Moré was the eldest of a  large family. As a teen, he sang for tips in the hotels and clubs of Havana, before being hired as a replacement vocalist for the Cojunto Matamoros. At one point, when that group was on one of many tours to Mexico, Moré decided to stay in that country to perform and record for RCA with many of the celebrity dance orchestras there, including mambo innovator Perez Prado and Mariano Mercerón. He changed his name to Beny Moré when he discovered that his given name sounded like the Mexican slang for "burro or ass" ("bartolo"). I suppose any of us would have done the same!
In the early 1950s, Moré returned home to Cuba where he formed his own big band. Although Moré did not read music and was not educated in a university, he had a brilliant mind for arrangement and composition. He created his music by singing all of the instrumental parts to his arrangers. Moré's immense versatility extended to all types of Latin genres including son, bolero, guaracha, mambo, cha cha, guanguanco/rumba, and canción and he attracted outstanding musicians for his band. Moré died of cirrhosis of the liver in 1963. Happily, his legacy and skill for melding powerful African elements with refined European elements successfully has been saved in these recordings.
"Lo Mejor de Lo Mejor" is one of several RCA compilations of Moré's recordings. The 40 tracks barely scratch the surface of Moré's extensive career. Released in 1999, the quality of the recordings has been digitally cleaned up, revealing not just the beauty of the orchestras, but the beautiful timbre and range of Moré's voice. Since he only recorded officially with RCA, we are lucky to have this piece of history. This is the beloved music of pre-Castro Cuba.
While all 40 tracks are worth hearing, I will mention only a few favorites. The beautiful bolero "Cómo Fue" has been a consistent favorite of romantics for more than fifty years.. Moré's voice is in top form on his hit, "Bonito y Sabroso".  I lament that I don't know the names of the instrumentalists, but I can tell you the horns are tight! Sadly, these kinds of compilations typically do not include liner notes or personnel listings. "Rabo y Oreja" enters with a fiery horn section. Composed by Justi Barreto, Moré makes it his own. It contains an excellent piano solo on a less-than-excellent piano, but the skill (and patience) of the musician is appreciated. "Barbaro del Ritmo" was Moré's theme song and while the composition is excellent, I suspect that he had enjoyed a few too many drinks at the session. Still, it fits the tune absolutely perfectly, and since it is his own story, I can accept the slight slurs. It is a good example of Moré's vocal range and skills. I love the tune! I hate the fade they used to exit it! Finally, there is the wonderful "Sopa de Pichón".  When I hear it, I remember the happy times I had as a child in our Brooklyn apartment, as my grandfather Manuel and I sang this tune. They don't write or perform them like this anymore!