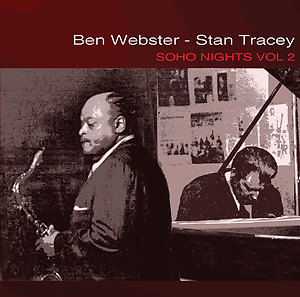 Today's travelling jazz musicians tour Europe an average of once or twice a year, but in the days when the only passage to the Continent was by steamship, a European visit by an American jazz musician was a rare luxury, for both the artist and the audience. Coleman Hawkins, Bud Powell, Mary Lou Williams and Ben Webster all traveled to Europe for short-term gigs, but in each case, they remained for years, enjoying the increased appreciation and work that was readily available. For Webster, a month-long engagement at London's Ronnie Scotts' commenced a European residency that would last for the rest of his life. British pianist Stan Tracey was Webster's accompanist during several performances at Scott's nightclub, and Tracey's label, Resteamed, has issued two CDs of Webster from those gigs. "Soho Nights, Volume 1" was issued in 2008 and featured music from a January 1968 performance, and the newly-released Volume 2 goes back to the second night of Webster's inaugural gig in December 1964.
Starting with the most recent issue (but the oldest music), the 1964 recordings display Webster as a fiery player ready to show his talent to a new audience. He growls like a bear on "C Jam Blues" and he adroitly handles the bop changes of "A Night in Tunisia" without losing his tough tenor sound. He plays his longtime favorite ballads, "Chelsea Bridge" and "Over the Rainbow" in his lush romantic style, and even contributes one of his originals, "Poutin'" to the set list. The closer is the seemingly inevitable "Cottontail". Webster does a rough recreation of his original 1940 solo, but the real fun comes in his final improvised chorus, where the built-up energy inspires the tenor man to some of his most exciting playing of this period. Tracey was one of Britain's most progressive players and his unique style might be best described as a combination of the stark chords of Duke Ellington, the energy of Horace Silver, the angularity of Thelonious Monk and the splashy colors of Cecil Taylor. Yet for all of the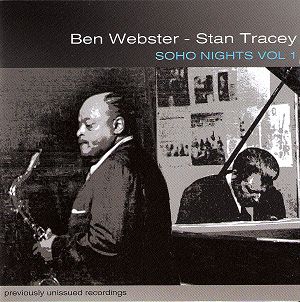 wild aspects of his solo work, Tracey was an exceptional accompanist, playing superb traditional backing chords whenever Webster was playing. In the mid-1960s, it was not a given that European rhythm sections would swing, hold a steady tempo and play tasty solos. Bassist Rick Laird and drummer Jackie Dougan were both superb musicians and clearly among the finest on the London scene. Laird's tone is quite full, and his hornlike solo conception is quite surprising for the period. Dougan trades fours with Webster on all of the up-tempo tunes and his fills behind the solos are a constant delight.
By 1968, Scott had relocated his club from the basement at 39 Gerrard Street to the ground level at 47 Frith St (where the club still stands). Both Webster and Tracey had mellowed in the intervening four years: the tenorist perhaps feeling his age and having less to prove, and the pianist going through physical and emotional challenges, but also creating some of his finest compositions. The bass and drum team of Dave Green and Tony Crombie lay down a deep groove on the first set's opener, "Johnny Come Lately" and they maintain it through the other medium-tempo tunes including "Sunday", "What Am I Here For" and a surprisingly jaunty "For All We Know". Crombie's bombs are overwhelming at times, but on "Sunday" he and Tracey have a marvelous dialogue, and on an incomplete version of "In a Mellotone", he spurs Webster into a brilliant solo turn. There's a little instruction on the bandstand during "The Jeep is Jumpin'" where Webster can be heard calling out chord changes to the band. However, the greatest parts of Volume 1 are in the ballads: two versions of "Londonderry Air" ("Danny Boy") where Webster displays the art of melodic paraphrase, and a stunning reading of "Come Sunday" with a beautifully constructed tenor solo.
Live recordings from Ronnie Scotts' are hardly rare, but the audio for these releases, taken directly from the club's PA system, is quite good for its day. Simon Spillett's liner notes have several anecdotes about Webster and his issues with alcohol, but also contain valuable information for those not familiar with Tracey and the other sidemen. Apparently, Tracey has several more unissued tapes from Scotts, featuring Freddie Hubbard, Sonny Rollins and Tubby Hayes. If they are of the same artistic and technical quality of the Ben Webster CDs, they will be welcome and important additions to the jazz legacy.